Harden's regular round-up of the restaurant critics' meals, from the week ending 21 July 2019.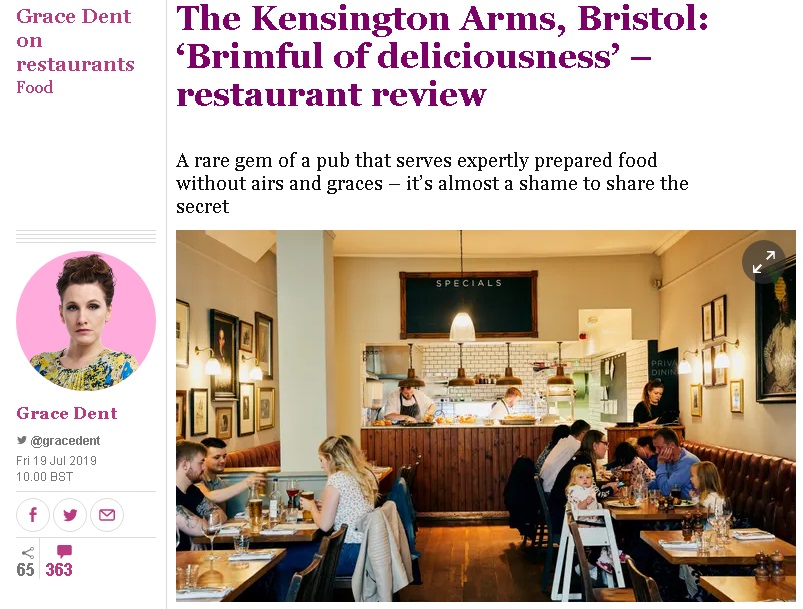 Grace Dent for The Guardian is "acutely aware that I'm the last face any kitchen brigade wants to see over a long bank holiday weekend" but she'd heard great things about the "dependably brilliant Sunday lunch" at The Kensington Arms, part of the "curiously humble culinary genius" Josh Eggleton's growing South West empire. Grace had tried his fancy cooking on Great British Menu, but was intrigued to taste the food he thinks "is delicious when… not being asked to make great telly".
A "velvety, fragrant and balm-like" leek and potato soup preceded the "Main Event" (for her companion dry-aged Hereford beef rump and for Grace "a heavenly sweet potato and chestnut wellington") and "a highly memorable frangipane tart".
"I left The Kenny full to the brim of deliciousness and walking like a pregnant penguin." It's "the type of pub that gives you a crisis of conscience about flagging it up to the outside world." The locals aren't going to appreciate her telling us all about the staff "who are far, far more brilliant than they need to be for a pub" and the "little corner of Redland [that] won my stomach, and then it won my heart". (24/30)
---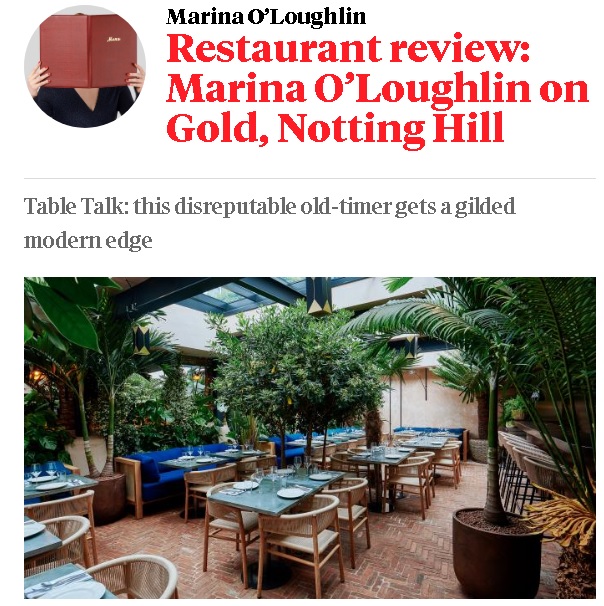 This Notting Hill newcomer (previously Portbello Gold) had been largely ignored by the critics, even with a considerable publicity splash when it opened, until Marina O'Loughlin for The Sunday Times visited. She'd known the "tall, thin boozer sandwiched among Portobello Road's stalls and Love Hearts-coloured houses" well in the old days, when it "attracted the louchest of the louche and had a hidden sort-of conservatory".
"Things have changed. And nothing more so than this place." The "unpolished racketiness" has been replaced by "a kind of dazzling affluent beauty", from the "vast mural" that "lollops across its frontage" ("causing an outbreak of local pearl-clutching"), to the precisely curated "bare walls, brick-tiled floors and stripped-back old-wood look" within.
"On a summer day, the ground-floor dining room is genuinely one of the most seductive places to be"; there's a retractable glass roof, lush foliage and "vaguely plantation-ish furniture". Not so very different from before, but with a "strange magic" that worked on Marina and her "violently anti-west London" companion.
The long menu is jam-packed with "signifiers" and "2019 tropes" (plenty of pickled things, obscure greens and wood-roasted everything) – "the chef is ex-River Café and it shows". Staff were surprisingly quiet on explanations, but Marina assumed a 'small plates' concept and ordered expansively, only to discover that "remarkably generous portions" meant she could hardly finish many dishes.
Charcuterie was "excellent quality", sea bass carpaccio "very good" and "there's some beautiful pasta-making going on"; only one dish had "so much going on" that it ruined the Sicilian prawns it was supposed to be showcasing.
"Gold is a whole lot better than it needs to be." Damning with faint praise? "OK then, I give in: it's pretty, goddammit, and the food is pretty good."
---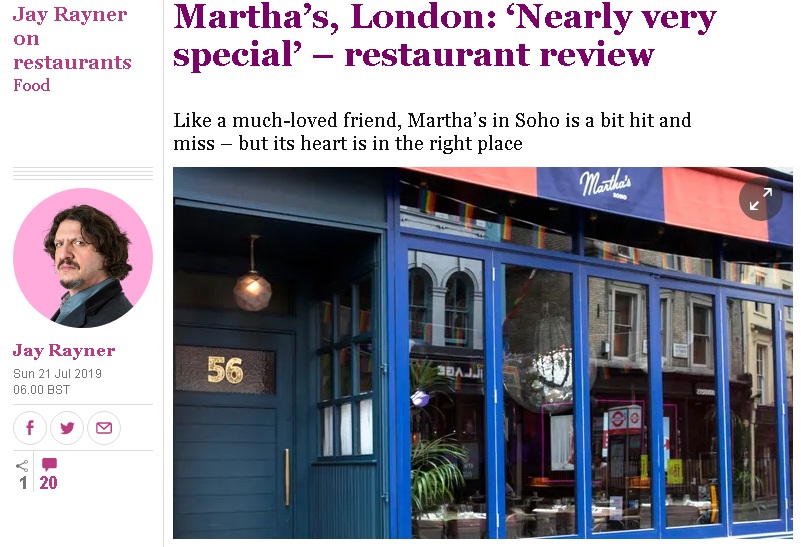 Jay Rayner for The Observer had lots of advice for "live jazz and drag queens" spot, Martha's. He believes that the Soho newcomer has the potential to be great, but is currently more like "a much-loved friend, whom we know is a car crash".
The low points included confused booking (with added "digital neediness"), untrained and disengaged staff, poorly constructed menus, dangerously loose cables on the table lamps and "no live jazz".
Food lows included the signature dish ("Martha's fried chicken with honey truffle sauce, the one dish they've been hyping all over their socials") being off, calamari that were "rubbery, bouncy tooth-flossers", a bin-worthy cauliflower risotto ("a salty, acrid mess of failed vegetal matter") and lemon meringue pie that was supposed to be "flamed at the table" but was not (and clearly not made in-house to boot).
On the positive side, Jay enjoyed some great crab croquettes, an iceberg wedge with blue cheese and bacon ("a reminder that this much maligned lettuce still has a role in our lives") and the New York Strip steak ("served the right side of both pink and Old Testament bible thick").
"While dinner at Martha's made me despair, it didn't make me hate the place… come on Martha; please just sort yourself out. You have it in you to be very special."
---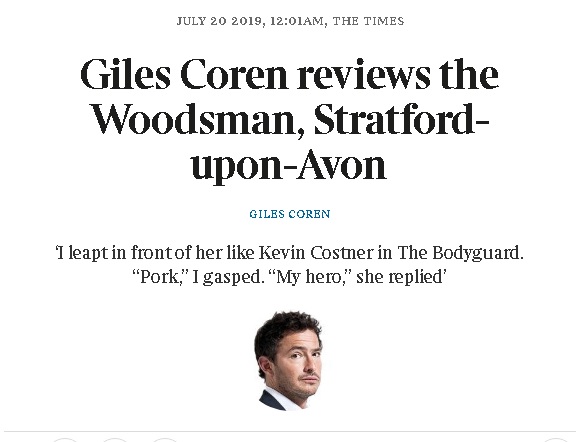 Giles Coren for The Times' Saturday Magazine ended up in Stratford not just because he'd had his eye on The Woodsman "for some time", but also because he initially tried reviewing Les Platanes in Mayfair. He bolted from there the minute he realised it not only completely depressing and empty, but also it was on the site of Babel House – "and if there is one thing worse than sitting in an empty restaurant with suicide vibes and high prices… it is sitting in one that is only here because you, personally, killed the restaurant that was here before".
But back to The Woodsman. It's a "new game and meat over charcoal project" from Mike Robinson, co-owner of the "actually very good" Harwood Arms in Fulham, which "ticks all the boxes about good husbandry, local and seasonal and sustainable blah blah yada". Giles met his "colleague and protégée" Sara Tor for lunch at the pub, which is "folded into the pretty Hotel Indigo".
"Deer of different sorts seem to be the big thing here", but they started with a "really, really good, warm, supple crab tart accessorised with brown shrimp" before spotting "muntjac lollipops – signature of the house – sauntering by" to another table, and ordered some of them, too. Luckily for Sara (The Times's "youngest and only female Muslim columnist"), Giles spotted the pork content of the lollipops before she tried hers.
A trimmed rump of fallow deer was "top class", the muntjac Barnsley chop less impressive but accompanied by good "slow-cooked shoulder" and "gravy-drenched dirty mash", all followed by "perfectly decent puddings".
In a town of few proper dining options, and lots of empty sites, "thank bloody heaven for The Woodsman". (21/30)
---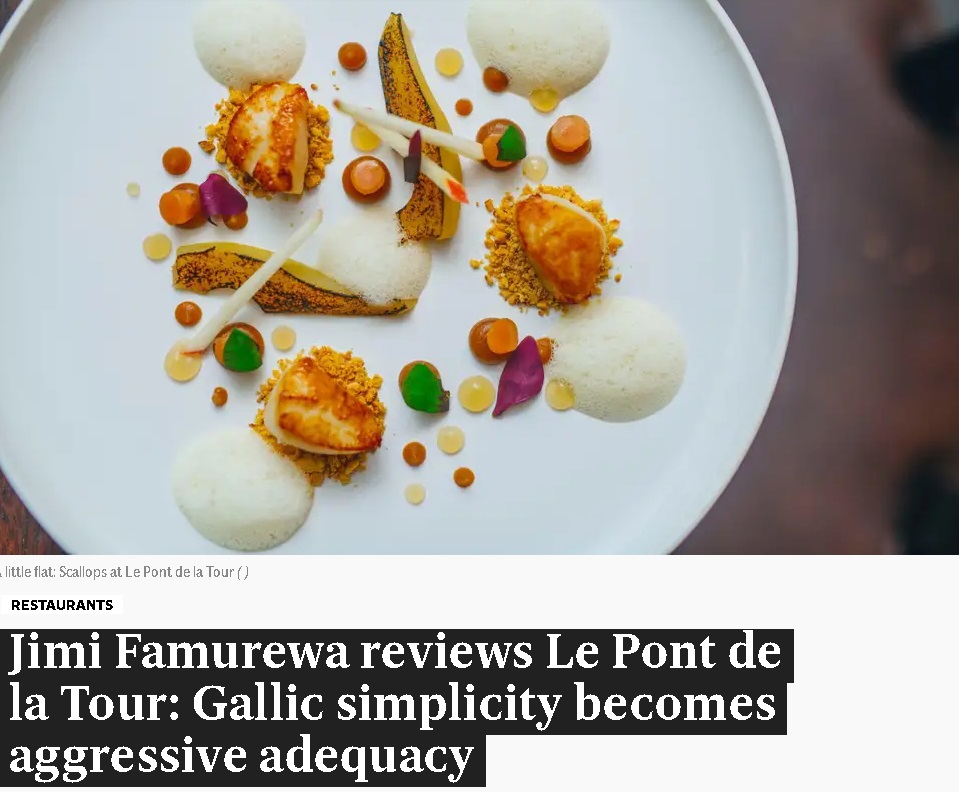 Jimi Famurewa for The Evening Standard stepped back in time with a visit to Le Pont de la Tour, now a veteran of nearly 30 years' standing (once the jewel in Conran's crown, now part of the D&D portfolio).
On a perfect summer night, there was a strong "sense that this was a place where the view had been tasked with too much of the heavy-lifting"; "the meal never quite lurched into full-on awfulness but there was something a little flat and colourless about its clenched, Gallic simplicity".
Jimi and his wife went for starters of a beetroot and kale tart and a tomato, compressed watermelon, feta and anchovy salad ("a weird Seventies dinner party collision") which "felt endemic of a mild disdain for vegetarian options that… is authentically French". Dover sole, "priced at a quite mad £40" was "beautifully cooked", but the side dishes "maintained the mood of aggressive adequacy".
"There is clearly a continued market for Le Pont's romantic location, retro atmosphere and respectful culinary conservatism", but next time a child-free, sunny evening rolls around, he'll be on the riverside with a beer and a takeaway. (6/10)
---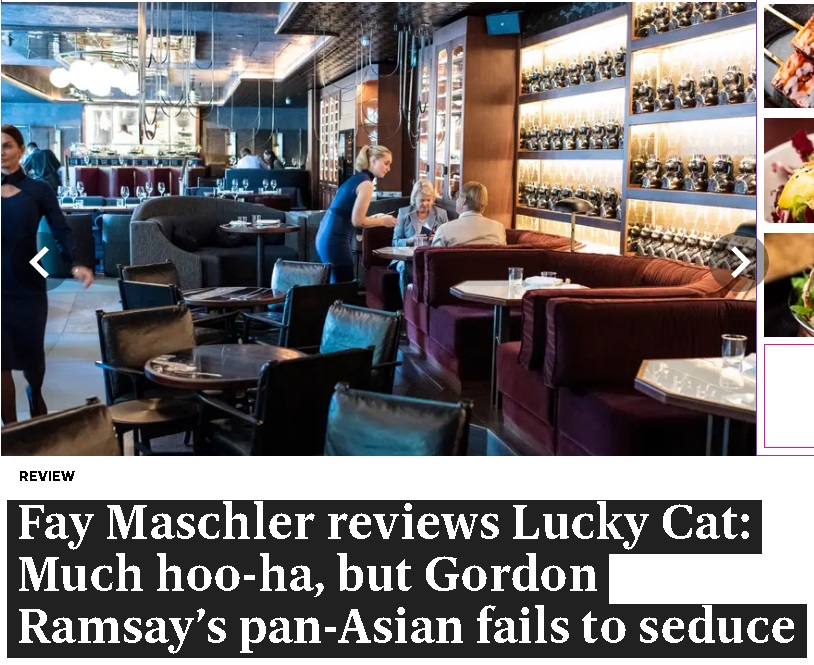 Once again the first critic to review a new restaurant, Fay Maschler for The Evening Standard went to Gordon Ramsay's Maze replacement, noting that "it is five years since Ramsay opened a restaurant". She pulled no punches even within the first few sentences.
"A venue offering pan-Asian food in Mayfair with Nobu Berkeley, Novikov, Hakkasan, Roka Mayfair, StreetXO and Sexy Fish all within carb-dodging distance is unimaginative, otiose, dare I say boring?"
Her dining companion had 'won' her company in a charity auction (there seems to be a lot of this happening at the moment). Given the unflattering social media "hoo-ha" around cultural appropriation – and her description of the room as a "hotel-haunted space where dim lighting flatters neither the food nor the customers and the music is particularly drab EDM" – it seems a bit mean to inflict Lucky Cat on a stranger, but that's what she did.
Fay enjoyed a "mizuna & bitter leaf salad with curls of apple" so much she ordered it again on her repeat visit, when it was "a different pile-up… and not as well dressed"; that second meal rewarded her with a standout dish of "char siu dry-aged pork chop topped with cubes of fondant nashi pear", though.
A glance at the menu suggested that "some of the assemblies seem to reflect a kitchen running amok with unfamiliar ingredients"; bonito flakes as a coating for deep-fried duck leg, for example, "gives admirable crunch but an unwelcome fishy flavour", and "whole coriander and cumin seeds pressed into spiced lamb" are "not the most palatable" ways to add flavour.
Wok-fried greens were "a travesty of what almost any Cantonese restaurants can do better", service was "at sixes and sevens" – but the dessert of Yum Baba Roasted Pineapple and Yuzu & Passion Soufflé ("tried at the first meal") was "a saving grace. Almost." (**)
---
"One country, a myriad of variations." Tom Parker Bowles for The Mail on Sunday does enjoy a culinary geography lesson (especially if he's giving it). From his visit to The Dumpling Tree in Cambridge, we learned about the landscape and ethnicity of south-western Yunnan province, as well as the intricacies of its cuisine.
He found "serious Yunnanese succour" here, at the "strictly utilitarian, but scrupulously clean" spot; Mongolian influences (Tom ate rubing, made from goat's milk, was "like halloumi after a year at Swiss finishing school", and "robustly chewy" steamed dumplings), the famed Yunnan ham ("rich, intense and splendidly salty"), a noodle broth that was "clean and astonishingly delicate" and plenty of chillies.
"This is all about sly heat… rather than full-frontal assault." And thanks to the "eloquent, impassioned explanations" of the "charming owner", lunch is "as much an education as it is a delight". (****)
---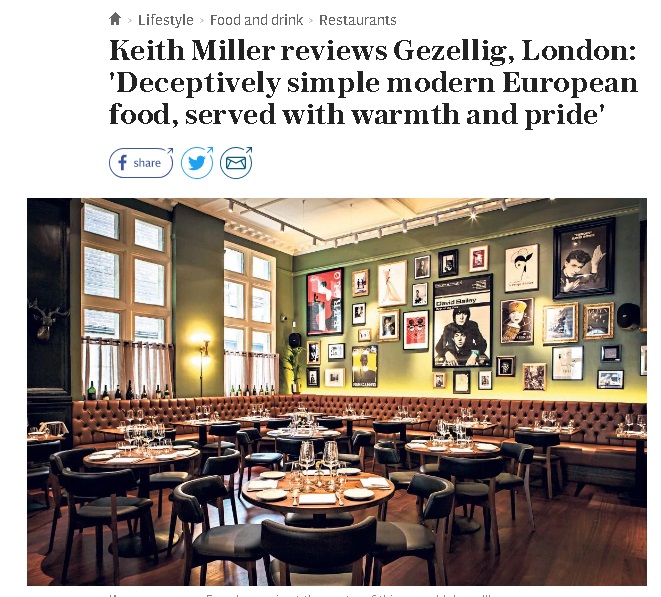 Keith Miller for The Telegraph was in "the windblown badlands where the east end of Covent Garden meets the scrag end of Bloomsbury" where, after many years of being touted as Midtown, "something seems to be afoot", culinarily speaking. There's the reincarnation of Sicilian Avenue, the Holborn Dining Room ("widely held to be the capital's finest pies"), and now "shiny new Euro-brasserie, Gezellig"in the former library.
The space is "lofty, airy… accessed by a narrow corridor" and guarded by a "Cerberus-like" front-of-house, with a "slightly cramped" bar area ("a holding pen for new arrivals") and a two-level dining room "densely hung with a knowingly random assortment of posters and artworks". The "building's sturdy, institutional past… gives it some heft and presence".
The name "translates as a sort of social "cosiness", a Dutch hygge", which he felt while enjoying pre-dinner bitterballen and beer. The food on the main menu was "a sort of "modern European": deceptively simple, made with understated skill, on the hearty side, generously (pro)portioned and served with warmth and pride". There's "clever use of herbs" and "great" puddings, too.
It's "not cheap by any means", but Keith hopes "it will thrive: it's not particularly trendy, but with luck and a following wind, it may prove trend-proof".
And also…
In the Financial Times, Tim Hayward enjoyed "posh cooking delivered in an unpretentious way" at Shibden Mill Inn in Halifax: "it serves as a sort of spa for jaded food hacks, an antidote to all the toxic, joyless bits of the job".
---
Bristol Live reported on the new Secret Cafe, in St Stephen's Church; run by a husband-and-wife team from Seville, it's serving up Spanish treats including "proper Spanish breakfasts" in a space that's an "oasis of tranquillity in the heart of the city centre".
---
The Yorkshire Evening Post's reviewer declared that Japanese cafe and kitchen Senbon Sakura serves "some of the best restaurant food" in Leeds.
Recent News from Harden's