Our weekly round-up of what the national and local restaurant critics are writing about, for the week ending 14 June 2020; the country remains in lockdown, with restaurants, cafes and bars officially closed due the coronavirus outbreak since March.
Gradual easing of lockdown rules recently means that restaurant and bars can start planning for possible re-opening in early July, albeit with socially distanced (possibly only al fresco) dining and drinking. Several restaurants, including high-profile names such as Nathan Outlaw's Siren – and this weekend Le Caprice – however, have already announced they will not be re-opening.
You can still support your local and favourite restaurants; many are offering takeaways or deliveries, or you can buy produce, meal kits, vouchers, cookbooks or merchandise. Check out their social media pages for details (all available via hardens.com)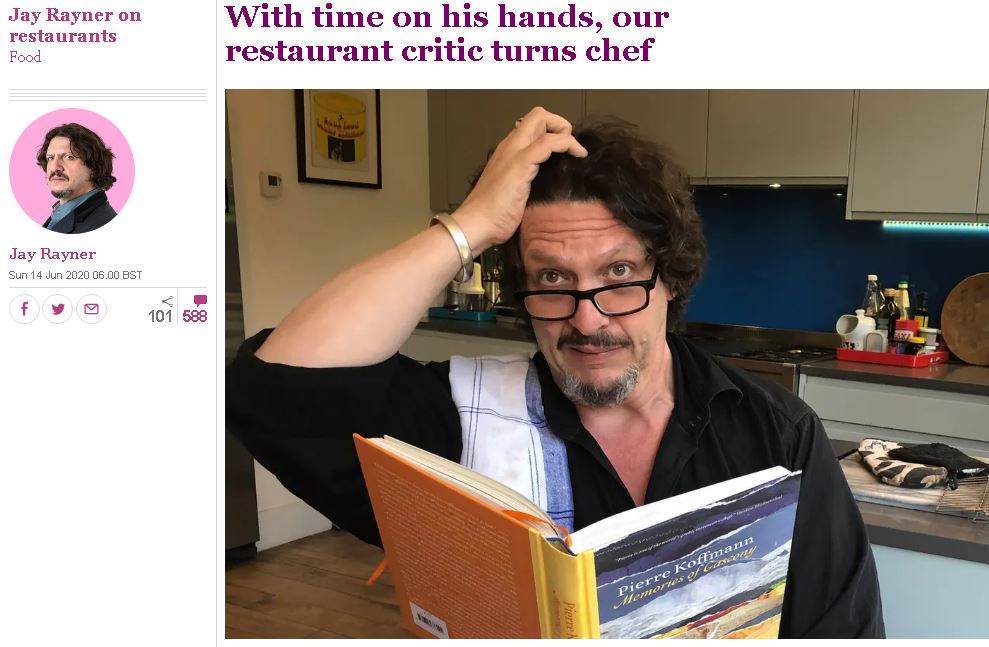 The Observer
"Do I need tell you that I miss restaurants? I miss their noise and promise and menus and dishwashers."
Jay Rayner finally cracked this week and starting cooking the restaurant meals he's been dreaming about. As you can tell from the comment above, he wasn't quite prepared for the mess, or the effort involved. But then he went in at the deep end, cooking elaborate and fiendishly complicated dishes.
First up was the "duck starter served to me at Grazing by Mark Greenaway in Edinburgh", with a "pristine disc of fried duck egg, sunrise-yellow yolk dead centre, layered with torn hunks of duck confit… duck ham, fried breadcrumbs and… parsley mayo". All the ingredients coudl be sourced locally apart from duck ham (he substituted with jamon Iberico. "In lockdown we all must make sacrifices. Oh, the humanity.")
"It tasted OK and, compared to a photo of the original, looked fine. Ish." But then Mark Greenaway sent him the recipe – "Bloody hell. It wasn't that he confited his own duck and cured his own duck ham. I expected that. It was that he whipped up his own mayo with his own parsley oil. The breadcrumbs had 10 ingredients."
Undeterred, Jay moved on to more difficult things ("because I am stupid, and don't know when to quit"). Assisted via FaceTime by Michel Roux Jr, Jay attempted the soufflé Suissesse that's "been on the menu at Le Gavroche since about 1968″ and was the Queen Mother's favourite. He made soufflés, seasoned cream, grated cheese and assembled it all for grilling: the "recreation of the battle of the Somme in eggs, cream and butter" was a "delicious hot mess". ("A thickened cream lake always makes life better.")
He also tried to recreate a pork dish from Chinatown's Baiwei. "It looks right and tastes right although I am shocked by the sheer volume of seasoning mix it takes to get that full-on, sphincter-burning, jug-of-water-by-the-bed-at-night mouth tingle. It's a cardiologist's nightmare."
Then came "the legendary pig's trotter stuffed with a chicken mousseline studded with sweetbreads and morels, by the godlike, three-Michelin-star chef Pierre Koffmann" which took him 24 hours to complete and "has more episodes than Game of Thrones".
Dessert was "the wondrous treacle tart served to me by Mary-Ellen McTague at the Creameries in Manchester", and which involved " lemon zest and cream and a lot of washing up. So much washing up." The finished article was met with approval by Mary-Ellen.
"It turned out that if I concentrated really hard and did literally nothing else with my time for roughly a week, I could" cook favourite dishes at home. ("Just about.") "I made restaurant food at home, but it didn't turn my kitchen into a restaurant. It turned my kitchen into a mess."
---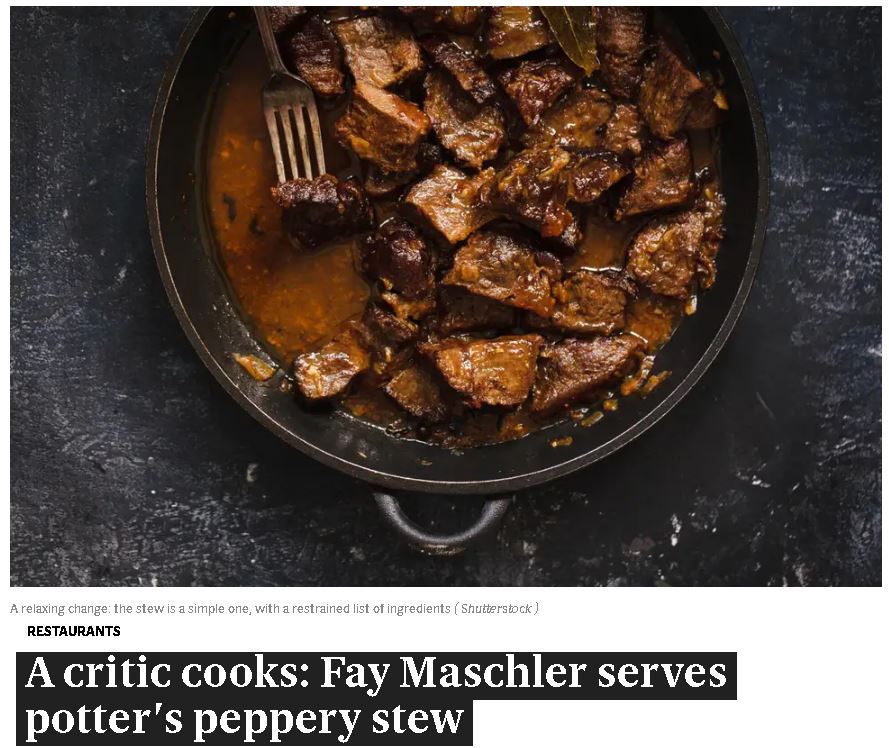 The Evening Standard
In her 'recipe and recollections' column Fay Maschler shared the recipe for a Tuscan "peppery potters' stew" from Beaneaters & Bread Soup, the cookbook of "ace photographer Jason Lowe and his wife, the mellifluously named Lori De Mori, that they published three years before opening The Towpath Café on Regent's Canal in Hackney". With its "restrained list of ingredients, [it's] a relaxing change from the everything but the kitchen sink approach to making a dish. "
---
In the news section, the planned July 14 re-opening of Le Manoir aux Quat' Saisons is positive. There were also tips from chefs on cooking with Marmite, despite the company's announcement (reported the next day in the Standard) that it "has been forced to temporarily stop producing large jars of spread as pub closures indirectly resulted in a scarcity of brewers' yeast".
---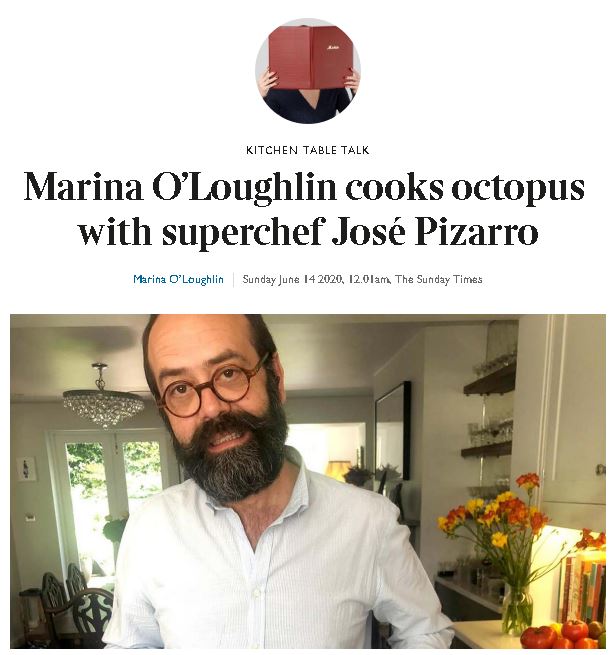 The Sunday Times
"It has struck me over the past few weeks of this temporary column that it's no accident these people I admire all have something in common. Those who are restaurateurs, when asked what it is they're missing since forced to close, haven't once mentioned boardrooms or meetings or bank balances, but "the people", "the laughter", "the camaraderie", "the buzz". There's a reason why I'm drawn to them, and it's not the beauty of their bottom lines. They do what they do because they love it."
This week Marina O'Loughlin had a virtual cookery lesson with José Pizarro. When he told her they'd be cooking octopus, she was imagining "dead sliminess" but received a "vac-packed collection of neat, preboiled tentacles, pleasingly sanitised" from him to save her the trouble. ("Divorcing tentacles from an octopus's tenacious body has now been added to the list of Cooking Things I Will Never Do.")
"I've always thought Pizarro the loveliest of chaps"; sporting yet another "luxuriant lockdown beard" he talked her through the simple dish from his most recent book, Andalusia, "an alluring combination of the octopus, seared asparagus and broad beans, sharpened with lemons made smoky from grilling and his own PX (sticky, sultry Pedro Ximenez) sherry vinegar".
The "gregarious chef is momentarily less buoyant" when asked how he is dealing with lockdown and the closure of restaurants. "I miss them so much — the customers, the interaction with people."
He's been creative though, serving up "a range of delivery tapas dishes available to order throughout the UK — everything from rare-breed pork presa iberica and chorizo al vino to Basque cheesecakes. Plus his own range of olive oil, vinegar and cava."
"I particularly love the brilliant wheeze of putting a QR code on the tapas packaging that, when you point a phone at it, takes you straight through to him, filmed in this very same kitchen and telling you how to assemble the dishes. "People are having Zoom dinner parties with them," he laughs."
Insider tip – his first meal after lockdown will be dim sum at Dragon Castle in south-east London. "You'd never make a dim sum feast at home. Even if you were brave enough to try, it's unlikely it would be as good. I love it there — they're so rude!"
---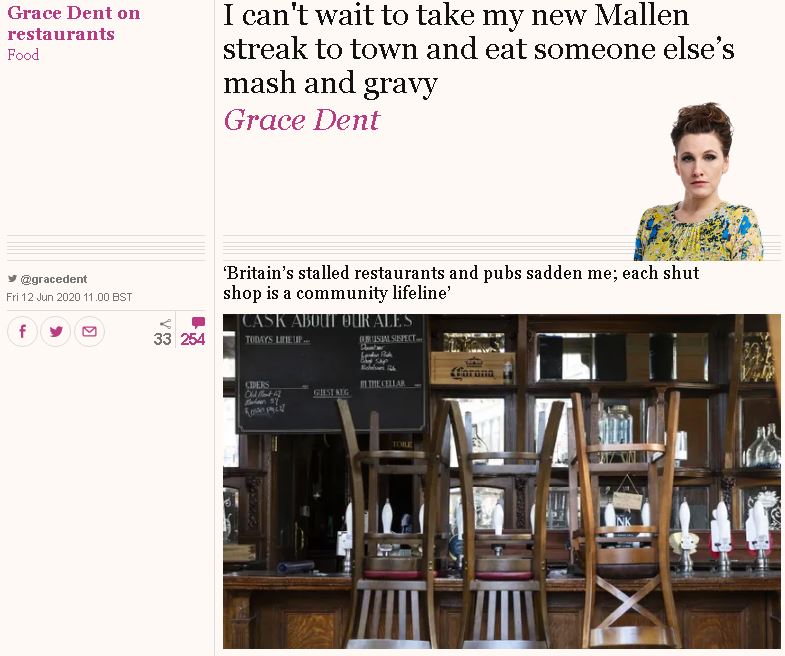 The Guardian
"As a country, we're not under lock or key any more; we're just not particularly free, either. Neither open nor closed, nor waiting for a roadmap, we're out on our own and rudderless. "
Grace Dent is saddened by the temporarily shuttered pubs and restaurants – "each shut shop is a community lifeline". "Even more saddening, as a restaurant critic, I learn of proprietors surrendering to their fate and announcing that they will never be returning. Their final savings will go on landlord demands and unpaid VAT. "
With the news that her mother has resorted to pulling her own wisdom tooth out with tweezers, she also worries about the elderly, those who pop into shops and bars every day, "for a short burst of feeling together".
"There will be no comeback in June, or maybe, as it looks for now, July, too. I'm not even feeling so good about August. For lovers of sipping and slurping, of tasting delicious things and playing footsie under tables, the future looks rotten. "
---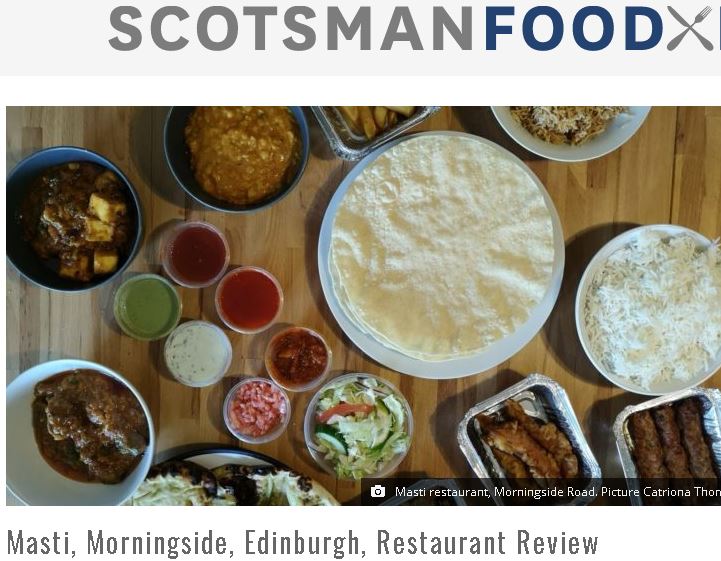 The Scotsman
Two takeaway reviews this week: Catriona Thomson ordered in from Masti in Morningside and Gaby Soutar collected a fishy feast from LeftField in Bruntsfield. Hopefully, they'll even up the balance with plenty of Glasgow reviews once lockdown is over.
The "Ruby Murray" from Morningside did wonders for a family "with a dose of the coronavirus blues", and was declared "spicy but nicey". Even better, there were leftovers, to be "scooped up into Tupperware dishes to be reprised to bring joy the next day" too – and a 20% discount for orders placed directly with the restaurant. (70%)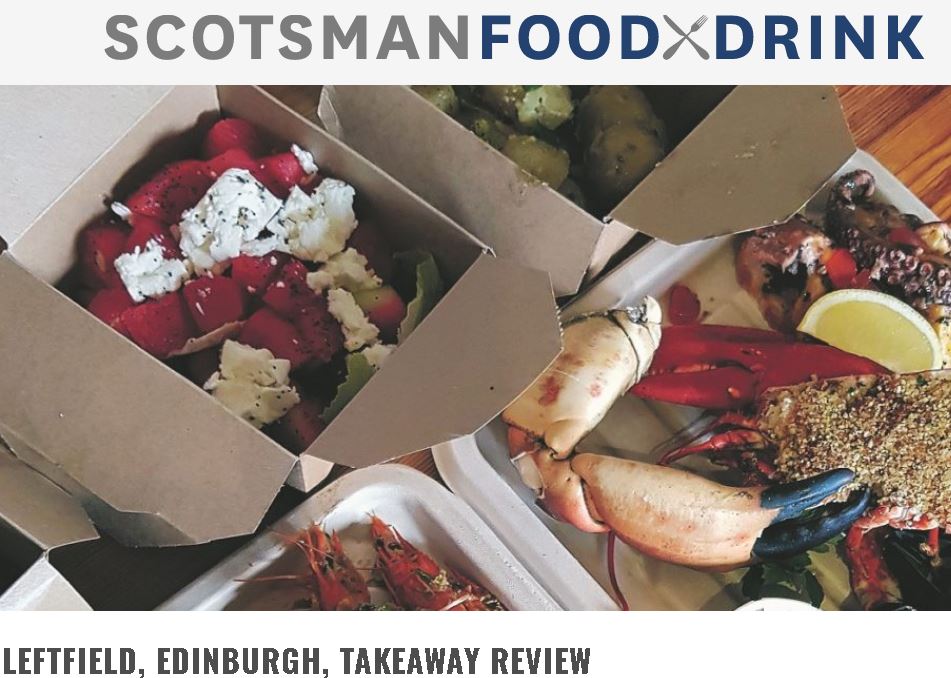 Gaby's meal was a treat too. LeftField are "currently offering Friday and Saturday collections… of seafood platters, sides and wine"… Each week, as well as some other stuff, there's a piscine theme, and they sell out quickly… They've done a Galician platter, Amalfi and Mexico, but our order had a French vibe."
"Everything is cold, so there's no thundering home in a panic, as the heat ebbs from your food like the air in a leaky balloon. All we had to do was de-lid our trays to reveal a diorama of fishy joy."
There was a whole lobster thermidor with a "sandy Parmesan crust", crab claws and a "tangy aioli dip", moules marinière, oysters, crevettes and a "beautiful octopus Provençale" that "transported" her.
"Summery sides" included watermelon and feta salad, new potatoes and charred broccoli. Flourless chocolate cake slabs for dessert "were subtly sweet, richly dark and dense".
"At this point, we were lolling about on the couch like a pair of beached mermaids, with plates that were clattering with empty shells, as if our bikinis had unravelled. Even without the option of delivery, this has been one of my favourite – and lowest maintenance for the diner – lockdown transitions that a restaurant has made into takeaway. I hope it's not temporary and they continue offering it into Phase 4 and beyond." (85%)
And also…
The Financial Times reported on the Restaurant Group closing 125 stores, "to largely impact Frankie & Benny's chain as pandemic deepens crisis in casual dining sector".
---
Giles Coren in The Times is mourning the end of lockdown, and "will miss the novelty of everything being so very different from how it had always been before". Esther, quite rightly, points out that "there is no end" and that it will "go on continuing for me, as it will for millions of parents, until all our children are back at school".
---
The Independent listed some recipes using strawberry jam after reporting that "Britain is facing a huge strawberry glut after the cancellation of… the Wimbledon Championships has caused a surfeit of 1.9 million strawberries, originally destined for punnets and bowlfuls with lashings of cream."
---
Still nothing written down from Tom Parker Bowles in The Mail on Sunday, although we have stumbled across his "Takeaway Guy" videos on The Mail's website if you're missing his wit and wisdom. His lockdown hair and wardrobe are quite entertaining.
Recent News from Harden's