Here is our weekly round-up of what the national and local restaurant critics are writing about, for the week ending 14 March 2021.
*****
England remains in national lockdown, although with a 'roadmap' of dates with restaurants and pubs closed until 12 April at the earliest, and then only open to serve single households seated outdoors: https://www.gov.uk/government/publications/covid-19-response-spring-2021/covid-19-response-spring-2021-summary.
All of Wales is at alert level 4, but the stay-at-home restrictions have been lifted: https://gov.wales/alert-level-4
Mainland Scotland is also in a national lockdown with guidance to 'stay at home': https://www.gov.scot/publications/coronavirus-covid-19-protection-levels/
Northern Ireland is under strict restrictions until 1 April: https://www.nidirect.gov.uk/articles/coronavirus-covid-19-regulations-guidance-what-restrictions-mean-you
*****
Please continue to order takeaways, cook-at-home kits, vouchers, merchandise and deliveries from your favourite restaurants if you can (we include links to those mentioned); the restaurant industry and everyone involved in it need our continued support.
*****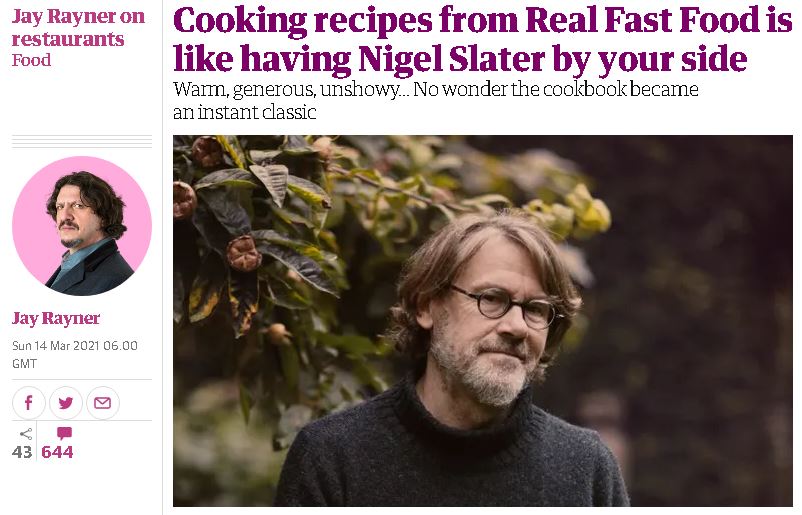 The Observer
"Real Fast Food was always going to be included in this series. We just had to wait for the author to take a week off from his regular column" in this newspaper.
Jay Rayner reviews and cooks from Nigel Slater's very first book this week; before publishing it, Nigel ("don't expect the journalist's formality of surnames here; he's both friend and colleague") was a food stylist, writing picture-heavy recipes for Marie Claire as a sideline. (Ironically, Real Fast Food was published on a tight budget and has no pictures – even so, it "swiftly became… a massive success".)
Nigel has a natural "ability to write as if he is talking to us and only to us", which has contributed to his success over the past three decades.
The book itself is a collection of over 350 "recipes" arranged by groups of ingredients (Jay used the "inverted commas because many of them are less detailed methods than ideas for what you could do by putting nice things in each other's company").
"Real Fast Food is also one of the finest collections of gussied-up sandwich suggestions ever published. If it can be eaten between two pieces of bread or shoved inside a bap, Nigel is all for it."
"I have loved cooking my way through all the titles featured in this column so far, but it was a particular joy to reach Real Fast Food; to have Nigel at my side and know both that nothing would take me very long and that, because it's all so loose and free, I couldn't screw anything up."
Jay "dredged pork chops through crushed black pepper", "blitzed yoghurt with spices to make a faux tandoori marinade for chicken thighs", "discovered life was not too short to stuff a mushroom" and found his new "dinner party dessert".
Real Fast Food "introduced the world to a particular voice and sensibility; to an endlessly encouraging approach not to the blunt mechanics of cooking, but to the joys of eating and living well. It ripples with good taste".
*****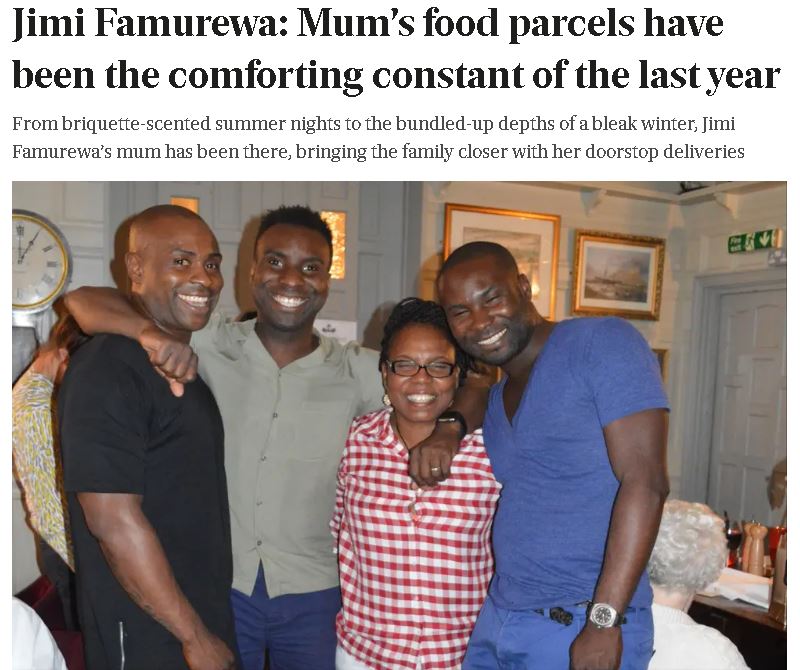 The Evening Standard
"My eating life throughout this pandemic has largely amounted to a series of transactional exchanges on the doorstep."
Of all the lockdown deliveries, from "bicycle-couriered pies" and "hand-delivered frozen dumplings" to "ruinously expensive Natoora groceries" chief restaurant critic Jimi Famurewa can easily identify his favourite.
"The most important food delivery outfit of this time is the one that is much closer to home. More to the point, it is the non-negotiable meal kit subscription service run by my 70-year-old mother Kofo." Regular doorstep deliveries of her Nigerian batch cooking ("enough… meals to generously cater a 50-guest wedding ") "have become a comforting constant".
"Thanks to the Nigerian compulsion to feed even beyond the parameters of a designated meal, our family leftovers network — generally involving me or one of my two brothers shuttling stacked tubs of mum's food between houses — is a sophisticated beast that predates the pandemic."
But now, "my older brothers and I have taken up the mantle and turned it into less of a one-way arrangement", supplying their mum with meals too.
"I don't doubt that other families will have their own versions of this; that meals-on-wheels parcels, lasagnes on the doorsteps of the bereaved, and larky, shared dinner pictures are the unwritten story of sustenance and survival throughout this year."
*****
Also in The Standard, foie gras on restaurant menus may become a thing of the past. This " ancient, albeit controversial delicacy may be banned from the UK as Brexit leaves the Government free to control UK imports more closely".
*****
"Britain's most famous maitre d'" Fred Siriex is also featured, speaking about his charity, the Right Course, which trains prison inmates in hospitality. The project has already worked in Thamesmead, and now its "tackling Wormwood Scrubs, converting the officers' mess into a restaurant and coffee shop run by prisoners, for prison staff. "
*****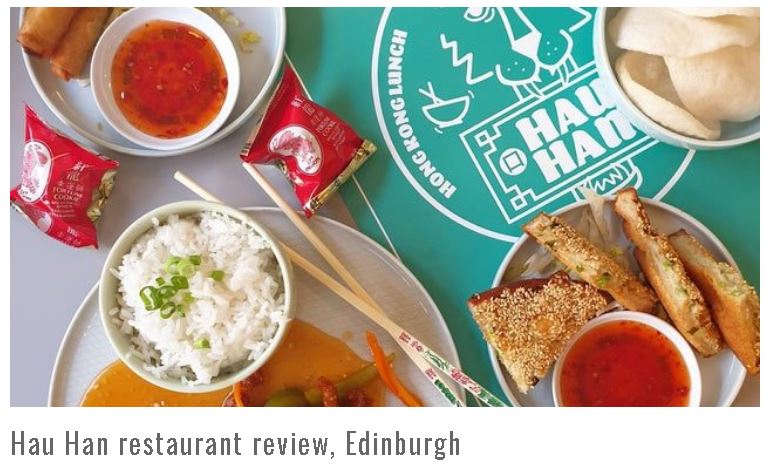 The Scotsman
Gaby Soutar ordered in a takeaway with a side of nostalgia from "new-ish Chinese restaurant, Hau Han", which serves up "retro favourites like sweet and sour and lemon chicken" (although without the 1980s-authentic MSG and "artificial colours and flavours, so the lemon chicken won't be the same shade as a radioactive Lollipop Lady").
"It's owned by Sonia and Derek Li, who come from fish and chip and Chinese restaurant backgrounds respectively. They've named their place after the Cantonese word for peckish."
*****
The Guardian
Grace Dent mused on irritating kitchen habits: "ignoring how annoying we all are to share space with is the bread and butter of real love and friendship. Love is turning a blind eye to squashed tea bags that don't quite make it to the bin".
She also believes that "one of the chief reasons we adore cookery shows… is that they're not filmed in real kitchens" but shiny studio spaces with armies of preppers, cleaners and "a small army of food technicians". "When Simon Rimmer makes bechamel sauce, there's no one standing behind him with the nozzle of the squirty cream in their gob."
Grace herself is guilty of the fake TV kitchen; on a recent show she "made "homemade" fudge in my million-pound, state-of-the-art kitchen on gleaming quartz worktops", which was in reality the kitchen of "a woman called Julie in Islington who rents out her home for £800 a day".
And also…
In The Financial Times, hopeful news from America where restaurant re-openings are boosting the jobs market: "lifting of restrictions on indoor dining and warmer weather fuel hopes for further growth".
*****
Hot Dinners published its seventh annual Murphia list, chronicling the impact of "Irish talent in London's food and drink scene right now"; the Standard also reported on this, saying that "this year the celebrations are being put on hold, though the list has still been published to recognise the continued success and innovation of Irish hospitality workers".
*****
Tom Parker Bowles in The Mail on Sunday's YOU Magazine continued his occasional series on home food deliveries, featuring "some of the UK's finest fish for delivery". He began with a worthy plea of "Eat more British fish. Please. Because in this post-Brexit, mid-lockdown world, our fishermen are having a fairly torrid time." In the same article, Olly Smith recommends "St Patrick's Day dark beers".
*****
Birmingham Live lists the new restaurants that will be open for business after 12 April, including MasterChef: The professionals 2019 winner Stu Deeley's as yet un-named place in the Jewellery Quarter. A list of Solihull newcomers was reported in a separate article.
*****
Manchester Evening News reports on the month-long 'taco terrace' opening at Simon Wood's eponymous restaurant Wood, to take advantage of the outdoor-only eating restrictions between 12 April and 9 May.
*****
Bristol Live reported on the full refurbishment and new kitchen at the veteran waterfront restaurant Olive Shed; a former head chef, Jack Powell, is also returning after five years away. Also on Bristol Live, news of a food-stall-turned-permanent Italian opening in Brislington; Ciccio's Kitchen will serve authentic Italian pizza, pasta dishes and arancini balls.
*****
Recent News from Harden's