Here is our weekly round-up of what the national and local restaurant critics are writing about, for the week ending 14 February 2021.
England remains in national lockdown, with restaurants and pubs closed (many are operating a takeaway or delivery service): https://www.gov.uk/find-coronavirus-local-restrictions.
All of Wales is at alert level 4, with similar restrictions to full lockdown: https://gov.wales/coronavirus-regulations-guidance#section-48600
Mainland Scotland is also in a national lockdown with guidance to 'stay at home' https://www.gov.scot/publications/coronavirus-covid-19-protection-levels/
Northern Ireland is under strict restrictions until 5 March: https://www.nidirect.gov.uk/articles/coronavirus-covid-19-regulations-guidance-what-restrictions-mean-you
Please continue to order takeaways, cook-at-home kits, vouchers, merchandise and deliveries from your favourite restaurants if you can (we include links to those mentioned); the restaurant industry and everyone involved in it need our continued support.
*****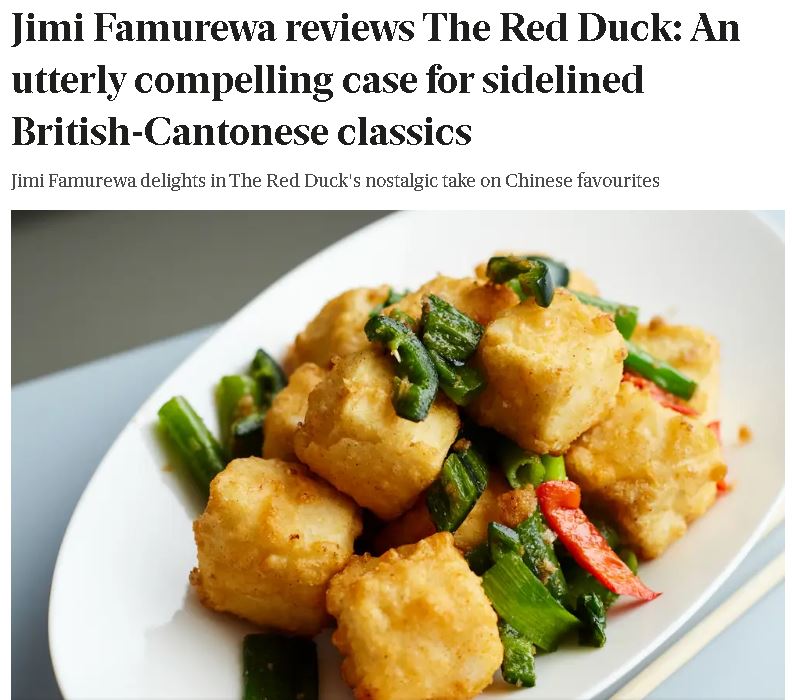 The Evening Standard
"Utterly compelling."
Chief restaurant critic Jimi Famurewa truffled out The Red Duck a "new, contemporary Chinese takeaway in Balham", and used his "government-approved daily bike ride" to pick up a Saturday night takeaway. His hilly bike ride in the rain and the gloom was "unquestionably" worth the effort.
The first solo project of Chi San, former right hand man to Alan Yau, the Red Duck is "imbued with both nostalgia for the cobwebbed old standards of the British-Cantonese culinary canon and a modern fealty to exceptional produce" and "unites the old and the new in arousing, immensely pleasurable fashion".
"Ahead of this weekend's Lunar new year celebrations — the first since the emergence of the pandemic and, we should note, the attendant ugly prejudice that made Chinese hospitality such an early victim — I can hardly think of a better-timed success story."
"Not everything quite worked" and some early dishes were merely "unmemorable", but they were "mild disappointments" compared with the "terrifically spiced" and "applause-worthy" dishes that followed.
The "highs" showcased "skill, care and just the right amount of dutiful fidelity to dishes that have, in recent years, perhaps been a little sidelined by the boom in ruggedly authentic, regional Chinese". The Red Duck "makes a powerful case for reappraising these classics"; a dine-in experience is planned for later in 2021.
*****
Jimi's week in food column included a trip to the L&C Brazilian shop in Brockley, to Arlo & Moe for carrot cake, a homemade brunch and post-sledging soup.
*****
An article entitled "What it takes to win a Michelin Star in just 20 days" followed the story of chef Andy Beynon's Hackney restaurant Behind, which – over the course of 2020 and various lockdowns – has only traded for 20 days. Beynon said he hopes the recognition "just shows the work I've put in, because I've been grafting so hard for the past 15 years at some of the best restaurants in the country, just learning from the best".
*****
Also in the Standard, more news on the Seat at the Table campaign for a hospitality minister; the "minister for Small Business, Consumers and Labour markets, Paul Scully, will meet with the team behind the "Create a Minister for Hospitality in the UK Government" petition" after the issue was debated in Parliament on January 11.
*****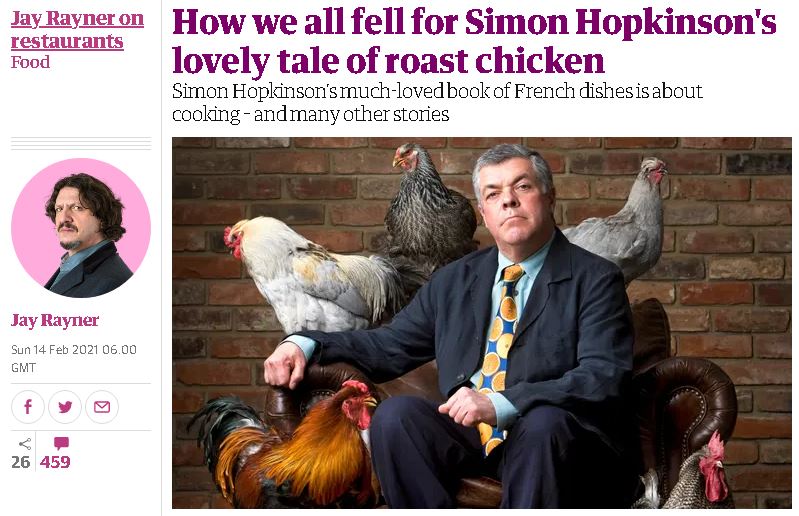 The Observer
"The best cookbook title of all time: Roast Chicken and Other Stories by Simon Hopkinson, with Lindsey Bareham."
The latest in Jay Rayner's series of articles, "thumbing through his most-beloved cookery books" focuses on Hopkinson's tome that's part-recipe-book, part-compendium. "First published in 1994, it was a much-adored volume by a young chef with a cult following, but it didn't exactly trouble the bestseller lists."
Hopkinson was first offered a book deal in the 80s after standing in for Fay Maschler as the Evening Standard's restaurant critic, but was too busy opening Bibendum with Terence Conran at the time. His friend Lindsey Bareham helped pull the book together in the end, and "the result is an elegantly compact volume with around 40 ingredients, listed in alphabetical order. Under "A" there's anchovy, asparagus and aubergine, while C belongs to ceps, chocolate, cod and of course, chicken. There are half a dozen recipes or so for each, which lean heavily towards a rugged French repertoire."
Simon was friends with "revered food writers Elizabeth David and Richard Olney" and includes several of their dishes in the book; "as a result, it acts as a golden thread, pulled through the post-second world war history of encouraging food in Britain". Henry Harris, who worked with him at Bibendum before opening Racine, says "It's simply the most important cookbook of the last 25 years of the 20th century", and praises the way that Simon ignore the new twists on recipes and "restored them to their original selves".
Roast Chicken and Other Stories topped a Waitrose Food Illustrated poll of "most useful cookery books" in 2005, which saw the it become "a massive bestseller, knocking Harry Potter off the top of the Amazon charts".
Jay cooked the "butter-caked" roast chicken (which "produces a lovely bird with crisp, bronzed skin and a fabulous buttery, lemony gravy"), the onion tart ("extremely comforting") and the Saint-Emilion au chocolat.
*****
The Mail on Sunday
"If we can take anything away from these seemingly interminable lockdowns, it's the importance of British farmers."
Tom Parker Bowles in You Magazine lists his top recommendation for British butchers offering nationwide delivery. "By buying direct, you know exactly where your meat comes from. Mainly native breeds, outdoor-raised to the highest standards of animal welfare, where a happy life means happy eating."
*****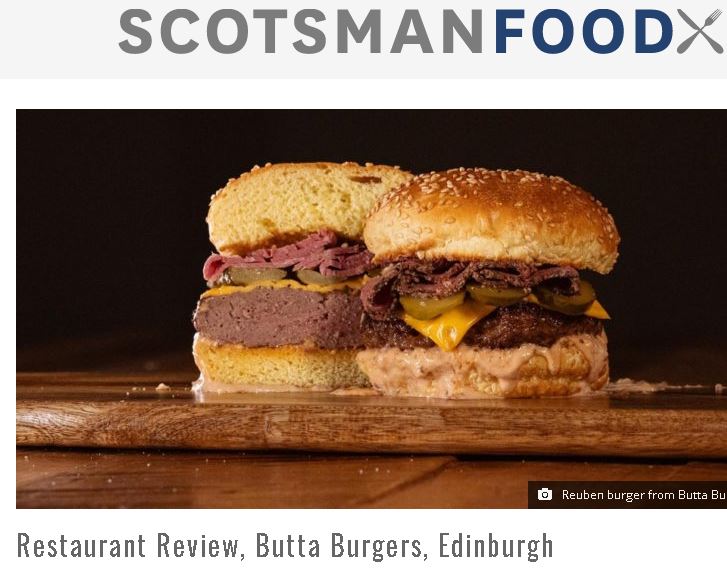 The Scotsman
"After the recession in 2008, loads of burger places sprung up, and I wonder if something similar will happen again post-covid, in a drive towards affordable comfort food."
Gaby Soutar reviewed a delivery from Butta Burger, a one-month old takeaway (with designs on expansion) that "was set up by former nightclub promoters and food lovers, Simon Bays and Graham Atkinson".
The truffle steak frites was "definitely fancier than your average burger" and the chicken wings "pure filth, in a good way". No desserts, but the cherry pie milkshake was "more delicious than I wanted it to be" as she was more than full from her Kiev chicken burger and three-cheese fries.
*****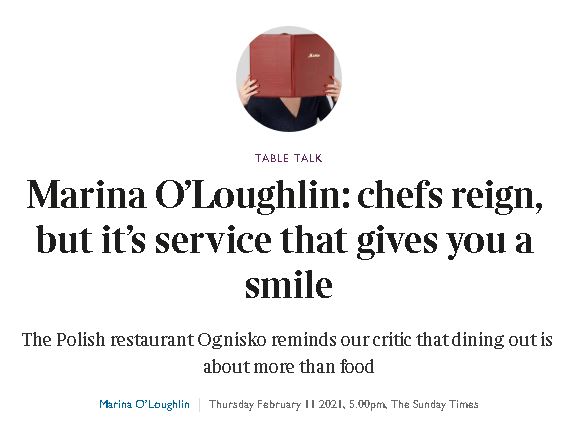 The Sunday Times
"One surprising thing has jumped out at me writing this series: none of the places I've wanted to revisit has been about the chefs."
Marina O'Loughlin has "always said that restaurants are about far more than food", something that's being borne out now that we can have "dishes from some of the country's finest kitchens" delivered to our homes, but it's not the same thing at all "no matter how glorious the dishes are".
"The restaurants I love, the ones that mean the most, half the time I've no idea who's in the kitchen… It's often those who work front, not back, of house who can make or break your meal."
Then there's "the formal informality of Chez Bruce and their smiling generosity with the legendary cheese trolley; yes, the chef Matt Christmas's food is heaven, but it's the service that leaves you beaming".
"Good waitstaff should be applauded every bit as much as the cooks."
Marina describes her unfathomable devotion to Ognisko, where it's "it's always November on the plate". She doesn't go for the food, lovely though it is, but for the "melancholy beauty" of the place, the flavoured vodkas, and "most of all I love the staff, charming men and maternal, rather stern women who command you to pour all of that generous tot of rum over your baba".
"Ognisko was also the first place I came to at the end of the first fully draconian lockdown."
*****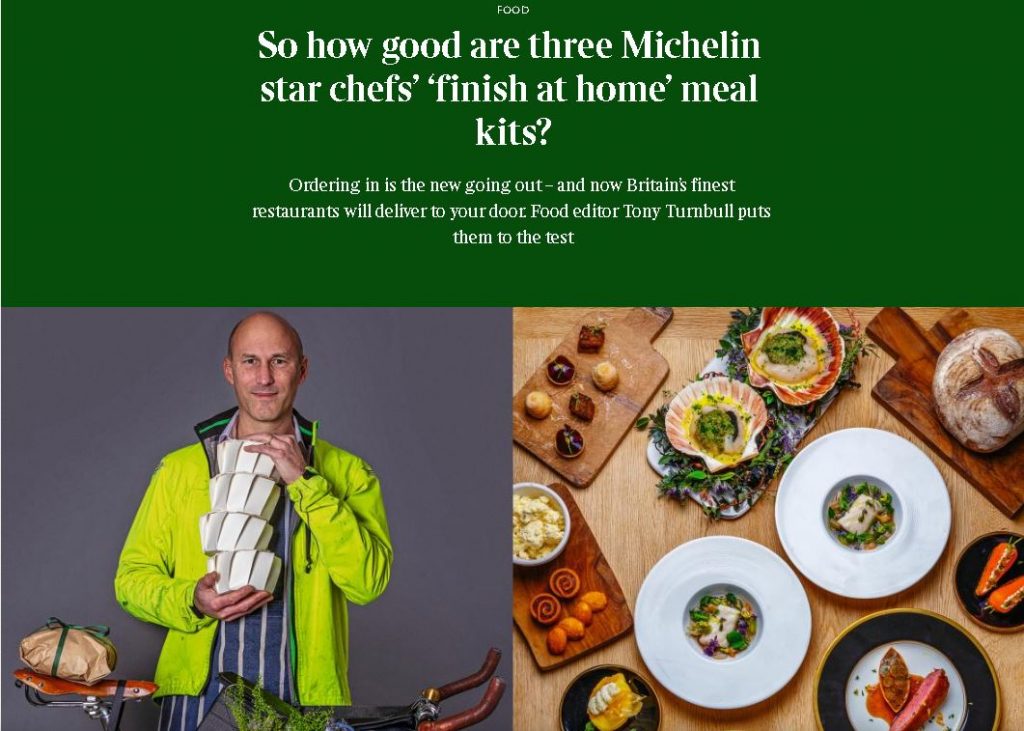 The Times
"From the lag between courses it was clear there were problems in the kitchen, and the service was, frankly, all over the place: cutlery dropped on the floor and simply brushed on a sleeve, plates left uncleared…"
"That's always the danger with eating at home. You just can't get the staff." But the food was "nothing short of perfection".
Tony Turnbull reviewed the finish-at-home kits from two restaurants newly awarded their elusive third Michelin star: Core by Clare Smyth (Core at Home, £175 a head) and Hélène Darroze at The Connaught (À La Maison, £195 for two). ("I wouldn't go so far as to suggest these five-course kits are a great equalizer .")
"I found it near-miraculous how well the dishes travelled. They were certainly the best meals that have ever graced my kitchen table."
Of the two, "Darroze's menu was perhaps slightly simpler.. only the scallop and veal needed cooking", while Smyth's was "more hands-on, calling for more accurate cooking – the clue was in the tweezers and digital probe thermometer included in the bag". The duck course "required three separate timers and two temperature readings".
"In hindsight, I wish I hadn't followed Smyth's first instruction, to pour myself a large glass of wine, quite so avidly."
*****
And also…
For those who love a podcast, The Food Programme's tribute to Charles Campion (RIP) is worth a listen.
*****
Bristol Post and Manchester Evening News both rounded up the new local restaurants opening up once lockdown ends.
*****
Recent News from Harden's