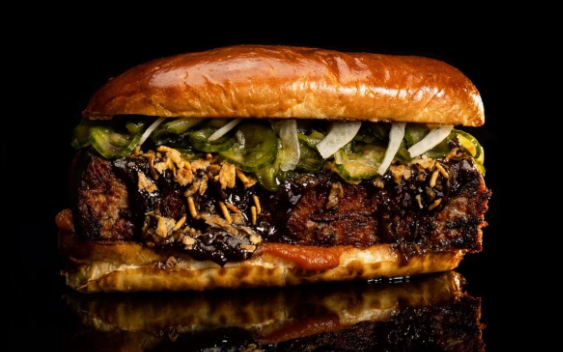 A group of chefs has launched Restaurant Kits, a new meal kit platform with a growing roster of restaurants.
Unlike delivery services catering to separate restaurants, the service creates DIY 'makeaways' for them, and specialises in 'experiences' beyond simply warming up prepared food.
Mac & Wild's Andy Waugh and Calum Mackinnon run Restaurant Kits, and Flank's Tom Griffiths has been brought in as head of partnerships. He said there are a number of exciting new collaborations on the way, and existing kits are selling out quickly.
The group said menus change monthly, seasonally, and in response to specific dates (Valentine's Day being one). This month includes butter chicken curry kit from Kricket, a vegan cauliflower shawarma kit from Berber & Q, and Griffiths' Ribinator, which is a modern and inventive riff on the McDonald's classic from the 1980s.
Here's February's line-up:
Tom Griffiths – The Ribinator
The Ribinator by Tom Griffiths – founder of Flank – is a perfect meal kit for nostalgia-lovers, available exclusively on Restaurant Kits. The Ribinator comprises a soft glazed sub filled with layers of BBQ pork, inspired by the 80s classic Mcrib, dressed with smoky ketchup, Korean glaze, crispy onions and sweet pickles.
Price: £25 (serves 2)
Biffs – Vegan Junk Food Tasting Menu (vegan)
Restaurant Kits is offering a five-course Vegan Junk Food Tasting Menu from vegan comfort food specialists, Biff's, this February. Each course is paired with a list of recommended beers and easy to prepare back-of-the-spirits-cupboard cocktails to accompany.
Price £45 (serves 2)
Kricket – Butter Chicken Curry kit
This ultimate curry kit allows fans of modern Indian-specialists, Kricket to make one of their signature dishes at home. The Butter Chicken Curry kit comprises Tandoori free-range chicken with a rich buttery makhani sauce, garnished with fenugreek and ginger and served with burnt garlic tarka dal, ghee pilau rice, black pepper papads & mango chutney.
Price £38 (serves 4)
Berber & Q – Cauliflower Shawarma kit (vegan)
Restaurant Kits is also offering a Cauliflower Shawarma kit from Berber & Q this February, bringing the flavours of the Middle East to homes across the UK. The kit boasts a whole cauliflower roasted in shawarma spiced butter, drizzled with tehina, pomegranate molasses, green chilli, pine nuts, pomegranate seeds, chopped parsley and rose petals, and is served alongside hummus, zhoug, crispy chickpeas and warm pita.
Price £27 (serves 3)
Neat Burger – Neat Burger kit (vegan)
A plant-based burger kit from Vegan fast food experts, Neat Burgers is also available, comprising two 1/8 lb juicy signature Neat Patties with secret Neat sauce, lettuce, tomato, pickles, cheese and grilled onions in a soft flour bun.
Price £19.99 (serves 2)
Fanny's Kebabs – Swish Chicken Kebab kit
The Swish Chicken Kebab kit from Fanny's Kebabs is available exclusively on Restaurant Kits. The kits feature everything to make two kebabs at home, including chicken thigh with Fanny's Meat Marinade, red onion, red cabbage, green chilli, green pepper and cherry tomatoes, along with mixed leaf salad, Fanny's Chilli Sauce, Fanny's Yoghurt Sauce and 3 flatbreads (1 spare to mop up the juices!)
Price: £18 (serves 2)
JUMA Kitchen – Tepsi Beitenjan Burger x Knafa kit
This unique kit comprises everything to make Juma's Iraqi-inspired burgers, including a lamb pattie with crispy lettuce, fried onion rings, stewed aubergine, potato chips and a tangy tomato and red pepper ketchup. They've also got dessert covered with a DIY Knafa included (baked cream and soft cheese, infused with honey and blossom water, topped with filo pastry and garnished with sugar syrup, pistachio and rose).
Price: £18 (serves 2)
Flesh & Buns – Japanese Fried Chicken and Buns kit
After the success of their first bao kit, Flesh & Buns have launched a new Japanese Fried Chicken bao kit, available exclusively on Restaurant Kits. The kit includes everything to make six buns at home – from the bamboo steamer to the shiso leaf garnishes – along with BBQ mayonnaise and red chilli.
Price: £18 (serves 2)
order by 11am for a delivery 2 days later (excluding Saturday, Sunday and Monday)