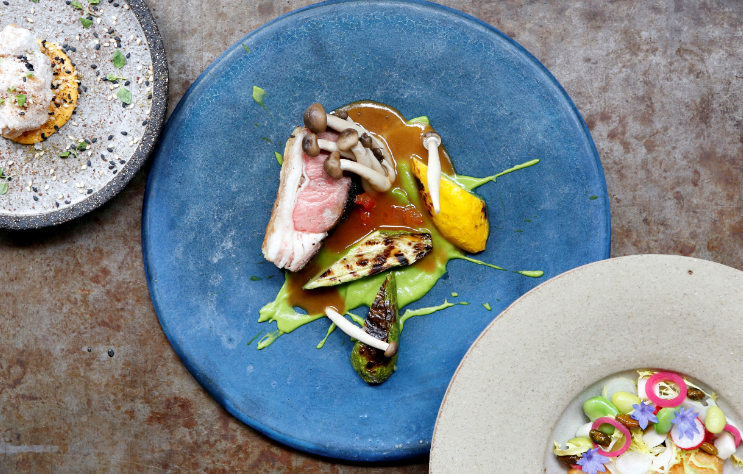 Fitzrovia's Mortimer House Kitchen has launched 'friends of Mortimer House', a guest chef takeover reimagined for delivery only.
Pidgin is first on the billing, bringing its European-inspired 'Homing Pidgin' to the takeaway table. For two months, James Ramsden, Sam Herlihy and the rest of the Pidgin team will move to Mortimer House, partnering with Modal Wines and Black Lines Drinks to offer a drinks menu curated by the Mortimer House Kitchen bar.
The move follows a series of guest chef residencies in 2019 and 2020, which included Elizabeth Haigh of Mei Mei, Oli Brown of duck duck goose, ex-Hide head chef Luke Selby, Zoe Adjonyoh of Zoe's Ghana Kitchen and more recently, vegan Chinese restaurant Mao Chow.
Indeed, Mortimer House didn't want to stop providing a platform for chefs and restaurants just because the country's in lockdown.
The Mortimer House Kitchen x Homing Pidgin menu will change each week, and the next delivery spot for Greater London is on February 19. Dishes might include the likes of radicchio and fennel salad with stracciatella, master stock braised pork belly with kimchi polenta cake, and Sangiovese poached quince with olive oil custard.
Ramsden said: "This is a super exciting opportunity for us to work with some new chefs in a new kitchen and bring our Homing Pidgin menu to a wider audience.
"Our E8 community have been an incredible support, but it's great now to be able to get Pidgin out to some more London postcodes. We love what Mortimer House do and are delighted to be a part of it while the world finds its way back to some kind of normality."