Unpaid rent is possibly the single biggest financial threat to many restaurants right now as they prepare to fight themselves out of the coronavirus pandemic.
Lack of government legislation or, indeed, any kind of lead on this issue, looks set to risk a ripple of business failures as the post-pandemic dust settles. "For many sadly it will be the end of the road when rent demands are due", comments one industry insider.
Even in good times, rents squeeze restaurant profitability. According to a 2018 report from CDG Leisure, 84% of London restaurants described their rents as high or unsustainable, with the average of restaurants surveyed saying rent accounted for 21% of revenues.
Yet despite the Covid-19-related closure mandated by law, many landlords expect 100% of their lease entitlement. And it's not just unyielding commercial landlords who will not give ground. Sometimes it's the local borough council.
As our co-founder Peter Harden notes:
"While acknowledging that this is a complex area, the simple truth is that many small and mid-sized entrepreneurs will be required to toast a significant amount of their personal equity, in order to protect the finances of large landlords, huge lenders and councils.

You don't have to be Robin Hood to think that this equation is fundamentally wrong. Nor, surely, does it require Albert Einstein to come up with a solution".
Readers it seems agree with him. According to a quick straw poll taken on Twitter, only 3 per cent of respondents thought it was right that there should be no rent relief. Of the other 97 per cent, most thought there should be some kind of legal relief, with others merely seeing a moral obligation on landlords to share some of the pain.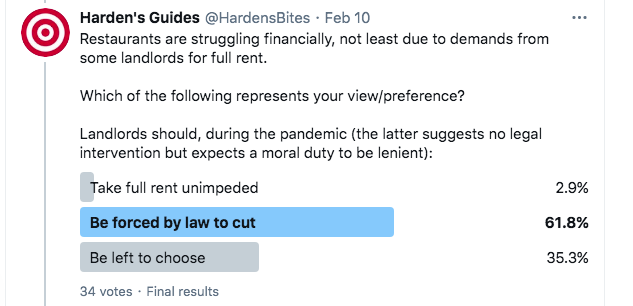 The Government has moved to support restaurants financially in lockdown. With limited or no cash flow, Rishi Sunak's Treasury has offered cash grants of varying degrees, set up the furlough scheme, and built an low-interest loan stream to help businesses survive. Sunak also introduced a business rates holiday and reduced VAT to 5 per cent from 20 for a year.
Undoubtedly these are all welcome measures. But as one restaurant group representative notes:
"[G]overnment grants go nowhere near close to covering fixed costs … The government have been reticent to meddle with what they view as private sector agreements, yet by not doing so they are signing the death warrant of many businesses."
What's more, cash grants issued by the Treasury are going straight back into the pockets of landlords, many of which are councils… It's cyclical and it punishes the small players most of all.
A moratorium on evictions is currently set to run until March 31. But while landlords may not be able to evict tenants that doesn't mean they can't ask for their dues – now or in the future. This is an astronomic weight on business owners who have very little clarity as to how their enterprises with fare upon reopening, and whenever that may be.
The issue of rent is complex and bound by moral obligation, moral hazards and legal niceties. Why should a landlord give ground if the restaurateur has insurance to cover the problem? Why should a small landlord give concessions to a huge multinational like McDonalds. If a lease includes a force majeure clause, why shouldn't the landlord rely on it?
Many landlords have acted out of either commercial interest – another tenant wouldn't do any better – or out of a general sense of fairness. We can mention Soho Estates as one such example.
One thing is certain: we risk losing hundreds of restaurants, either in the immediate future or in the years after lockdown, if the Government fails to act on rent.
What do we propose? Some ideas below:
• Central government should give councils funds to cut retail tenants a deal so setting an example to all landlords
• Government could say that landlords cannot legally collect a %age of rent while properties are closed – must be forgiven or deferred
• Government could say that lenders cannot legally collect interest in this period – %age must be sacrificed or deferred till end of loan and loan extended
What the trade are saying behind closed doors
Here we have collected statements from restaurant owners from across the UK. We have guaranteed all who spoke to us anonymity so as not to prejudice their commercial negotiations.
All come from small- to medium-sized businesses and provide a picture of the rental crisis being endured by hospitality right now.
A London restaurant group owner:
Rent is the biggest elephant in the room for many hospitality and retail brands. Many venues (nightclubs and theatres for example) have been closed for nearly a year with no revenue and mounting rent arrears and only extensions of the rent moratorium are keeping the wolves from the door. Unlike in other countries such as France, government grants go nowhere near close to covering fixed costs and for many sadly it will be the end of the road when rent demands are due. The government have been reticent to meddle with what they view as private sector agreements, yet by not doing so they are signing the death warrant of many businesses. An extension of rate relief and increased grants are necessary to provide liquidity to settle dues but also landlords must be willing to share the pain with tenants. If landlords don't work with tenants the reality they'll be faced with is empty sites for a long period and future tenants expecting longer periods of rent free and a far lower market rent.
A council lessee in a charming Historic Town:
"The council are really pushing me hard and not being at all helpful. They have offered me a payment plan but they still want their pound of flesh. I know someone else in exactly the same boat. They have offered a six month grace period so that's something".
The owner of a family spot in London:
Basically the government needs to completely rethink the landlords and tenants act. As it is now the power is all in the hands of the LL, with little protection for the tenant. Changing that will go some way into helping businesses survive. The system is unfit for purpose in a modern era really. It needs a major overhaul.
A restaurant owner in a rural town:
I was still earning 8k salary 5 years in when the lockdowns hit. Last year I took 30% of the previous years turnover. Still paying 100% rent, bin uplifts, accountant fees, insurance (thieves), utility standing harness and bills, booking platform payment, payment terminal rents…and even though we've had furlough, it still costs me employers contributions and my contributions to staff pension funds. When we restart we are likely to be back up to 20% VAT and potentially business rates back on. Its not gonna be easy by any means. Dark days ahead.
A small group owner in the North:
We have been fortunate with some landlords providing rent free periods and 50% rents. However, some have provided us with deferred rent which frankly doesn't help as that will pile on the pressure when we reopen to pay 150% monthly rentals. It also means full rent would then be paid for periods of full closure – how is that fair? I believe unfortunately everyone has to feel some pain and that includes landlords. Restaurants don't get the lost revenue back so why should landlords get the lost rental back. It's a tricky situation and I do see both sides hence, a compromise is the best result.