Harden's weekly update of where the critics are eating, recommending and avoiding, for the week ending 13 October 2019.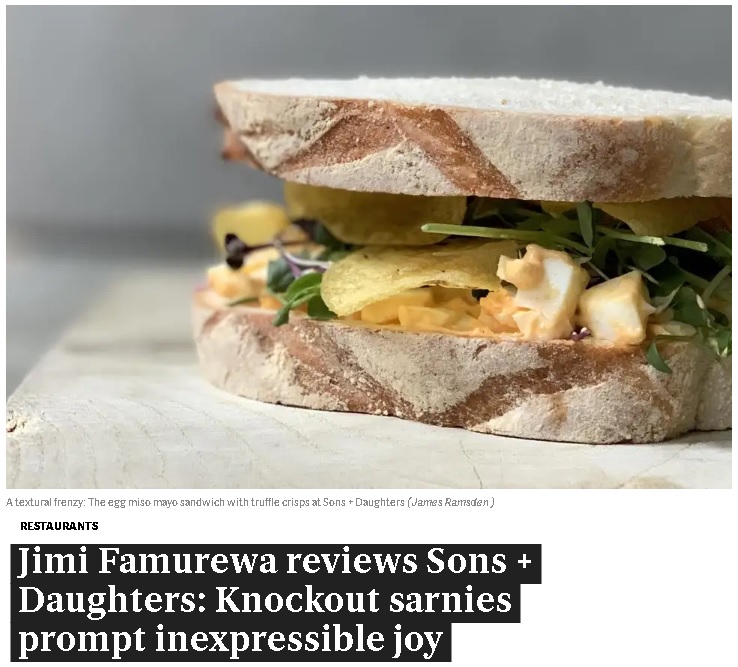 "Sometimes, a truly great, home-made sandwich can be quite a profound thing." Jimi Famuwera for The Evening Standard isn't always most thrilled by the "enlivening excursions to hypey food courts, dazzling pub residencies and innovative new restaurants" that his job entails. So it was perfect that his visit this week was to a sandwich shop, and one of "a spiritual similarity" to the famous Max's, no less.
Two ex-Pidgin chefs have set up a "gleaming, generous" NYC-style counter operation in Coal Drops Yard; on Jimi's visit, the "place was lightly abuzz with intrigued hordes". Some of the hordes were leaving with "hefty takeaway orders, tight-wrapped in sexy brown butcher's paper" – the "first clue that the sandwiches here practically have their own gravitational field".
His merguez sandwich – sorry, s+wich – was a "daunting, forearm-length baguette, loaded with lamb sausages, a lavish fistful of fries and fluoro loops of pink pickled onion. But beyond the brutish exterior there was nuance and careful engineering".
Soft serve ice cream for dessert is "smart, diverting fun" with clever and challenging flavours, but go firstly for the sandwiches. They are "structurally precise monsters that only cost a bit more than their Pret equivalents, prompt inexpressible joy and tend to be physical acts of antisocial concentration". (8/10)
---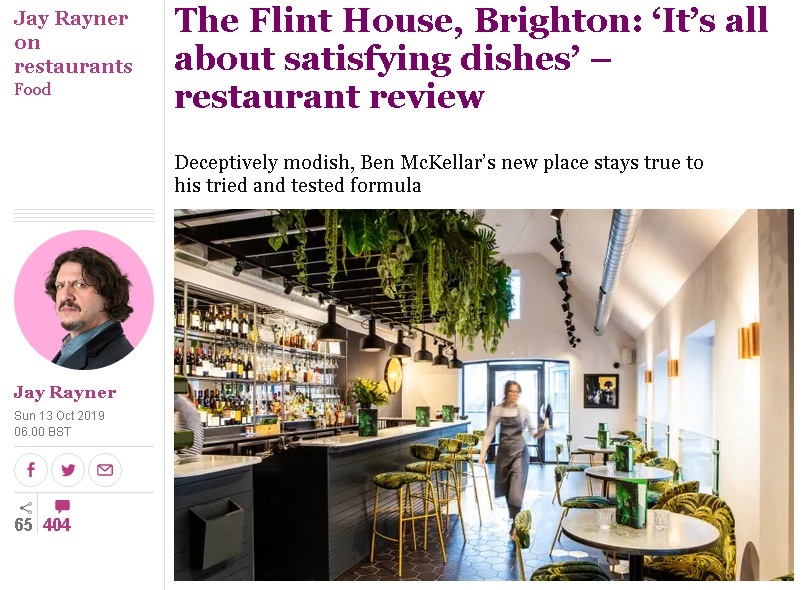 Jay Rayner from The Observer began this week's review with a thinly veiled critique on a certain "grizzled" celebrity chef's "ersatz take on somewhere called Asia", in an attempt to be "on trend". ("Buy in a few trinkets wholesale from that department store in Nihonbashi, stack the fridge with Cristal and offer up a menu full of miso-smeared cod and dishes that punch you in the face repeatedly with gochujang. Yours for £100 a head." Ouch.)
And then he swiftly moved on to discussing how "being up to date while remaining true to yourself takes more skill", which was evident in chef Ben McKellar and his partner Pamela's "shiny" new place. They've run Brighton restaurants for years; Jay has eaten in most of them, from the Gingerman to the Ginger Fox (which has "a touch of St John"). Chef McKellar can "raise the humble to the extravagant… his dishes have always been on the plate what they promise on the menu".
The Flint House is "seemingly unlike any other McKellar outpost before…  all polished surfaces and sharp angles and yes, of course, small plates because everything is right now".  But "dig through the unstructured menu" and "you'll still find the big fat McKellar thumbprint: it's about solid dishes that don't sacrifice substance for looks". Jay is reassured ("like some terrible brand fetishist") by ingredients from Ortiz and Hannan.
Tom Parker Bowles for The Mail on Sunday reviewed here a few weeks back – his overall impression was of "the sort of meal… that's forgotten within moments of leaving". Jay seems to agree, in a fashion, with his final paragraph:
"Over the years the McKellars have run businesses built around the special occasion; restaurants where milestones are marked and devotion is proved. The Flint House is not one of those. It's about a couple of satisfying dishes, rather than the works. It's a restaurant that makes its point one dish at a time."
---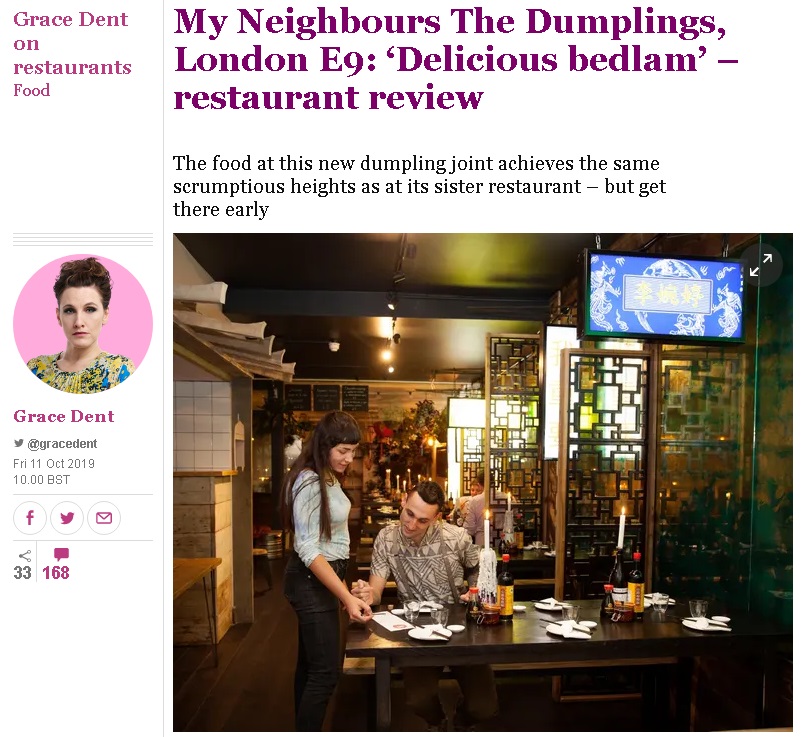 Grace Dent for The Guardian visited the new (and "roomier") Hackney branch of the oddly-named dumpling house. She loved the original ("delicious, homespun, sort-of-Chinese, sort-of-Korean, a-little-Vietnamese bedlam") but it was so crowded, she decided to not go back.
However, the new place is a different story (even though she ate at 5pm just to avoid the crowds) – it's "a gorgeous expanse of elegant calm" with "explosions of greenery and a cacophony of lanterns and knick-knacks". "More beautiful, more, dare I say, grown-up than the first. It's twinkly, inviting and date-nightish."
"They may have nailed the perfect crisp, moist potsticker" (well, they do make over 14,000 a week over the two sites); the veggie ones were "a punchy blend of shiitake, cabbage, chive and sesame".
Grace also ate a "thrilling basket of Cantonese crystal shrimp dumplings, or har gow" (the best I've had in London"), pickled wood-ear mushrooms with goji berries ("fabulous") and "a soothing, unusual cold plate of marinated silken tofu littered with preserved vegetables and pine nuts" and yakitori skewers that were "a delight".
"Go early, beat the rush, order the har gow. That's how good neighbours become good friends." (24/30)
---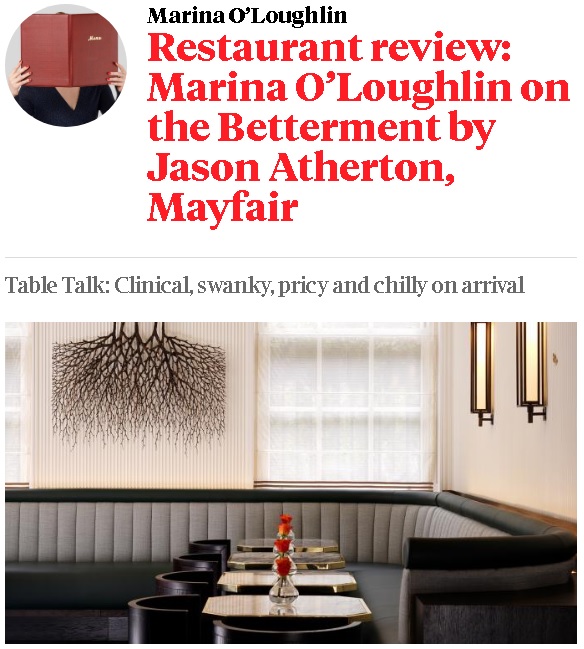 Marina O'Loughlin for The Sunday Times is not drawn to hotel restaurants. "It's not surprising that some of the splashiest London… openings this autumn are in luxury hotels", given the costs of running restaurants in the capital (or you could "just dig an enormous pit and throw your life savings into it before setting it on fire").
But they are so often "corporate, bland or overdesigned, super-expensive without sparking joy" – not to mention that "the 'name chef' is rarely, if ever, in the kitchen". Still, she went along to Jason Atherton's new venture at The Biltmore "with hope, prejudice be damned". (Although, like Fay Maschler, she thinks the name is "ugh" – like an "Ordnung manual handed out at Amish meetings".)
The Grosvenor Square location means that the decor is "the full swank, a one-percenter orgy of dripping crystal light fittings, marble surfaces and soft-porn flower arrangements", complete with "glossy greeter". She was given "such a Your Face Doesn't Fit table, it's almost funny".
The food is supposed to be sharing plates ("they're simply not"); with "curious side dishes". The starters included king crab legs that were "denuded of their natural sweetness" (and £8 each), the short rib main was "bullyingly one-note" and john dory was "leathery". The Insta-famous onion flower "could have been delicious" but was "corpse-cool… by the time it reached us".
"This is a kitchen in love with process and technique, all anally retentive turning of tiny turnips and textbook stocks and glazes. The net result is that we feel processed too." The food is "robotic, an assembly line of dishes with repetitive, button-pushing notes: meaty umami, creamy veloutés, crowd-pleasing proteins, alliums", accompanied with "shameless upselling".
Marina bumped into other restaurant critics while she was there. They all agreed they wouldn't be back.
---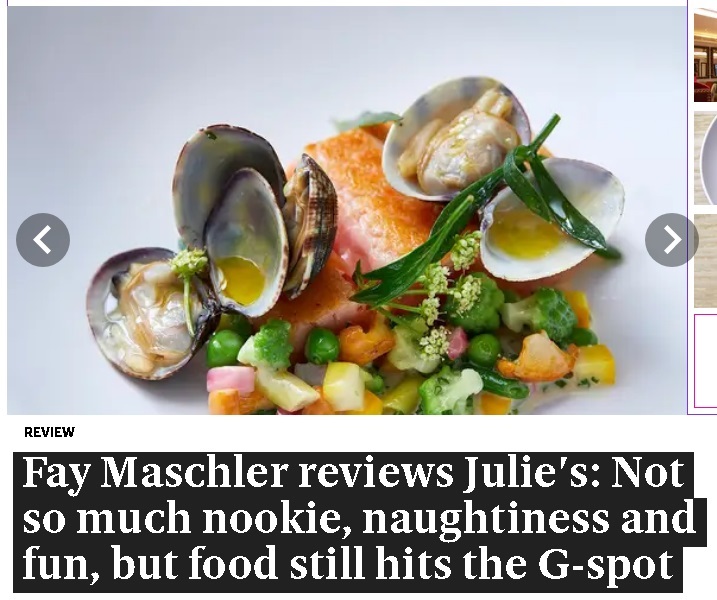 First as usual, Fay Maschler for The Evening Standard visited the revived Julie's (whose "relaunch this autumn after a spell in the dark marks the restaurant's 50th anniversary") for her review this week. From its heyday, Fay recalls "naughtiness, nookie and fun" and "accounts of shenanigans behind the curtains of table G3, otherwise known as the G Spot", but "I don't remember much chat about the food".
Shay Cooper, formerly at The Goring, is now head chef; the meals Fay tried include buttermilk fried quail with white miso emulsion ("Mother Clucker for aesthetes — delectable") and Hereford beef tartare with spiced shallots ("impeccably constructed"), while the "standout assembly" was a dessert of "lemon curd, lemon sorbet, coconut and fennel crumble… one of the best I've encountered in a very long time".
A return visit for lunch ("not apparently appealing to Millennials", the room was empty bar a few "dowagery ladies") brought a few niggles about the hospitality and the "fairly brief, higgledy-piggledy" wine list, but her friend adored the food.
"Despite fabulous food I can only see disappointment if you return to Julie's à la recherche du temps perdu." (****)
---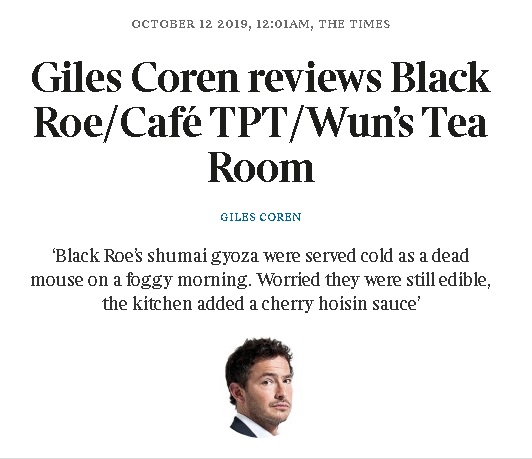 Heading west from his new office, Giles Coren for The Times stumbled across Black Roe in Mayfair, and was "the only customer in a vast black and gold nightclub of a place with £95 steaks". The food was unilaterally disappointing; gyoza were served "cold as a dead mouse on a foggy morning", covered in a 'cherry hoisin' that was "like licking old car batteries"; pork and prawn dumplings (also cold) were "chewy and flavourless in their puddle of manky veg-box run-off" and a broccoli dish was the "sort of thing you'd hesitate to chuck on the compost for fear of scaring the worms". All at the very Mayfair price of over £50 (with no booze). (2/30)
He wished he'd gone to Cafe TPT instead, where he'd have eaten a "huge, nourishing plate of their pork chops Macao-style" for £11 (with enough left over for dinner). (22/30)
The next day he tried harder. He went to Wun's, which looked like another "authentic whitey-run Asian Eating House" but was the real deal. He and his friend "sat in a corner of the small upstairs room with a good view of the street and ordered delight after delight from the short lunch menu": crispy tofu, "six beautifully crimped and steamed pork dumplings" and "HK 'wind shelter' fried chili whitebait" to start.
With the main courses, "the excitement climbed steeply". House soy-braised aubergine rice was "banana-soft, banana-sweet" with "all the fat, tangy juices melting into the rice, which stuck to the hot bottom of the pot, to be scraped out and crunched". Wok-fried soy cheung fun with egg and mince took things "comprehensively stratospheric".
"Deliriously good" sugar skin ibérico char siu "blew up the sun and stars" – " seasoned with honey and five-spice… slow-roasted so that it's crimson like a traffic light… the meat smoky and tangy, the yellow fat so sweet and sticky and buttery smooth".
Wun's "is quite expensive but then so is Black Roe. And Black Roe is shit. Whereas this place rocks (and employs one of the nicest waitresses I've ever met)". (24/30)
---
No score this week – and no explanation – from Tom Parker Bowles for The Mail on Sunday; he was at "one of London's most beloved restaurants" which he'd never once been in before.
He encouraged readers to "believe the hype". "The Quality Chop House is a magnificent restaurant, with true hospitality stained deep into its curlicued walls." The waiters are "charming", the wine list "genuinely interesting" and the menu "unashamedly British" ("but not overwhelmingly so").
He ate "hearty beef shin croquettes", fried brill spine, "swooningly rich" monkfish liver, roast grouse and finally mince on dripping toast, that "no-nonsense proletarian fodder that soothes and seduces and fills the heart with meaty glee" – "one of London's great dishes, in one of London's great restaurants".
"Everything here is done well. With the minimum of fuss. For a couple of blessed hours, The Quality Chop House allows one to escape the madness of the outside world." Surely there's no better reason to break out that fifth star, Tom?
---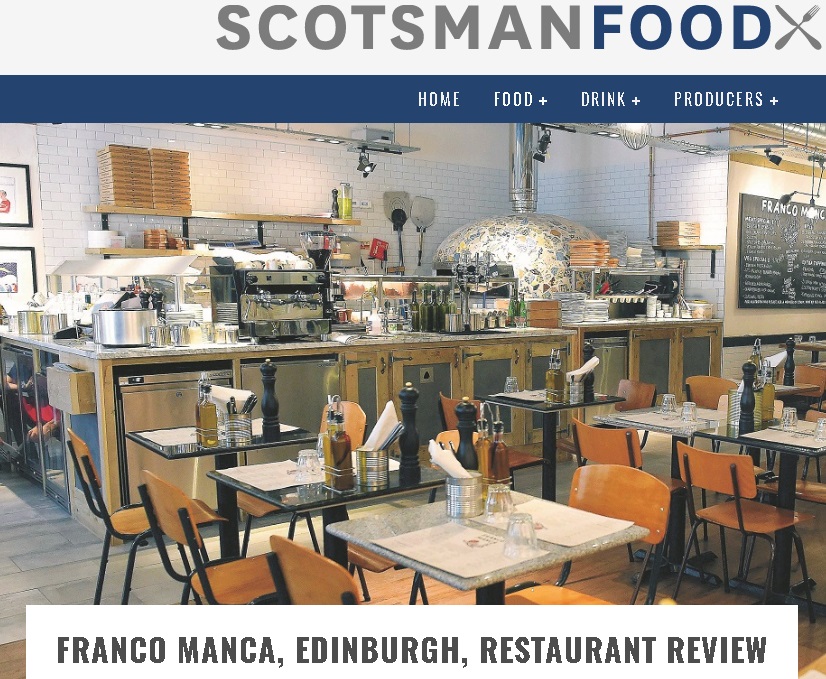 Gaby Soutar for The Scotsman tried out the new Edinburgh (and "first north of the border") branch of Franco Manca pizzeria, in The Mint Building that's "part of The Registers development on St Andrew Square".
It's "a smallish space, neutrally decorated" – and was almost empty when she and her friend got there. There are just seven choices of the "Neapolitan style sourdough pizza", plus a "couple of specials, or you can pimp them up with extra toppings".
"The bases are good – chewy, very salty and cheetah-spotted along their rims" – Gaby's 'no. 7' pizza was "earthy and gently spicy, with… slightly gross-looking but rather lush-tasting spicy nduja drizzle".
"Puddings are also quite simple. They must be the only chain in town that doesn't have something salted caramel-ish on the dessert list" – the best was " the brick of lemon almond cake".
Although she'd rather have been in one of Edinburgh's independent pizzerias, "The Mint Building has got a mint new business on its ground floor".
---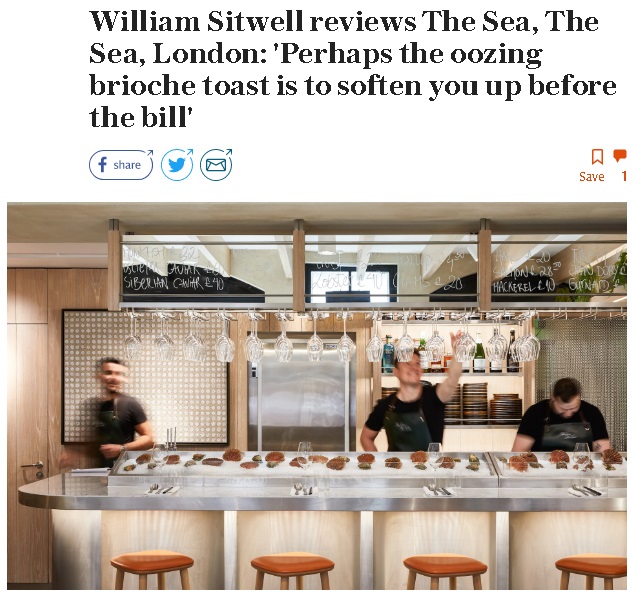 William Sitwell for The Telegraph ate at the "fishmonger by day and fish bar by night" The Sea, The Sea; it's part of the Cadogan estate in Chelsea, so don't expect a bargain – "a smattering of dishes and a bottle of wine won't leave you much change from £200".
After half a dozen "decent and creamy" oysters, he tried a "sandwich of mussels and girolle mushrooms held between thin and flat square crisps made with miso… a fabulous concoction of crunch and creaminess, salt and umami".
A "lobster rice sandu… between hard sheets of nori seaweed with sticky rice… was another triumph of intriguing textural surprise".
Pudding was "a huge whack of brioche toast, oozing caramel and covered with hazelnuts and cream – tasty and rich but totally out of kilter with the rest of dinner. Perhaps it's intended to soften you up for the bill; an epithet of cruel awakening." (***1/2)
And also…
In The Financial Times there was a review of The Bookshop in Hereford: "the 'charcuterie board' consisted of some duck pastrami, a pile of "pork quavers", each the size of a deep-fried duvet, and a range of pig-head croquettes" – it "blew my tiny brain"
---
Keith Miller for The Telegraph was at Norma, where the pudding "a squidgalicious cake" was "grandmotherly rather than cheffy".
Recent News from Harden's