Here is our football-free, weekly round-up of what the national and local restaurant critics were writing about in the week ending 11 July 2021.
*****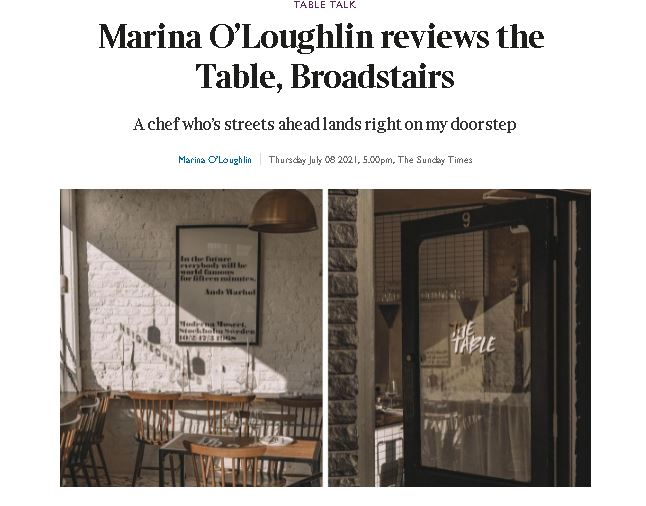 The Sunday Times
"This is not a story of gentrification, but of people keen to make a living doing what they love somewhere they can afford."
Marina O'Loughlin was overjoyed to find another gem on her doorstep, thanks to the continued exodus of chefs from London to Cornwall, the South Coast and Kent, where chef Hill has opened The Table in a "tiny Broadstairs backstreet space".
Hill's "CV bristles with names such as Ramsay and Aikens. And head chef gigs at Soho House." At The Table, pre-pandemic, " he started off very low-key: magnificent cheese toasties and interesting wines — actual heaven in my book" but spent lockdown developing his concept and has now "unveiled something that wouldn't look out of place in Paris's super-branché, super-foodie 11th arrondissement".
"I was first bowled over by Hill's food at the excellent Wyatt & Jones in Broadstairs, but he's knocked it up several notches here," with plates ranging from "elegant and sophisticated" to "street-food-trashy"; some even "combine both qualities".
"The Table is neither swanky nor exclusive"; it has "breathed life into a dusty little parade… with energy, style and talent". (For trivia geeks, it's a few doors down from the old-school ironmongers that's "renowned as the inspiration for the Two Ronnies' Four Candles sketch".)
*****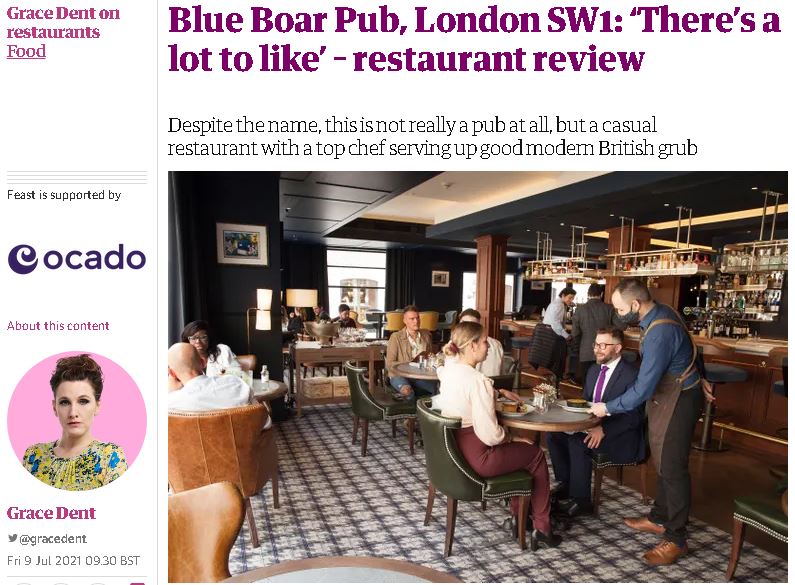 The Guardian
Grace Dent went politician-spotting in Westminster at the "brand spanking new" Blue Boar Pub, part of the Conrad St James hotel. It's "not really a pub at all, but a casual restaurant helmed by a hugely respected chef".
"A slick, pristine space with plush carpets, wine buckets, dozens of padded leather chairs, besuited bartenders and warm, knowledgable staff", the Blue Boar is "overseen by the incredibly accomplished chef Sally Abé".
Grace found "a lot to like about this venture" but is "unsure whether I'd go back to the Blue Boar to eat, but it's a useful place to keep up your sleeve for a drink and a quick bite of something close to the Westminster village. "
*****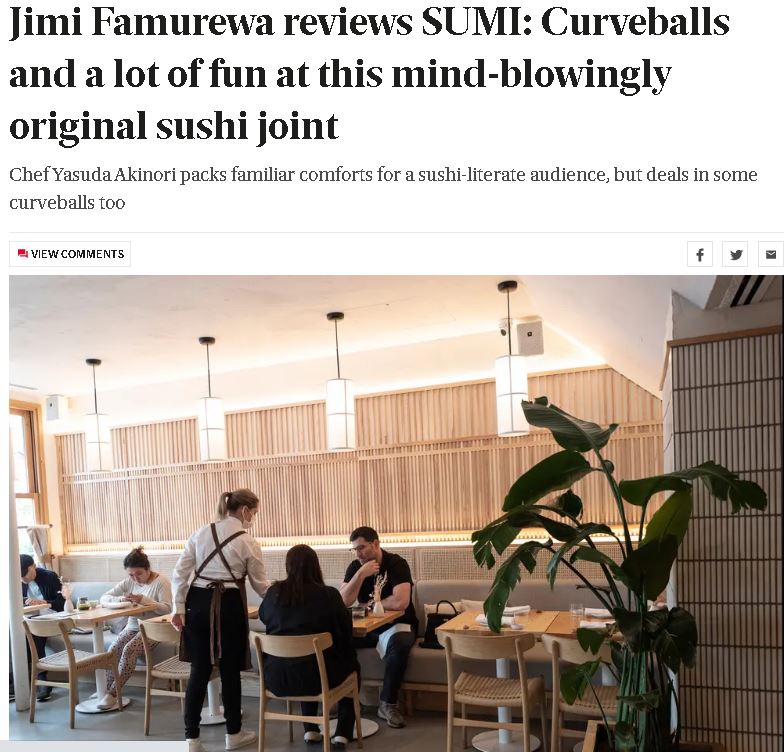 The Evening Standard
Chief critic Jimi Famurewa ate his words along with "unforgettable" sushi at Sumi, a "newish spot" from "sushi master" Endo Katzutoshi (of Endo at Rotunda).
He'd previously categorised all high-end sushi restaurants as either "monastic, airless" counters or "brash, Mayfair-meets-Dubai money pits", but describes Sumi as "spectacular provenance and exacting craftsmanship meets an unexpected human warmth and looseness".
"No sane person would describe it as affordable" (£100+ for a solo lunch, although "any doubts" he had about the prices "dissolved… with each miraculous bite) but it's certainly "determinedly casual", which he found actually "helps to deepen the impact of the food". One dish had "such transfixing flavour clarity that I genuinely started laughing".
"Surprisingly welcoming, quietly mind-blowing and, perhaps most radically in the context of a hyped sushi restaurant, legitimately fun."
*****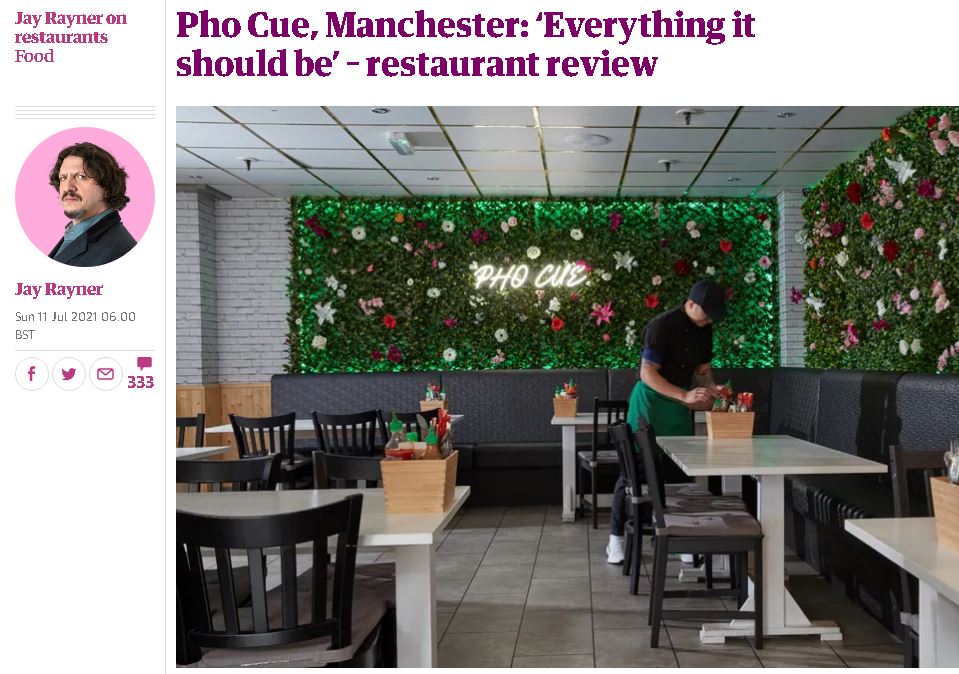 The Observer
"I am grateful that happenstance has delivered me here, into Cue Tran's vivacious tribute to where he started and who he is."
Test & Trace issues meant that Jay Rayner's lunch booking in Manchester was cancelled at not one but two different restaurants, the last closing just as he boarded a train from Euston. ("For the sake of doubt my main sympathies here are with the restaurants.")
At the last minute, in fact as he walked out of Piccadilly station, he spied the "simple cafeteria space with fake whitewashed brick walls and a fake vertical garden" that is Pho Cue, owned by Cue Tran. It is – as the name suggests – Vietnamese, with both a "bright modern presence on Instagram" and a great back story.
"All the classics are present and correct and all are seriously good value"; the "pho is everything it should be" ("its rich savoury depths are profound and restorative and all consuming").
"Like so much here, it simply makes you feel like you are being good to yourself."
We love that, on hearing there was no dessert menu, Jay simply began again with another starter.
*****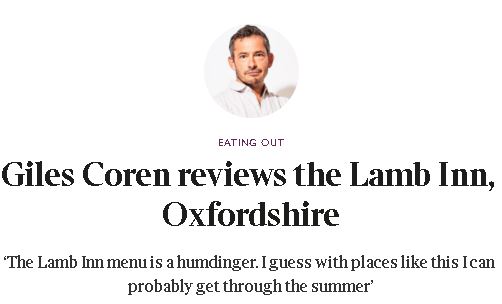 The Times
Giles Coren took his readers "on a journey through Oxfordshire" in lieu of a summer vacation; more accurately, the gastronomic joys of "the M4 corridor" on the way to his country house.
One could have a "midweek jolly" at the Sir Charles Napier at Chinnor, "beloved of local boy Raymond Blanc (whose Manoir aux Quat'Saisons is just around the corner)", or enjoy "extremely sophisticated French cooking" at La Table d'Alix at The Plough in Great Hasesley.
Further west, Giles took a group of students to Cherwell Boathouse for steak; go "for the books and the bikes and the bluestockings, the punts and the picnics and the people, not for the food".
"But I'll tell you where you do go for the food: anywhere run by Peter Creed and Tom Noest." That used to just be The Bell Inn at Langford ("the best pub restaurant in the country") but now includes the place for Giles' review, The Lamb Inn at Shipton-under-Wychwood, which is " bigger than the Bell", has ten bedrooms and "a much bigger garden".
The Lamb's menu is a "humdinger", with "established classics" but also "a turn towards the rural French bistro" with "brilliant" specials. (28/30)
*****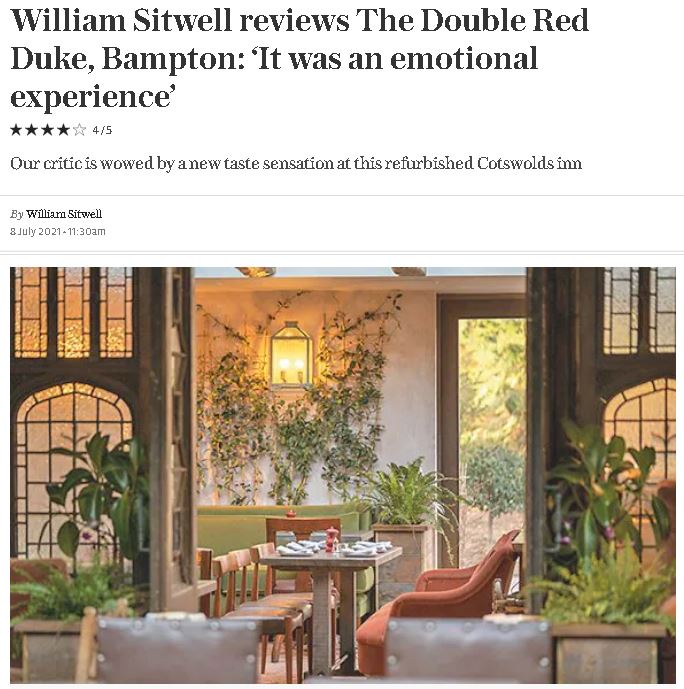 The Telegraph
"I went to pick holes in the place. And rather unsuccessful I was at that.."
William Sitwell was at the old-but-new Double Red Duke in Oxfordshire, subject of a "rumoured £6.5 million refurb". The result is "pretty exceptional" – "stylish, very comfortable… cleverly proportioned".
"Epic" starters and mains (oysters, lobster, prime rib – your average pub dinner) and a generally "unforgettable, emotional experience" were served up by "slick and professional" staff.
"Money doesn't buy you everything, but £6.5 million can get you a pretty special pub." (4/5)
*****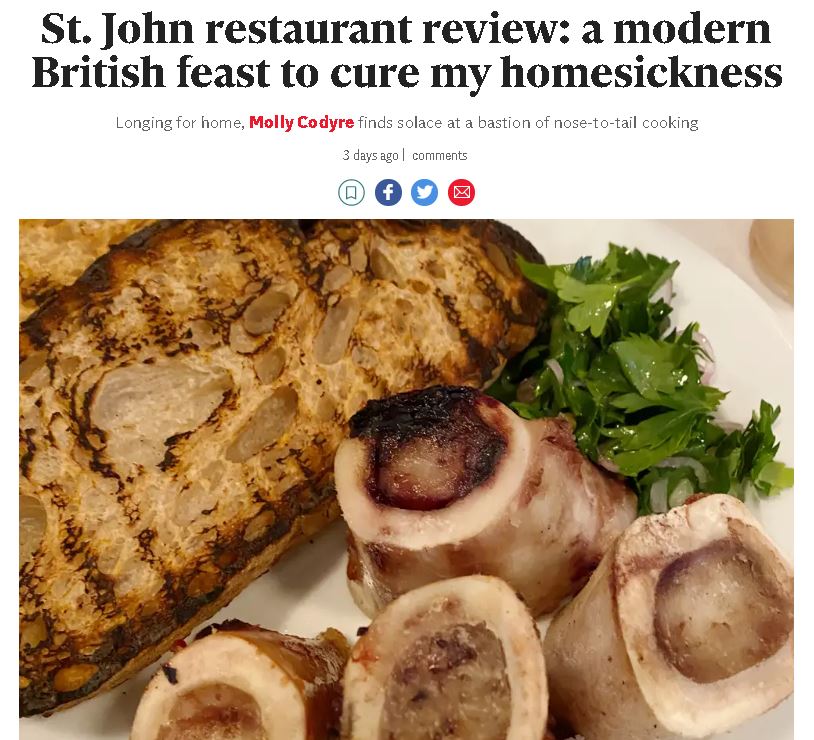 The Independent
"Alongside almost any new restaurant opening or high-profile chef appointment in recent years, there seems to be a note about said person's time training at St. John. This is perhaps the best measure of the restaurant's impact on London, and the most fitting tribute to its importance in carving out a new era of English cuisine."
Molly Codyre headed to St John not so much to review but to "worship at the altar of gastronomy" and to ward off homesickness and "post-holiday blues".
She was impressed for every minute of the three hours, by the "joyous" space, by the "well balanced" menu, by the "league of its own" bone marrow salad ("it's been on the menu for 26 years for good reason") and by the dessert menu "even longer than the choice of mains".
*****
And also…
"In celebration of society's joyful return to eating out," Fay Maschler popped up from retirement to review Brat at Climpson's Arch in east London railway arches in Tatler; she complimented Tomos Parry on being"ahead of them all – he went al fresco last summer". The food and negronis there are "proof of an understanding of the reward in food so intense, it can see off a pandemic".
*****
In The Scotsman Gaby Soutar loved Taco Libre, the new wrestling-themed and "awkwardly-shaped" little Mexican that's opened in Edinburgh, just up the road from the newly opened Taco Bell. "This is not a refined take on Mexican cuisine, so expect to have salsa and crema running down your chin. Go here with pals, not a hot date." (16/20)
*****
In The Financial Times, "a first taste of Max Rocha's new canalside canteen" Café Cecilia; "the Dublin-born chef hails from designer royalty but is now bringing a taste of his homeland to Hackney".
*****
Bristol Live raved about a tiny Palestinian cafe that opened between lockdowns that has gained nothing but top online reviews since opening. Jafra is the project of friends Holly Meyrick and Palestine-born chef Omar Jowhar.
Another Bristol Live article investigated the rise of 'spread booking', "whereby people make reservations at multiple restaurants to give themselves options, but only intend to honour one of them".
*****
Recent News from Harden's