Our weekly round-up of what the national and local restaurant critics are writing about, for the week ending 9 May 2021.
*****
The UK's hospitality industry is finally open to outside dining at the least, with indoor dining starting from 17 May (24 May in Northern Ireland). If you make a reservation, please honour it, whatever the weather, or cancel in plenty of time; no-shows and late cancellations cause huge losses to restaurants.
Please continue to order takeaways, cook-at-home kits, vouchers, merchandise and deliveries from your favourite restaurants if you can (we include links to those mentioned); the restaurant industry and everyone involved in it need our continued support.
*****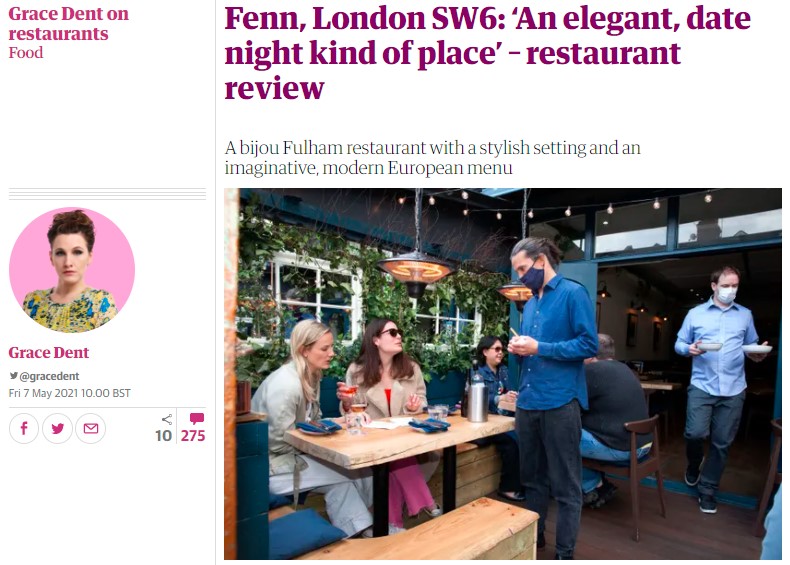 The Guardian
"Not one sane soul will pine for this season of swamped booking systems and damp bum cheeks."
Grace Dent ventured to Fenn in Fulham ("please God… one of the last restaurants I'll visit during the alfresco period"), which "turned out to be one of the classiest examples" of al fresco dining in the post-lockdown era.
It's a "modern European, date night kind of restaurant with an elegant, enclosed terrace… from the team behind Nest in Hackney", serving "lovingly imagined, thoughtfully sourced, but not overly earnest plates made from scratch".
"Fenn offers the kind of casual yet caring service that verges on Michelin standard, but could equally be the cafe on the corner." It's "good when it was only half working, so by the time you get there, the place will be flying"
Oh, and "the nutmeg-laden custard tart is stupendous".
*****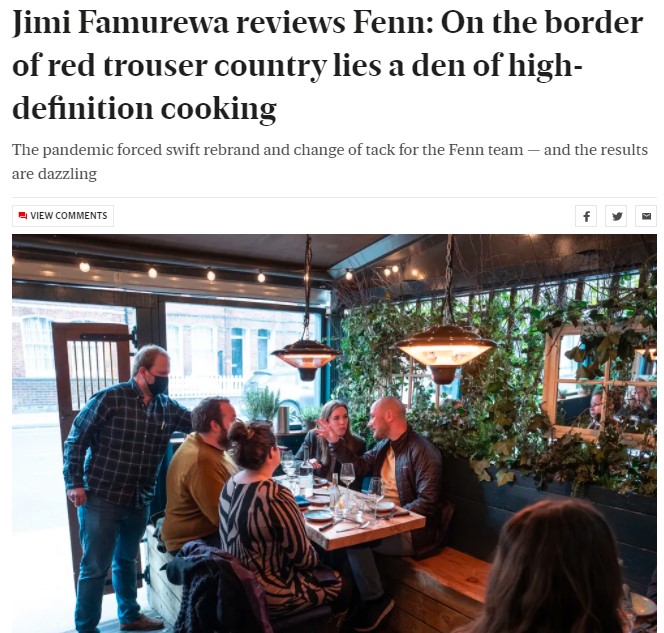 The Evening Standard
And just like that, we are back in the land of double reviews! The Evening Standard's chief restaurant critic Jimi Famurewa also visited Fenn, which he declared to be "unquestionably, the best new restaurant I've visited since outdoor dining resumed".
"Originally launched in late 2018 as Harlequin — an affordable fine dining spot with a pronounced Afrikaans accent" but the South African chef left before the first lockdown, so a "swift rebrand and change of tack" was needed. For now there's a terrace that's a "hilariously tiny and a triumph of sylvan form and function" but there's 30 seats inside.
As each course was served, "the relentless level of control, technique and explosive flavour was almost stupefying". A "couple of underpowered vegetarian dishes" aside, it was enough to make him "reel a little that this level of capital-C cooking was available at such a crazily appealing price".
"The people behind Fenn have turned a tiny space named after a bog into something dazzling that now blips and pulses on my own personal eating map of the city."
Jimi also noted that "London's actual restaurant landscape has never felt more in flux", with other established restaurants also spawning branches in unlikely places (Rita's in Soho, The Sea, The Sea in Haggerston).
*****
Also in The Evening Standard, three articles from David Ellis; the first on how delighted he is with the forthcoming Bibi. Chef Chet Sharma is quoted as saying "My cooking style comes from the Ledburys of the world, but my flavour profiles come from the Gymkhanas and Brigadiers" which is enticing to say the least.
David's second article is about the new Big Mamma group restaurant that will open in Covent Garden this summer; Ave Mario "will be enormous, covering 7,000 square feet and operating with 295 covers over two floors, with an additional two terraces". The final article is an interview with Russell Norman, and his exciting plans for opening Brutto in August.
*****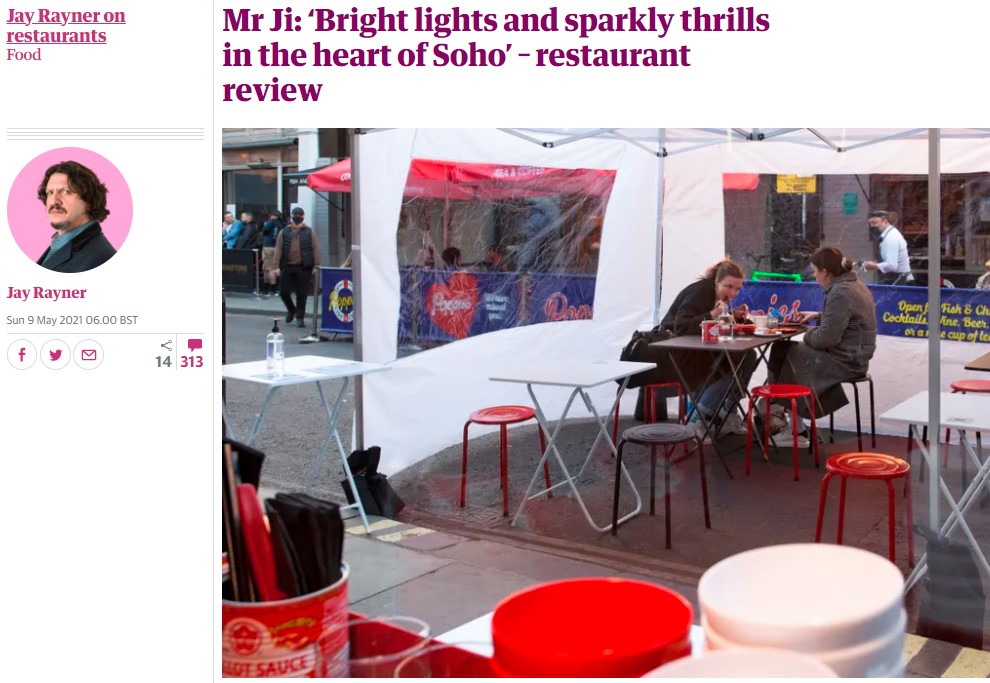 The Observer
Jay Rayner is the first of the critics to review Soho 'newcomer' Mr Ji, relaunched with the help of "the couple behind Tā Tā Eatery" and now serving a "modern Taiwanese" menu, which is a "smart trick: it's short without leaving you feeling robbed of choice".
He's is already planning a return trip to the bricks-and-mortar restaurant, rather than the current "open-sided gazebo on Old Compton Street", for the "invigorating margaritas made with lime leaf cordial and citrus oils" and the "seriously messy Sichuan burger… which makes your lips go both slightly numb and a little fizzy at the same time".
"It's the kind of thing Nigella Lawson would describe as temple food: both satisfying and restorative and, while I don't subscribe to anybody else's notions of goodness, it does bestow a certain virtuous glow."
Overall, Jay found Mr Ji to be "fun, reasonably priced and well-executed" – and in a few weeks "when it has innovations like walls and central heating it will be fabulous".
*****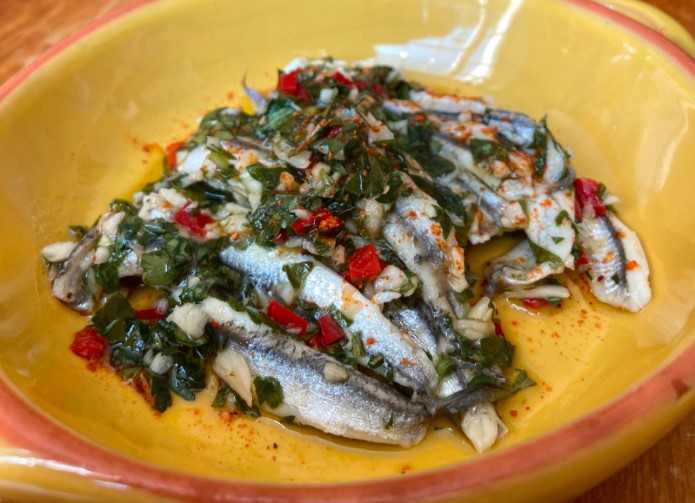 The Mail on Sunday
"Good restaurants should always… lift the mood, put faith back in our fellow man, add joy and merriment to one's day."
Tom Parker Bowles for YOU Magazine has finally used up his DIY kit reviews in his column with Olly Smith; this week he started in style with a trip to Margate ("a strange but endearing mixture of the hip and the hip replacement") and Bottega Caruso, "tucked away from the main drag, which specialises in the food of Campania in Southern Italy".
He enjoyed dishes of fish, seafood and "fresh made" pasta that were the "very essence of Neapolitan delight". Bottega Caruso provided "simple, unpretentious yet utterly confident in the quality of its ingredients and cooking".
"The wine flows, the sun shines and all seems well."
*****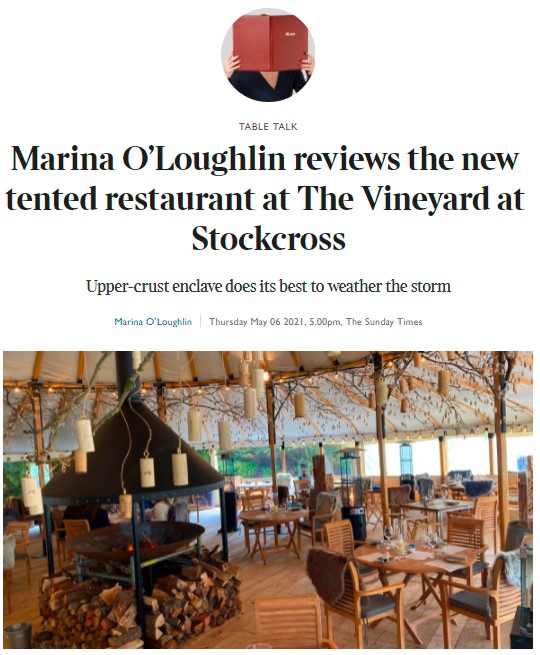 The Sunday Times
"The top end of the hospitality market has, in its own way, been as hard hit as the rest of the industry… even for the toppiest, food margins aren't vast, staff costs are high and wealthy benefactors have a tendency to bail when figures fail to tumesce."
Marina O'Loughlin checked out the Vineyard at Stockcross, the "swish but rather dated and corporate hotel… in actual Downton territory — Highclere Castle is a few miles away", eating outside as per regulations, in OutSide, the pavilion built in 2020 ("an enormous circus tent… furnished to look like, well, a high-end restaurant"). Needless to say, "this isn't my usual beat, not the sort of place I'm drawn to".
Marina discovered that the usual "hyper-fine dining" has been toned down to "breezy and informal" with an "appealing" menu of "sharing plates and tapas-style dishes" for their al fresco offering. "It's all pleasant enough in a VIP catering at Wimbledon kind of way." The cost is admirable too, starting at £30 for three courses, with a welcome drink included.
"We're not in nitpicking mode these days", although there were several dishes that would have deserved a hearty nitpick in other times. An "impeccable" dessert and "luscious" wines saved the day, as did their server and "the sensation of being properly warm in a restaurant for the first time in weeks".
"All things considered, when it comes to keeping customers on board and adapting from a core offering under the most challenging conditions, this is a heroic example of how it's done." (And staying open for the remainder of the summer, in case you're interested.)
*****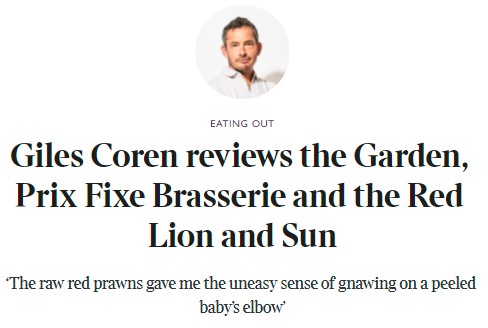 The Times
"I have eaten half a dozen lunches outdoors… and they have been so full of joy and loveliness."
Giles Coren entertained us recently with a rant about the utter hideousness of outside dining, and has now changed his mind after several meals al fresco. "From now on, I will always endeavour to sit outdoors and if I never go inside a restaurant again, then it will be too soon."
Without reservations, Giles took his daughter to Prix Fixe, a Soho stalwart, for steak frites (there's "a good choice of French brasserie standards across three courses for £15.90") and then bustled his family up to Highgate's Red Lion and Sun for Saturday lunch.
His proper review was at The Garden at the Corinthia, "which proved a revelation", a "very handy addition in these days of endless locking down and then up and then down again".
He "sat under warm heaters, with a fireplace roaring to one side" and enjoyed the small plates and pizzette, all "far too much of a good thing".
*****
And also…
Birmingham Mail gave a five-star rating to Locanta, a family-run Italian in Jewellery Quarter, which delivered "the perfect mix of authentic food, ambience and quality service" for a first post-lockdown meal.
*****
Another five-star review from Bristol Live for Sonny Stores, Bristol's "hottest new restaurant" that replaced Birch late last year. "What started out as an Italian deli with a few tables has morphed into the sort of neighbourhood restaurant relocating Londoners must already be writing home about."
*****
Recent News from Harden's