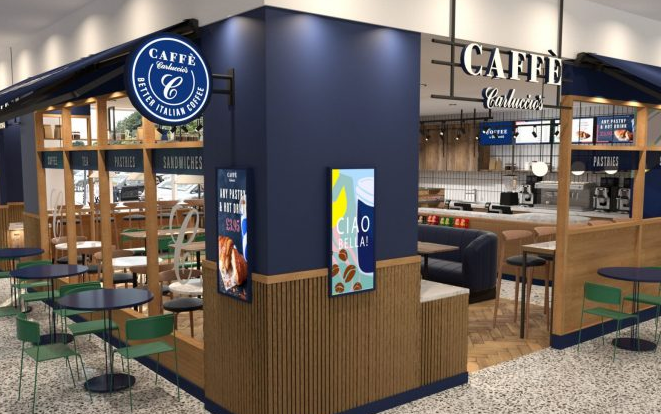 Carluccio's latest strategy to mine value from its brand is a partnership with Sainsbury's.
The once charming chain of Italian restaurants was in May 2020 saved from total collapse by Boparan Restaurant Group, which – with the supermarket – will test out three new in-store concepts under the Carluccio's brand.
The first format will be a coffee shop in Sainsbury's St Albans superstore. Called Caffè Carluccio's, it will open on June 3, seating 45 customers and serving coffees, cremosa blended drinks and granita fruit ices alongside breakfasts, ciabatta sandwiches, toasties, filled croissants and pastries.
A range of Carluccio's retail products will also be available (which has always been part of the Carluccio's strategy).
A Carluccio's Counter will then launch later in June in the Sainsbury's Leamington Spa superstore, selling deli products such as pasta and olive oil and made to order pizzas and chicken dishes.
The third concept being trialled is a much bigger proposition. The Restaurant Hub, a multi-brand offer with grab-and-go and delivery options, will feature Boparan brands including Caffe Carluccio's, GBK, Slim Chickens, Harry Ramsden's and Ed's Easy Diner. It will launch in July in Sainsbury's Selly Oak superstore.
Rhian Bartlett, food commercial director at Sainsbury's, said:
"This is the first time we've worked with Carluccio's and we'll be listening closely to see what shoppers think of the different concepts."
Recent News from Harden's