Harden's weekly update of where the critics are eating, recommending and avoiding, for the week ending 3 November 2019.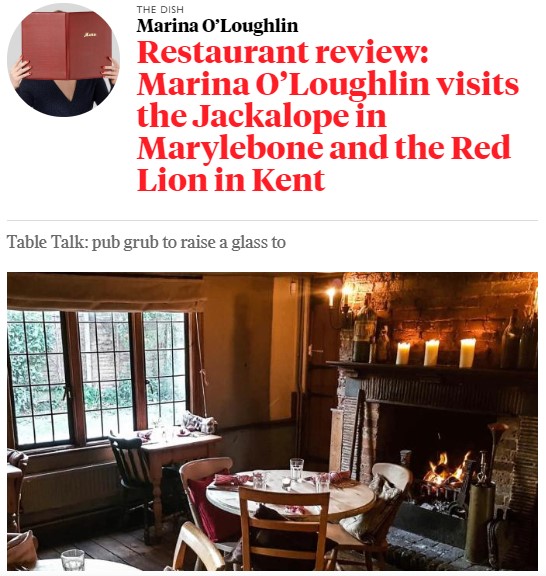 Marina O'Loughlin for The Sunday Times encountered two "beauties" while researching for an article on the demise of the Great British Pub. With "boozers closing at the rate of one every 12 hours", they are slowly realising that they need to "adapt to survive".
In Marylebone, a pub dating back to 1777, The Jackalope, has adapted in a serious way, introducing a Chinese pop-up in the restaurant, from "former street-fooders Liu Xiaomian". Started by homesick students unable to find their familiar Chongqing cuisine (xiao mian – wheat dressed noodles), Liu Xiaomian serves the "tiniest" menu, but the "shimmering bowlfuls" that appear from the kitchen are "hardcore", with "uncompromising" heat and flavour – "we leave cheerfully unable to feel our numbed lips".
"The Red Lion couldn't be more different." In a rural Kent village, this local has been taken over by four new owners, who have embraced the "rackety eccentricity" of former owner, the late Robert Whigham. Charcuterie and liqueurs are made in-house, there's a "vast selection of cheeses", pudding was a "showstopper" and the house style appears to be "contrariness", but it all works, "weirdly".
"If all pubs were like this pair, you'd have to prise me out of them."
---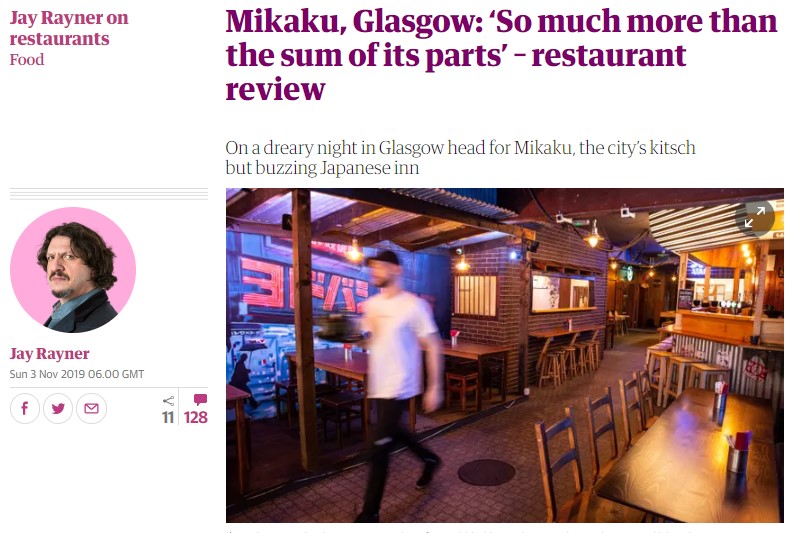 On a rainy night in Glasgow, Jay Rayner for The Observer discovered Mikaku, a "neo-Tokyo dystopian style" izakaya, serving comfort in the form of deep-friend chicken and cheap wine.
The look is surprisingly authentic, if a little off-the-wall (or "overblown, comic-book kitsch" as Jay calls it). "Gilded in neon", the "floor is a faux cobbled lane, complete with manholes… edged with communal tables under lean-to roofs and food outlets with their own counters, as if it's a street food alley".
Yes, there were niggles about the thickness of the noodles and the tonkotsu stock might have been "a little on the insubstantial side", but overall Mikaku was "so much more than the sum of those parts".
Chashu belly pork slices in the ramen were "soft and sweet and salty, with just the right balance of fat to meat", chicken karaage had a "ludicrously compelling combination of crispy and salty" ("understated… in the way that Rylan Clark-Neal's teeth are subtle"), skewers were "smoky and seared in all the right places" and the "tricky and messy" chicken wings were available in several flavours – Jay tried the sweet soy and sesame versions followed by a pair with "Oni Demon" sauce ("I manage one").
For dessert, "fried apple gyoza with butterscotch sauce… cannot be resisted".
---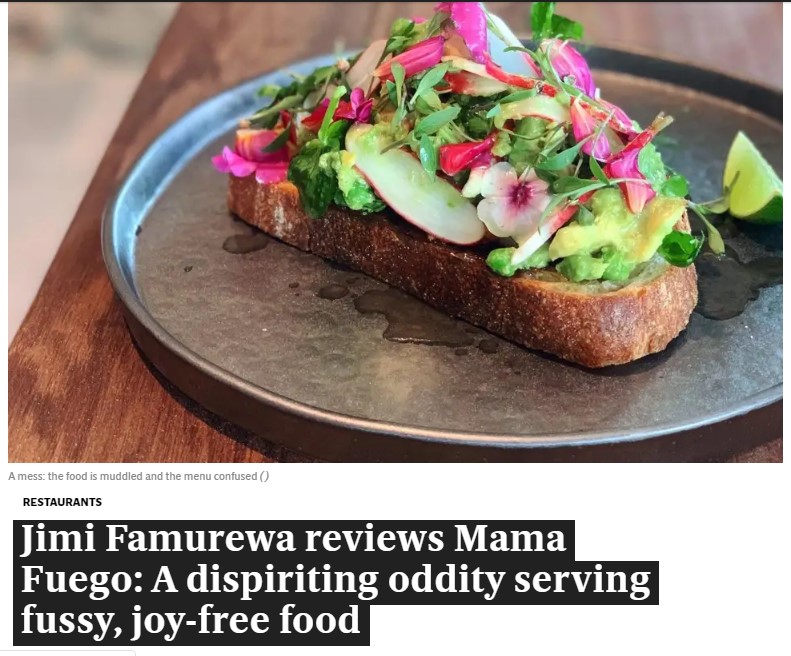 Jimi Famuwera from The Evening Standard was in North Greenwich, near The O2, "not, historically, somewhere people care to linger unnecessarily". However, with "residential developments springing up", more non-chain restaurants and attractions are appearing, of which "Australian-meets-South American all-day operation" Mama Fuego is one.
There's "commendable, intriguing ambition" here, and "money has clearly been spent" on the "many-roomed, 1970s-influenced space" although it soon became clear to Jimi that the food wasn't up to the same standards.
Black-clad waiting staff were "eager but jittery, like panicked stagehands at a fringe theatre". The "very short, determinedly scattergun menu", served up "fussy, joy-free food", with "an allotment's worth of micro greens indiscriminately lobbed on basically everything".
Mama Fuego "needs to drastically simplify its offering, and rein in the wearying attempts at photogenic distinctiveness". "It may be one of the more dispiriting, oomph-less places in which I have eaten a meal this year; a muddled, looks-first oddity where tired presentational gimmickry… sadly crowds out the common sense." (5/10)
---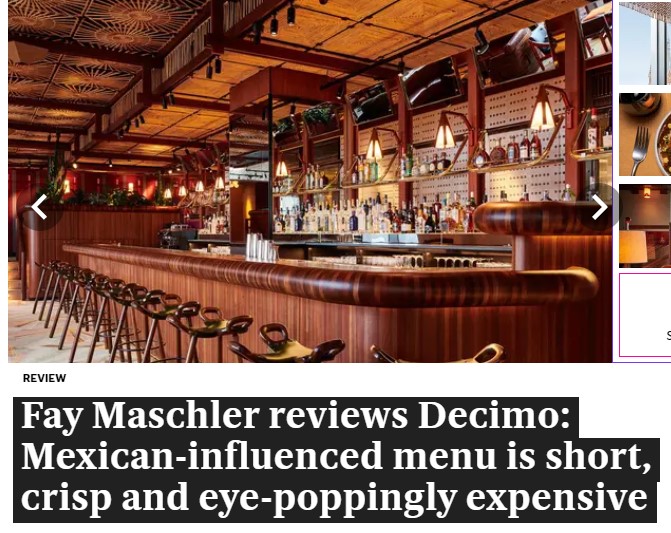 First as always, Fay Maschler for The Evening Standard dined twice at Decimo to give us her opinion on Peter Sanchez-Iglesias' first London foray, on the tenth floor of The Standard hotel in King's Cross (served by a "capricious" lift).
Decimo is "an atmospheric treat to discover", with a "Mexican-influenced menu" that's "short, crisp and eye-poppingly expensive" (no, she didn't order the caviar-topped tortilla), meaning that "anything less than an impeccable result is disappointing".
Despite listing a paragraph of all the dishes she loved, including aguachile, a Mexican take on ceviche ("octopus à la Gallega style a whole new way of looking at and enjoying tentacles"), mushroom bomba rice ("a thing of beauty, visually and in one's tum") and turbot glazed in pork fat ("seeming almost a bargain at £24"), Fay only rated Decimo with three stars. (***)
---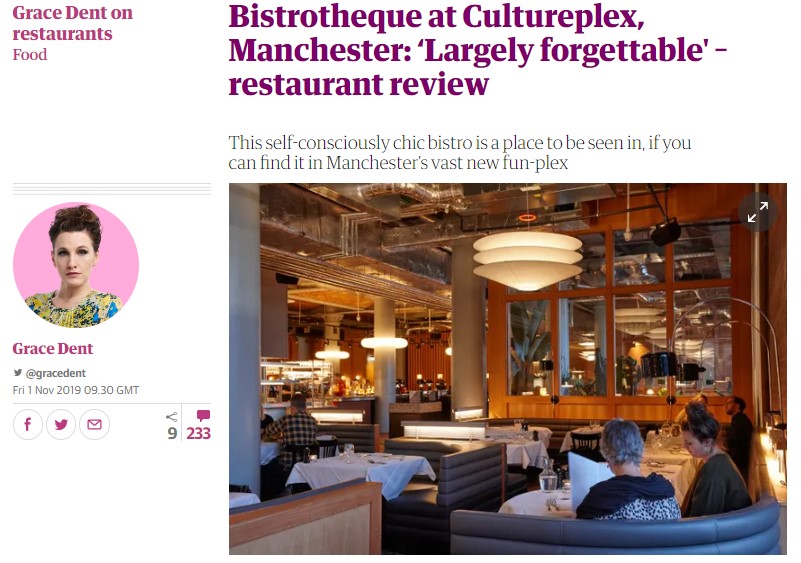 The Guardian's Grace Dent was in Manchester, visiting "self-consciously chic bistro" Bistrotheque in "Manchester's vast new fun-plex" Cultureplex in " a former railway goods warehouse behind Piccadilly station". Bistrotheque, fans may recall, previously lived in East London, and was a "chic chaos, steak frites" place where "nothing wholesome ever happened".
"Cultureplex is one of those dining, eating, drinking, thinking, art-house, cocktail, coffee spaces that have emerged this year" – also one of those "enormous, "everything is possible" dining spaces is that, in reality, nothing is done properly".
Bistrotheque, in one corner, is "similar in vibe, up to a certain point, to its London sibling", with "pristine, white tablecloths, smart-casual serving staff and a cocktail list of new innovations that makes you want to clear the afternoon and kick off your shoes". Unfortunately, the food didn't match up.
A starter of cured salmon with beetroot tartare "sat in a puddle of green and burgundy jus. The plate looked like a Van Gogh", but was "too cold, tasted sharp and was not wildly delicious". "Desperate Dan could not have finished" the gigantic potato and Comté pithivier, and the flavour of the steak tartare was "quashed any subtlety of flavour" by too many capers.
Only the dessert, a "soft, delicate plum frangipane tart" was "glorious". (16/30)
---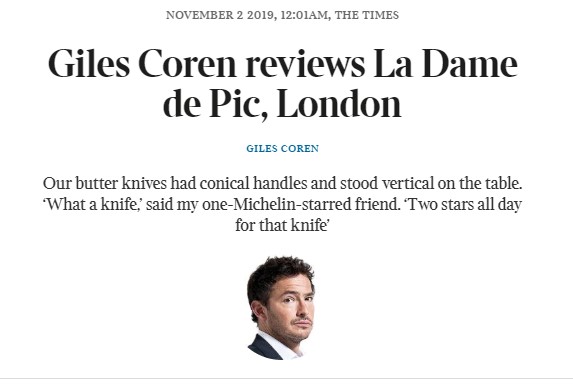 Giles Coren in The Times' Saturday magazine went hunting Michelin stars – he doesn't usually care about the "crapulent Froggy tyre-floggers" but a friend of his was in for an award (and "they matter to chefs" both "in terms of respect in the business and for the financials") so he cared on his behalf.
"I haven't properly looked at this year's list but it'll be a load of bollocks. There is always such a huge range of quality across the one-starred places: the less good ones are just not in the class of dozens of mysteriously unstarred ones, and the best are infinitely better than most of the two-starred places."
His friend's award didn't materialise, and other friends who already had one star didn't get a second. So they decided to go to La Dame de Pic (which went from one to two stars) to see how it should be done. Giles gave them false names and dodgy Yorkshire accents to disguise their identity.
They admired elements of the décor (roses, upstanding butter knives, dainty amuses-bouche and automatic blinds) but not others ("horrible fake aged mirrors, beige pleather"). Giles thought the matrix-style menu was "clever" and there "general love around the table for the sommelier".
The starter was a "very beautiful dish" but didn't quite work, a Scottish langoustine dish brought a silence to the table, wagyu beef was dismissed as "sous-vided" but Giles happily took it over. One dessert of chilled Stilton meringue encased in white chocolate was "applauded as the apogee of salty-sweet desserts" by his companions, but to Giles was "a vomit-scented Cornetto".
As his friend said, "The whole Michelin thing is a fooking mystery, if you ask me." (17/30)
---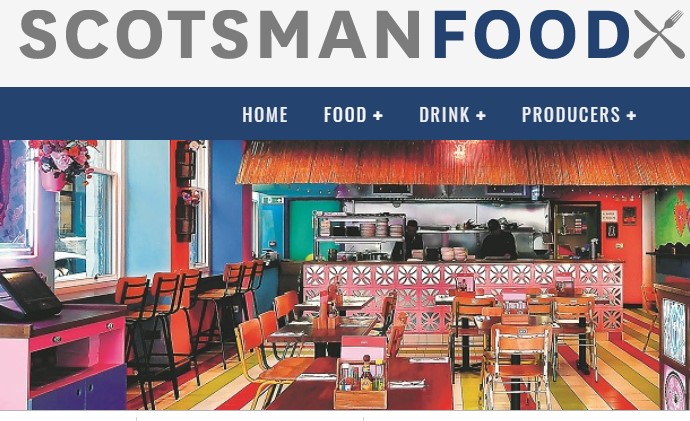 Gaby Soutar for The Scotsman was in a new Glasgow Mexican joint, suitably decorated for Dia de los Muertos on November 2nd with the "prerequisite paraphernalia" – sugar skulls and marigolds.
The "short-ish" menu "that focuses on tacos" is complemented by "lots of booze" and "the eponymous stuff"; tacos arrive in pairs, and could do with a stand, as they "soon collapsed like flooded ceilings". Side dishes including Oaxacan-style beans were some of the most interesting dishes.
"They don't do pudding here. Not even one little churro." (70%)
---
And also…
Nicholas Lander for The Financial Times ate at La Piquette in Washington, DC, which was "very French and highly enjoyable": "the large menu reads like something from your all-time favourite bistro".
---
William Sitwell for The Telegraph was at E&O Chelsea, with a head full of memories of "restaurateur Will Ricker's duck, watermelon and cashew salad" from the original E&O in Notting Hill. Sadly, here, "for the chilli salt squid one needed more a chisel than chopsticks to hand". (**)
---
Tom Parker Bowles for The Mail on Sunday had "a joyous, brilliant, blow-out and blast, a wanton orgy of God-blessed beef" in WagyuMafia The Butcher's Kitchen in Tokyo, where he broke out that fifth star for the first time in ages. (*****)
Recent News from Harden's