Our weekly round-up of what the national and local restaurant critics writing about, for the week ending 3 May 2020; the country remains in lockdown, with restaurants, cafes and bars officially closed due the coronavirus outbreak.
You can still support your local and favourite restaurants; many are offering takeaways or deliveries, or you can buy produce, meal kits, vouchers, cookbooks or merchandise. Check out their social media pages for details (all available via hardens.com)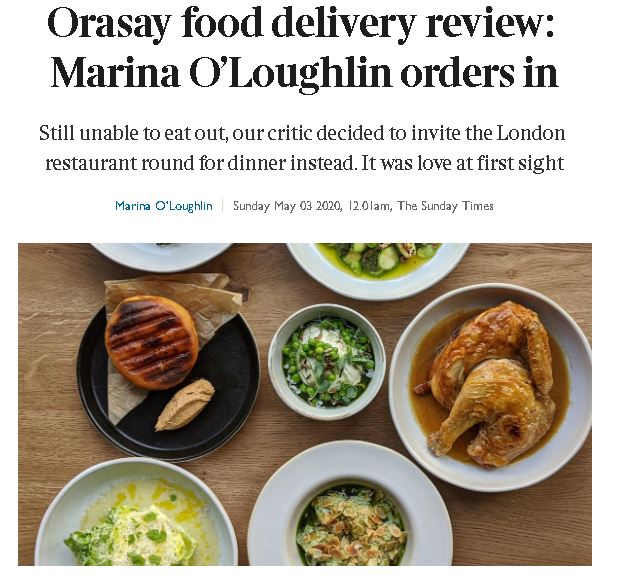 The Sunday Times
"When this crisis hit, I decided there was little point in reviewing a different new takeaway or delivery service every week: the setting would never change. The food arriving at my door could only say a fraction about what the restaurant means."
However, when Jackson Boxer announced Orasay at Home, Marina O'Loughlin jumped at the chance of a restaurant meal delivery, having not actually eaten there yet.
"With the arrival of neat ranks of brown paper bags and labelled packages: a few of my favourite things", a three-course meal, complete with wine pairings decanted into slightly "medical" punches, was enjoyed. It wasn't cheap (with the wine, around £50 a head), and not an exact match to Orasay's regular menu ("Choosing food that can travel clearly imposes limitations. Many of the delicate fish and seafood dishes … wouldn't be an option."), but worth it: "we basked in dish after dish, wine after wine, the magic was there".
"Without setting foot inside, I could tell Orasay was one of the good ones: so much care had gone into everything — from the flow of the menu to simple side dishes."
Marina spoke with Boxer afterwards; initially he stated that the "decision to continue operating was motivated by financial necessity, the need to cover rent, pay suppliers and staff", but changed his mind mid-sentence. "Restaurants are almost never about profit. In fact, the act of restoring another person through feeding them is defiantly anti-profitable."
Marina was certainly restored by this delivery. " Sitting under the last rays of lemon-drop April sunshine, eating and talking and laughing, nobody fixed to their phones, the speaker burbling our favourite songs, we were briefly carefree… For a few hours the feast made us feel not just normal again, it made us feel human again."
---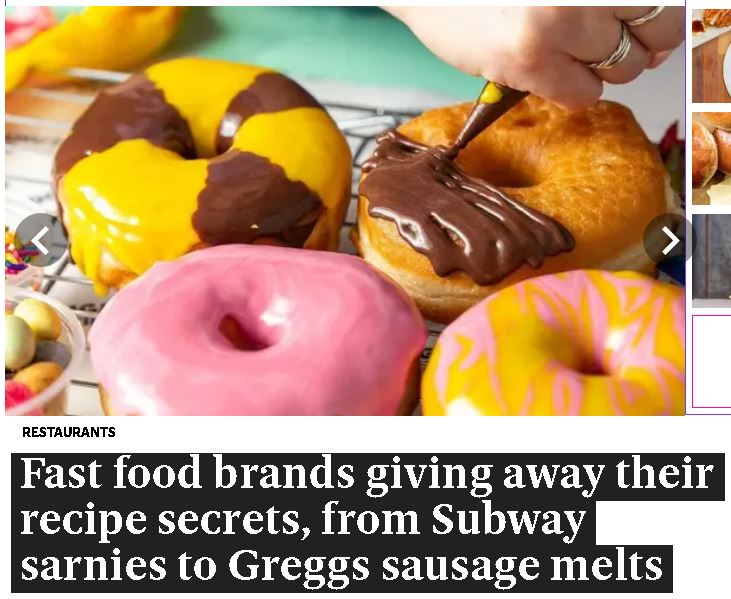 The Evening Standard
The Evening Standard reported on the fast food brands giving away their secrets for home cooks during lockdown, and those offering home-cook kits: "If the reader can't go to the table, the table will come to you. It's a satisfying alternative to takeout, anyway."
The London newspaper also charted the fast food chains opening up for takeaway and delivery, and talked to chefs about the sauces they use to spice up home cooking.
---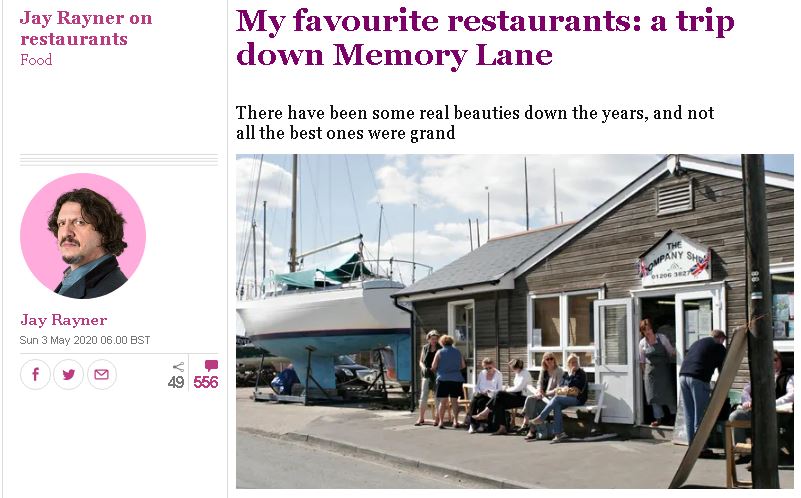 The Observer
"In these times, when our world has shrunk to its essentials, and many of the pleasures we take for granted have been wrenched from us, the inside of our heads can be a vital resource."
Jay Rayner's article this week is about his favourite restaurants, or rather the best meals he's eaten. (He includes Heston Blumenthal's Fat Duck, but "specifically circa 2005 when he was first pushing at the boundaries of what dinner out could mean; when it was as uniquely entertaining as it was uniquely delicious", for example)
There's simple places on his list, including The Company Shed at West Mersea ("It's so simple, I was jokingly advised by a regular to take my own chair") and what is now The Crab House Cafe in Weymouth ("The whole experience was unimprovable. Or at least it is in my memory").
There are also expensive places, including Jean-Georges in New York: "here, nothing bad can happen". Jay admits he has "an untidy relationship with the restaurants of the gifted Alsatian-born chef Jean-Georges Vongerichten. Generally, I have swung between laughing at them and hating them", but recalls "two completely perfect bites" of black bread with sea urchin with rapture.
"The truth is that there's no definitive answer to the best restaurant question. These are mine. Yours would be very different. I might disagree with you, but your choices wouldn't be – couldn't be – wrong. They'd just be yours."
---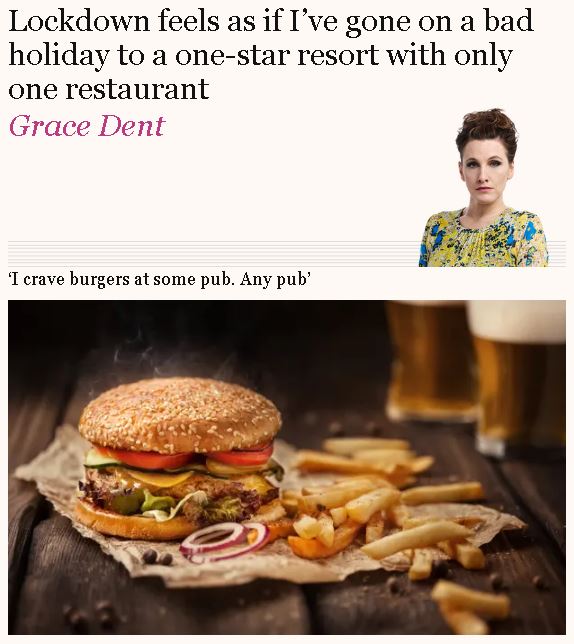 The Guardian
Grace Dent has "been good and compliant and jolly resourceful for six entire weeks by now, eating rotting things that I didn't quite fancy". She's been "saintly about food waste, avoided supermarkets, protected the NHS and not frittered money on Deliveroo", but "it no longer really feels like winning".
"Over the past six weeks, as restaurants shut up shop, the industry has grappled to work out if we'll ever need chefs again. And at first I thought perhaps not … But now I know we'll always need these people with their pans, stamina and imagination."
Grace is missing restaurant food – "I miss someone else lacing my food with far too much oil, or butter, or salt, because I'm just a stranger and they care little for my heart valves, but they want me to love their food and come back… I miss all the heat and light and extra happiness that you can't really pull off at home".
---
The Times
Giles Coren and his wife, Esther Walker, focussed on exercising during lockdown in their new double act column; Giles runs (although doesn't like all the competition from actual fit people now the gyms are closed) and Esther does Zoom classes.
---
The Scotsman
Gaby Soutar has also had a restaurant meal delivered this week, from Decanter "winery and dinery" in Edinburgh. She's had the place on her 'to-do' list for a while, "so it's a shame we had to finally connect in these circumstances".
Her Sunday roast was duly "dropped on our doorstep" in "various paper bags", needing little more than "a brief nuke". There were "ridiculous amounts of everything, including about six thick slabs of beef and all the trimmings, even a takeaway box swilling with gravy". The starters of haggis bon-bons "in a hedgehog-coloured crunchy coating" and deep-fried brie wedges went down well, too.
For pudding, she ordered "something entirely different – a Surprise Box, £18, from West Port cafe Lovecrumbs", who have just launched an online shop "for deliveries of cakes, bread, tea and other spirit-lifting goodies". This included "mind-blowing rye and salted chocolate cookies", lemon loaf cake and a perfect chocolate brownie".
---
And also…
The Bristol Post gave hungry locals "in the mood for something spicy" a list of the 10 best Indian takeaways.
---
The Manchester Evening News reported on the "lockdown full breakfast kits" – including "Bloody Marys by the litre" available from "Manchester institution" The Koffee Pot. The "beloved greasy spoon" (fans include Guy Garvey of Elbow) says it's been "curing hangovers since 1978". Pancake and burger kits are also available.
---
William Sitwell in The Telegraph and Tom Parker Bowles for the Mail on Sunday again published nothing.
Recent News from Harden's