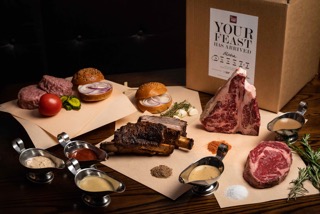 The Global Craftsman Group, which is behind renowned restaurants Goodman, Beast, and Zelman Meats, has teamed up with Burger & Lobster to launch a new venture.
The collective will be selling premium meat boxes called Prime Feast, featuring the steaks that are served in the restaurants.
An announcement said Prime Feast encourages people to #StayHome and master meat cookery, with famous cuts and guides detailing how best to cook them. Upgrades to include king crab legs and fine wines will also be available.
Misha Zelman said: "We miss being in our restaurants and seeing the familiar faces of our guests every day. Launching Prime Feast is just one way that we can connect and bring joy to our loyal and supportive guests, as well as to ourselves.
"We are very proud of our product and delighted tha we can deliver our premium meat in to people's homes. This is just the start and we want to grow this into a full butchery and start to offer other products we are passionate about such as lobster and other seafood."
The home-delivered boxes not only contain the meat, but signature rubs, spices, sauces, and garnishes in order to recreate dishes at home. Each box contains easy to follow cooking instruction cards and links to online video tutorials that will guide the home-chef
through every step to recreate the restaurant dish at home.

There will be three boxes on offer, beginning at 2kg (the other sizes being 3kg and 6kg) for £90, which includes:
• 2 x Burger & Lobster Nebraskan Beef Burgers, 2 x burger buns, secret burger sauce,
lettuce, tomato, pickles and onion.
• 2 x Zelman Short Ribs complete with Zelman Meats' signature BBQ sauce.
• 1 X 400g Goodman Ribeye, Nebraska, USA.
• 1 x 650g Beast Porterhouse, Nebraskan or UK grass-fed.
• Goodman's signature stilton steak sauce and peppercorn steak sauce.
• Beast's signature truffle steak sauce.
• Three-peppercorn steak rub and rib rub steak seasoning.
• Fresh garlic, rosemary and thyme.
• Kosher salt
• 6 x cooking instruction cards
Recent News from Harden's