Here's our regular summary of what the national and local restaurant critics have been writing about in the week ending 3 April 2022.
*****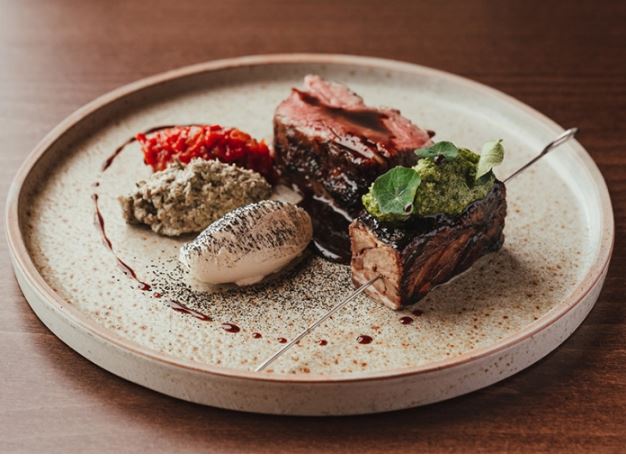 The Mail on Sunday
"The place shimmers with heartfelt hospitality."
Tom Parker Bowles in YOU Magazine ventured out to visit Tallow on "the outer edges of Tunbridge Wells" in Kent; it's the new "family affair" from Rob and Donna Taylor (plus Rob's dad Bert in the kitchen) who previously ran the "much lauded pub, The Compasses Inn" 50 miles away.
The room may be "small" ("all Kentish beams and discreet shades of Farrow & Ball") but the cooking is "of the very highest order: pretty and technically assured, but never fussy; capable of both subtle art and full-on, slap-you-in-the-gob, cor-blimey-missus magnificence".
"I'm half tempted to leap from my seat, mooing and lowing with giddy delight."
Each dish was "far more than a sum of its parts, skilfully constructed, yet pure joy to eat" (some of it "gaspingly good"); add that to "a very reasonable bill" and "a decent English red!", and Tom left "downright delighted".
*****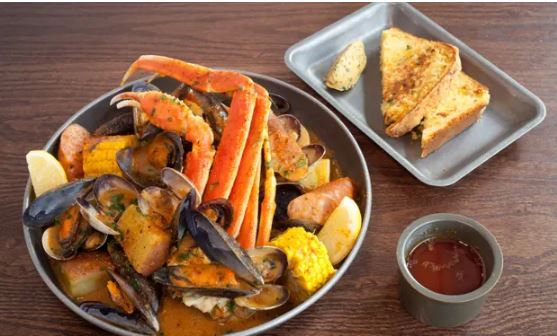 The Observer
"Do not go to Claw & Hammer on a first date. Go on a seventh or eighth date, when… you've already seen each other being about as messy and human as it's possible to be."
Jay Rayner isn't afraid of getting messy – he didn't even wear the gloves provided when he visited this relative newcomer which specialises in southern US seafood boils (on the same Aldgate site – and owned by the same company – where Randy's Wing Bar closed last year).
"You could be forgiven for assuming this to be a grim, ersatz exercise in separating bored restaurant-goers from their money. It's not. The food is terrific."
"Thought and care has gone into the tight menu", which starts and ends with seafood, although there is a vegetarian option in the hotpots ("boisterous, Cajun-spiced broths"). "Whoever came up with the dishes knows how to feed and appears to be pretty damn fluent in the culinary vernacular of the southern US."
"Visiting Claw & Hammer was a punt on my part… I had no expectation that this place, in this location… could deliver. I am delighted to say I was wrong."
*****
Jay also visited The Wolseley in the aftermath of the court battle that saw Jeremy King & Chris Corbin lose control of the company they built; "what has happened to the much-loved group… speaks to a faceless corporatisation of hospitality which has little to do with being hospitable and everything to do with profit above all else".
"The future of the restaurants he opened may be unclear, but it's certain King will be back."
*****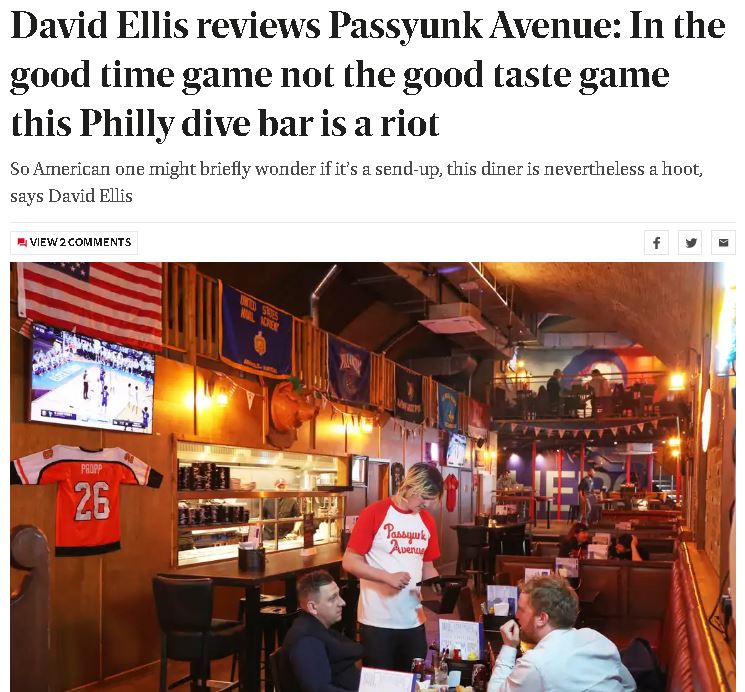 The Evening Standard
David Ellis took a trip to Passyunk Avenue, the vast "part American dive bar, part diner" that's opened in Waterloo's Leake Street tunnels (there's siblings in Fitzrovia and Stratford).
"The whole thing is so American you briefly wonder if it's a parody: there are stars and stripes flags, TVs screening superbowl reruns, banners for the US navy, ice hockey kits pinned up in lieu of paintings."
"Food here is fun." And messy – there's Philly cheesesteaks ("comfort between two slices") and "terrific chicken wings" and things covered in buffalo sauce and 'Wiz cheese'.
"Passyunk is not in the good taste game, but it definitely is in the good time game."
*****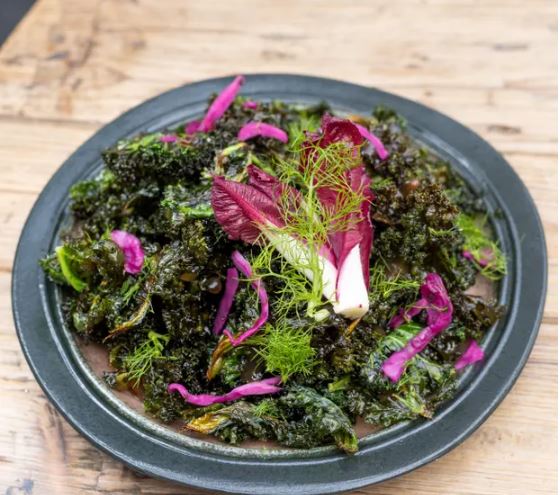 The Guardian
"I realised this was the place whose owner famously doesn't like Guardian readers, and who earlier this year penned a job advert banning them."
Strolling around Aberdeen, Grace Dent was enticed by the idea of "delicious-sounding things" including a bread-and-butter pudding made with crumpets, and also by reviewing a place – Cafe 52 – that has thrived for 25 years and "has no need for my pronouncements".
It's a "charming, long, narrow strip of a bistro" in "a cobbled courtyard" in Aberdeen, serving up a "sort of boho, rustic, French-Scottish, casual-elegant menu to a unending stream of walk-ins".
"Proprietor Steve Bothwell… has created a place where glorious food matters, and I can say beyond doubt that my restorative bowl of Normandy chicken casserole will be one of the greatest things I'll eat all year."
*****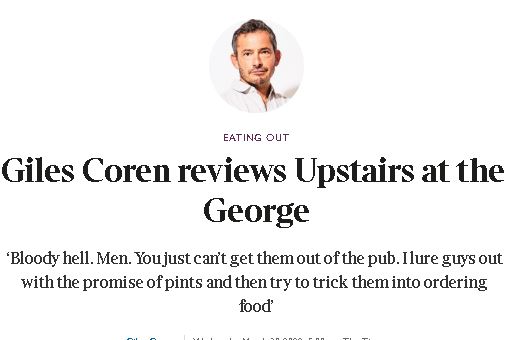 The Times
"I love that sense of a secret world the other side of a pub wall."
Giles Coren bribed his friends with lunchtime pints before persuading them to have a meal at Upstairs at The George; they never "want to sit in a poncey restaurant all afternoon when there's a nice comfy pub to hand".
He persuaded them upstairs with information on the pub's new owners ("JKS, the group that runs Gymkhana and Brigadiers… James Knappett from the Kitchen Table and Dominic Jacobs from the Running Horse), and once there found "your nan's front room. And very lovely it was too. And totally unexpected." (There is also "a very sexy new cocktail bar up there" but it's not open yet.)
The food is "classic gussied-up pub fare in the best possible sense" and was all "very sound indeed"; each dish has "something lively and new".
"Punchy London pub prices for punchy London pub food." (23.5/30)
*****
The Scotsman
Gaby Soutar tried out the new downstairs wine bar at Edinburgh's L'Escargot Bleu; it was a "happy Eighties-fest of school disco music" with French wine and the food menu "chalked up on a board and casual… there's nothing too complex". Shareable dishes – fondue, ragout, herring tartare – "wine, jolly music, a relaxed vibe and casual food made for a happy old time".
*****
And also…
Marina O'Loughlin in The Sunday Times never wanted to go back to Mayfair ("the bling end of the Monopoly board" where she feels "as welcome as Stalin at an oligarch's orgy"), but she made an exception for Fallow, as it was technically in St James's. Her reward was "sensational cooking" from the team who popped up in 10 Heddon Street and are now in a permanent home.
*****
William Sitwell in The Telegraph reviewed the relaunched Bob Bob Ricard City, the "Russian-inspired restaurant in the Square Mile" that "offers up an impeccable lunch in surreal surroundings"; "this could be the most raucous ride in the City".
*****
In The FT Magazine a review of Tom Kerridge's "shockingly expensive" (and "just the way it should be") Michelin-starred pub: "A £33 omelette? At the Hand and Flowers in Marlow, it's worth it!"
*****
Another Tom Kerridge review in the Manchester Evening News; Dianne Bourne tried the £49 steak & chips at The Bull & Bear – "I don't think I've ever seen chips this size before". The steak was "exceptionally good", and she finished off with "one of the best Eccles cakes I've ever eaten".
*****
Birmingham Live gave us sneak peeks inside two restaurants: Toffs, just opened in Solihull and The Mount by Glyn Purnell which opens in Henley in Arden next month.
*****