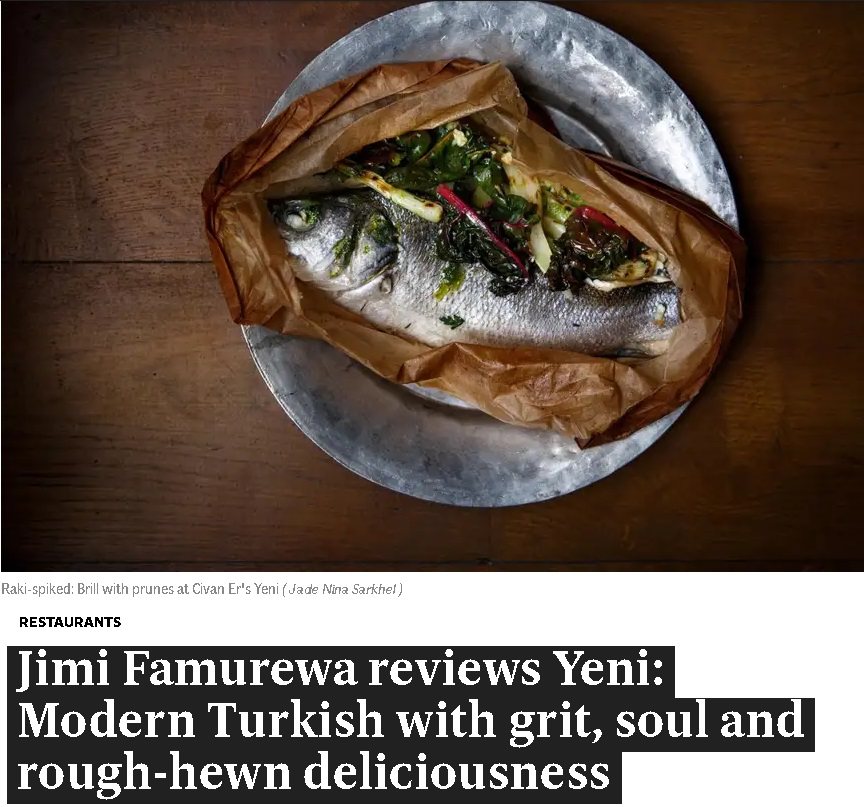 Jimi Fanuwera for The Evening Standard has found his new happy place: after two hours at Yeni (" a new London sibling for one of Istanbul's hottest restaurants"), all of his "contorting stresses and life worries had melted away". He even compared the new Anatolian restaurant to a spa-break, "almost certainly the best place I have eaten in so far this year".
Familiar dishes served in the "compact and understated" Soho room "are modernised and reappraised without losing any… grit, soul or assertive, rough-hewn deliciousness". The çig kofte tartare was an "incredible… densely herbed, bolshily piquant patty" and the lamb shank "had that perfect mix of crackled skin and blushing succulent flesh". Even though some dishes were "merely fine" and the bill "reflects the realities of rent in one of the more financially brutal parts of town", Jimi loved it all.
He loved that "the only coffee available is of the soil-like, Turkish rocket fuel variety" and the "toasted slabs of sourdough" and the "frizzy-haired little custard fritters we had for pudding": "Yeni soothed and pleased me greatly, and I cannot wait to go back." (9/10)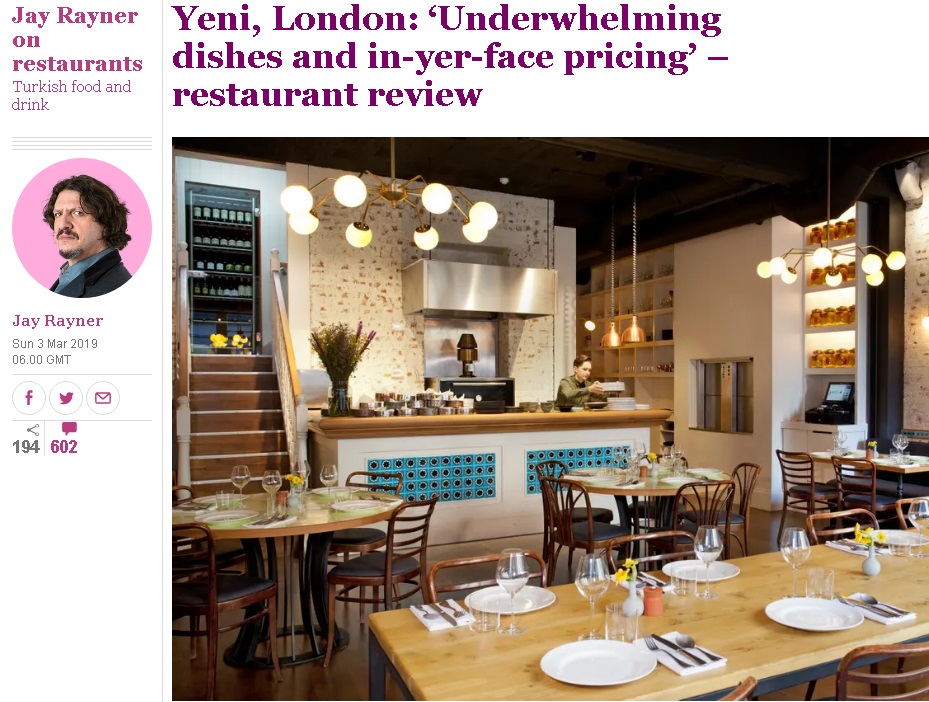 Jay Rayner  for The Observer also reviewed Yeni; as is often the case when two critics review a place at the same time, his opinion was very different, even to the point of comparing it to a traffic accident – "right now it really is a pile-up; the sort that leaves debris scattered across all three lanes" – and hoping (in a "godless" way) for "divine intervention".
He does go out of his way to praise ("exonerate" in terms of the 'incident enquiry') the front-of-house team "who deliver both their script and the often calamitous dishes with a touching grace".
Jay has spent time in Turkey, and in the many, joyful, Turkish restaurants in London. He readily welcomed another that promised "a more evolved take on such a culinary tradition"; sadly that promise wasn't delivered.
"Turkey has a thrilling way with breads" – so why serve an inauthentic sourdough? One starter is "a study in beige, and tastes beige too", others are fridge-cold and the one "engaging" dish provides two scallops. For £17. A main course is described as "less food than a traumatic experience designed to be character forming".
" Yeni weds underwhelming, occasionally disastrous dishes with the kind of in-yer-face pricing that gives the entire restaurant business a wretched name." The whole review is a Sunday morning gift to his readers, full of classic Rayner-esque wit and derision.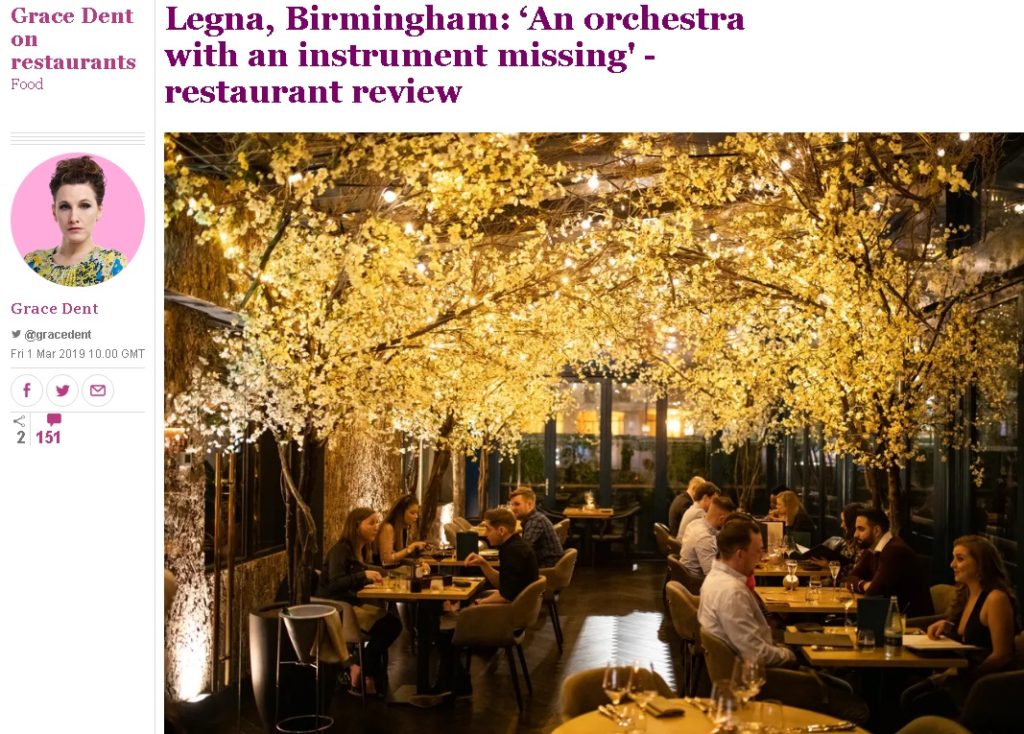 Grace Dent was in Birmingham for The Guardian, at Legna, an "expensively hewn, prettily lit, innovative Italian restaurant" from chef Aktar Islam who has also opened Opheem across the road ("a sort-of-Indian restaurant that uses European technique").
When a paragraph starts with a phrase like "Legna really does feel as if it should be a winner", you just know there's a "but" on the way. This particular "but" was an unfortunate one: "Islam was not himself cooking that evening". Which was a real shame as everything else was near perfect, from the "beautiful" bar to the dining area decorated with cherry blossom ("I can think of few prettier restaurants I've visited in the past 12 months") and the "warm and effusive" service.
The food started with "promise", but the lack of head chef was soon noted in the antipasti ("neither hideous nor delicious; it simply existed") followed by a "stodgy fritto misto", " slightly sickly" celeriac pasta, a caponata that Grace described as a "ratatouille autopsy" and – to finish – " a tiny, inelegant panettone pudding that… would have left you feeling shortchanged if you'd bought it at M&S".
"Legna was an orchestra playing at full gusto that evening, with one important instrument missing: the kitchen." (19/30)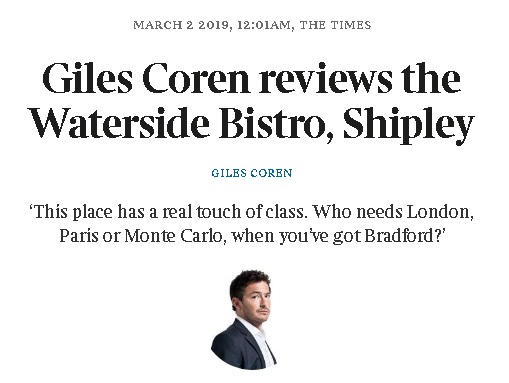 Giles Coren for Saturday's Times magazine is really branching out – last week he was in Leamington Spa, and this week's reviews finds him in Shipley, just outside Bradford. It won't surprise anyone to know he'd never been before.
The Waterside Inn is a canalside spot, a "set of low rooms with wooden ceilings that make it feel like the bottom deck of a boat" that's "really quite cosy". It's a family affair, with chef Paul Hutchinson's father-in-law serving, and his uncle recommending the place to snooty London restaurant critics.
From the winter menu that was "exceptionally well balanced", Giles had "lovely rare pigeon breast, full of gamey flavour, with a good crispy, spicy pigeon samosa", "cute, rare, sweet noisettes of butter-poached local venison loin" and " Bakewell tart made to Paul's gran's recipe" – and then "a really first-rate… rhubarb cheesecake"; "all presented really, really prettily".
"This place has not just charm but a real touch of class. Good local ingredients, modern ideas, regional twists, the odd gentle joke, first-class presentation, incredibly friendly service." Way to go, Bradford. (22/30)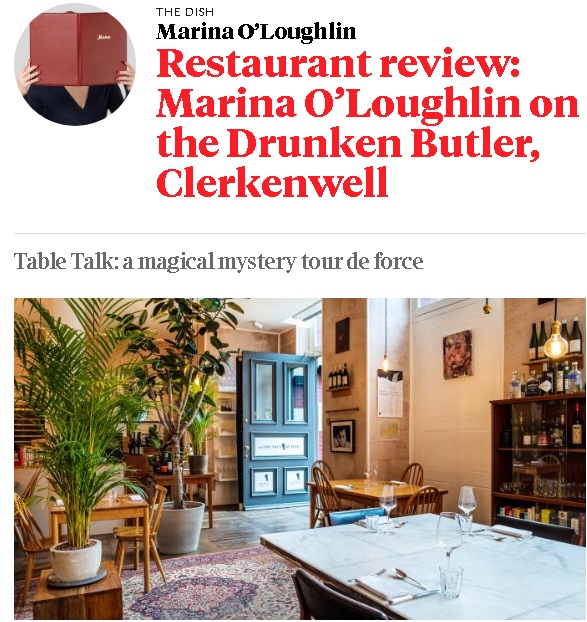 Marina O'Loughlin in The Sunday Times was in London this week, reviewing Clerkenwell 's The Drunken Butler; did she like it more than Fay Maschler on her early-days visit? Marina also visited early on, "and thought the owner, Yuma Hashemi, had immense talent, but that place and menu were a little unformed". She went back for a Sunday visit, when the "decorative, tweezery dishes" of French cuisine with Persian influences go out the window in favour of "Persian Sundays… the kind of food "you would usually eat in a Persian home".
Food "arrives in a delicious wave"; there was "coucou sabzi… a kind of dense frittata… is like being gently slapped around the chops with garlands of aromatics", "balls of soft feta rolled in mint and rose petal", an aubergine dish with "intense, vegetal flavour", "gorgeous, pillowy flatbread" – "and that's just the starters".
" It's all such an adventure" from a "menu that reads like a haunting lullaby from a faraway bedside"; it's also the "best kind of menu: horizon-broadening and grin-inducing". The "family-style" service and a pace that's "unhurried, almost languid" ("none of it feels like London") make a meal "very special indeed".
Hashemi's version of tahdig ("the emperor of rice dishes") is "the best I've tried" and roast chicken was " sensational… its meat insanely juicy, its skin crisp"
There was nothing Marina didn't love about her meal – apart from the fact it's only available on Sundays.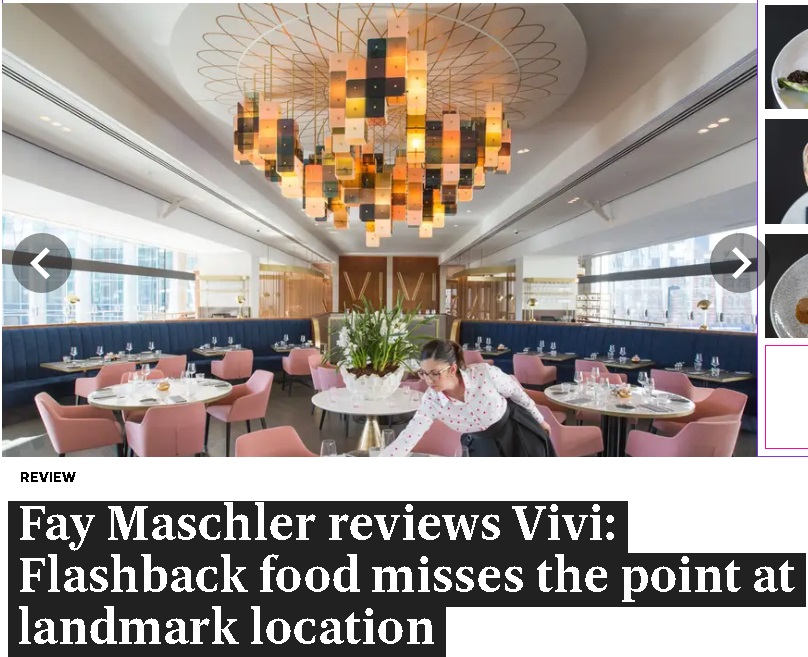 Fay Maschler for The Evening Standard revisited the Sixties at Vivi, the themed restaurant from caterer Rhubarb that has soft-launched at Centrepoint. It's not always god to revisit the past, she found.
Authentic Sixties dishes are on offer in the " glazed bridge" location, which was "more or less empty" on the day Fay visited. None of the dishes were authentically realised, though: the prawn cocktail used "miserable little de-frosted prawns, a Marie-Rose sauce with no edge, and stale bread", there was no exciting "garlic butter bursting forth" from the chicken Kiev and (at a later visit, for bar snacks), the devils on horseback were described by her companion as "probably the worst dish I've ever eaten". (**)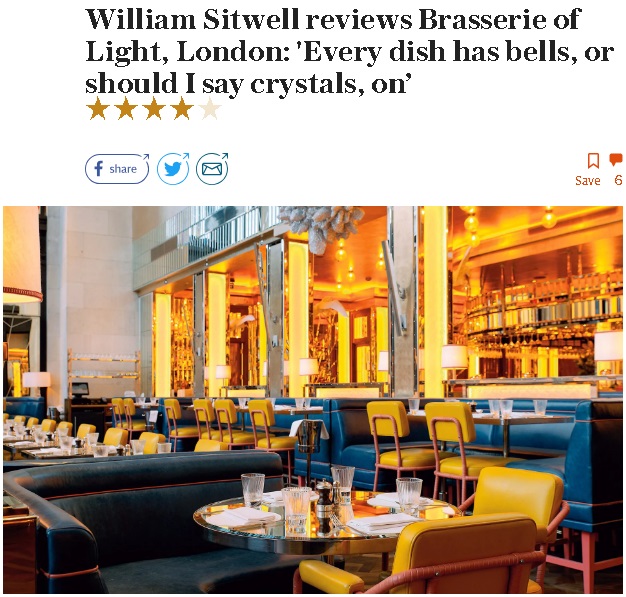 William Sitwell for The Telegraph paid a visit to the "sparkling, twinkling palace of chandeliers and mirrors" that is Brasserie of Light in Selfridges, where "every dish has bells, or should I say crystals, on". (****)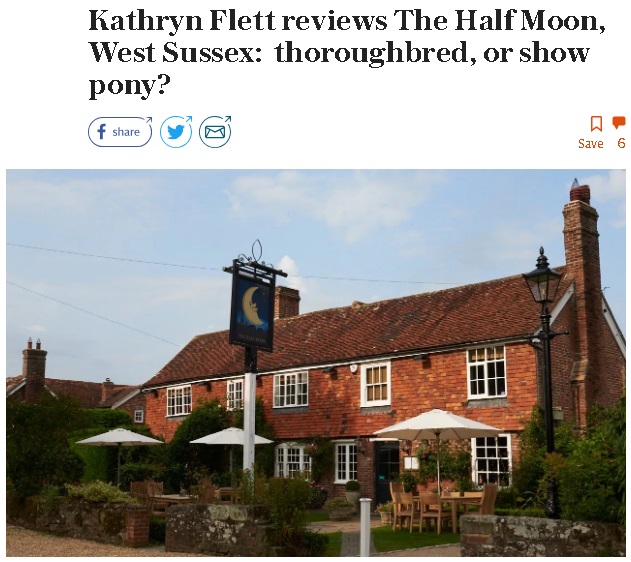 Kathryn Flett for The Telegraph was out in the country, at model Jodie Kidd's organic country gastropub in West Sussex.
From the "drop dead gorgeous" interior to the "smashing food" , a visit to Tom Kitchin's new Leith restaurant was a "lucky" treat for Gaby Soutar of The Scotsman.
The menu has simple modern British classics – ham, egg and chips is on the menu, albeit for £19.50 and presented on a wooden platter with pineapple salsa – plus a few specials. Gaby's dining partner had "a beautiful piece" of cod with broccoli three ways and toasted peanuts. Her treacle tart pudding was a "beautifully rendered classic".
Bonnie Badger has "double height ceilings and the original beams" – an "especially special setting" for that smashing food. (88%)
And also…
Tom Parker Bowles, writing in The Mail on Sunday, doled out a rare 2-star review for Wild Rice, the recently refurbished and renamed Soho Thai (formerly Janetira). He loved the previous incarnation, and found this one "more slick" but with many "forgettable" dishes.
Even with "good" ingredients and "sweet" service, he wants Janetira back: "roughen those edges, char those chillies, and bring back the fury and the filth. (**)
The FT's Tim Hayward visited L'Escargot, London, where it's "glee-inspiring to see the Soho institution reconnecting so comfortably with its own tradition": "no twists, just unexpected brilliance".
Recent News from Harden's