Our weekly round-up of what the national and local restaurant critics are writing about, for the week ending 1 November 2020.
Restaurants and bars in England must close between 5 November and 2 December for a second lockdown, it was announced on Saturday night. Wales and parts of Scotland are also on similar lockdowns.
Please consider ordering takeaways or deliveries from your favourite spots if you can; the restaurant industry and everyone involved in it need our continued support.
*****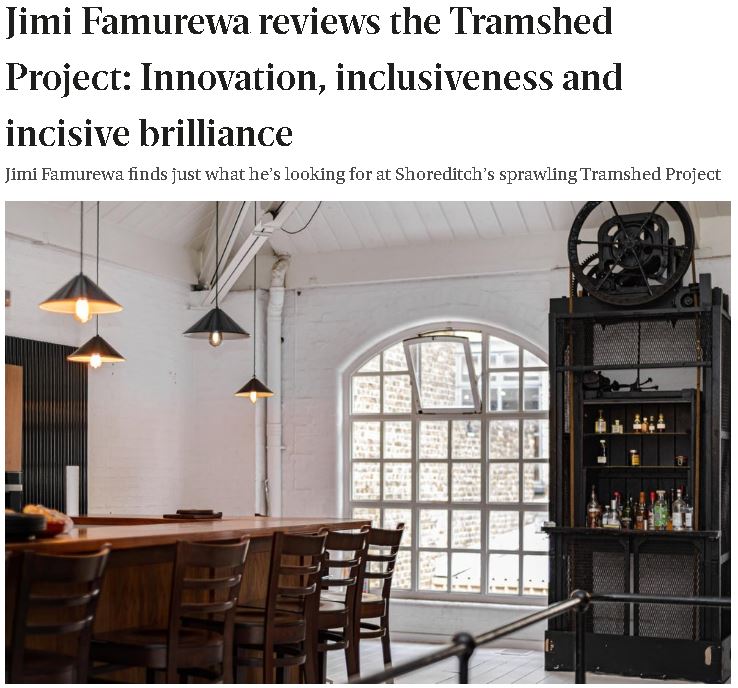 The Evening Standard
Jimi Famurewa tried out The Tramshed Project, the new incarnation of Mark Hix's Tramshed in Shoreditch, where three collaborating chefs (James Cochran, Zoe Adjonyoh and Andrew Clarke) are producing food for a 'working space' on a "membership-free Shoreditch House-style model".
Only Andrew Clarke, formerly of nearby St Leonards, had dishes ready on Jimi's visit, but he still had a "palate-jangling stormer of a lunch", full of Clarke's signature "smoke-wreathed live fire cooking, butchly prepared vegetables, umami-forward sauces that land with all the subtlety of a flying elbow drop".
"For restaurant purists, this enormous, multi-node co-working and dining space with its tablefuls of young east Londoners squinting into the glow of their MacBooks will mark the freshest of hells."
But The Tramshed Project "could be a living parable of the impossible, ever-mutating task currently faced by restaurateurs"; founder Dominic Cools-Lartigue and his team have provided an "ambitious menu" and "provocative art" in a "social distancing-friendly space", cleverly using "disaster as a springboard for frantic creativity".
What emerges is a "thoughtfully conceived, high-calibre restaurant"; "if it's not long for this world then it will be a real tragedy".
*****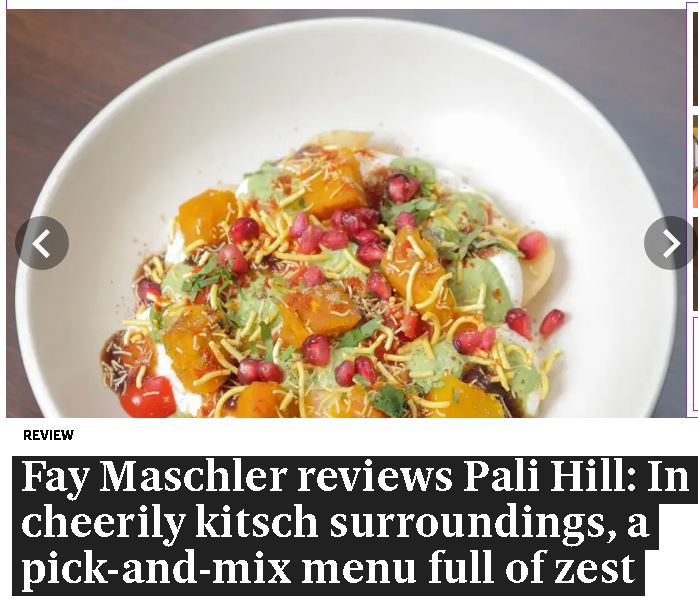 Also in The Standard, Fay Maschler reviewed Pali Hill, in the building that has "moved on just a bit since Gaylord Indian Restaurant closed after 54 years at this Fitzrovia address". It's named for the Mumbai suburb that's "a sort of Beverly Hills for the Bollywood film industry".
A transformation by a "young and imaginative" Indian design firm, and a head chef – Avinash Shashidhara – who boasts time with Claude Bosi at Hibiscus and 10 years at The River Café, and you can see that the general ambition is considerably higher, too.
There's a "large open kitchen", "cheerily kitsch artwork on the walls" and a hidden basement bar; service was "well meant but somewhat meddlesome" to Fay, but the cooking has that "lightness of touch, an awareness of the way many of us like to eat now". The "pick-and-mix" menu turns out big and small dishes that "exhibit zip and zest".
*****
Fay's regular week in food column included the "phenomenal £10 #steakouttohelpout of bavette, confit potatoes, then treacle tart and clotted cream at Quality Chop House", liver à la Lyonnaise at Bellamy's, an "epic Sunday lunch" at Otto's and a vegetarian special at Mangal 2, purveyors of top-ranking doner kebabs.
*****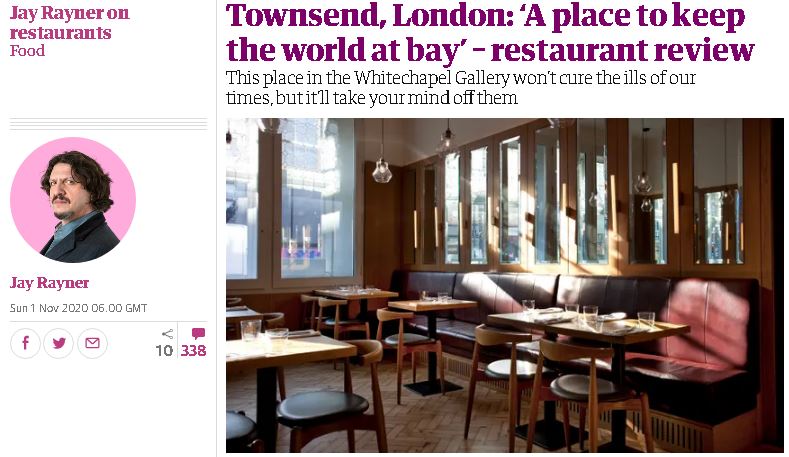 The Observer
"Are we really going to be celebrating … small things, when there are so many huge calamities pressing themselves against our front doors, trying to get in?" Jay's paraphrasing of former New York Times restaurant critic Sam Sifton reaches similar conclusions: "yes we are, for it is the small things we must cling to in times like these".
Jay Rayner was at Whitechapel Gallery sampling the latest incarnation of the restaurant space (it has hosted a range of residencies); Townsend comes from Nick Gilkinson, who previously worked at "the delightful café at the Garden Museum by Lambeth Bridge" and head chef Joe Fox – ex-Petersham Nurseries.
"It's not the sort of restaurant to make you swoon at inventiveness, or dazzle you with shiny ideas. It's a place where you go with a friend so as to get lost in the chatter, only then to clock just how well you are being fed; just how much good taste and care is being brought to bear on such good ingredients."
It feels "like a dining room designed to keep the world at bay", all "honey-coloured wood" and leather banquettes "the shade of the best milk chocolate", with "reassuringly spaced" tables and chairs. It's "a sweet, warm contrast to the cold, hard stone" of the gallery itself and the traffic thundering past on the Whitechapel Road outside; "in here, all is right with the world".
*****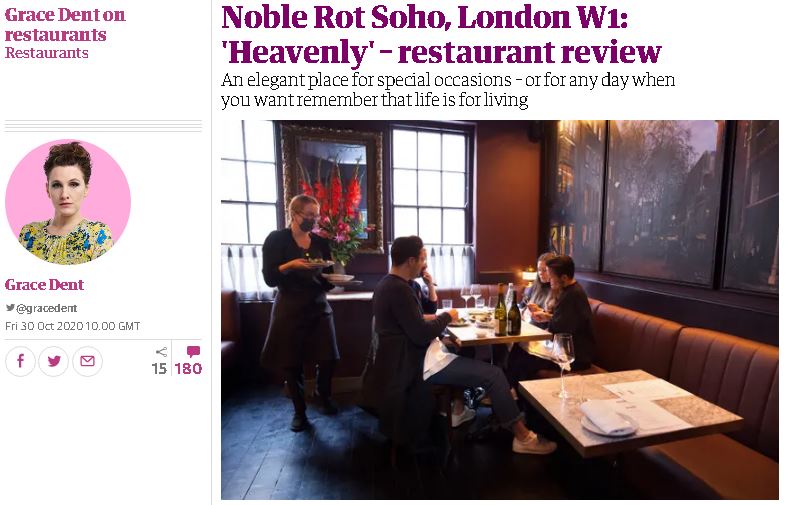 The Guardian
Grace Dent was the latest in a long line of critics to review Noble Rot Soho; we've read all about its history as Gay Hussar, the site's reincarnation, the long journalists lunches, the Hungarian-ish food and cartoons on the walls – did Grace have anything new to add?
Of course she did, not least warning us about the dangers of nostalgia: "the best thing Noble Rot could have done for this spot, if they'd asked me, was to fill it with dynamite and stand well back". Her memories of Gay Hussar are "barbaric on many levels" – "chilled cherry soup that tasted like Nesquik mixed with Lidl Bull's Blood", as well as "sticky carpets, dusty bookshelves [and] laminated menus".
The Noble Rot crew, on the other hand, "are people who do things correctly, offering inventive, modern European food, a clever, considered wine list and soothing, diligent service". They've taken the old restaurant and turned it into an "elegant, softly lit, old-school dining establishment, all slick brown leather banquettes, flattering bordello lamps and cut-glass decanters" with food from ex-Sardine chef Alex Jackson.
"It's a joy to see Jackson flourishing in this new setting." His food, for Grace, was "heavenly", as near to "the big dining room in the sky" as humanly possible.
Noble Rot Soho is "a birthday or special-occasion place, true, but it is also a place for any given Tuesday when you wish to remember that life is worth living. It isn't harking back to 1953; rather, it is reminding us that there are still reasons to leave the house in the winter of 2020".
The Noble Rot team have "lovingly rejigged this old dear into something really quite lovely, and in the process invoked a gorgeous memory of something that didn't actually exist".
(A review of Grace's new book, Hungry, also appeared in The Observer this week.)
*****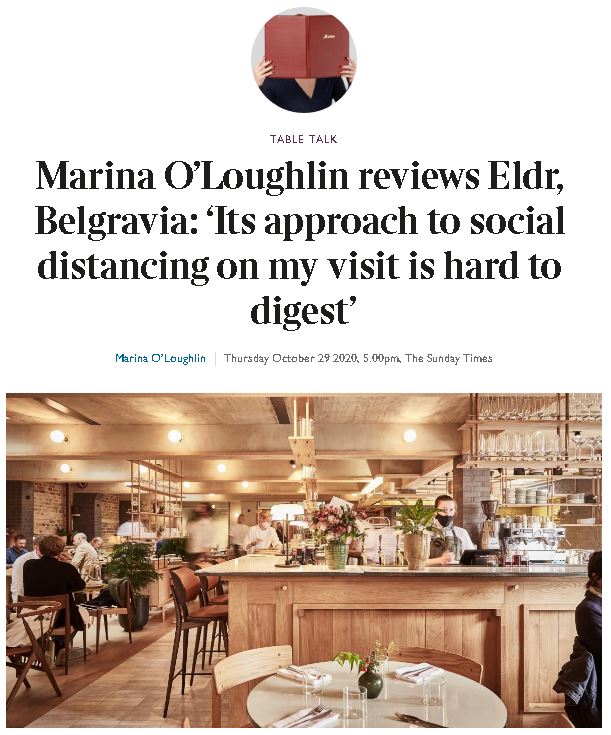 The Sunday Times
Marina O'Loughlin pointed out right at the beginning of her review of Eldr at Chelsea newcomer Pantechnicon that there was "some sublime food" coming out of the open kitchen; beyond that, the place gave her "the absolute pip".
The "striking former department store" is a "sea of expensive taupe and beige"; finding her way to Eldr after a few false starts, Marina was 'greeted' at the door by "a frosty number who manages to ooze snootiness from behind a mask". Other staff were notably "ultra-tolerant" with one customer's dog.
"This is a restaurant from another city, a London for the wealthy for whom "shielded from the virus" means something quite different. The thoughtful, playful menu seems wasted on them." Eldr (and indeed all of Pantechnicon) is "of the Sexy Fish, Novikov, Sushisamba ilk — restaurants all living in their own minted microcosms, as resistant to criticism as a badly coiffed narcissist politician".
Furthermore, she was "seriously pissed off" by "the apparent lack of Covid-19 precautions" – beyond a hand sanitiser on street level, there was "nada". She and her companion were even "directed to share a table for four with another two people".
"Right now, most critics are going out of our way to see only the positives to support a battered industry. Every recent week I've been finding the good and the interesting and the worthwhile, taking the not-so-good for the team. But bollocks to that today: I leave Eldr boiling with irritation, not least because lunch for two, with one bottle of about the second cheapest wine, comes to 183 quid."
*****
Marina also continued her reviews of popular snack favourites, this week she tried the spicy tuna sandwich from Joe & The Juice, but got only "average vibes" from it.
*****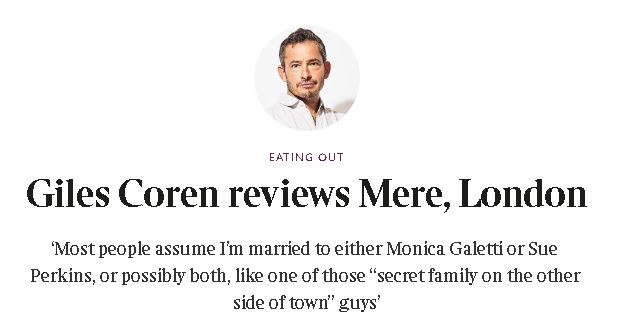 The Times
Giles Coren visited the restaurant of his 'TV wife' Monica Galetti, Mere, where he and Sue Perkins (his TV 'other wife') hosted a dinner that they'd auctioned off at the beginning of the first lockdown to raise money for PPE for key workers.
Giles had "forgotten how pretty the restaurant was, with its blues and beiges, Samoan art, geometric patterns and gentle light. I went once in Mere's first week in March 2017 and loved the place" but never officially reviewed it as he was on TV with Monica at the time. On their global jaunts, he has witnessed at first hand "the dedication and passion that Monica brings to running her restaurant".
"I'm still possibly a bit close to Mon to be reviewing Mere in The Times, but there are precious few black women running their own cutting-edge, high-profile restaurants in this country."
Monica's "cooking is extraordinary. Her mastery of the skills is second to none. And the results on the plate… are just eye-popping". The wine was great too, but he didn't mention it as Monica's husband donated it.
All three other guests had pudding, so he did too, for once: "it was as beautiful a thing as I've seen outside a fairytale princess's hat shop, in which bands of silver sugar made a gold-topped cage over a sweet pastry tart".
*****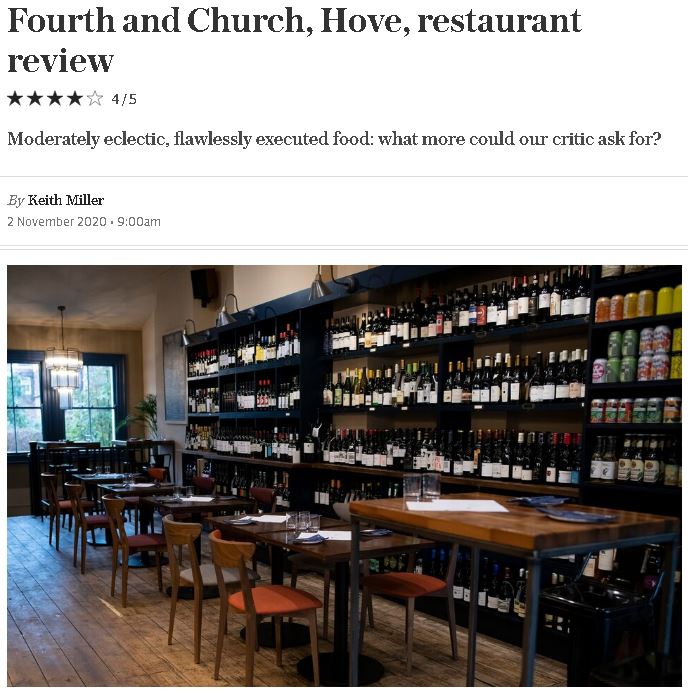 The Telegraph
Keith Miller was on the south coast, experiencing "Peak Hove" at Fourth and Church, "slap bang opposite the town hall"; a "welcoming, contemporary space".
He's "looked in vain for some sort of physical frontier between Brighton and Hove" but (apart from a "little street" called Boundary Passage) he's never found one. But this spot could well mark the epicentre of 'Hoveness'. On a "rainy Saturday" it was "as full as you could imagine it lawfully being in these times".
"The menu is eclectic but essentially quite tapas-y, though chef goes up a gear.. in the evening" with grills and a tasting menu. Keith's dishes were "thoughtfully conceived and skilfully cooked" using "great ingredients, naturellement". Overall, it didn't quite make his "soul sing" but the locals seemed to appreciate the place's "many evident strengths". (****)
*****
The Mail on Sunday
Tom Parker Bowles in The Mail's YOU magazine reviewed St James's newcomer Maison François, a "handsome, sumptuous and supremely confident new opening" that sits on the former site of his uncle's "much-missed oyster bar" and restaurant, Green's.
"Heavy on the hors d'oeuvres and salads, the menu makes splendid reading – and eating too." Service was "slick without being smug", and head chef Matthew Ryle "uses offal like a whispered sweet nothing, and his cooking is assured, often inspired".
*****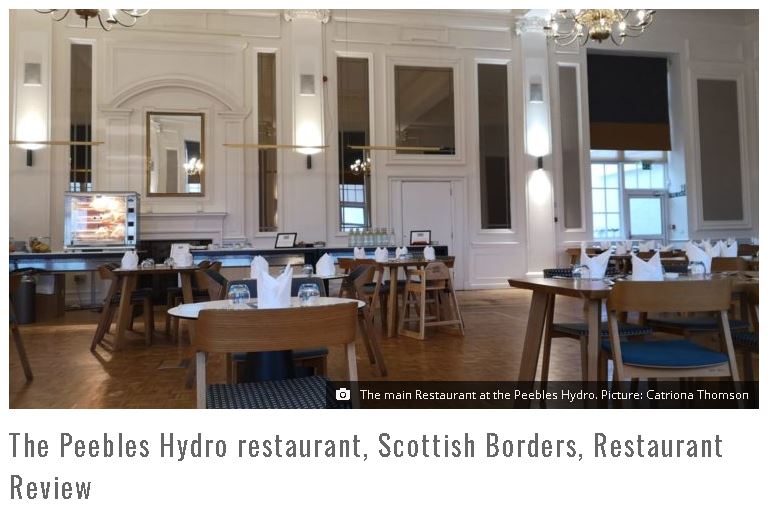 The Scotsman
Catriona Thomson found a restaurant to review this week, venturing to the Scottish Borders and Peebles Hydro, where she planned to "comfort eat my way out of the pre-winter blues".
It's "an imposing building… nestling in its own secluded grounds overlooking the rolling landscape of the Scottish Borders" (with a striking resemblance to the Overlook Hotel from The Shining – not ideal for a Halloween visit!)
The verdict: "a perfectly pleasant meal with not one nightmarish dish, so I might be tempted back, as every evening, the Sun Lounge here transforms into an Asian inspired oasis and provides a colonial taste of India".
And also…
Tim Hayward for The Financial Times reviewed The Chequers Inn, enjoying the "brilliant food and… warm welcome"; "the gravy was good enough to smear across my face like war paint and howl".
Recent News from Harden's