Harden's regular round-up of the restaurant critics' meals, from the week ending 30 June 2019.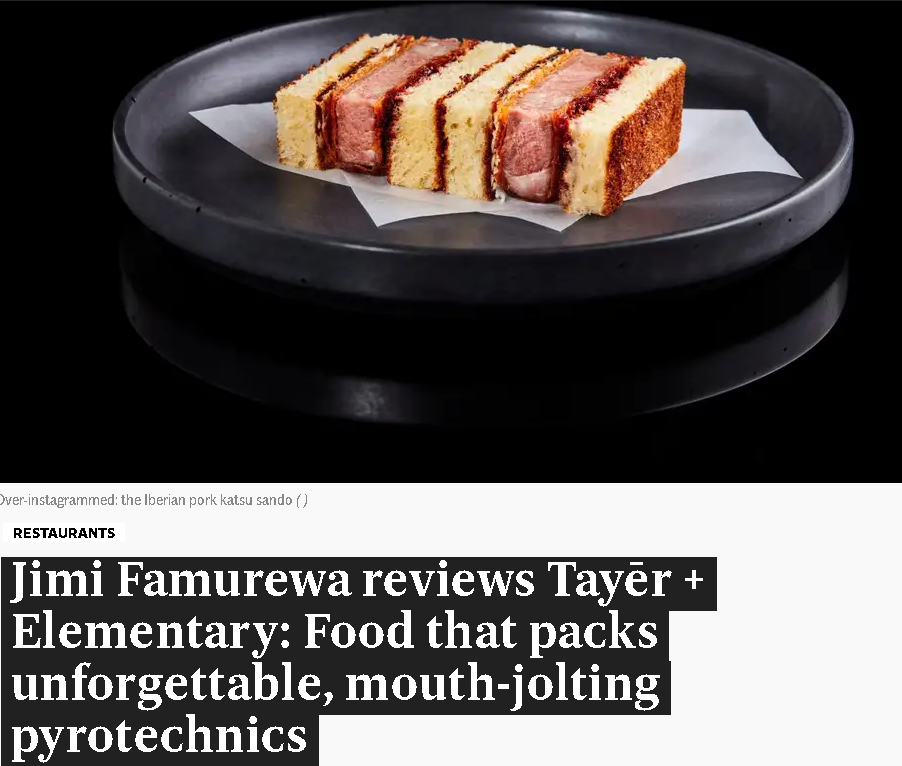 Jimi Famuwera for The Evening Standard is on a roll; last week he discovered Gezillig, and this week he was in east London at the the new split personality venue from celebrated mixologists Alex Kratena and Monica Berg plus Zijun Meng and Ana Gonçalves, the Chinese-Portuguese couple behind Tā Tā Eatery.
The "all-counter space" (which has a "serene, fastidiously curated feel") was designed as "two complementary venues": there's the "bright, informal Elementary and the evening-only, vibier Tayēr… divided by a central open kitchen". It's "a space that is not lacking in ambition".
It's not, as he may have suspected, just "a food offering built around an over-instagrammed Iberian pork katsu sando" (which is "one of the most deservedly acclaimed, cleverly constructed dishes in the capital"). Tayer is serving "food that packs unforgettable, mouth-jolting pyrotechnics".
That sando was his first dish, "brioche, slathered with raspberry jam and a walloping smear of shrimpy shallot XO sauce, plus… that breaded, fried cut of specially imported pork": "from there every bite was an intricate marvel of savoury depth, slightly sour fruit and wanton, polyphonic crunch. Just, wow."
It was followed by "satisfyingly complex" lardo fried rice, "a careful dance of sophistication and Cantonese takeaway comfort" and "a good braised ox cheek quesadilla".
"Meng and Gonçalves are a special duo who have harnessed… more than four years of pop-ups and residencies into something formidable; fizzing with imagination and casually presented rigour." (8/10)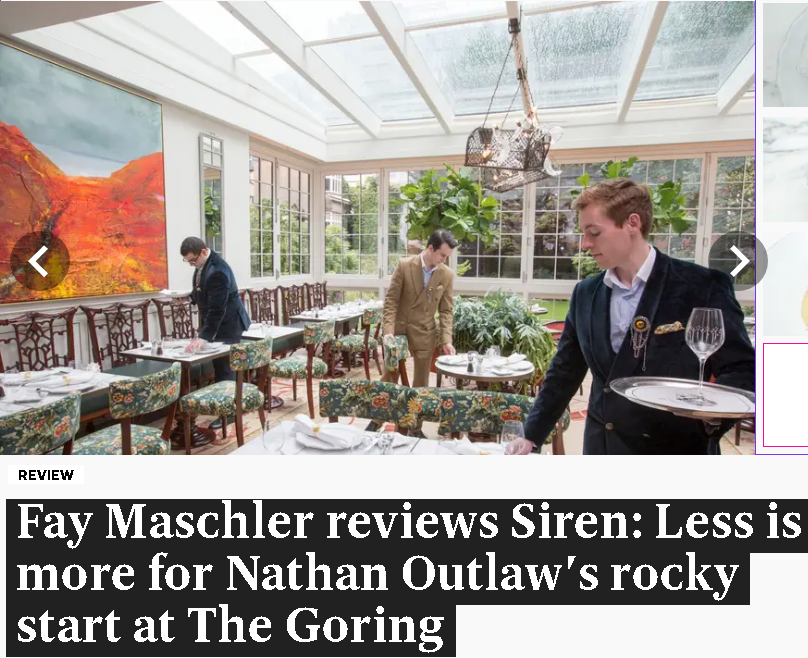 Fay Maschler for The Evening Standard is back after a break with a shocker of a review: two stars for Nathan Outlaw's long-awaited new opening at The Goring.
It didn't bode well that she started her review with an etymology lesson; "a siren is a mythical creature, half-bird, half-woman, who with her enchanting music lures… sailors to shipwreck on a rocky coast. Alternatively, of course, in everyday life it is a warning device, an alarm".
"Staff dressed in what might be described as costumes (it's a thing, currently)… bustle merrily and charmingly" is about the nicest thing Fay wrote in one of her harshest reviews of recent times.
Prices were elevated, presumably to justify the reported £4 million cost of the "purpose-built conservatory dining room"?  And where did the money go? Fay wondered if the "floral upholstery" and "frightful oil painting" took inspiration from "the back pages of those weekend colour supplements that bid you to buy glazed extensions… [and] eazy slip-covers for armchairs".
Her main course of "a small piece of tasteless turbot in a puffa jacket of batter" (£36) felt like "an insult to chippies everywhere". Grilled mackerel with green sauce was "dark and murky", crab risotto lacked seasoning ("apart from an overload of tarragon") and the "cured" monkfish was "blandly innocuous". Cuttlefish black pudding was the best of the dishes, "a punchy good deed in a disappointing world". Likewise, a "textbook" Cambridge burnt cream almost saved the day, and was "seasonally seductive".
As Fay says "it is early days" – before recommending a visit to Cornerstone, from ex-Outlaw's at The Capital chef, Tom Brown. Ouch. (**)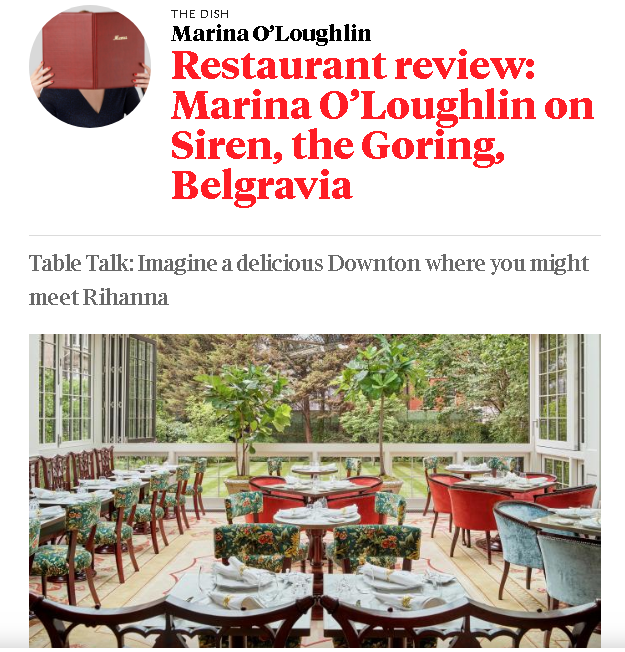 Three days later, The Sunday Times published Marina O'Loughlin's review of Siren, and the two reviews could not be more different.
For Marina, the makeover (even though she had dreaded it) was "a delicious job: sleek and beautiful with a barely repressed giggle of irreverence… gone the Edwardian heaviness, replaced by colours from the Sobranie cocktail cigarette palette". The orangery housing Siren is "so bright, so pretty, plant-filled".
There appeared to be "two members of staff for every diner, dressed in velvets and satins embroidered with glittering insects" – "I love all the staff, the dandy boys and chic girls. I want this to be my eventual care home".
The menu (itself a "beautiful faux-sharkskin" affair) opened to "a hauteish collection of fish and seafood dishes"… "everything I want to eat in a traditional luxury hotel", and perfectly realised.
"Then cuttlefish black pudding arrives to thrill and startle" (this was the one dish Fay rated) like "like some crazy Iberian/classic French/full English mash-up that makes your eyes roll back in your head with pleasure". Fish main courses were marginally overcooked but the quality was as "sparkling as the lobster chandelier".
"This is not where to come if restaurant prices give you the fear… Siren is the apotheosis of how the rich tourist imagines Merrie Englande, a sort of Downton where you might bump into Rihanna."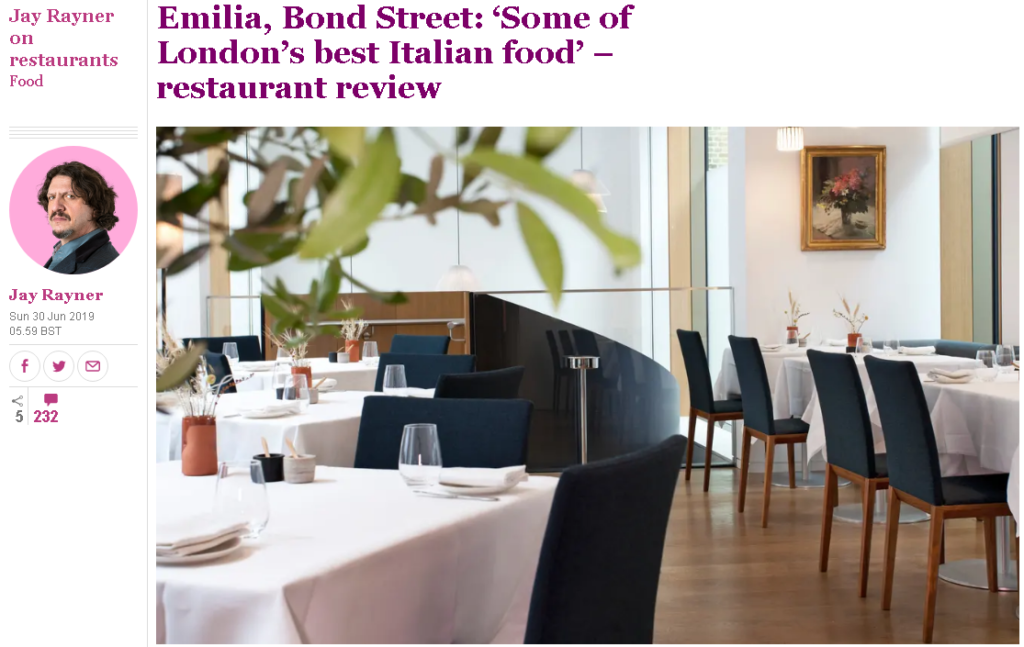 Jay Rayner for The Observer was a little late to the party with his review of Emilia, which has been open long enough for most of the critics to have been through.
He described the menu at the Bonhams restaurant as "tightly focused on Italy's Emilia-Romagna, much as a determined pyromaniac focuses the sun's rays through a magnifying glass". His meal started with a caramelised onion tart "so crumbly it holds together only through self-esteem and charisma", followed by "miraculous" courgette fritti that "good God, taste of actual courgette" alongside "frothy wild garlicky aioli, the colour of blitzed Kermit".
Jay "cherished every single calorie" of the tagliatelle with rabbit, his vitello tonnato ("given a buff and a scrub") was "a grand bunch of forkfuls waiting to happen" and the saltimbocca of Middle White was a "deep and encouraging plateful".
His preferred dessert was a "bitter chocolate tart with milk ice cream… light and dark on a plate… night and day, dancing away together". He also enjoyed the free viewing of future auction pieces on his way to the loo.
Opening the bill made him feel "royally screwed, and I'd also enjoyed it very much". "Beyond the door in the gallery, awaiting purchase, is some of the world's greatest art, and in this dining room is some of London's best Italian food. This being Bonhams, and this being Bond Street and this being 2019, it all costs."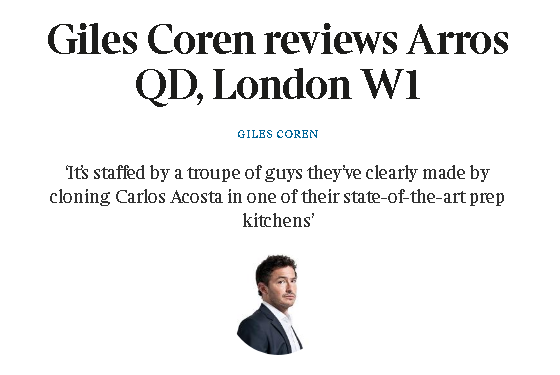 Life is tough for Giles Coren. He put in hours of dedicated drinking at Prawn on the Lawn in Islington, only to find out the next day that they'd only charged him for the alcohol he'd consumed and not the food, rendering his review 'paid for'. So he couldn't write about the "very intense taramasalata", "exquisite salmon sashimi" (with a tart "Peruvian dressing") or the "buttery skate wing with charred hispi cabbage" with a clear consicence. (Or a clear head, judging by the amount of grappa he drank.)
 So, on the recommendation of a friend, he popped down to Quique Dacosta's long-awaited paella restaurant in Fitzrovia in order to meet his review deadline for The Times with a meal he'd actually paid for. In doing so, he managed to beat all the others critics there, even though he claimed to have never heard of the "very famous Spanish chef with about a billion Michelin stars to his name".
Giles was expecting a "quasi-Valencian squat-and-gobble rice shack" but instead found a "two-storey megaflash palace of black and gold with a central kitchen of blazing wood fires and glistening paella pans" staffed by "unremittingly charming" demi-gods. René Redzepi of Noma was "eating alone at a window table".
"In short, it's a kind of Valencian Roka. It couldn't be further from the laid-back local hipster vibes of Prawn on the Lawn if it tried."
"Tricksy" starters with a "molecular vibe" thrilled his wife (she "has never been to El Bulli or the Fat Duck", the poor dear) but left him with a "strange alternation of "Wow!" and "So what?"" – just like "Ferran Adrià's "snow" phase of 2004-5". He wasn't that keen on the chapas ("a sort of fast-food version of paella") but went back a few days later and just ate a paella which had "deep, rich, rustic flavours" and the treasured soccarat ("crunchy bottom").
"It was all very accomplished and very beautiful and all as much like El Bulli as you're going to get within a spit of Goodge Street station… It works in parts, grates in others." (21/30)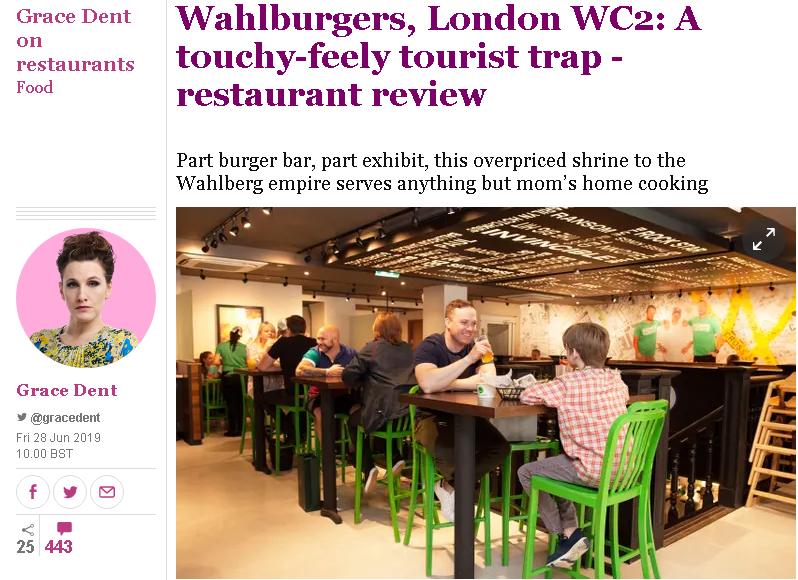 Grace Dent for The Guardian went to "one of the capital's most congested tourist hotspots" to visit the "open honey jar to curious, famished ants" that is Wahlburgers, Marky Mark's 'family' burger empire that's freshly landed in Covent Garden.
It's a "lurid green, unlovingly furnished, part-burger joint, part-sports bar", with "screens on every wall playing highlights of 10 seasons of Wahlburgers", the reality TV show that has followed the restaurant chain since its inception. The family connection – pictures, recipes, messages – "seeps from every surface in an unabashed, touchy-feely, American way".
The menu appeared at first to be "a laminated bombardment of calorie-drenched potential deliciousness" – until Grace looked at the prices and ate the food. The cheapest dish was a side of bacon mac 'n' cheese at £8, which manifested as "undressed, cheap penne… sitting in a puddle of thin cheese soup". Her 'Impossible burger' was "delicious" but her friend left most of her real meat burger. The exciting-sounding 'Birthday Cake frappé!' arrived as "a long, straight pint glass filled with what looks like vanilla Complan with a few hundreds and thousands on the rim of the glass… thicker than porridge and will not suck up the straw".
"I have been in the deepest of umbrages with Wahlburgers since my visit." (8/30)
Tom Parker Bowles  for The Mail on Sunday gave his trademark four stars to a "wonderfully ramshackle barn" in the "back garden of the back of beyond" in Somerset this week.
He was expecting a 'Good Life' sort of establishment, with "home-made pickles" and quiche. ("Because cafes always have quiche.") And while it did look like "Tom and Barbara's garden", the food from the restaurant gave Tom a very pleasant surprise.
The grilled peach and mozzarella salad was the first clue. "Utterly fresh, and joyously simple, it's Italian to its core, a dish of River Cafe-level delight. At about a quarter of the price." This was followed by a pizza ("sort of cross between Roman and Neapolitan. And, with lashings of garlic, a touch of Marseilles too… very, very good"), and then curries – "two of the finest curries I've eaten for years".
Pork belly varuval, with "big, bold, brassy flavours" was a "very serious curry", accompanied by paratha that was "incandescently good, a masterpiece of the form". A "winsomely light and spice scented" fish curry followed, and a "classic, old-school crumble" for pudding.
"A kitchen that can cook thrilling, decently priced Malay food. Southern Indian, Italian, and English too. On a bucolic Somerset organic farm. What more can you ask? I'd eat in this barn until the cows come home." (****)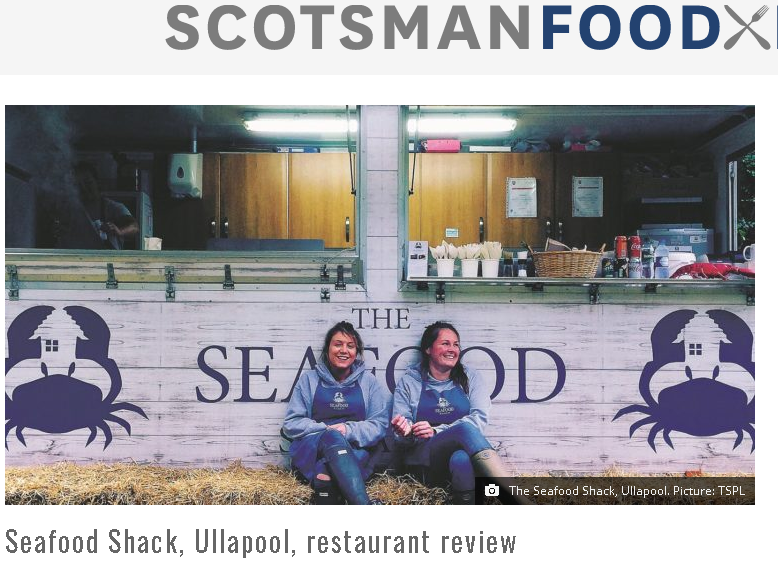 Gaby Soutar for The Scotsman braved the rain to eat lunch under a "huge tarpaulin" with "an unobstructed view to Loch Broom", on tables "made from wooden cable reels and topped with bottles of wild flowers" in Ullapool. Even before it opened, there was "already an antsy queue waiting for the shutters to roll up".
Her haddock wrap contained "a shoe-sized piece of lightly battered pillowy fish and a padding of salad leaves, all moisturised by a slick of pale yellow lemon and dill mayonnaise", and tried the smoked trout and herring fillets (both accompanied by "chunky and mayo-clad potato salad that was dotted with spring onion and sweetcorn"), then moved on to "glorious" mussels and scallops that were "utter beasts". (85%)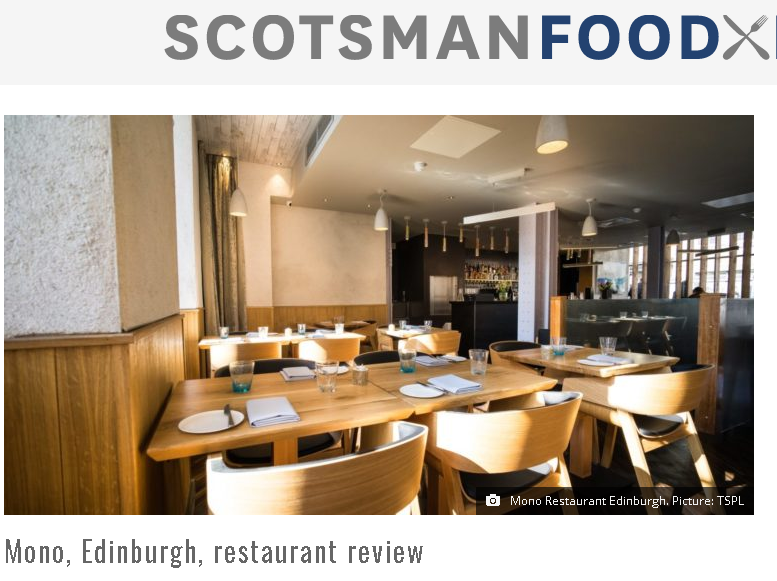 A second Scotsman review this week saw Catriona Thomson dining solo at Mono, a "progressive Italian" in Edinburgh. She plumped for the vegetarian tasting menu, starting with "three refined appetisers", followed by a "swift succession of Instagram-worthy plates… with not one dud among them". In the cocoa bottoni pasta pockets she discovered that "as taste combinations go, chocolate and broccoli is a new one… proof that your tastebuds can be rewarded for leaving their comfort zone".
"I'd happily go mono dining again, particularly if the food on offer is as fine as it is here." (90%)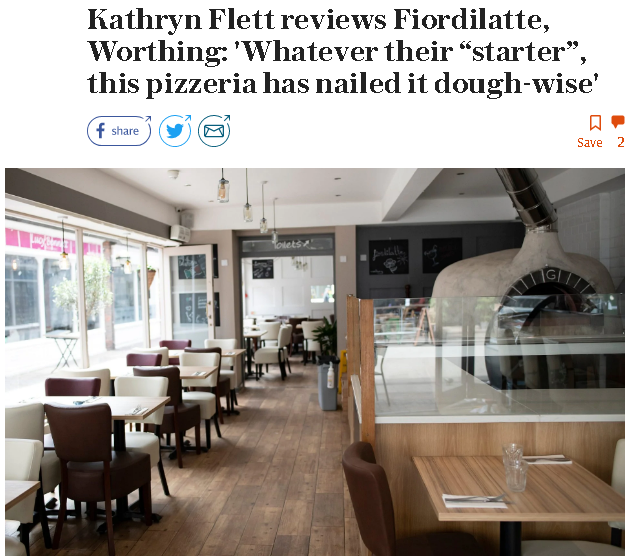 Kathryn Flett for The Telegraph witnessed the "white heat of gentrification" in Worthing, where she visited sourdough pizzeria and 'artisan gelateria' Fiordilatte. It's been around for a few years, but "whatever their "starter", this pizzeria has nailed it dough-wise".
Recent News from Harden's