Our weekly round-up of what the national and local restaurant critics are writing about, for the week ending 28 June 2020; the country remains in lockdown, with restaurants, cafes and bars officially closed due the coronavirus outbreak since March.
The government has announced that restaurants and bars can start planning for re-opening from 4 July, albeit with socially distanced dining and drinking. Several restaurants – including high-profile names such as Nathan Outlaw's Siren, Le Caprice and Sardine – however, have already announced they will not be re-opening, while one estimate that "50% of restaurants, cafes and pubs will not re-open" makes for grim reading.
You can still support your local and favourite restaurants; many are offering takeaways or deliveries, or you can buy produce, meal kits, vouchers, cookbooks or merchandise. Check out their social media pages for details (all available via hardens.com)
---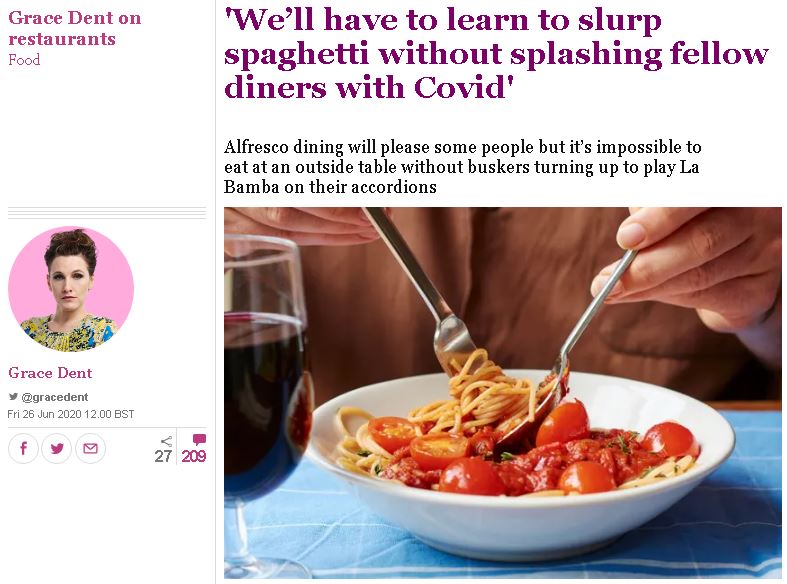 The Guardian
"The thought of closed roads, street-party vibes and slightly stuffy restaurants bending their normal strict rules of neat decorum seems gloriously debauched. In fact, it sounds continental in a way we decided we didn't want to be in the Brexit referendum."
Grace Dent mused on the possibility of increased al fresco dining from 4 July; "London's West End is sealing off some roads so the restaurants can flood out on to the street in order to maintain safer distances while we slurp our spaghetti in a way that does not splash our fellow diners with Covid". Hopefully other cities and towns will follow suit.
She's tried a bit of al fresco dining during lockdown, including "loitering in an alley" eating takeaway chips from Toff's last week ("I was thrilled to see Toffs back open again after its co-owner, George Georgiou, passed away from coronavirus in April. There was a queue twirling down the street from 4pm, which was a lovely sight"), and "spending an hour on a cold, stone wall outside a pub". It's not quite as glamorous as it sounds. And she "gave up eating outdoors in London in the 1990s, when it became impossible to eat at an outside table without a small gang of buskers turning up to play a rousing chorus of La Bamba on their accordions while you waved off hornets with the menu".
"Still, I'm thrilled by any positive news about restaurants at all. When even esteemed, seemingly rock-steady institutions such as The Ledbury and Le Caprice are shutting up shop, it all feels a bit like the ravens leaving the Tower of London."
---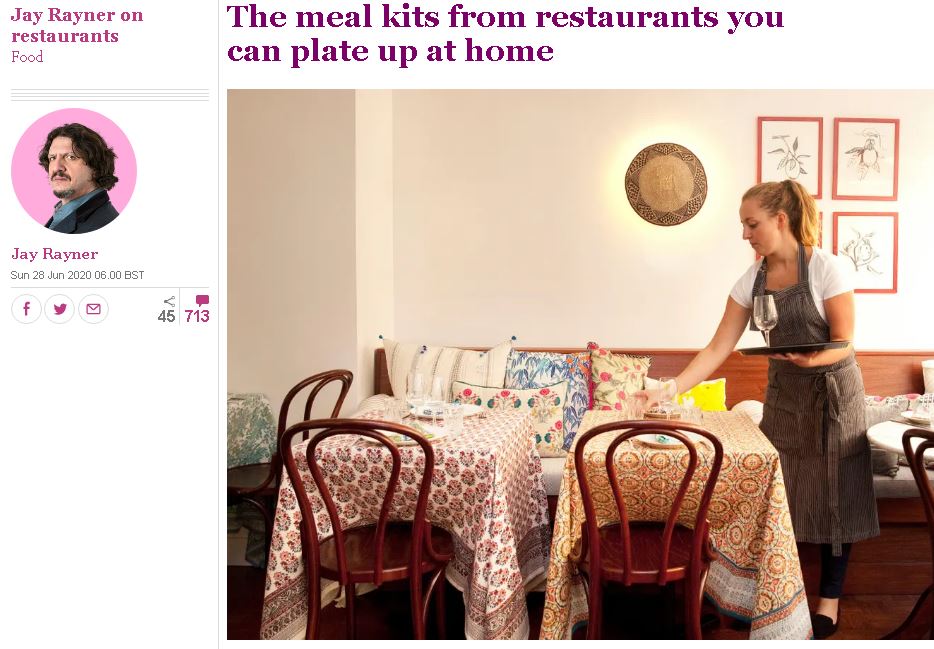 The Observer
"The bleakest of crises can also gift us the most impressive of innovations. The Second World War gave us radar and rocket propulsion. This pandemic has given us… evolved restaurant food delivery."
This week, Jay Rayner investigated the different options available to the at-home restaurant diner. It's no longer just about takeaways.
"I'm intrigued by the way restaurants that would never before have imagined their food being available to eat outside their premises have started to innovate. Consider it an act of business rehabilitation, a kind of economic physio to get the body moving again."
His friend Ravinder Bhogal of Jikoni has created "a separate brand called Comfort & Joy: "globally inspired veg with benefits". There's a daily changing roster of multi-dish meal boxes, all meat-free, all drawing on Bhogal's intuitive and restless way with spicing, but informed by her Punjabi and Kenyan heritage". Meals can be delivered hot or cold for re-heating, the packaging is compostable and there's a charitable donation made with each meal.
At the other end of the effort scale is Jacob Kenedy of Soho's Bocca di Lupo in London's Soho His at-home "offering requires commitment. If you want a no-fuss takeaway as a break from all that bloody cooking, this is not it". His meal kits (only available locally) come with "cook-along videos online, and wittily written method sheets. It isn't just something to eat. It's an hour's kitchen fun with dinner to follow, and Kenedy guiding you all the way". Only some of the packaging is compostable, but "the end result, however, can be stupendous".
"The technical term for what I did to complete this dish is "bugger all"; Bocca di Lupo did all the important stuff. But it made me feel like I had a stake in dinner."
Thank you to Jay for sharing this titbit: "I get to plate up vitello tonnato just as they do at Bocca di Lupo… and narrate myself in India Fisher's hushed, silky voice as if I'm finally a MasterChef contestant." His thanks go to the real chefs: "God knows I'm bored of my own cooking. Thank you Ravinder and Jacob for picking up the slack."
---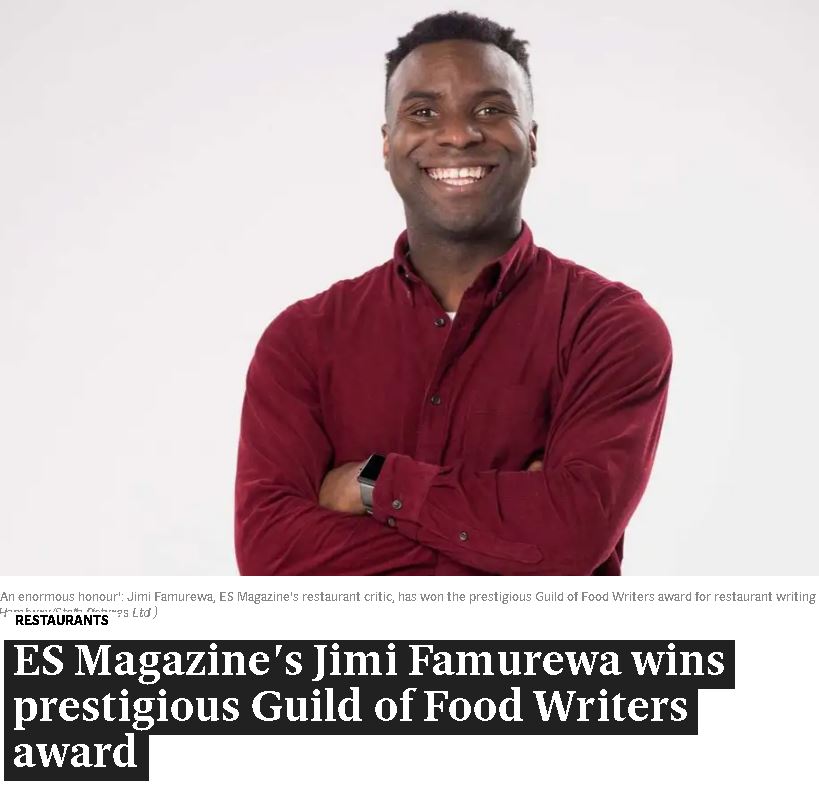 The Evening Standard
Congratulations to ES Magazine's restaurant critic Jimi Famurewa, who has won the annual Restaurant Writing Award from the prestigious Guild of Food Writers. Jimi was recognised by judges for being "in tune with all that's wonderful, bonkers and unique about the capital's dining scene, and London life in general." We heartily agree, and look forward to his reviews returning soon.
The newspaper's list of London's confirmed re-openings is being regularly updated, for those planning to eat out as soon as they're allowed. Some are being innovative with the social distancing guidelines, including Tomos Parry's Brat, which is to "transfer for the summer to Climpson's Arch, a showcase courtyard venue in Hackney". Wembley Park is also to "transform itself into a new al fresco dining hub by more than doubling the amount of outdoor seating outside its restaurants and cafes".
The Standard this week also reported on the permanent closure of The Greenhouse, after the company owning the restaurant was wound up due to unpaid tax bills.
The River Cafe's online shop and delivery service The River Delivers may be in full swing, but Ruth Rogers says in an interview that "I want to open when it is safe". "The Covid guidelines "feel so arbitrary", she continues. "Why is it safe one day then unsafe the next? Why is two metres safer than one metre? "
Raymond Blanc and Olympic cyclist Bradley Wiggins have been busy during lockdown, hatching plan for a mini festival of food and cycling,to be held on the Isle of Wight in September for a limited number of guests.
Fay Maschler recreated Thomas Keller's dry roast chicken. Keller is "chef/proprietor of The French Laundry in Napa Valley, California and Per Se in New York City", and the recipe appeared in Rose Prince's book "The New English Table". "It was the purity, potential intensity and the rigorous notion of roasting a bird without any but innate lubrication that drew me" to the recipe, she says.
---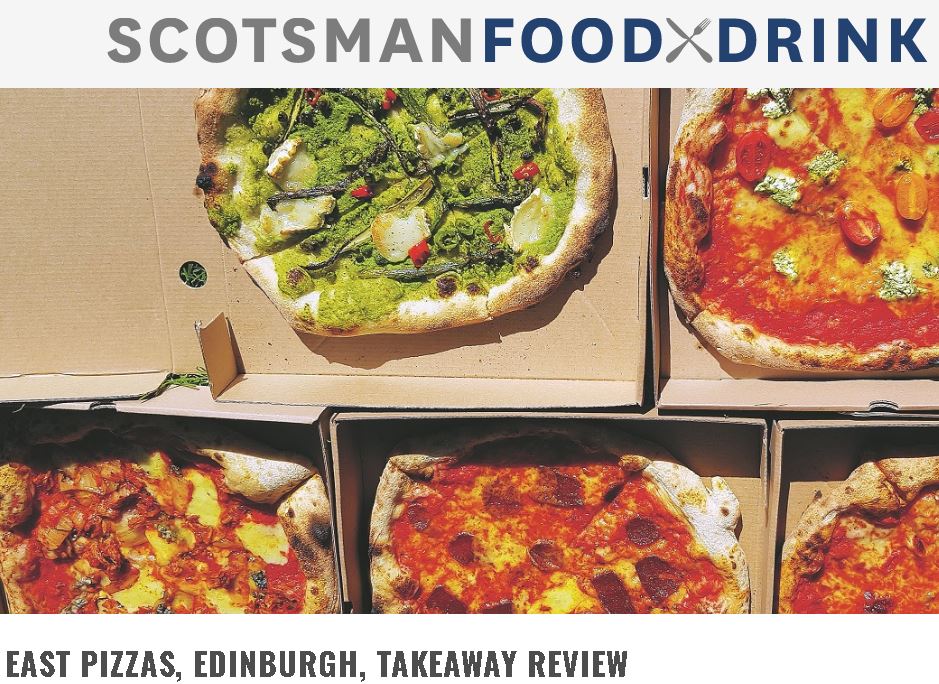 The Scotsman
Gaby Soutar's takeaway this week accompanied a socially distanced family reunion, but even her family didn't get to share the smoked almonds and pickles from East Pizzas, as she hid them for solo consumption later.
"The sourdough crusts are the best thing at this place – pleasingly abrasive, chewy and dusty, covered in inflated bits, like thick Hubba Bubba bubbles." Gaby had an unusual asparagus pizza, "basted with a sweet and grasshopper green pea purée base", and her sister enjoyed the kimchi, Hebridean blue, Arran cheddar and mozzarella version. Her neices enjoyed plainer, but still "very delicious" pizzas. (80%)
---
And also…
The Financial Times published a list of the best gourmet picnics for London parks. "Grab a rug and head to your local green space".
---
The Corens' joint column in The Times this week describes them worrying about the weight they've gained in lockdown. Their children are going back to school for the last three weeks of term, and Esther is racing to lose the pounds gained in takeaways, the kids' leftovers, rewards, booze and sugar; "if you are able to deny yourself a nosebag at the end of a long day's childcare, I don't really understand you". Giles has also gained weight, after years of strict dieting that stemmed from childhood bullying, but he's embracing the new him; "There is no dignity in a flat tummy after 50, I have decided… I will be back in public life pretty soon, in all my new-found rotundity".
---
In the Telegraph, Stephen Harris of The Sportsman revealed the recipes he'll be cooking on July 4, and Georgina Hayden recreated Glastonbury food staples for those unhappily at home when the festival should have been raging at Worthy Farm.
---
The regional news websites, including Birmingham Live and Manchester Evening News have listed the restaurants, bars and cafes re-opening on 4 July, while Bristol Live reported on temporary pedestrianisation and the top restaurants who don't plan to reopen just yet.
Recent News from Harden's