Our weekly round-up of what the national and local restaurant critics are writing about, for the week ending 27 December 2020; the final ROTR of the year, and a very short one at that.
England is now operating under a strict tier system that controls whether or not pubs and restaurants can open; anywhere in Tier 3 or Tier 4 is unable to open for diners (but can still operate a takeaway or delivery service): https://www.gov.uk/find-coronavirus-local-restrictions.
All of Wales is at alert level 4, with similar restrictions to full lockdown: https://gov.wales/coronavirus-regulations-guidance#section-48600
Scotland is operating under a different, five-level, system of COVID protection levels: hospitality venues in level 4 (the highest) must remain closed: https://www.gov.scot/publications/coronavirus-covid-19-protection-levels/ Most of Scotland is moving to Level 4 on Boxing Day.
Northern Ireland will also move into stricter restrictions (lasting up to six weeks) on Boxing Day: https://www.nidirect.gov.uk/articles/coronavirus-covid-19-regulations-guidance-what-restrictions-mean-you#toc-9
Please continue to ordering takeaways, DIY kits and deliveries from your favourite restaurants if you can; the restaurant industry and everyone involved in it need our support in what is usually their busiest time of year.
*****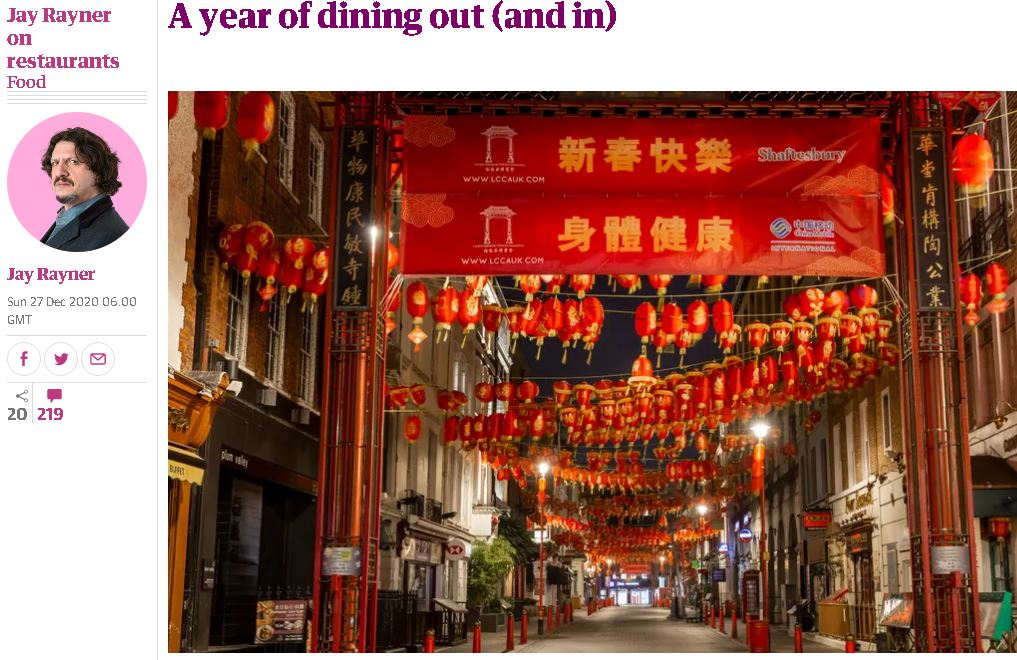 The Observer
"It has been a year of parallel narratives. All too many people have had to deal with horrendous loss and pain. Meanwhile the rest of us have had to endure the flattening and shrinking of our lives."
Jay Rayner's review of 2020 was accompanied by the above image of a deserted Chinatown in London; he reviewed an empty Four Seasons in Gerrard Street in early February "as an act of solidarity with the entire Chinese restaurant sector, which had endured a racist backlash because of reports of some virus thousands of miles away in Wuhan".
Within a few short weeks, of course, all restaurants were empty, "shuttered, along with every other hospitality business in the UK", and "it would be time to get behind the entirety of the sector and the millions of people who work in it."
His job had once "seemed the very definition of ephemeral", but "as the first lockdown ground on, and then restaurants, cafés, pubs and bars creaked open, we realised, I think, that hospitality wasn't ephemeral", but the "beating pulse" of our society.
For the first month of lockdown in March, Jay wrote about restaurants in general terms, about classics, service, memories and atmosphere. Each article "was a love letter to a restaurant business which hasn't merely been a source of my employment these past two decades but also, for a chap overly interested in his lunch, a lifetime of joy". He also reported from the frontline, to "chronicle the challenges faced by our chefs and restaurateurs as they first battled closure, then the grind of looking after their staff, and the perhaps greater challenges of reopening, albeit in a limited form".
As all of us feel, he "became heartily sick of the verb "to pivot"… while recognising that it described exactly what so many people were doing".
Looking back at his pre-lockdown reviews, "there was so much great stuff to swoon over in 2020". (Many of his fellow critics were hinting at a vintage year to come, too – sadly cut short by the pandemic.)
But there is still hope of returning to the old normal: "in every single restaurant I have visited, and I have visited more than most, the commitment to the safety of diners and staff has been obvious… I have always felt safe and yet it has still felt like eating out. For that I give thanks".
*****
For those of you who had more food than guests to eat it, thanks to the restrictions of Tier 4 and reduced Christmas bubbles, Nigel Slater has provided all the leftover recipes you'll need. "There is nothing, simply nothing, I like doing in the kitchen more than picking at leftovers."
*****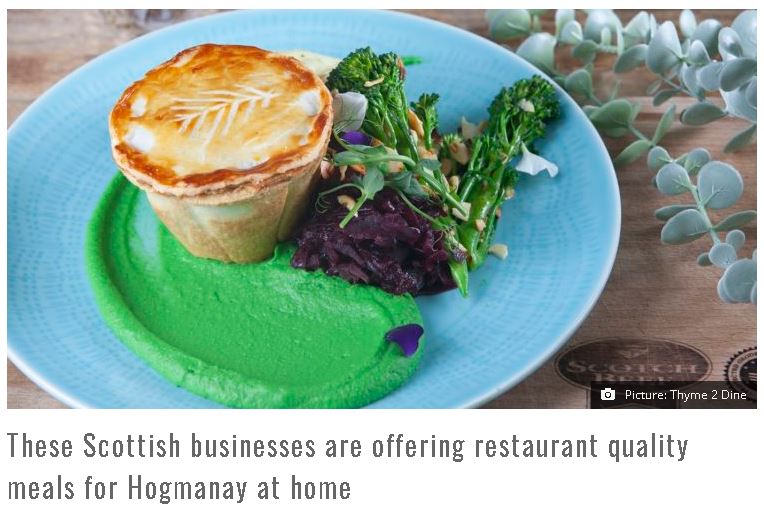 The Scotsman
Rosalind Erskine is looking ahead to a very different Hogmanay in Scotland "with no street parties or celebratory meals at restaurants with friends and family", but she offers some cheer in the form of a list of the restaurants offering dine-at-home options for the New Year. Glasgow newcomer The Loveable Rogue and Edinburgh's Wedgwood and The Little Chartroom are included.
*****
The Manchester Evening News summed up what "the madness of 2020" has done to the local hospitality industry, from "pub closures to substantial pizza slices" (the 11-inch pizza slice not considered to be a "substantial meal") and pub customers drinking in converted bus shelters.
The timeline catalogues and brilliantly captures the disastrous rollercoaster the city's restaurants have been on, including the pivotal support from Greater Manchester Mayor Andy Burnham.
"Although everyone is grateful to see the end of the year, it doesn't look like things will bounce back as quickly as they shut down."
*****
And also…
In The Financial Times, Nicholas Lander discussed "how restaurants can survive — and flourish — in 2021"; "in a changed landscape, lower rents may favour small, ambitious independents."
*****
Time Out provided articles on the best New Year's Eve meal kits, and the best New Year's day brunch deliveries, plus a short explanation of the science behind why comfort food is actually a thing.
*****
Happy New Year to all our readers! See you 2021.