Happy New Year to all our readers! Here is our weekly round-up of what the national and local restaurant critics are writing about, for the week ending 3 January 2021; the first ROTR of the year, often a short one due to reviews being replaced by articles on Veganuary and Dry January, but especially thin this year with so many restaurants closed.
Much of England is now in Tier 4, with restaurants and pubs unable to open for diners (but can still operate a takeaway or delivery service): latest regional restrictions can be viewed here https://www.gov.uk/find-coronavirus-local-restrictions.
All of Wales is at alert level 4, with similar restrictions to full lockdown: https://gov.wales/coronavirus-regulations-guidance#section-48600
Scotland is operating under a different, five-level, system of COVID protection levels. Much of the country and islands are in level 3 or 4: hospitality venues in level 4 (the highest) must remain closed: levels are reviewed weekly https://www.gov.scot/publications/coronavirus-covid-19-protection-levels/
Northern Ireland moved into stricter restrictions (lasting up to six weeks) on Boxing Day 2020: https://www.nidirect.gov.uk/articles/coronavirus-covid-19-regulations-guidance-what-restrictions-mean-you#toc-9
Please continue to ordering takeaways, DIY kits and deliveries from your favourite restaurants if you can; the restaurant industry and everyone involved in it need our support in what is usually their busiest time.
*****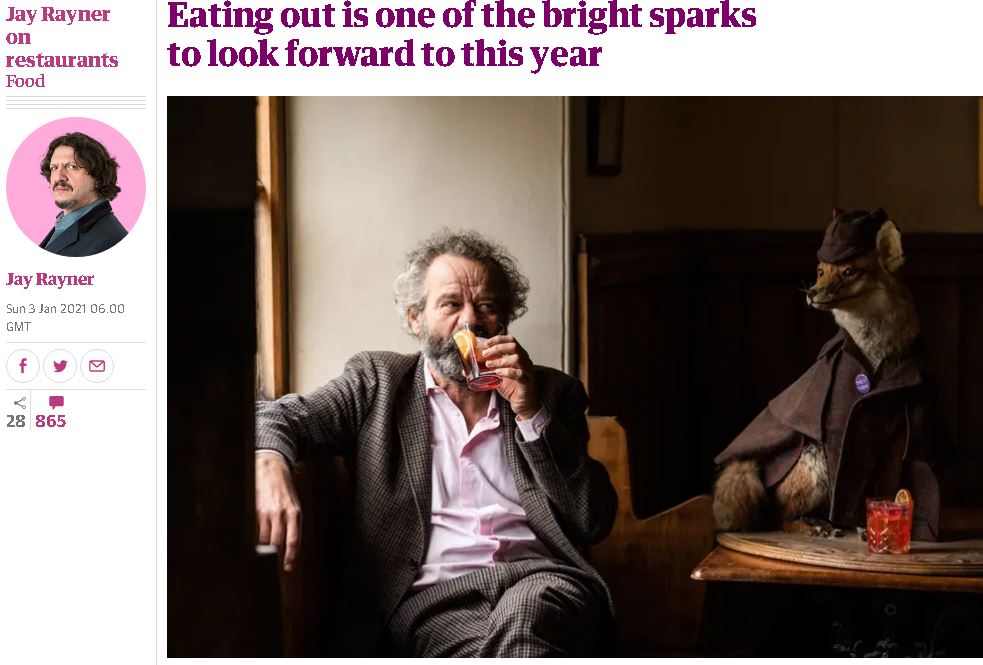 The Observer
"For the UK's restaurant sector, 2021 will be better than 2020."
Jay Rayner's  positive assertion comes, of course, with the explanation that "it's hard to imagine it being worse", barring visits from Godzilla and asteroids. "And even then, it will only be better for the ones who have survived" – Jay quotes a "survey by various industry bodies found more than 70% of hospitality businesses expected to close", and lists a number of the "casualties" we've already mourned, including Parliament Square and Mark Hix's "whole London restaurant group" (RIP).
"For restaurants everything about the coming year is about the economy." One of his contacts predicts that if an establishment can survive the harsh first few months of 2021 by doing what they did in 2020, then "the last six months [of 2021] are likely to be the best we've ever had".
The owner of Albert's Schloss in Manchester predicts that "a substantial volume of guests have sufficient confidence in the safety measures in place to make a visit," and that "together with the impact of vaccine availability… there will be strong demand come spring" – he even opened a new site in Birmingham, Zumhof, last summer, and has plans to move into at least two more cities.
Jay also highlights a "random selection" of other restaurants expanding and opening in the coming months – "proof that, despite it all, there remains a willingness to try".
Food outlets like Manchester's Escape to Freight Island has expansion plans, and Eataly will finally open its doors, while Sam and Georgie Pearman will open a third Cotswolds food pub, The Double Red Duke in Clanfield in February, and Mark Hix has already shaken off the dust of the capital to re-open The Fox Inn at Corscombe (pictured above).
In Glasgow, Graeme Cheevers, the former head chef at the Isle of Eriska Hotel launches Unalome in February, and at the other end of the UK, chef Emily Scott "will see her pop-up at the Watergate Bay hotel in Cornwall go permanent from March with a seafood and plant-based menu".
"Meanwhile in London, Wolseley operators Corbin & King will finally be able to open their long-delayed relaunch of the Manzi's name, with a seafood brasserie off Soho Square," and there's also "a brave plan to relaunch the once legendary Langan's Brasserie".
"Restaurants, hotels and pubs are part of an economic web that helps underpin our very cultural life. There are many reasons why we need the hospitality industry to fight its way back to good health in 2021; a good dinner is only one of them."
*****
The Mail on Sunday
In The Mail's You magazine, Tom Parker Bowles reviewed his 'substantial' lunch of "pie and a pint" ("the very definition of edible good cheer") at The Windmill's "discreet, smartly utilitarian" upstairs dining room in Mayfair.
There's "no fuss or frippery, rather white tablecloths, good wooden salt and pepper grinders, and proper service" here, alongside good beers, "meaty bits and pieces that go beyond the usual British bar snack" and "handsome" pies served with a jug of extra gravy ("not so much afterthought as equally essential addition").
"It's the sort of pie that might inspire, if one was that way inclined, ballads and paeans, odes, epics and songs of praise. I haven't much truck with culinary nationalism, but if there were a World Cup of pastry-encased classics, this would make it past a fraught semi-final shoot-out."
*****
And also…
The Evening Standard has updated its list of London restaurants operating as groceries during the pandemic.
*****
Bristol Live and Birmingham Live both mourned the loss of their numerous local restaurants that closed during 2020.
*****
The Manchester Evening News looked forward to the planned new openings of 2021.
*****
Recent News from Harden's