Our weekly round-up of what the national and local restaurant critics are writing about, for the week ending 21 December 2020; the penultimate ROTR of the year.
England is now operating under a strict tier system that controls whether or not pubs and restaurants can open; anywhere in Tier 3 or the newly created Tier 4 is unable to open for diners (but can still operate a takeaway or delivery service): https://www.gov.uk/find-coronavirus-local-restrictions. London and much of the South East were placed in Tier 4 last week due to rising infection levels.
All of Wales is now at alert level 4, with similar restrictions to full lockdown: https://gov.wales/coronavirus-regulations-guidance#section-48600
Scotland is operating under a different system of COVID protection levels: hospitality venues in level 4 must remain closed: https://www.gov.scot/publications/coronavirus-covid-19-protection-levels/ Most of Scotland is moving to Level 4 on Boxing Day.
Northern Ireland will also move into stricter restrictions (lasting six weeks) on Boxing Day: https://www.nidirect.gov.uk/articles/coronavirus-covid-19-regulations-guidance-what-restrictions-mean-you#toc-9
Please continue to ordering takeaways, DIY kits and deliveries from your favourite restaurants if you can; the restaurant industry and everyone involved in it need our support in what is usually their busiest time of year.
*****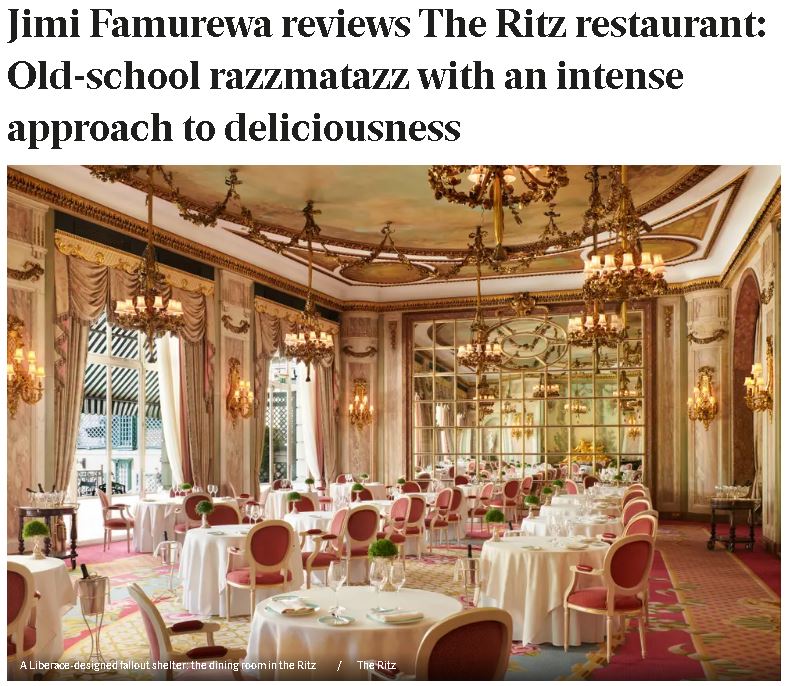 The Evening Standard
Just a week after the announcement of his new job replacing Fay Maschler, Jimi Famuwera was at The Ritz. We'll give him the benefit of the doubt that this was, as stated, a "planned end-of-year festive blowout" and not an indication that he'll only be reviewing the "clinically extortionate hotel fine dining" place from now on!
"After a truly mesmerising debut lunch there — I realise that The Ritz, parodic synonym for grandiosity that it is, is absolutely worth the fuss and surprisingly cross-generational awe." Yes, it's "unconscionably expensive" but also "an enterprise with an almost manic devotion to superior hospitality, old-school razzmatazz and an intense, oddly forward-thinking approach to deliciousness".
Sat with his mum "among the dolled-up couples and one-per-center families in the ruby-gold glow of the lavishly frescoed main dining room", the "scrupulous Covid-security" dining room felt like a "Liberace-designed fallout shelter", and "longstanding chef John Williams' menu" was "a multi-speed hymn to French classicism".
"For a few hours, in a year that has necessarily prioritised survival and caution and compromise, we gloried in the act of a meal that was about nothing more than delirious, Christmassy enjoyment. The Ritz is sublime, ridiculous and inessential. And that is exactly what makes it feel so vital."
*****
Also in The Standard, David Ellis reported on the closure of Café de Paris, just four years shy of its centenary; unsurprisingly it's due to "the devastating effect of Covid". The club "opened in 1924 and its heyday hosted a glittering array of A-list stars including Frank Sinatra, Judy Garland and Noël Coward, said it "not gone out without a fight.""
*****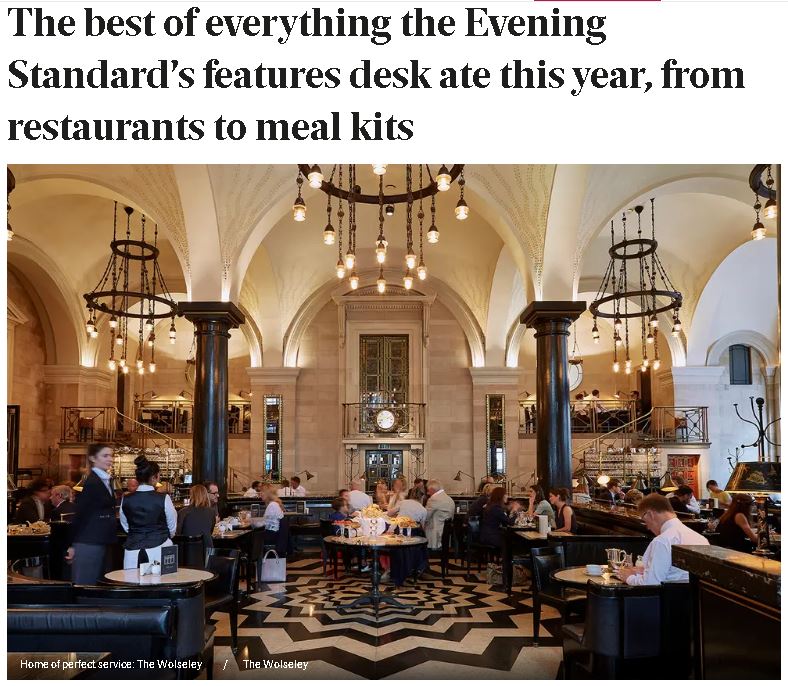 All of The Standard's features writers collaborated on an article detailing the best things they ate in 2020. For Nancy Durrant it was "a year of beautiful things" including two meals at Bocca di Lupo, while Rosie Fitzmaurice "made up for lost time with a slap-up meal at the shiny new Nobu on Portman Square".
David Ellis missed hospitality desperately during lockdown ("my life is lived at tables and leaning on bars") and recalled an "astonishingly good" chef's table experience at Crockers in Henley, where his meal was "one of the happiest of 2020". Furthermore, "if the Guinea Grill and the Coach and Horses [Soho] were countries, I'd have permanent residence status by now".
Suzannah Ramsdale felt "legally and morally obligated" to declare her "meal of 2021" (we think she meant 2020!) to be her wedding breakfast ("in actuality a long, lingering, boozy late lunch") at The Fentiman Arms in Oval, where she and selected friends enjoyed "hearty seasonal food" delivered by "eager staff".
The brilliantly named Susannah Butter embraced takeaways late in lockdown, planning a whole day around a burger delivery from Four Legs. "As we go into Tier 3 I am grateful for every meal out this year – from reassuringly formulaic Wagamamas to a decadent summer lunch at Rochelle Canteen."
Finally, Prudence Ivey and family gathered at The Wolseley to celebrate her father's 70th birthday rather more quietly than planned: "we were the definition of terrible customers. We all ordered exactly what we fancied, with at least one off-menu request or substitution each. This being the Wolseley, home of the most charming service in all of London, our teatime melange of Black Velvets, margaritas and martinis, prawn cocktails, kedgeree and a chocolate éclair was granted without a single eyelid flicker".
*****
The Standard also reported on the devastating news that London entered Tier 3 on Wednesday (since superseded by Tier 4): "devastating news for countless places who have struggled through an unrelenting year; moreover, the short notice means many have now added to their pile of debts, having already ordered from suppliers to meet the pre-Christmas rush", and – on a lighter note – the handover of Burger King UK's Instagram page to small independent restaurants, "lending them a helping hand amid the newest wave of restrictions".
*****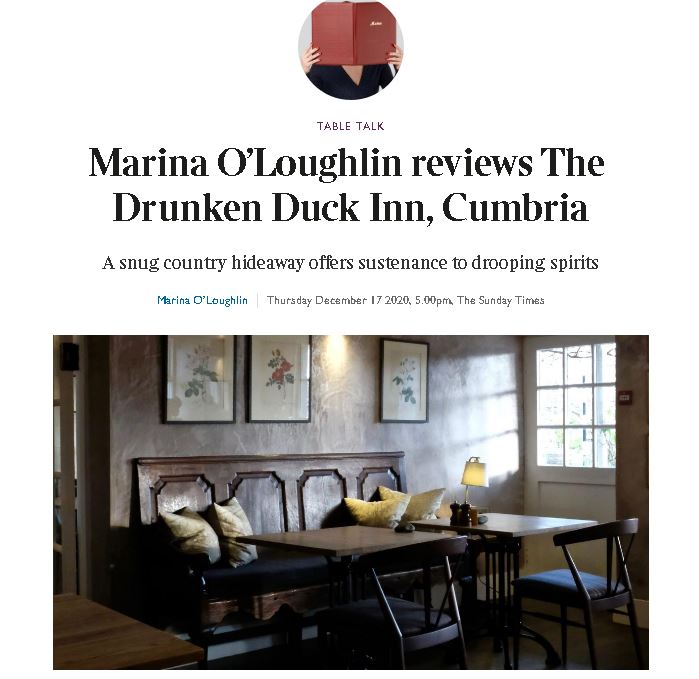 The Sunday Times
"The welcome, for someone more used to the urban way of things, was disconcerting."
Marina O'Loughlin ate and stayed at "pioneering gastropub" The Drunken Duck in Cumbria for her penultimate article of 2020; it "just about saved my sanity" on the way to a family funeral in Glasgow, even opening the kitchen early to feed them "a proper breakfast" before their "sad journey" north.
The "low-slung whitewashed building sits at the kind of crossroads that looks conjured up by the Lake District's tourist board", and the "windows cast yellow warmth out into the twilight", a siren call to ramblers and hikers. Inside it's "a hops-lined snug of almost Middle-earthish cosiness" and "the food is good too" – "restaurant food, not pub food… but without self-importance".
"The Drunken Duck is the kind of place misty-eyed tourists imagine all British pubs are like, right down to Dottie, the resident radiator-hogging black and white cat."
"There were odd faults here and there, but I didn't care, I really didn't… when we left the table completely happy, even with the world going to perdition beyond the rolling hills."
Marina once wrote about not loving pubs, but "the idea that they're being obliterated on the back of some governmental back-of-fag-packet thinking is unconscionable… There's still no definitive proof that the hospitality industry is largely responsible for the spread of coronavirus. Meanwhile, it's being penalised as though it is — the pub particularly."
*****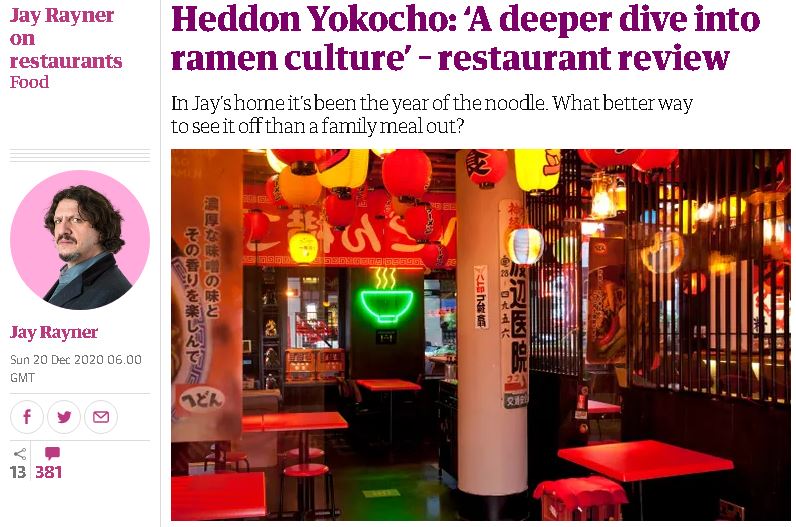 The Observer
"Life in our house throughout 2020 has not been all roast swan… Instead, we have, from time to time, been living like bloody students."
For Jay Rayner, it's been "a year of the noodle"; he's tried them all, from Pot Noodle to "the Mi Goreng noodles from Indomie which come with five, count them, five sachets". All of which naturally led him to review ramen specialist (from the Japan Centre team) Heddon Yokocho, which replaced Sakagura in Soho in October and feels like "a deeper dive into the culture" than the sibling Shoryu Ramen chain.
Inside, it's "knowingly kooky and vivid", with neon signage reminiscent of "Akihabara, Tokyo's Electric Town". There's a "familiar list" of small plates to start, with "light and crisp" octopus croquettes "the star"; the main menu lists nine types of "date-stamped" ramen, along with "the kind of broth, the thickness and curl or otherwise of the noodles and the toppings" plus "the year they were invented". All types are "cheerfully stacked, very pleasingly engineered examples of the craft".
Overall, it's "more expensive than at the ramen group Tonkotsu and cheaper than Ippudo… on a par with Shoryu, but I think significantly better" and there's "also a pared-down and well-priced drinks list with plum wines, shochu and, of course, sake".
*****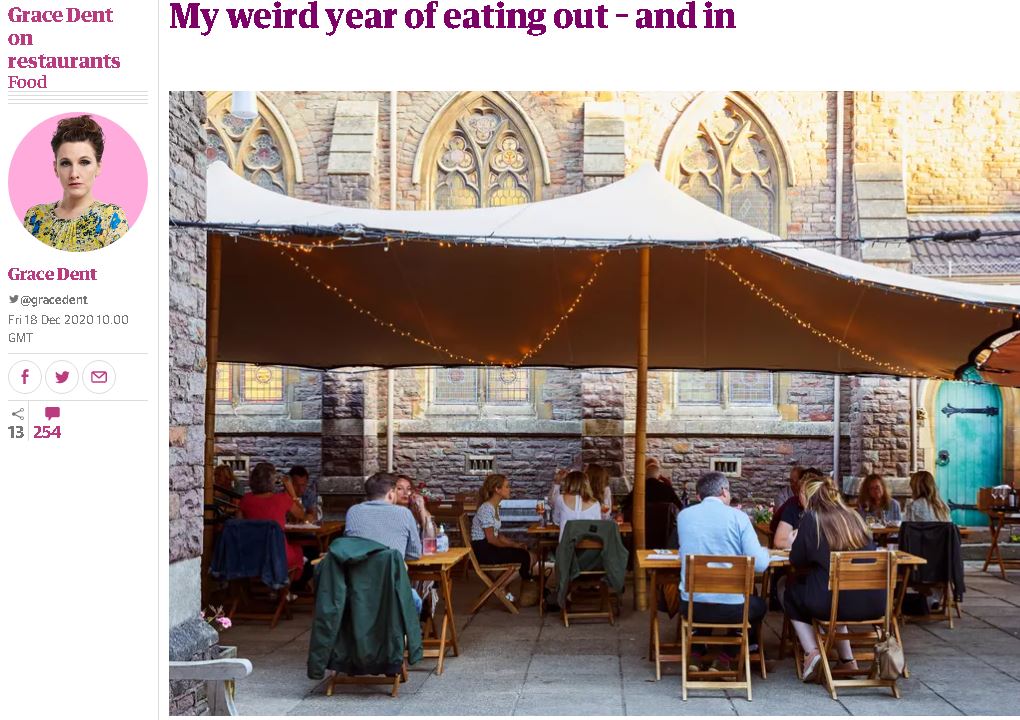 The Guardian
Grace Dent delivered the first of the "year in review" articles.
"I'd spent early 2020 railing against the things I saw as real issues in hospitality: the seemingly unstoppable food-hall scene that stole 50 quid out of your purse for a bespoke burger … the steep rise of low-intervention wine flights, servers spending aeons lecturing me on food waste, and was wary about an upcoming visit to Tom Aikens' new conceptual dining space, Muse." ("What a list of ridiculous non-problems this seems now.")
The "(temporary) freedom" granted on Super Saturday in July, after months of lockdown, home cooking and "setting the alarm for 4am to secure a supermarket delivery slot" wasn't the remedy she thought it would be. It "merely gave me a chance to take stock of what we'd lost, potentially for ever. Finding an open Pret a Manger was suddenly a struggle. Breakfast buffets were unhygienic. Bars in hotels were closed until further notice. Organising an impromptu meal with friends was now a delicate ballet".
She had moments of joy at The Clarence Tavern, Chuku's and The Curlew in Bodiam before "the shutters came down again" and early autumn became "the season of the fancy DIY restaurant food kit" ("which I don't really believe any restaurant is making any profit from", not to mention that "I could do without all the leftover plastic" and "all the washing-up" afterwards). "All the second lockdown did was reinforce my love of being cooked for."
"The future of eating out is mysterious and ever-changing. I promise to carry on going out there, and dutifully reporting back."
*****
And also…
In The Daily Mail's YOU Magazine, Tom Parker Bowles revisited Bentley's (again), taking advantage of their heated outdoor space for oysters and Dover Sole. "This blissful simplicity doesn't come cheap. But in these strange and troubled times, what price delight?" More useful is Olly Smith's recommendations of which wines to have with your turkey…
*****
In The Financial Times, there was a round-up of readers' favourite meal kits from top London restaurants:  how they have been "fine dining chez vous" in 2020. Also, in How To Spend It, the "unexpected gastronomic highlights of 2020" – from kebabs on swords to a kickass sorbet with rattlesnake chilli and mezcal – from their food correspondent.
*****
No reviews in The Scotsman, but an amusing article on "how drunk Santa will get in Scotland if everybody leaves him a sherry at Christmas" ("scientifically calculated" at almost 36,000 times more than his recommended weekly limit), plus the news that Marks & Spencer is launching a 'haggis, neeps and tatties' pizza for Hogmanay.
*****
Hangover cures and advice on moving down to Tier 2 featured in Bristol Live, as well as the delayed opening of Nadu, the Sri Lankan and Tamil restaurant in Stokes Croft from the owners of Nutmeg in Clifton.
*****
Merry Christmas to all our readers! We'll be back next week with a round-up of the final reviews and articles of 2020.
*****
Recent News from Harden's