Marina O'Loughlin for The Sunday Times is already working on a revision of her top favourite restaurants, after irate readers disagreed with her Top 50 list a few weeks ago. First to make the cut is this Birmingham spot: "almost austere in a kind of Scandi-Brum way " which deserves nothing but " joy and celebration and accolades".
Chef patron Ben Tesh "cooks like an angel", with "creativity and sophistication" – Marina emerged "wreathed in smiles, evangelical" about the deceptively simple fare on the five-course tasting menu. She was particularly pleased that not a single dish gave "even a scintilla of a stuff about your Instagram account" – "no edible flowers scattered willy-nilly, no smears or skid marks".
Tiny "unassuming-looking" crab tartlets were "utter, utter luxury" to start, followed by a "ravishing" potato emulsion topped with "almost fudgy smoked eel and crisped chicken skin" that she'd happily have bathed in; desserts included one like a "pneumatic, chewy Aero". The "most dazzling dish" – of turbot – was "so, so good to eat: fish and potatoes have rarely been this bewitching". A "sparkling diamond" in Birmingham's "atmospheric Jewellery Quarter ".
For The Observer, Jay Rayner  got nostalgic for the type of indoor town market that "sells both bacon baps and big knickers" – and discovered Clam & Cork in Doncaster's market, "a small seafood café doing lovely things with the catch that arrives here daily", with a stainless steel counter surrounding the stall that was formerly a wet fish bar.
Dishes "handed straight out of the kitchen to the diner by the nearest chef" included tempura crab claws ("we are won over straightaway"), south Indian fish curry ("heavy with roasted spices and attention to detail") and "properly crispy" fish burger with "exemplary" chips;  all great value, too.
Grace Dent in The Guardian continued a tour of Border country with a visit to Carlisle, and a "fiercely English" restaurant in a former furniture shop, in a quiet village "a full eight miles from the "Welcome to Scotland" sign".
It's a "tiny bit fancy, a birthday treat kind of place, or somewhere to salvage your love life over three courses for just short of £30" – and the menu is "experimental – in that it may be the first time some locals have seen pork cooked in pedro ximénez sherry – but not unapproachably so".
Chef James Hill's "style is unpretentious but definitely forward-reaching" – it also helps that there's "attentive front-of-house staff who look genuinely delighted to see you" and "comfy chairs with deep cushions". Her party "rampaged through the menu… like a glorious challenge" and are still talking about the puddings… (26/30)
Tom Parker Bowles in The Mail on Sunday delivers yet another of his signature four-star reviews for Emily Roux and Diego Ferrari's Caractère. He admits that both expectation and preconceptions were high: " how can it be anything other than Le Gavroche gone west? "
But he discovered that "Caractère is very much its own beast". From the decor (no tablecloths!) and the "menu, oddly divided into 'traits'" ("like a cheap range of own-brand scents at Superdrug "), it's no Gavroche, but the pedigree shone through in "immaculately drilled " service, "comfortably plush velvet seats " and "cracking" cooking.
"Immaculate" mackerel and confit baby beetroot was "a study in subtlety and discretion", charred monkfish was "pretty, but pretty fantastic too", and celeriac 'cacio e pepe' was "a dish of both parsimony and pleasure" – an "instant bona fide barnstormer". "A class act from start to end." (****)
Micheal Deacon in The Telegraph visited the new venture from Tommy Banks (and family), of The Black Swan in Oldstead.
He found eccentric but brilliant food, awarding it a "rare" four and half stars: "The food displays Willy Wonka levels of ingenuity." (****1/2)
The Evening Standard's Fay Maschler is on a roll with being the first critic at London's hot newcomers – this week she ventured east to Two Lights,  the new "Modern American" (or what Fay calls "Modern non-Trump American") from former Clove Club  head chef Chase Lovecky.
Crab on "greaseless" beef fat chips is "just a brilliant notion", grouse sausage with coco beans and figs is a "hero" dish, but roast artichoke with miso dip is "an unsuccessful clash of cultures". The wine list is "short but well formed and demands attention".
Fay describes the interior as "tight, light New England beach house". She intends to go back for a third visit (she always visits twice for a review), but only for lunch – at night it's "filled with voices overlaid by a hideously, thumpingly loud soundtrack… almost unbearable". (****)
Jimi Famurewa for The Evening Standard "genuinely wondered if it was all an elaborate prank" when he read about this "Marylebone wellness café offering dishes called things like 'Compassion' and a basement 'meditation station'". He braced himself for an "onslaught of faintly Californian, po-faced preposterousness", but found himself pleasantly surprised at the "brightly done up" spot.
However, once he'd ordered from the "very long, very ridiculous menu", things went awry. Jimi chose a lentil burger with vegan cheese and "limp" sweet potato wedges, which he left unfinished due to a strange, sulphurous aftertaste.  The accompanying (and undressed) salad had "an intense bitter flavour vaguely redolent of crunching through a paracetamol". Not a huge success – and there's now plenty of other places vying for the same market – "the best way to get people to eat healthier food is to just make it really, really tasty". (5/10)
Keith Miller in The Telegraph was one of the latest critics to try out Kym's, Andrew Wong's City newcomer – his date was fellow Telegraph critic Kathryn Flett.  The "generically tasteful" room is very different to A Wong – and yet the name harks back to the Pimlico restaurant's original one (his grandmother's), which "speaks of journeys, homecomings and suchlike".
It's "densely peopled with scurrying chefs" dishing up the menu of "simple Cantonese roasts"; "hyper-Instagrammable dishes" that were "a succession of bright colours and contrasting textures", including "mushroom dumplings… marbled to resemble actual mushrooms in a faintly Blumenthalian coup de theatre".
"Unexpectedly", especially considering its location, "Kym's is a shade less spendy than A Wong"; less stylish, too – with the  unmistakeable whiff (as Fay Maschler detected last week) of a prototype. (****1/2)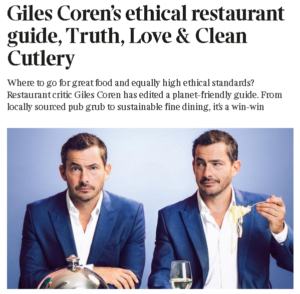 Giles Coren for Saturday's Times magazine seems to be taking credit for the restaurant industry caring about the provenance of its ingredients, after giving a restaurant 0/10 for not knowing (or caring a jot) about where the salmon came from.
While acknowledging that it's "a small start on a big deal" he and associate editor Jules Mercer  launched their new book "Truth, Love & Clean Cutlery, a new kind of restaurant guide for a new kind of restaurant world" – along with a selection of the restaurants to be found within.
And also…
Tim Hayward in The FT reviewed Coal Office (and is the first to report from the brand-new Coal Drops Yard quarter) as "a triumph of design over comfort"; "it's as uncomfortable as Hell, with seating straight from the mind of Dante Alighieri".