We've been busy finalising the London guide for 2023, so this week's Review of the Reviews is catching you up on two weeks of reviews!
We'll be back to our regular schedule next week…
This is what the national and local restaurant critics were writing about in the TWO weeks ending 21 August 2022.
*****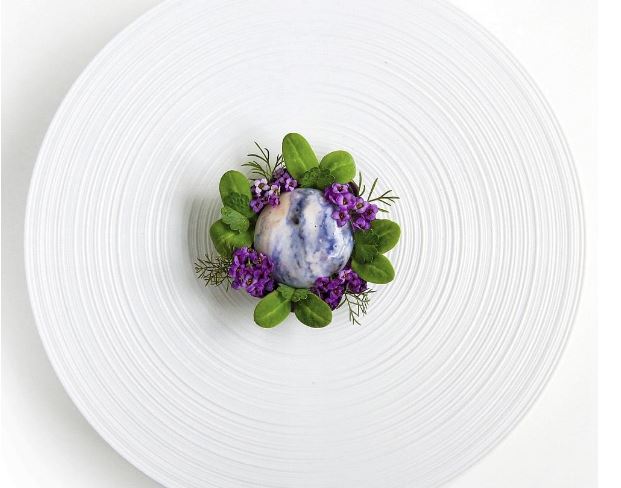 The Sunday Times
This week, Marina O'Loughlin's review came from newcomer Solstice in Newcastle from chef Kenny Atkinson, formerly of House of Tides. It's a "northern delight with star quality"; she issued a warning to "those who enjoy being outraged at perceived excess in times of austerity: you'll have a field day." (You have to pre-pay £140 even before setting foot inside.)
"There's nothing that isn't delicious"; "Is it worth it? … when you wake up next morning and it's the first thing you think about, it seems fair enough, really."
Last week Marina had a meal that left her "taste buds pleasurably jangling" at Mambow in Peckham: chef Abby Lee is "a quiet magician of Malaysian cookery".
"This is excellent food, even if it's eaten with plastic cutlery beside a fine-smelling rotisserie chicken joint… forget the cutlery, feel the quality."
*****
The Guardian
Grace Dent was in Kent to review Updown, which is "that scene you have in your mind's eye whenever you imagine escaping to the country, taking on a rambling, 17th-century farmhouse in need of lots of TLC and living the dream".
There's a restaurant being built in the barn currently under refurbishment; until then diners are directed to a pergola, where the food is "good. Extremely good", from a menu that's "brief and ever-changing, cooking whatever is local, fresh and seasonal over an outdoor wood fire".
"The vibe is intensely relaxed, but service is well drilled and attentive, staffed by local young people who restore faith in the whole notion of British hospitality."
Last week, Grace visited the "elegant, but defiantly homespun" Tatale, the upgrade of Akwasi Brenya-Mensa's "popular supper club to a permanent home in the all-new Africa Centre in Southwark", where she ate "life-changing hummus" and other "painstakingly precise" (and "almost all vegan") dishes.
"One of London's most interesting and delicious new openings."
*****
The Evening Standard
David Ellis reviewed Isibani, from Victor Okunowo, a "surefooted chef with deft ideas" who impressed despite the "disorienting, disconcerting" lighting, grey-blue decor and an "uneven but not entirely unpromising" set menu dinner ("half the stock hadn't been delivered"). He returned for a lunch that "felt surefooted, that hint of talent now a fully grown thing".
"Dishes draw from across Africa, with Nigeria seemingly exerting the biggest influence."
*****
The Observer
"Nothing can beat a really good local restaurant, and this one in West Dulwich is a little beauty."
Jay Rayner reviewed Walter's, which got him all "misty-eyed" with background music from 80s films and "melancholy post-punk".
Rob Hampton and Matt Lovell (the team behind the Oystermen) have popped up here in the "especially leafy suburbs with a totally different bistro proposition" to their Covent Garden bistro.
"They do brunch at weekends. Oh, and there's a happy hour. You can also just come for a drink. There's lots of reasons to go back. Given how dangerously close to my home it is, the odds of that happening are high."
Last week, Jay had "some of the best food I've tried in London" at Fallow, from chefs Jack Croft and Will Murray who "met at Dinner by Heston" and "bonded over a desire to elevate the humble and use the bits that others throw away". Following an "extended pop-up" at 10 Heddon Street, they now have a permanent site.
"Smash open the piggy bank and head for Fallow – the cooking is amazingly inventive."
*****
The Mail on Sunday
Tom Parker Bowles for YOU Magazine reviewed Cavita, and was "delighted to find authentically vibrant and joyous Mexican dishes" and "the feeling of an upmarket Mexico City restaurant" in central London.
"Throw in a really good selection of tequilas and mescals, sweet (if occasionally slow) service, and the sort of atmosphere that seeps happily into one's soul, and you have yet another modern Mexican restaurant to exhilarate and adore."
Last week, Tom was directed by "Jonathan Swain (the man behind the essential Plate Licked Clean blog)" to Alium in Barry, "that small, rather handsome Welsh seaside resort a few miles outside Cardiff". This new place "from the hugely talented Antonio Simone, best known for his gutsy cooking at the Humble Onion in Dinas Powys" served Tom "one of those lunches that simply cannot put a foot wrong".
"Two courses for £22. For cooking of this level, that's not so much value as a downright heist."
*****
The Independent
Kate Ng continued her "quest for great South Indian food" at "Islington's newest contender" The Tamil Prince, which she declared "one to watch". ("They had me at "ex-Roti King chef"")
"I found myself licking my fingers clean with relish. Every single dish was so utterly delicious, I can't waste a drop. I will certainly be back for more."
*****
The Telegraph
A controversial opinion on Lisboeta from William Sitwell, who disagrees with every other critic who's been; to him, a meal at Nuno Mendes' new place was akin to "being waterboarded in tallow" and was a "strain on both the wallet and the arteries".
Was he just grumpy "because they don't know how to make a proper negroni"? He did concede that "the little pork pies… were deeply tasty and fun (but with melting lard on top) and… service… was faultless" but couldn't get over the prawns at £16 each, however delicate and "deliciously fresh" they were.
William fared better last week, when he reviewed Edie's in St Austell, Cornwall, where there might not have been sea views, but there was a (five-star) "soufflé was so darned perfect, I felt moved".
*****
And also…
For The FT Magazine, Tim Hayward reviewed The Tamil Prince ("South Indian food that makes the world a better place, with "dishes executed with outrageous skill") and Cafe Cecilia ("with food this good, who cares that it's not particularly clever?").
*****
In The Times, Tony Turnbull took over Giles Coren's regular slot, exploring the restaurants of London's Lamb's Conduit Street: "this street is becoming one of the best enclaves for eating out".
*****
In The Scotsman, Gaby Soutar reviewed a pop-up, eorna, currently appearing in the "St James Quarter branch of Miele" in Edinburgh, where "at the back of the shop you'll find a private dining room that seats 12 people at a communal table, alongside an open kitchen" – an "immaculate and cool room" that's a remporary home before settling elsewhere in the capital.
"Amazing wine, fantastic food. It's odd that the good life is to be found in the rear of an Edinburgh appliance shop."
Also popping up in Edinburgh for the Fringe is "Glasgow's bargain chateaubriand steak restaurant" (and lockdown spin-off from Nico Simeone) Chateau-X, which Rosalind Erskine visited at its temporary home within Six By Nico and enjoyed the "good quality produce cooked quickly and well in a stylish environment".
*****