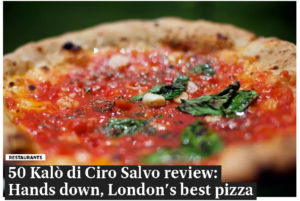 David Ellis in The Evening Standard visited the latest Neapolitan pizzeria to import itself into London (following on from L'Antica Pizzeria da Michele, which recently opened in Baker Street – the first branch in Stoke Newington is no more). Despite almost everything about the place – the location (Northumberland Avenue being "a hotbed of precisely nothing"), the decor ("Beano red n' black decor") and most of all the chairs ("offensively uncomfortable"), David found himself in heaven. "This is pizza to furnish the soul." In fact – once they sort out those chairs – it'll be "London's best pizzeria".

Largely echoing Giles Coren's "howling dog" review in The Times, Jay Rayner in The Observer had nothing good to say about Laurent, from  French chef Laurent Tourondel who's made a great name for himself in New York, opening "buzzy urban brasseries" under the BLT name (Bistro Laurent Tourondel, geddit?).
From the very beginning, the proposition, according to Jay, is "twisted, overworked, underthought"; the notoriously difficult space is chilly and overlooked by the first floor gallery ("social Siberia"). The menu sits sashimi alongside leek and potato soup – "imagine the brainstorming session which came up with that notion". Jay's kale Caesar salad was "bitter and sour and relentless", he "could not even begin to finish" Wagyu beef short ribs that "dissolved into hot, tongue-coating grease", and a meringue and strawberry dessert was " spectacularly ordinary".
All of this, and "dizzying" prices too. No wonder Jay ends his review declaring "I can't for the life of me imagine why anyone else will ever go there."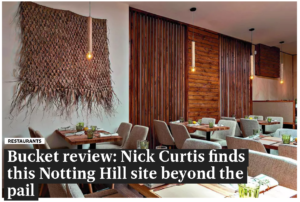 Nick Curtis guest reviewed for The Evening Standard this week, with a visit to Bucket, which offered plenty of scope for bucket-related puns. A good thing, as the food (mostly fish and seafood) was largely a disappointment – not least because many dishes came served on plates, not in buckets, which is the entire concept ("if that's not too grand a term ").
Credits for sustainable sourcing, friendly staff and decent wine couldn't outweigh a meal where  the "recurring note of the whole dining experience was the hollow clang of a truly misbegotten idea" – especially "on a street excessively well-stocked with restaurants" (and "picky patrons").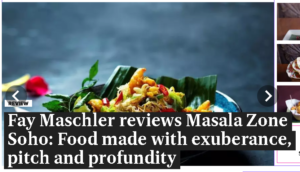 A trip down Memory Lane for Fay Maschler in The Evening Standard, with a return visit to Masala Zone's original branch, which opened in 2001. The "pitch and profundity of the sauces" and the "exuberance of the snacks" were all the proof she needed that "grass never grows under the feet of these Indian pals" – even in the face of the calibre of competition in London's Indian dining scene these days.
Fay was clearly impressed with the entire meal, from the "totally irresistible" chilli garlic potato chips to the "deliberately lightweight" desserts, via the chai-spiced Negroni – and with "sweet" service to boot (even on an "incognito" visit).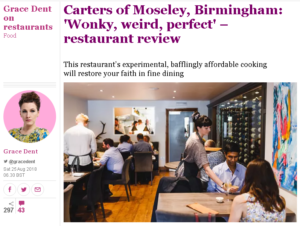 Grace Dent in The Guardian has been trying to get to Carters of Moseley for years, but was, until now, unable to persuade anyone to accompany her on "an experimental tasting odyssey in south Birmingham". But the lucky guest who finally agreed to go shared in a meal that was "a little bit magical" and "wonkily, weirdly, pretty much perfect".
Unusually for a place "offering tasting menus to a suburban clientele", it's been a huge success, thanks to "a large dose of maverick" and also to a menu that actually fills you up:"Carter conducts the sort of tasting menus that restore your faith in fine dining." Even more impressively for Grace, "they can do the whole thing vegetarian – backwards in heels, if you will – without so much as turning a hair". She loved the "meaningful dance involving sharp umami thrusts and creamy, fruity bursts".
Yes, "13 courses does go on a bit", and can be "challenging and a tiny touch gruelling" but Carters is also "peculiarly down to earth. Service is drilled and absurdly knowledgeable, but also warm and twinkly" – her "favourite type of discovery".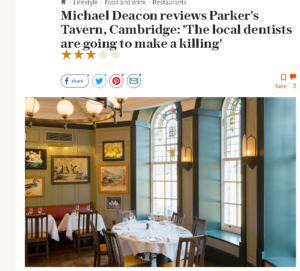 It was off to Cambridge for Micheal Deacon for The Telegraph, and the newly revamped Parker's Tavern, part of the University Arms Hotel. The menu, like the revamp, is "British classics with the occasional twist" – such as tandoori roasted Norfolk quail that was "gently tangy" (and looked like "a phoenix that didn't quite make it out of the flames").
Save room for pudding if you go – "the best course", with traditional Cambridge burnt cream and Duke of Cambridge tart ("a sticky wedge of darkness, treacle-thick and marmalade-sharp") on offer. A "nice place" with "friendly staff" and a great view.
Tony Turnbull for Saturday's Times magazine also visited Parker's Tavern. He praised head chef, "local boy Tristan Welch" for his "irreverence and boylike enthusiasm" – and also for his lunch trolley, which took in "everything from West Indian roti or Huntingdon Fidget pie to Sunday's roast beef". His truffle risotto was "a forest floor in autumn, thick with a carpet of shaved Somerset fungus", and he also reserved high praise for the puddings: "the kind of magical adult nursery food Mary Poppins might have conjured up on cook's night off".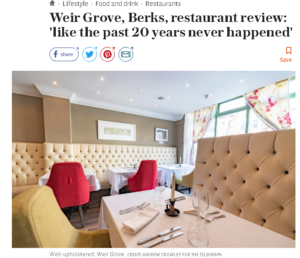 Kathryn Flett for The Telegraph discovered "a charming local restaurant offering generous portions of tapas" amid " quintessential ­Englishness" of Wargrave, a "Thames-hugging Berkshire village". It must have been a Wednesday, as they only do tapas (with a Nordic spin) once a week but it was "something very good indeed" – especially those portions.
If there was any criticism, it was saved for the tired decor – overall, Weir Grove has a "pleasing eccentricity and is exceptionally ­reasonably priced".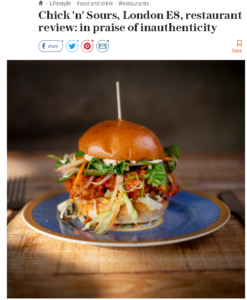 Keith Miller in The Telegraph revisited the original Chick 'n' Sours after a revamp. It may once have been the restaurant equivalent of the film trope 'Manic Pixie Dream Girl' but it has settled into being  a "keeper", with its "gutsy, messy street-food" and  bumper cocktails.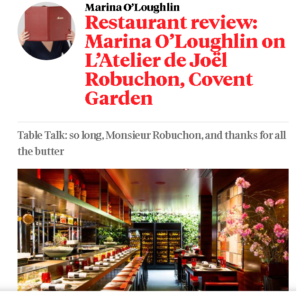 Marina O'Loughlin's Sunday Times review took her to the London outpost of the late Joel Robuchon. Up front, she admitted she'd almost forgotten about the place, which seems "less and less relevant to the new breed of restaurant-goer " and was really there to "help bury him" rather than pay homage.
Regular readers can guess where this is going. Instead of finding much to deride in the "dimly lit carnival of black lacquer ", she enjoyed it: "over the years, its intense kitsch has come into its own".  Starters arrive with "a full armoury of stuff I normally scoff at: tweezers, squeezy bottles, micro herbs and edible flowers" , main courses are "a Marie Antoinette idea of rustic ", served with that famous buttery mash, and desserts, including "air-light baba drowned in a pirate's ration of rum " are "little short of perfect".
There's no hipsters or buzz words to be found: "don't come here for foraging and fermenting, katsu sando or larb or seafood crumpets".  But there are many happy customers. It's "like being transported to another era, or the best restaurant in a provincial French city". And at £45 a head for the set lunch, excellent value too.
RIP Monsieur Robuchon: " your stars are safe. And your baby is still bursting with energetic life".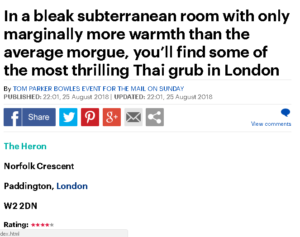 Tom Parker Bowles in The Daily Mail loves a bit of Thai food. This week, he ventured north to The Heron, in a London pub "whose undoubtedly ugly exterior hides a boozily handsome heart". The basement venue is "only marginally more warmth than the average morgue" but dishes up "some of the most thrilling Siamese grub in London" – you can order dishes in the pub, too. There's plenty of heat and spice for those who seek it out. from a chef who" manages to replicate the regional dishes that make Thai food so damned thrilling".
And also…
Nicholas Lander in The Financial Times dined in luxury at Guy Savoy in Paris.
Recent News from Harden's