Here's our regular summary of what the national and local restaurant critics have been writing about in the week ending 24 July 2022.
*****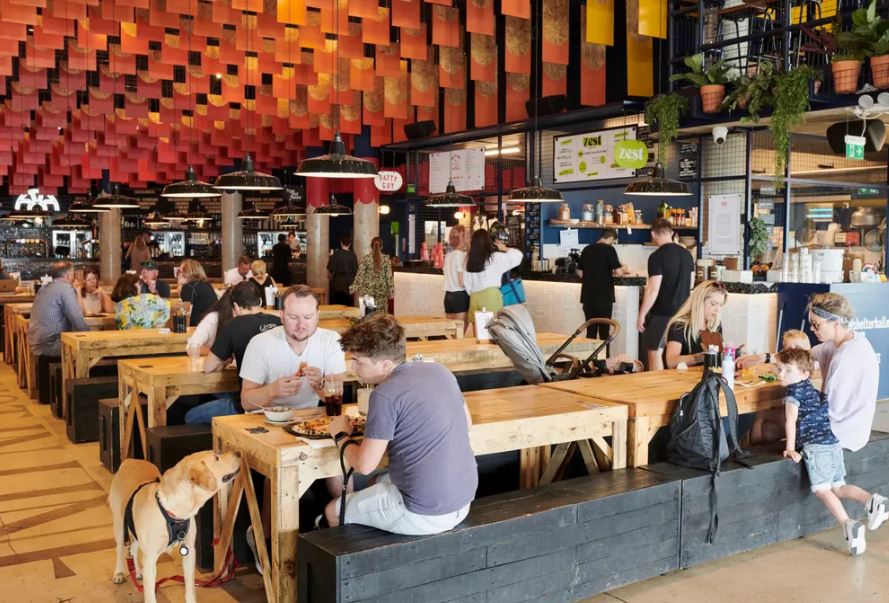 The Guardian
"Life is odd right now, but it throws up real surprises."
Grace Dent visited Brighton's old-but-new Shelter Hall, housed in a "rather beautiful seafront building, built in 1888", which "feels like an entirely new concept in dining: a pleasurable food-hall experience". ("No, come back; I'm not making it up.")
After "some serious restoration" the once-neglected building is "now a well-administered home to seven kitchens and two bars, brimming with helpful, smiling staff".
In a nutshell, "not only do they have fast wifi, working apps and actual staff bringing your food, they've gone back to basics and installed a reception desk with bright, efficient people allotting tables, explaining the ordering rules and pointing out the way to the toilets. Terribly old-fashioned, I know, but it works."
Of course, the food matters too – and "the quality of the vendors is strong" right now but liable to change – on her visit, grace dined from  Jay Morjaria (from BBC's Million Pound Menu)'s Korean-inspired concept Tiger & Rabbit, but it has already moved on. [Editor's note: it will re-appear at Sessions, owned by the same group, which opens in Islington in August.]
*****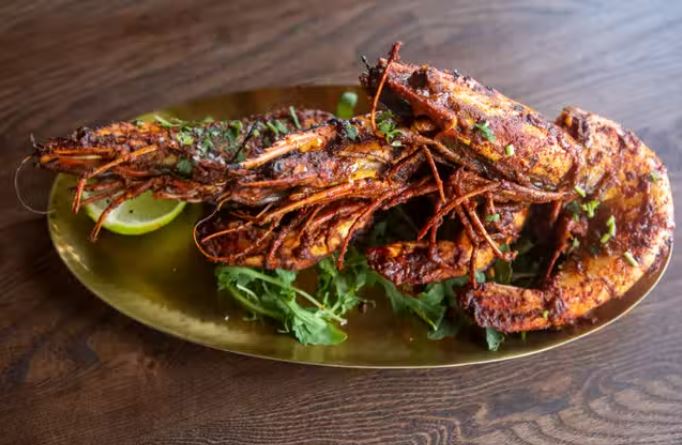 The Evening Standard
"Plate-licking, wanton lust."
Jimi Famurewa loves a British pub that's been "enlivened by an unexpected jolt of immigrant cuisine and culture" (aka 'desi pubs') – they are "scrappy monuments to a specific sort of multicultural, hybrid Britishness. But outside of the Midlands… they remain a stubbornly unknown quantity".
Enter The Tamil Prince, where two former Roti King employees have set up in a "smartly rendered" former 19th century pub (The Cuckoo) in Islington – Jimi "can think of few other places where the sneak-attack of exceptional food in unassuming surroundings has felt quite so intricately wrought and electrifying".
The "kitchen's ability to light a rocket under some familiar combinations" was displayed in dishes like "lavishly charred lamb chops plus equally gargantuan tiger prawns, smeared in a garlicky masala marinade" (pictured). Executive chef Prince Durairaj "is riffing on his own south Indian heritage— in a stark geographical contrast to Punjab-inflected traditional desi pub".
"Pub dining has a new fresh prince. We have no option but to bend the knee."
*****
Also in The Standard, a report on the World's 50 Best Restaurants awards, which took place in London last week; Geranium (a "meat-free Copenhagen restaurant on the eighth floor of Denmark's National Football Stadium") topped the list, which only had two UK restaurants on, both of them in London – The Clove Club and Ikoyi.
Plus two articles from Ben McCormack on the best restaurants for a pre-and post-theatre meal in London ("where to find food worthy of a standing ovation") and the capital's best French restaurants, "from three-Michelin-starred temples of haute cuisine to neighbourhood bistros".
*****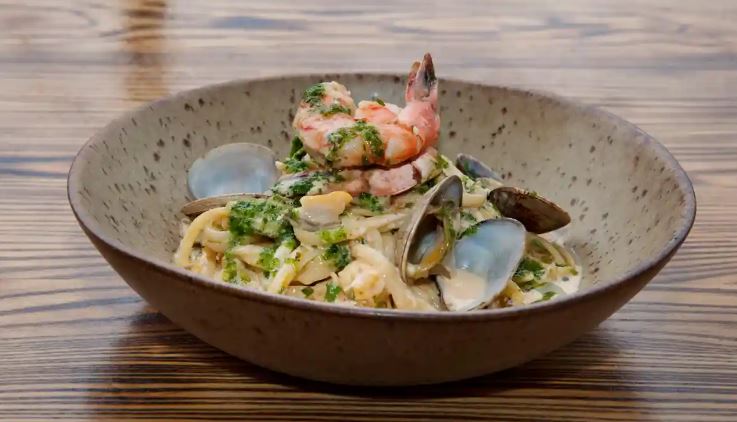 The Observer
Jay Rayner was in Bristol to interview his "stunt double, the always joyous Rev Richard Coles", and dined at Harbour House there, in the building designed by Isambard Kingdon Brunel and once housing the beloved Severnshed, and now "reborn… with local chef Ross Gibbens overseeing the kitchen".
The menu is "serviceable rather than diverting" but the "list of dishes celebrating "seafood from the southwest" and in particular the comely Cornish fishing village of St Mawes" was "where the main action is".
It's a "delightful place to be", the other guests were "full of that giddy, relaxed chatter you get from people who know they have lucked out" and the staff "seem genuinely pleased to have them" there.
"While acknowledging I should have stopped here when it was the Severnshed back in the day, I can at last confess my delight at having stopped here now that it's Harbour House."
Jay and Richard ate together at Cotto, "the new place on St Stephen's Street from the skilled team behind Pasta Ripiena and Bianchi's, among others" which was "everything that I love about the city's small restaurants".
*****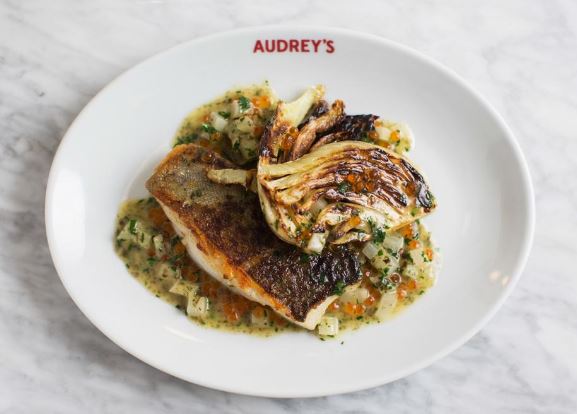 The Sunday Times
"Safe and crowd-pleasing and charming, if a bit hard to get wildly excited about."
Marina O'Loughlin tried out Audrey's, the "new cafe in London's Flat Iron Square", what she believes to be the "first standalone, actual restaurant" from TVG Hospitality, an "empire encompassing music venues, street-food pods, bars" that's co-owned by "Ben Lovett, of the multimillion-selling band Mumford & Sons".
Not the vegan, organic ("maybe a little hair-shirted") venue she was expecting, Audrey's is a "former Victorian public lavatory that's been remodelled to look like somewhere Hansel and Gretel might pop in for a Reuben sandwich".
There are "jaunty striped canopies, foliage and fairy lights" outside and within "what might be original tiling, mirrors, beautiful globe lampshades and a palette of muted macaron colours — it's all quietly enchanting" and staff "are incredibly sweet and helpful".
"The menu might be studied by food anthropologists in years to come, a captured-in-amber snapshot of Where We Are Right Now," and "everything is done with an eye to aesthetics".
*****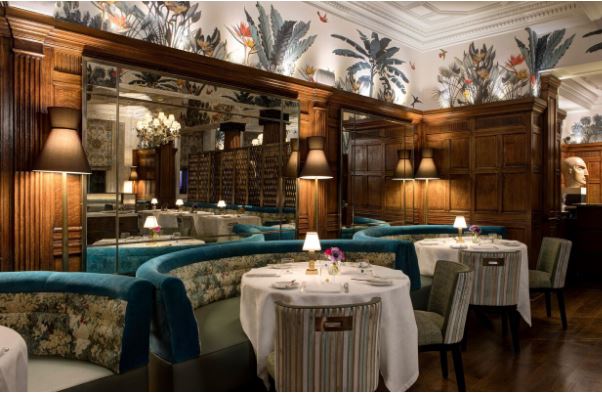 The Telegraph
"Pure, luxurious, old-fashioned class."
William Sitwell visited the "latest incarnation" of the restaurant at Brown's Hotel in Mayfair and declared it "a triumph for Rocco Forte".
Charlie's "felt like heaven on earth" (undoubtedly helped by the fact that the maître d is Jesus – yes, the "stellar" former host of Le Caprice) when William and his wife arrived for Sunday lunch, which was "utterly glorious".
The "food, service and decor… are on song" finally after Heinz Beck's "soulless overcomplicated Italian offer". This menu "is overseen by the brilliant Adam Byatt".
"It's a sweet irony that prawn cocktail and beef from the trolley was the dreaded combo that wrecked the reputation of British food when the likes of Charles Forte served it… in the 1950s… Today at Charlie's, it is impeccable." (*****)
*****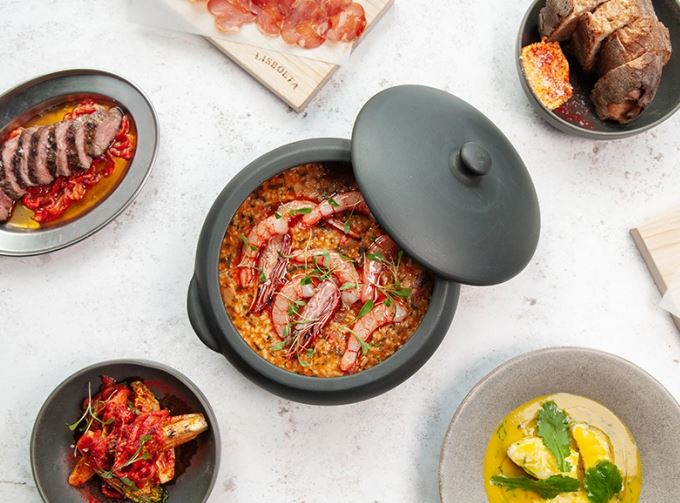 The Mail on Sunday
"Mind-blowingly good, at every level."
Tom Parker Bowles for YOU Magazine followed the crowds to Nuno Mendes' Lisboeta; "Mendes is one of those chefs who can glide easily between the haute and the gutsy, the technically precise and the smack-ya-gob glorious, a man never constrained by mere geographical borders".
The razor clam dish "encapsulates not just his sheer culinary nous (it's a merry riot of both taste and texture), but the very essence of Portuguese food too, where sea meets soil with such magical aplomb".
Mendes "can do posh, and he can do punchy. But he never fails to cook food that you really want to eat".
*****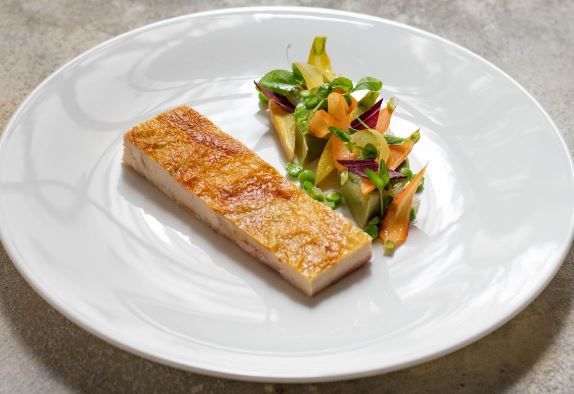 The Times
Giles Coren bounced back from a prostate scan (TMI, Giles) by visiting Cord, by Le Cordon Bleu, the "ancient gatekeeper of French haute cuisine".
"On the site of what used to be Lutyens… Le Cordon Bleu has not done much with the vast, low-ceilinged dining room, apart from replace the brown upholstery with Barclays Bank blue."
The menu – "in keeping with the venerable gustatory institution behind it, is very traditional. No sharing plates here, no street food nods or "snacks"" – was "reassuringly old-fashioned" as was the kitchen, containing "four chefs in vertiginous toques, either clean-shaven or with proper, clipped French beards (no stubble or goatees), and not a tattoo in sight".
After the "lovely" starters, "the food was less good" and his panna cotta for dessert was "poor". (14/30)
*****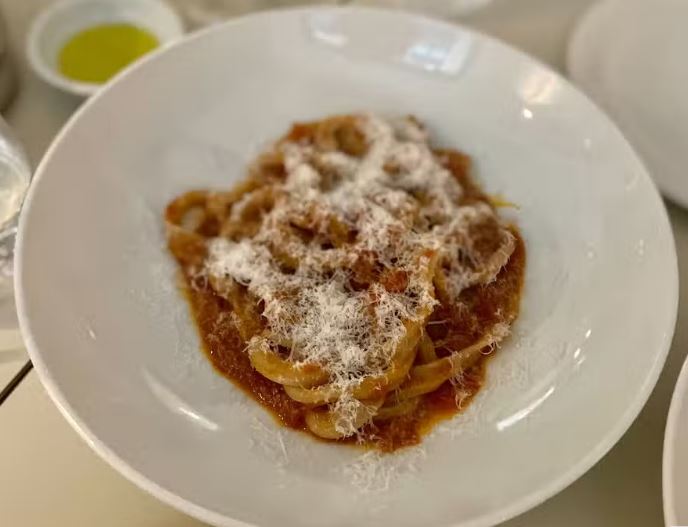 The Independent
"Smart, modern Italian food without pomp at a low-key spot that deserves way more attention."
Hannah Twiggs has discovered her new favourite Italian, at Legare near Tower Bridge; it "opened relatively quietly in 2019 and was almost definitely overshadowed by its bigger, better known counterparts" – even winning a nod from the tyre men hasn't thrust Legare into the big leagues.
The "menu is short and sweet and changes constantly: you will never have the same thing twice, even if you go in the same week" and there's "that all-important endearing service from people who clearly love it as much as I do".
Her fish, vegetable and pasta dishes were all memorable – the simple hand-rolled spaghetti with "burro e oro sauce" (pictured) left "a lasting impact".
"Don't come to me for dessert reviews. But do go to Legare for the cannoli."
And also…
Fay Maschler in Tatler explores the royal connections at Bellamy's, which remains "elegant and unstuffy… as fabulous as ever".
*****
In The Scotsman, Gaby Soutar visited (and "didn't want to leave") The Garden Cafe at Hospitalfield House, in a glasshouse "built as phase one of a five-year £10 million restoration plan to continue to make the house and its surroundings a landmark cultural centre", where the "menu is classic art gallery cafe – a genre I love".
Also in The Scotsman, a report on the news that Glasgow' s famous Ubiquitous Chip was being sold to Metropolitan Pub Company, an arm of pub chain Greene King
*****
Bristol Live reported on Jay Rayner's review of Harbour House (above).
*****
In Manchester Evening News, news that the Manchester Food and Drink Festival will return for its 25th anniversary this September, while Birmingham Mail announced the city's inaugural restaurant festival.
*****