Our weekly round-up of what the national and local restaurant critics writing about, for the week ending 24 May 2020; the country remains in lockdown, with restaurants, cafes and bars officially closed due the coronavirus outbreak, possibly until July.
You can still support your local and favourite restaurants; many are offering takeaways or deliveries, or you can buy produce, meal kits, vouchers, cookbooks or merchandise. Check out their social media pages for details (all available via hardens.com)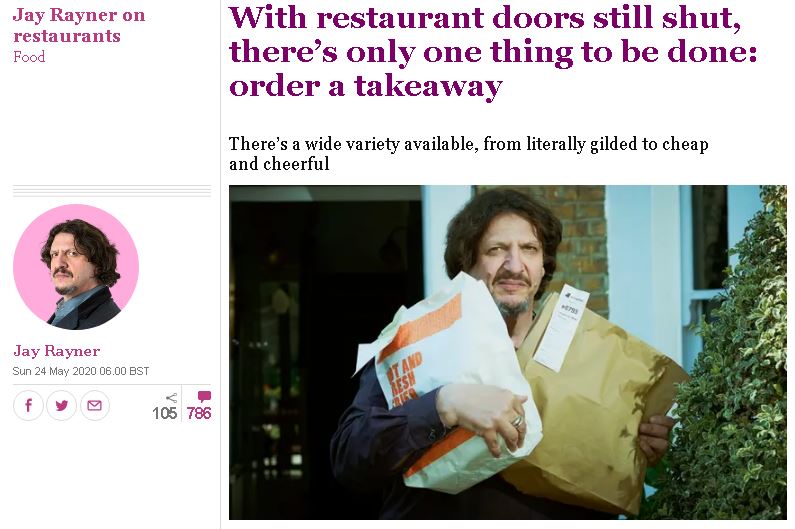 The Observer
"In the depths of lockdown, the arrival of a takeaway can feel like a promising message from a lost world; one where restaurants continue to do what they always did. It's a sudden spike on the emotional heart monitor."
Jay Rayner has eaten his words (as well as a takeaway); having promised he wouldn't review delivered food, he feels obliged to share what he's been eating one way or another. "So many intriguing takeaways have arrived at my house recently that to not mention some of them would be a dereliction of my ludicrous duty."
"Just before restaurants closed, I was recording a third series of my podcast Out to Lunch, in which I grill marvellous people to a turn over a marvellous meal… But we have all had to adapt… so now I stay in for lunch and interview marvellous people by video, with a takeaway."
His first interview was with director Edgar Wright over a Chinese – but not just any Chinese, "a gilded, Michelin-starred Chinese from Hakkasan Mayfair" that arrives on a bike with a temperature-controlled compartment. "As ever, it's worth it, but only if you can afford it."
There have also been deliveries from Limett Bistro in West Dulwich, which he ate while interviewing singer-songwriter George Ezra ("Romanian-born George Moldoveanu's Mediterranean-inspired cooking is vivid, thrilling and a cheery exercise in value"), and from Tom Kerridge, who Jay interviewed while assembling a ready meal kit from Kerridge's pub, The Butcher's Tap in Marlow.
"There have been others worthy of note: the Vietnamese restaurant Banh Banh, in Peckham, sent me a sweet-sour shredded papaya salad tossed with king prawns, crushed peanuts and crispy shallots, which made me feel like I was being healthy, plus chicken wings glazed in sticky fish sauce and chilli, which made me feel messy. I have also become mildly addicted to the fried chicken from Bird in Brixton, with its undulating crusty skin, full of golden nooks and crannies and spiced echoing crunch. It's what KFC would be, if it had a career mentor and ambition. That, I ate on my own time."
"That, I can promise, is the last time I will mention takeaways in this column. Unless, of course, I change my mind."
---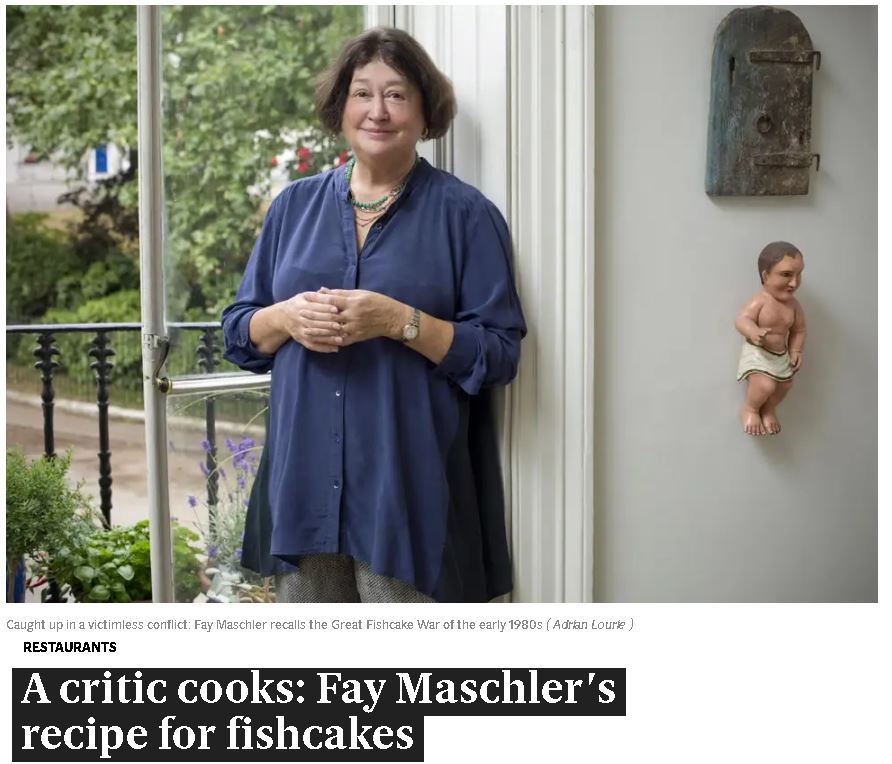 The Evening Standard
Veteran restaurant critic Fay Maschler launched a "weekly recipe column derived from my own collection, with links in some cases to London restaurants past and present". She shared her sister Beth's recipe for fishcakes, plugs her restaurant in Hampstead several times, and remembers the "Great Fishcake War of the early 1980s".
The Evening Standard also reported on the "hospitality industry campaign", The UK's Grand Outdoor Summer Café, that has asked the government to help restaurants and bars work within social distancing guidelines "by permitting more al fresco drinking and dining this summer".
---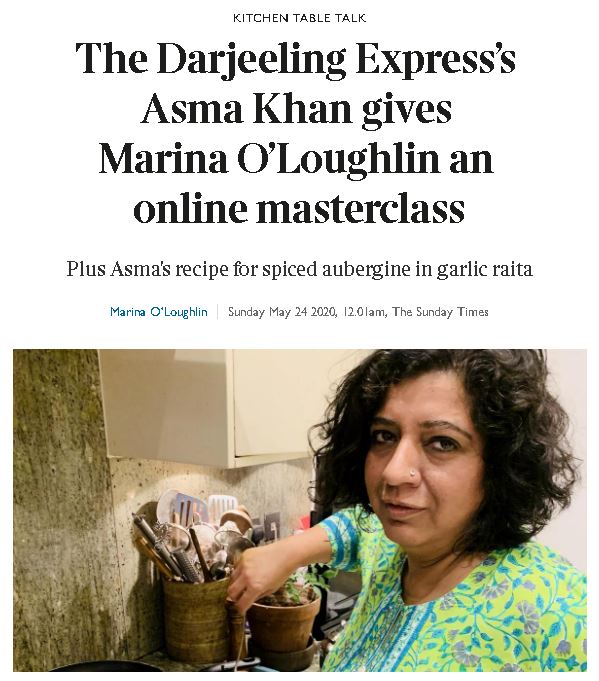 The Sunday Times
This week Marina O'Loughlin had a cookery lesson from Asma Khan, "owner of the groundbreaking Darjeeling Express" and a "huge, charismatic personality" who "famously champions women". There was a lot to talk about, including Asma's Chef's Table film on Netflix ("she is a camera natural: fluid, articulate, with a terrific story to tell… Do watch it")and  their "mutual admiration for the writer Diana Henry", but they eventually cooked some food: "lachedar parathas and dahi baingan, an aubergine and raita dish, one of the most delicious treatments of aubergine I've encountered". They didn't get around to the chicken chaap (a Bengali-style korma, "very different from the supersweet, raisin-and-nut-filled kormas served in many restaurants" according to Khan), but Marina coked it later.
"Thanks to Asma I manage something extraordinary."
Asma has high hopes to resurrect her women-only kitchen when lockdown is over, and hopes "people realise again how important community is, family, the value of food, not as ego trip but as a gift that nourishes and heals".
---
The Guardian
"As we gain back some small freedoms, we won't give up our new national hobby lightly. Many of us have learned the simple pleasure of spying. Actually, scratch that: spying, judging and sometimes even a little light dobbing. To the council, to the police or on social media."
Grace Dent discusses the duality of wanting to get outside and see friends, while also feeling paranoid and wanting to report others for doing the exact same thing. "Like many of us pointing the finger of judgment during these strange times, we'll soon find it pointing right back."
"One way of reopening restaurants I saw in America involved guests sitting in small outdoor greenhouses, in tables of four and shielded from other diners. But the problem with eating in glass houses is the other nitpicker diners throwing figurative stones."
The Guardian also featured an article on Diana Kennedy, the culinary pioneer "widely credited with introducing traditional Mexican cooking to the English-speaking world", who is featuring in a new film at the age of 97.
---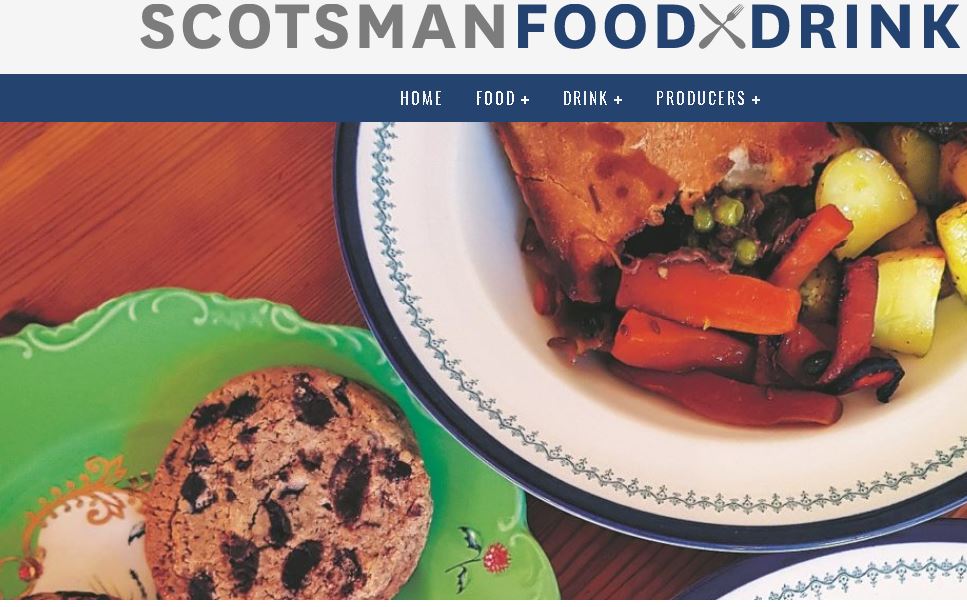 The Scotsman
Gaby Soutar reviewed another Edinburgh restaurant's takeaway provision this week. Fhior, run by Scott and Laura Smith, launched a "Root to Market scheme to support the community, who might not want to brave the shops and supermarkets, and in order to help out their suppliers and the struggling hospitality sector" the moment lockdown began. They even plough the profits back into the community "through loans and grants for small businesses".
Their list is emailed to subscribers each week, including a few ready-made meals. "Don't expect an iteration of the seven course tasting menu served at Fhior back when things were normal", but there is "a small selection of rib-sticking and traditional grub, all packed into takeaway trays so you can whap them straight in the oven".
Dishes included "thick and moss-coloured" potato and wild garlic soup, smoked ham hock mac and cheese, beef and smoked porter pie that "made me pine for my late granny's Sunday lunches", a "glacial and palate-clearing" bottle of wine and two "coaster-sized" beremeal and chocolate cookies. She's already ordered again. (80%)
The Telegraph
"Is reopening even manageable for some restaurants – and will places that can only operate at around 50 per cent of their usual capacity under social distancing guidelines have to charge customers more?"
Celebrity chefs revealed their plans for after lockdown: Rick Stein, Angela Hartnett, Simon Rogan and Clare Smyth all talked to Madeleine Howell.
And also…
In The Times, the Corens discuss grooming, while Giles realises that the new column is just "a chance for Esther and me to take weekly pass-ag swipes at each other in the planning stage".
---
Birmingham Live reports on the rescue deal that Carluccio's has made to save 30 of the brand's restaurants, albeit with the loss of 1000 jobs: "Carluccio's has been sold to Giraffe and Ed's Easy Diner owner Boparan Restaurant Group".
---
The Manchester Evening News reported that Albert's Schloss is reopening for a two-day pop-up, "complete with in-queue entertainment", serving "draught beer, baked goods, NHS cronuts", with profits going to local charity Eatwell MCR.
Recent News from Harden's