Our summary of what the national and local restaurant critics were writing about in the week ending 22 January 2023.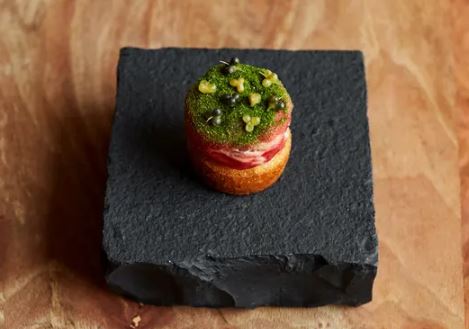 The Guardian
"One of London's most notable new openings, a place to take the food obsessive in your life."
Grace Dent reviewed Restaurant St Barts, a "spacious, Scandi-esque spot overlooking the church of St Bartholomew the Great" in Smithfield.
Unfortunately, she'd just watched The Menu, "the new Ralph Fiennes movie that expertly skewers the fine dining world of Redzepi, Rogan et al" ("one hour 47 minutes of wincingly observed comedy horror about my life" complete with "an abrasive, immensely killable female restaurant critic") which ruined the experience for her.
The team behind Fenn and Nest have been gradually building up to opening this place, with its "15-course, £120 tasting menu that lasts more than four hours" (including an hour at the bar "being fed tiny tastes") serving "guests who see food as art".
It "occasionally feels as if there isn't a great deal of food portion-size-wise" but "what does appear is often exquisite and remarkable"; "the world of fine dining is weird, but I'll take weird over normal any day".
*****
Also in The Guardian, a report on the study into the "culture of elite kitchens", in which "chefs in Michelin-starred restaurants tell researchers how brutality, burns and beatings are routine to 'building respect'".
*****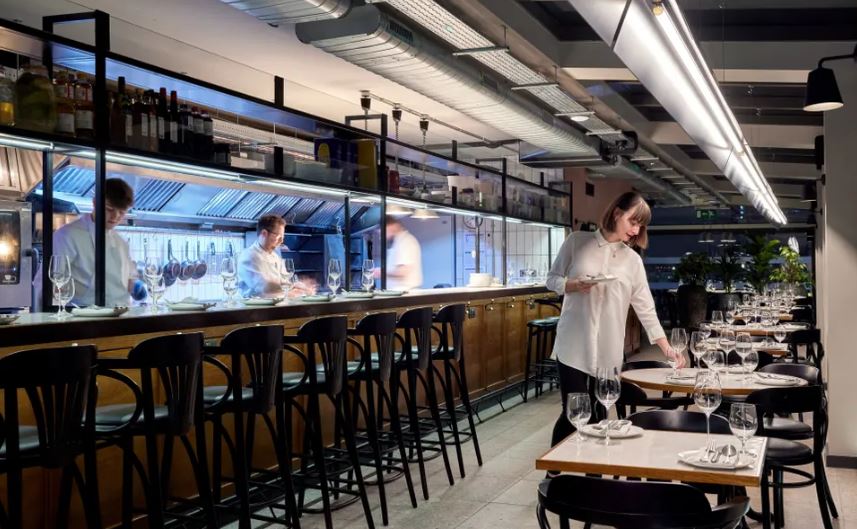 The Observer
"A terrific restaurant serving food you really want to eat."
Jay Rayner was in Manchester, eight floors up in a "brutal" and "austere" office block building, where Climat has just opened, and is already proving a word-of-mouth sensation.
While he agrees that "no one will ever write romantic poetry about the entrance", Jay advises guests to just "look down at the menu, and clock that you've come to the right place".
Chef Luke Richardson has time with Gary Usher's Elite Bistros under his belt, and his menu is a list of small to large plates; "it's hard not to fall in adult love with a list that kicks off with hash browns topped with whorls of taramasalata, and a vol-au-vent filled with lamb keema".
"The bill for all this is not small, but it feels justified. Plus, you can just come and sit at the counter, have a couple of plates and a good glass of wine, admire the view and leave with a less than ravaged bank account."
Compared to owner Christopher Laidler's first venture, the "small wine bar Covino in Chester", this is "a massive undertaking, but one which is also a raging success".
*****
Also in The Observer, an article with top chefs sharing the best advice they were ever given, from "buy a good quality knife" to "whisk your mince".
*****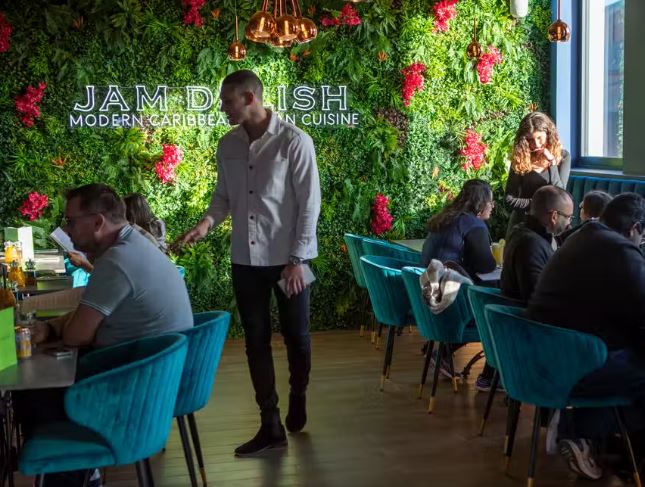 The Evening Standard
"Revolutionary gifts from the plant-based gods."
Jimi Famurewa followed in Grace Dent's footsteps from last week with a visit to Jam Delish, the "big, clubby, Caribbean-influenced" new vegan restaurant in Islington.
"Having approached it with a decent amount of scepticism" – and braced for a "gimmicky and ultra-processed" menu – Jimi readily admits that his fears were unfounded. ("I barely need to say how deeply wrong I was, or how quickly that became apparent, do I?")
The plant-based dishes from "head chef and Fifteen alum Nathan Collymore" are "uncommonly delicious; vivid moments of mind-scrambling culinary brilliance that subtly and memorably reframe your perception of what can be achieved with vegetables and meat substitutes".
The faux wings ("a proprietary seitan blend compacted around a sugar cane "bone"") in particular "are astonishing; a bravura conjuror's trick that will have you grinning at the ingenuity of it".
Your January "plans to stay vegan or dry may have already foundered on the rocks of regretful hangovers and inevitable bacon cravings. But at Jam Delish, virtue, if we can call it that, has never felt so full of colour, fun and joyful, energising creativity". (****)
*****
Also in The Standard, for Lunar New Year, a round-up of the best Chinese restaurants in London, "from A. Wong to Etles Uyghur, from Sichuan to Shaanxi, Hunan to Yunnan, Cantonese and everything in between", plus David Ellis got an "insider's guide to London's best Chinese restaurants" from the biggest names in Chinese cooking.
It was also Vietnamese New Year – or Têt – on Sunday 22 January, and Ben McCormack provided a shortlist of London's finest Vietnamese eateries "from Bánh Bánh to Eat Vietnam" at which to celebrate.
Lastly, news of Nick Gilkinson, of Townsend at the Whitechapel Gallery, and his plans to launch a new all-day restaurant, Maene, opening this Spring in Spitalfields.
*****
Also in The Standard, a round-up of the best restaurants for celebrating Burns Night on January 25th.
*****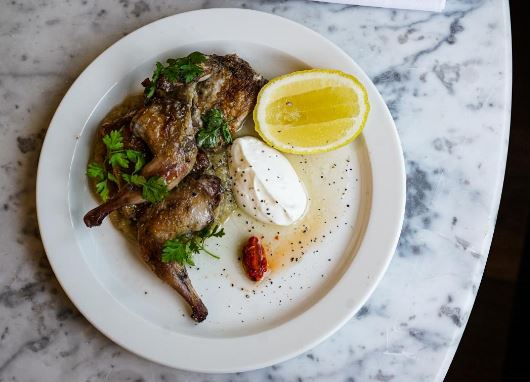 The Times
"I have never seen a place so full at noon on a weekday in January."
Giles Coren was told about Straker's several months ago, and was firmly told he'd never get a table, so he didn't try until recently, when the hype had clearly died down enough for him to bag a next-day lunch table.
He and his lunch companion, "one of the last people I know who still lives in that part of the world", made a "full-blooded assault on the menu", including "correctly scorched" flatbread, an "extraordinary" deep-fried partridge, and "perfect" pork neck with a "well-thought-out little vegetable dish". (24/30)
*****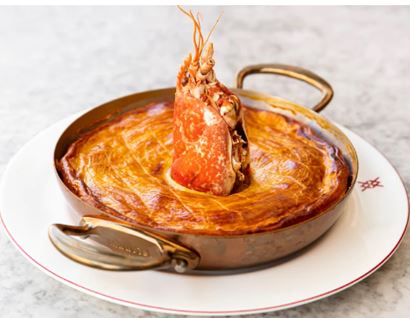 The Telegraph
"Those who don't have the stomach for priceless art, big bills, rich pies and royalty should look away now."
William Sitwell followed in the footsteps of the King and Queen Consort with a trip to Mount Street Restaurant in Mayfair, the "first-floor restaurant above the cash-cow that is the Audley pub"; he even had the £96 lobster pie (pictured) that they shared, "and wasn't disappointed" – "it's a thing of novelty and excess", as was the mock turtle croquette, "an Edwardian feast in itself".
"We sat at that corner table of London's buzziest new establishment gasping almost at the ambition, the boldness, the bravura of opening such a business at this moment in our economic cycle." (William followed this with some wildly unsympathetic views on economics which we won't repeat.) (****)
*****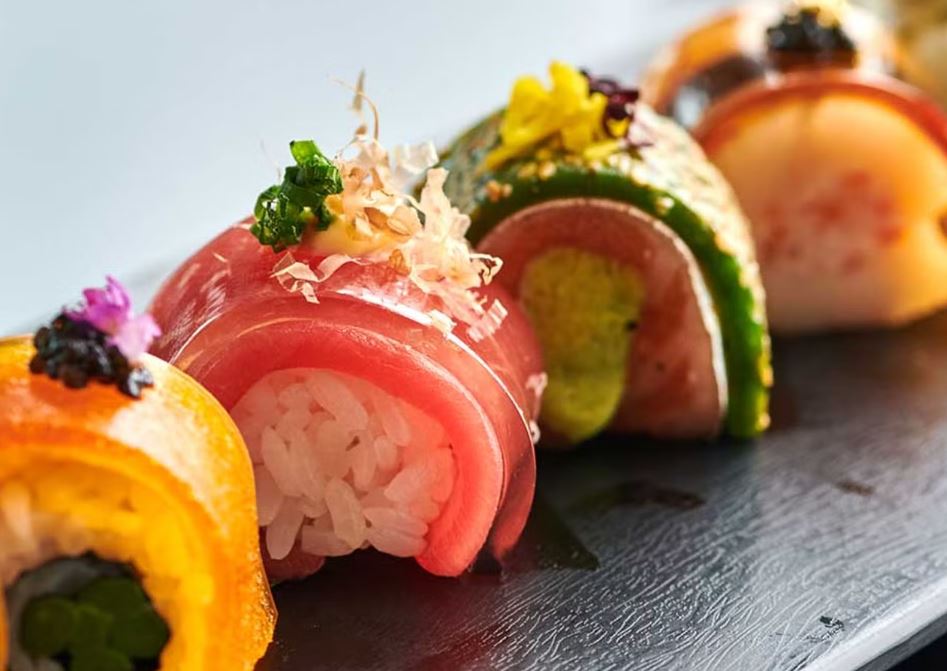 The Independent
Lucy Thackray was in Broadgate Circle, "a still-being-sculpted shopping and dining complex" that now houses Shiro, a "quietly glamorous Japanese restaurant from the luxury-focused Aqua Group".
There's a "smooth-edged sushi counter, and a pack of industrious chefs chopping and rolling away in clear view of the punters" producing the house specialty, crystal sushi (pictured). There's also a "dizzying selection of mains" and desserts that "happily went above and beyond the usual matcha'n'mochi offering".
"Shiro hit the mark when it comes to the trifecta of criteria: presentation, flavour, quality." Portions were on the "petite" side, and it's "easy to rack up quite a bill", but "friendly and quick-to-appear staff" make it one for a special occasion.
"This taste of Tokyo nails Japanese minimalism, hospitality and flavours with flair."
*****
The Scotsman
Rosalind Erskine tried out a new-ish Greek spot in Glasgow; Gyros is "ideal if you're a student with a hangover, or just in need of some comfort food but maybe not if you're on a January health kick". (12/20)
Meanwhile, Gaby Soutar reviewed a new pizza concession in Edinburgh's Waverley Market; Homies' "Detroit-style pizza" was "marvellous" – the "chunky and chewy-based rectangles were the size of office carpet tiles" and started from just £5. "If a Neapolitan pizza is like a sharply tailored blazer, this was the equivalent of wrapping yourself in a massive puffer coat". (14.5/20)
*****
And also…
"As French as Fragonard." Tim Hayward in The FT Magazine reviewed Bouchon Racine: "Henry Harris has recreated his faultless French restaurant Racine in Farringdon and it's a triumph".
*****
Writing for Tatler, Fay Maschler was impressed by "simple but stylish" Dorian, "an idiosyncratic 'neighbourhood joint'" new to Notting Hill. She was "intrigued by the deceptive simplicity of the menu, given the talent in the kitchen – chefs who have put in time at The River Café and Elystan Street".
*****