Here is our weekly round-up of what the national and local restaurant critics were writing about in the week ending 19 September 2021.
*****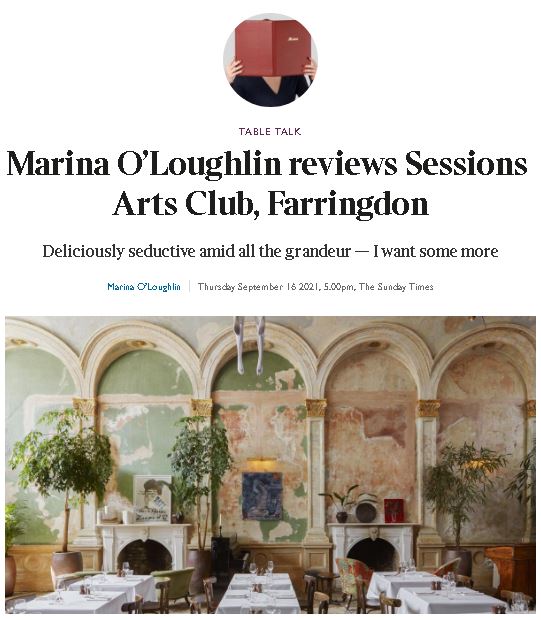 The Sunday Times
Sessions Arts Club was Marina O'Loughlin's destination this week, and will be again many times again based on this review. From the "almost hidden" entrance that "does little to hint at the levity and voluptuousness in store on the fourth floor" to the vaulted space that makes her "catch my breath in delighted astonishment", it's the very definition of louche.
"Every corner offers a new opportunity to drop jaws: even the loos are dazzling, looking into the building's dramatic central atrium."
Chef Florence Knight's food is "almost incidental" (although very good); "I'm not ashamed to say that, in this setting, they could phone me in a Nando's and I'd probably be happy".
"She is one of those rare chefs clever enough to not try to be too clever", but delivers dishes that make Marina use words like "sensation", "genius", "playful, artful, cerebral" – and "staff are special too".
"I find myself doing something I don't think I've ever done before and book another table before I've left the restaurant… I couldn't love it more."
*****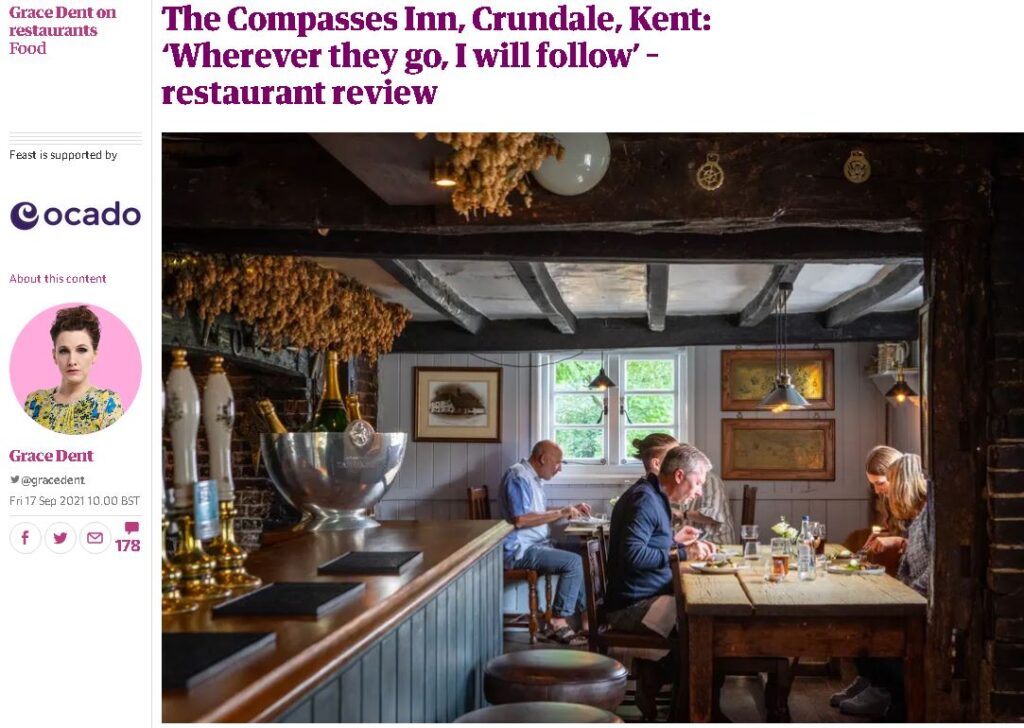 The Guardian
Grace Dent also found a new favourite in late August, in Kent at The Compasses Inn, Crundale. After lunch there (with dessert in the beer garden) she understood why "food folk speak about it in hallowed tones", but owners Rob and Donna Taylor are taking their "faffy, risk-taking cooking" and shifting to Tunbridge Wells, to re-open in November. (Grace'll be there too, "with bells on".)
Hopefully in Tunbridge Wells they will still have that menu "that makes you feel temporarily that everything is right with the world" and staff that provide genuine hospitality, that "competent, flowing, magical service" that is "not as common as you might think".
Also in The Guardian, an article on the joy of eating alone, whether at home or in a restaurant, and an interview with Claudia Roden, who just wants people eating around her table – in this article it's devoted fans Yotam Ottolenghi, José Pizarro and Sam Clark.
*****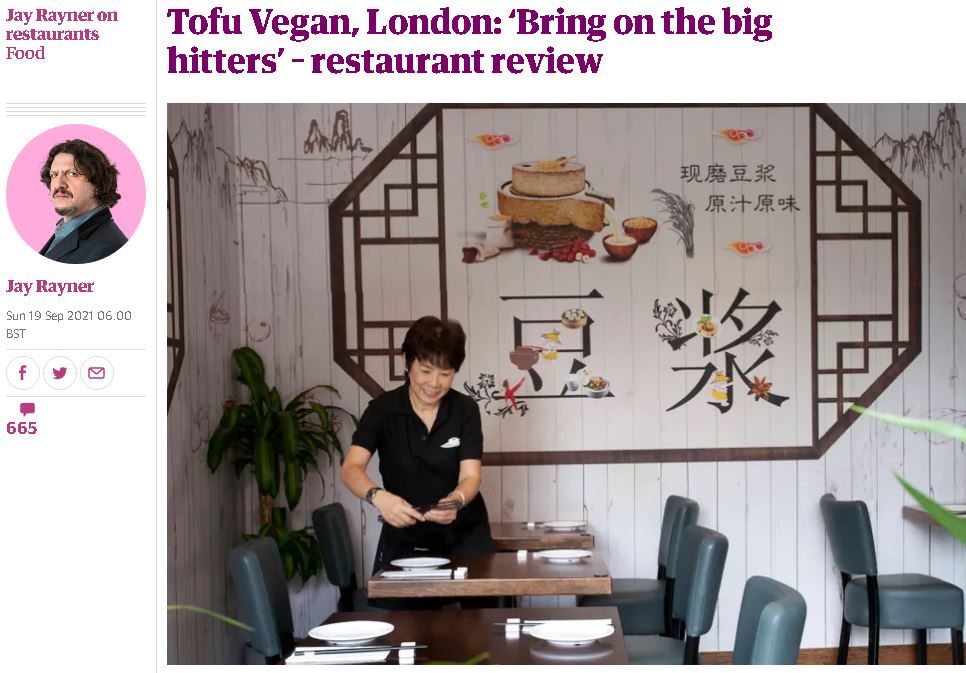 The Observer
Jay Rayner was in Islington, trying out the new vegan restaurant from "the people behind the much-admired (and non-vegan) Xi'an Impression in nearby Highbury". Tofu Vegan is Chinese, like its sibling, but – as the name suggests – 100% vegan.
"Entirely plant-based food can come from any culinary tradition, but it's always going to be easiest when there is no compromise; no cumbersome attempt to mimic or replace non-vegan ingredients."
That said, there are "lots of inverted commas on the menu… used for "meats" that aren't what they say they are", with the tofu "just a blank canvas for the flavours it carries", not a "poorer substitute" for meat. Jay ended up "drinking the sauce" of the "deeply flavoured and inviting bowlful" of spicy wontons, the house speciality.
"I don't… end the evening feeling virtuous. I don't glow with self-righteousness. I simply feel fed."
*****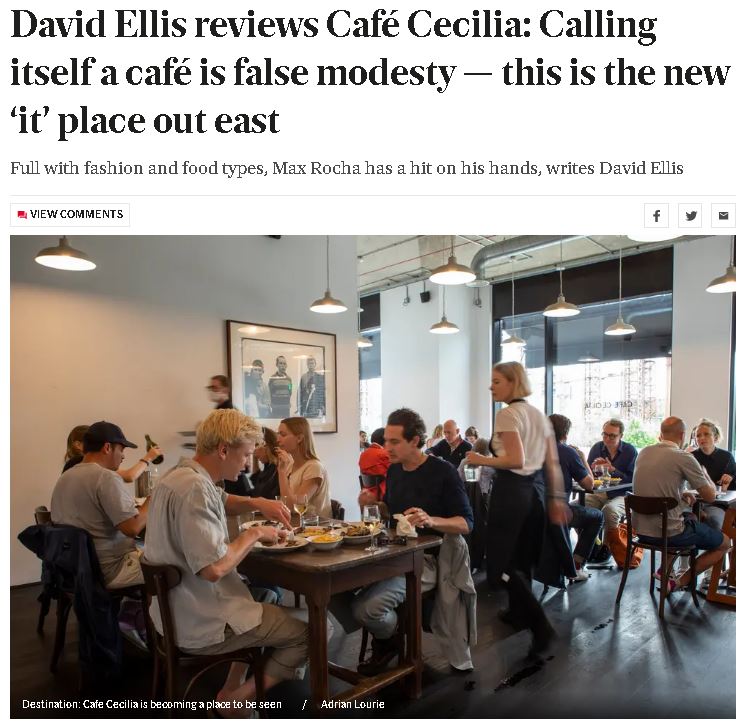 The Evening Standard
In The Reveller, David Ellis reviewed Café Cecilia, which is no more a café than Ruthie Rogers' place is.
Max Rocha, the chef behind Café Cecilia, worked at The River Café once, "with innings at St John for good measure", and what he's "nabbed from both is confidence", although there is a St John-esque air to the decor.
This "honest" solo venture overlooks "the eerie skeletons of the rusting Regent's Canal gasworks, not the tree-lined Thames" and is priced reasonably fairly. At the moment it's breakfast (walk-ins) and lunch (fully booked and " loud with both fashion and food types") only, but "supper service will follow. I suspect it will be a hit."
*****
Also in The Standard, an article on Californian import Poke House, who acquired Ahi Poke earlier this year and are planning "around 50 more new restaurants across the UK in the next few months, as well as 14 others across the capital" to sell their "California-style take on the increasingly popular, influencer-adored Hawaiian dish"; the first branch opened in Notting Hill at the weekend.
*****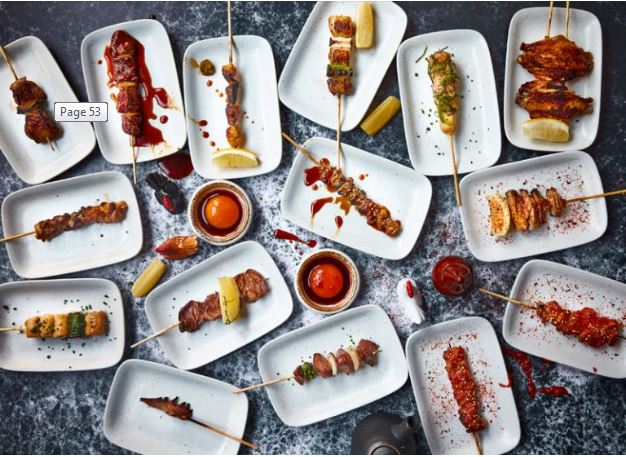 The Mail on Sunday
Tom Parker Bowles found himself in Soho at yakitori specialist Humble Chicken, which he declared "a fascinating paean to the Japanese art of cooking poultry (greatest hits and other bits) on skewers over burning coals", and assures future diners that "you'll find the real thrills in the more extreme parts of the chicken's anatomy".
"Nothing is wasted, save the beak and cluck."
Angelo Sato's restaurant occupies the original Barrafina site, and he has kept the counter so you can watch the chefs "going about their work with an intensity and precision that makes brain surgeons look slapdash".
"There's absolutely nothing humble about this blessed bird."
*****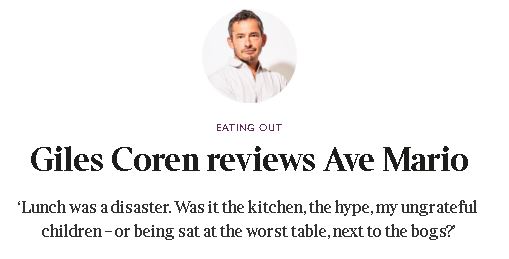 The Times
Giles visited the newly opened (and "really big") Double Red Duke in Clanfield, which is "full of elegant nooks and crannies and sprawling dining rooms and secluded private eating spaces, stuffed with gorgeous furniture". It's from the same stable as The Swan at Ascott-under-Wychwood, owned by pals of Giles, so he felt that his Sunday lunch with his children there didn't really rate a review (just three reverential paragraphs in a leading newspaper). He'll go back another time for the a la carte.
Of course, this was all just classic Giles preamble for another review, which was a disastrous lunch at Ave Mario, from the French Big Mamma chain that "hit London a couple of years ago with two huge smashes, Gloria and Circolo Popolare". He'd avoided those two, but took the family along to Ave Mario on the last day of the holidays.
The children were "awed to a hush" by the "stonking room", but they only got to walk through it on the way to their table, in "a low-ceilinged half-basement, pinched between the loos and the till". The food was "all minging", so they paid by QR code, left, and "went across the road to Five Guys". (0/30)
*****
The Scotsman
Gaby Soutar reviewed The Palmerston, an Edinburgh newcomer, in a former Royal Bank of Scotland building, from ex-Harwood Arms GM James Snowdon and ex-Spring chef Lloyd Morse; even before she'd been, Gaby was recommending it to friends – "all the positive signs were there".
It's an "all-day restaurant and bakery" with a menu that's "classic, but with the occasional twist"; GAby's meal started with a "grown-up" cocktail and "magnificent" sourdough, and ended with a roast hazelnut and black fig tart made her "swoon". ("I probably don't have the words to describe how much I loved it.")
"There's something about The Palmerston that's like a collision between old fashioned and new fangled… it's quite exciting."
*****
And also…
Tim Hayward in The Financial Times introduced us to The Parlour, on a farm in Dorset, which he declared "an absolute Oscar-winner" of a restaurant; "'I obviously wasn't going to resist fat strips of crisp grilled pork belly with peperonata and 'nduja aioli, in heroic portions. I mean, who could?"
Also in The FT's How To Spend It, an interview with Jesus Adorno, "legendary maître d' of Le Caprice, on why he made the move to Brown's Hotel".
*****
It's a tough job, but someone's got to do it. William Sitwell in The Telegraph reviewed The Vineyard at Stockcross, and had a "near-perfect" meal, apart from a few decorative grains that he wasn't supposed to eat. (****)
*****
The Birmingham Mail reported on the "raunchy" hoardings promising £45k salaries to the head chef at the forthcoming Albert's Schloss (sister to the Manchester original), which will open in the Paradise development in November.
*****