Here is our weekly round-up of what the national and local restaurant critics were writing about in the week ending 12 September 2021.
*****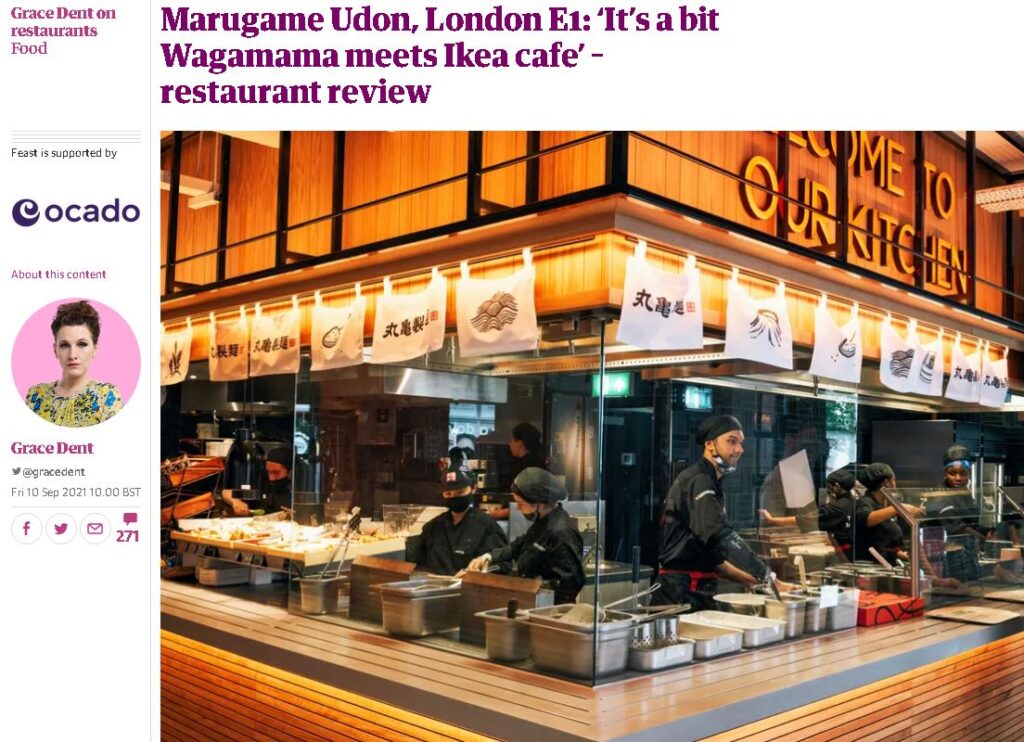 The Guardian
Grace Dent is the first of our regular critics to visit Marugame Udon, the first London outpost of the "global mega-chain" of the same name.
"There has been a recent post-lockdown glut of new openings with dizzyingly steep prices", but this newcomer offers a "decent lunch for less than a fiver" – there's also "limitless soft-serve ice-cream and bottomless peach ice tea" and "a magical land" known as the "complimentary, build-your-own condiment station" where you can "sprinkle spring onion, chilli and pickled ginger with jubilant abandon".
"Marugame Udon reminds me of two other huge chains – it's a bit Wagamama with a nod towards an Ikea cafe." There's more fun to be had with the "space-age Asahi machine that pours a pint in four seconds" and the "fabulous heated Japanese toilet seats".
"Britain doesn't have a shortage of places to slurp fat, slippery udon" but Marugame Udon (and the branches already destined to follow it) "are in with a fighting chance".
Congratulations to Grace, whose autbiography, Hungry, won Debut Food Book at the Fortnum & Mason Food and Drink Awards.
*****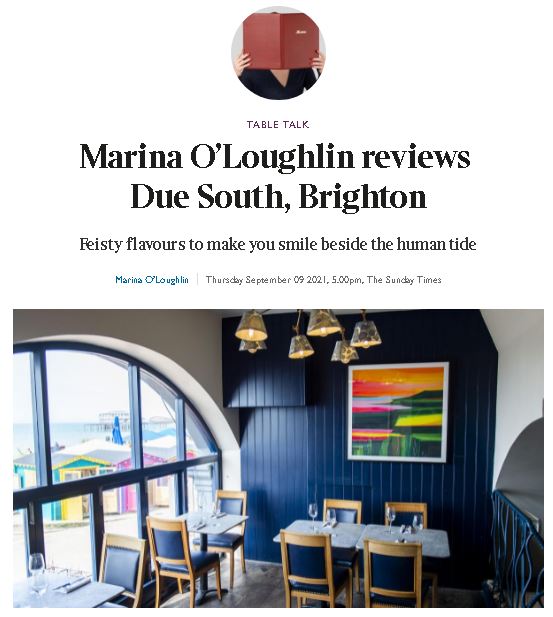 The Sunday Times
Marina O'Loughlin was in Brighton, reviewing Due South, which has, "after various incarnations, been a stalwart of the Brighton food scene for years", and has now been re-launched by chef Mark Wadsworth and Riddle & Finns.
It's "burrowed into one of the beach's many brick arches": perfect for "some of the greatest people-watching on the planet". "All human life is here, out to have a bloody good time. And Due South gives you ringside seats. Plus a clever menu and lovely people to look after you while you gawp."
The menu, she suspects is heavily Brat-influenced, but this place had already been doing the "in harmony with the seasons, honouring wild food and ethical farming" thing for years.
"Dishes occasionally underdeliver"; "each of our three cooked fish dishes could have done with a little less flaming time" but the service was charming and she'd "happily return: a bit more attention to detail could make a world of difference". Also, she was introduced to a new cheese, so can forgive anything.
*****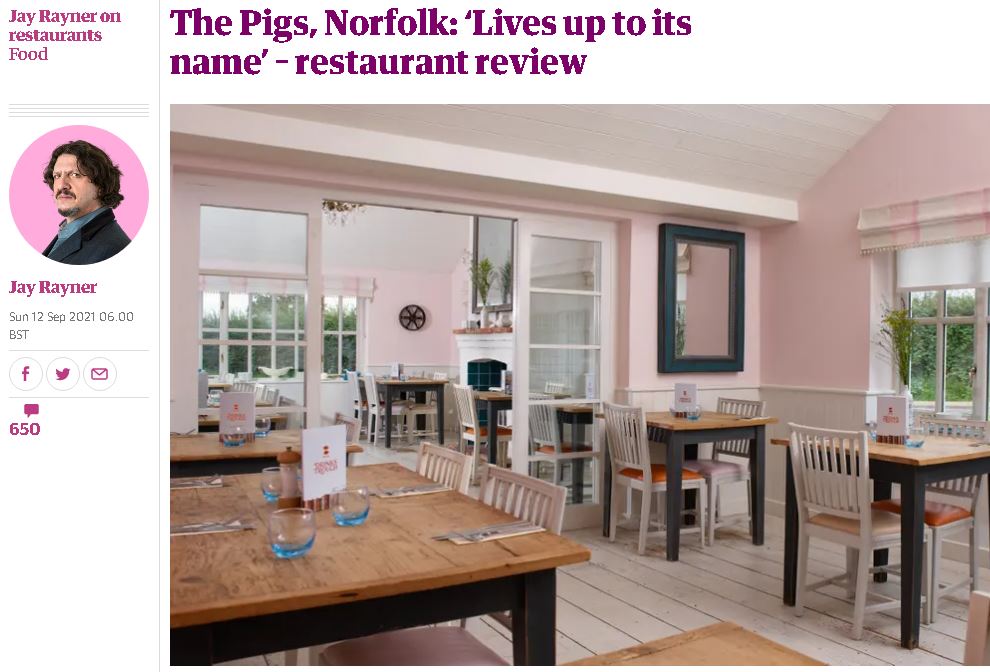 The Observer
Jay Rayner was in Norfolk, pondering on restaurant names – no wonder, as he was in a restaurant called The Pigs, which is "making a serious statement with its name". (Don't get him started on Sexy Fish.)
Based in "a low-slung pub not far from Holt", the good news from The Pigs is that "they meet their commitments, and do so with enthusiasm and vigour". The "brisk trade" and regular expansion suggests it's a popular place.
"There is nothing elegant or poised about the cooking"; it is "solid" and "unselfconscious", and a "lot of simple points, well made". Even better, there's a lots of "crunchy and furiously bubbled" crackling, and "the bill will not make you gasp".
*****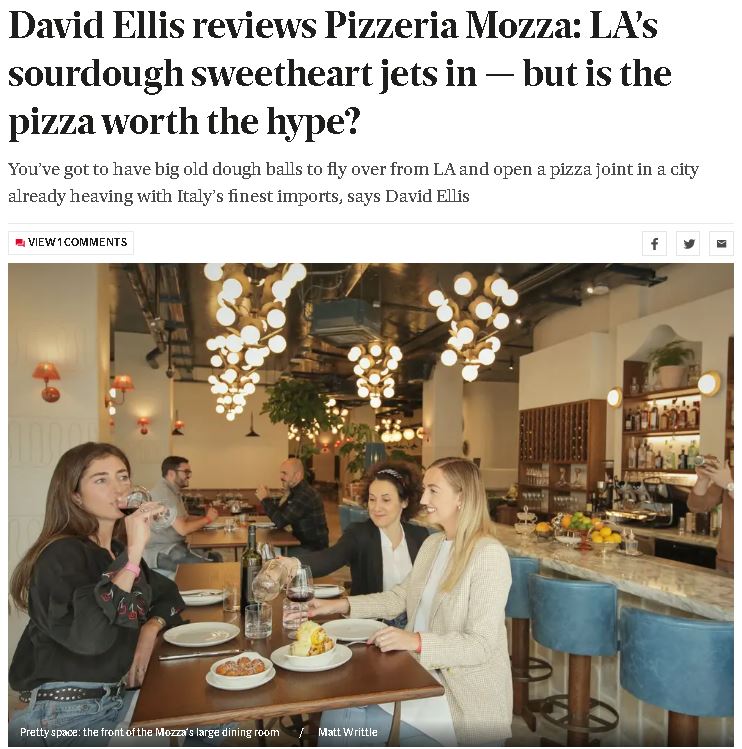 The Evening Standard
In a busy week for awards ceremonies, we were pleased to see the Harden's awards covered in depth, focusing on Tom Aikens' Muse, which grabbed the Top Gastronomic Experience.
All the winners of Harden's "well-respected awards" can be viewed on our website.
*****
Congratulations to Jimi Famurewa, winner of the Fortnum & Mason Food and Drink Awards Restaurant Writer of the Year; his predecessor Fay Maschler was awarded the Judges' Choice award.
*****
In The Reveller, David Ellis reviewed Pizzeria Mozza, from Nancy Silverton, an "extremely accomplished" chef and long-term "defining culinary force in the States" (it's OK, we'd neer heard of her either). She's opened her sourdough pizzeria in the new Treehouse Hotel in Langham Place.
"Who flies 5,000 miles to open a pizza parlour in a city already heaving with Italy's finest imports? Silverton must have some big old dough balls."
David was "mostly" impressed with the food, with the banana gelato pie "straight out of the Happy Days diner" sealing the deal, although he thought the wine list starting at £36 was "reprehensibly hoggish".
*****
There was also coverage of The Cateys, the awards from The Caterer magazine, at which Andrew Wong won the Chef Award.
*****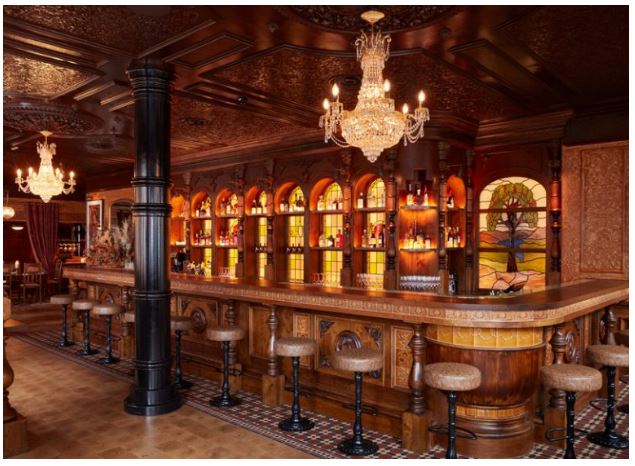 The Mail on Sunday
Tom Parker Bowles found himself in an old haunt: The Cadogan Arms on the King's Road, where he hadn't been in nearly three decades. In his review for YOU Magazine, Tom declares that "a fine old pub is reborn".
It's now "very grand indeed" and the "gastronomic credentials are sparkling too"; he ate a "beautifully cooked" turbot while his companion was less impressed with the cheese toastie.
*****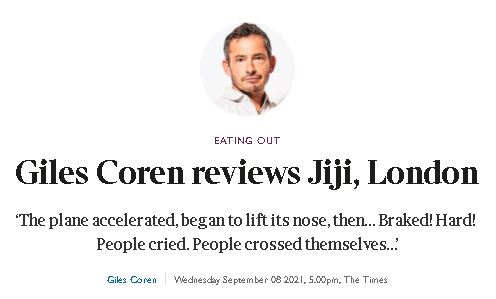 The Times
Giles Coren was all about the "context" this week; the airplane food he had after a terrifying aborted take-off and ten hours of not eating was the "best meal I have ever had", and the meal with friends at Jiji after weeks of not going out at all was "just fun, fun, fun and the best meal ever".
More objectively, he might review the Middle Eastern-Japanes fusion food as "omakase with added vulgarity" or "sashimi with shouting, music, sugar and hummus"; much of the food was "rather more like eating a bag of Haribo than anything else", and there may have been some "incongruity in the menu-making" and "jarring clash in the monstrous menu mash-ups" after all.
But there's an "upscale private gated estate vibe", the customers are a "gabbling, glamorous" crowd and the food is "all served very quickly by handsome fellows in hoodies".
"If its job is to cheer you up after a bad week, rather that satisfy the grim arbitrators of culinary integrity, then Jiji does it wonderfully."
*****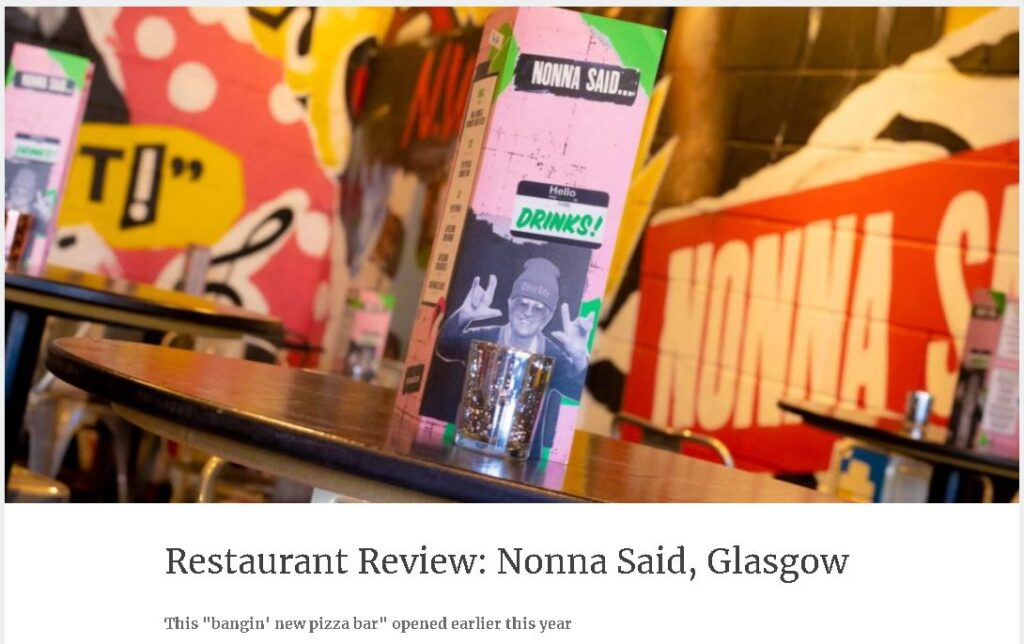 The Scotsman
Gaby Soutar popped across to Glasgow to try out "bangin' new pizza bar" (their words) and lockdown delivery success Nonna Said, which opened up in a bricks-and-mortar setting earlier this year.
It's "the west coast answer to Edinburgh's pizza empire success story, Civerinos Slice. In common with them, there's a playlist of Nineties hip-hop and R&B music".
The menu "is not for purists" and the "pizza toppings are pretty doolally"; there's also themed cocktails (and a 1am license). "This place isn't quite a knock out, but it definitely has a fun… appeal."
*****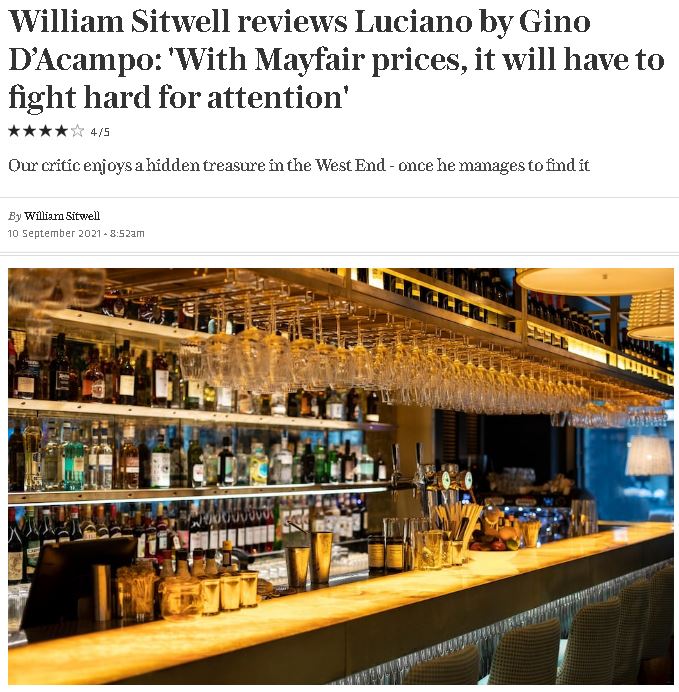 The Telegraph
Once he'd found it (not on The Strand as advertised and part of an hotel), William Sitwell reviewed Luciano, the newest offering from "Gino D'Acampo, merry TV presenter, celebrity chef, sometime hustler of Italian food produce".
This is the first review of the place we've seen, and to be honest we weren't expecting much, but William claims that "lunch was a glorious pleasure, helped by the comfortable ease with which the Italian staff did everything" and that is was very "family friendly".
However, as it's "just over the border of theatreland and in a slight no man's land, with Mayfair prices, it will have to fight hard for attention".
*****
And also…
Tim Hayward in The Financial Times reviewed the "pyrotechnic" food at Edinburgh's Little Chartroom, which moves to a new, bigger home next week; "the subtlety, the cleverness, the profound feeling for ingredients — Hall-McCarron has them all".
*****
A Cheshire ice cream farm was featured in Manchester Evening News; one of the more unusual lockdown businesses we've heard of.
*****
The Birmingham Mail reported on the opening of Mutiny Loft, a neon pink space with regular street food pop-ups and an outside terrace (also pink).
*****