Our weekly round-up of what the national and local restaurant critics are writing about, for the week ending 18 October 2020.
Restaurants and bars in England now have a 10pm curfew on top of the 'rule of six' guidance, and the new tier system is affecting many areas; London is under Tier 2 lockdown, which brings new restrictions but offers no financial support.
Check with your local and favourite restaurants before heading there; many that are open are operating strict timings due to curfew, reduced cover numbers and social distancing requirements, with reduced menus and booking systems (even if they didn't take bookings before); look at their social media pages for details – all available via hardens.com.
Please consider ordering takeaways or deliveries from your favourite spots if you can; the restaurant industry and everyone involved in it are going to need continued support for some time to come.
The Times
Just as he was sounding utterly jaded with restaurant reviewing, Giles Coren surprised us with a visit to ChefsTable, the tiny "show kitchen attached to the factory of" TRUEfoods, Yorkshire purveyor of "high-quality stocks and sauces to the upper echelons of the food trade", where he ate a "deliriously brilliant multicourse dinner" that he awarded full marks across the board.
"It is open only on Fridays and Saturdays, for dinner, one sitting only. So 20 covers a week. You can wait a year for a space."
Chef-owner Mitch Mitchell gave Giles a tour of the factory before seating him in the "small, steely cosiness of his kitchen" equipped with "some of the most fantastic, futuristic cooking kit". It's "reminiscent of the plating kitchen at Noma or a shrunken version of the El Bulli kitchen in its prime, but the people are nicer and the vibe is cooler".
The impressive range and skill of the team of chefs and sommelier are evident in Giles's detailed descriptions of each course. "This was a dazzling and beautifully balanced meal. It was real food, rendered new and exciting by the immense skill and charm of everyone concerned. And so, so relaxed. Entirely unique in that sense." (30/30)
*****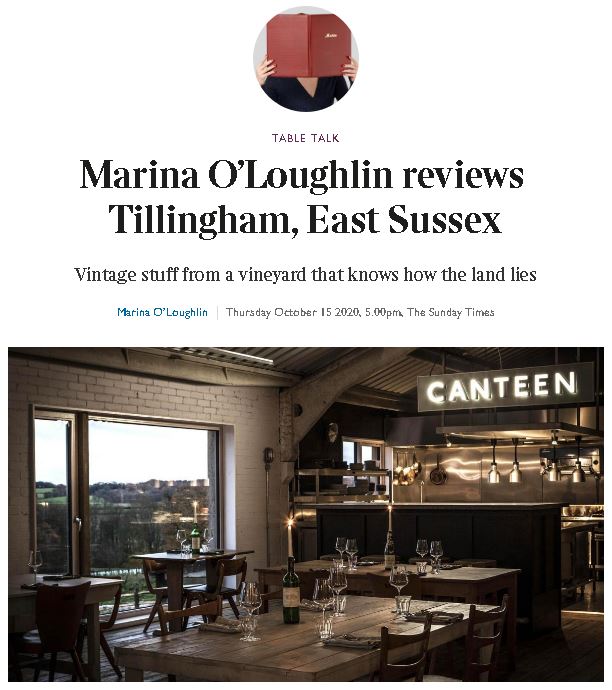 The Sunday Times
Marina O'Loughlin has found her "newest, hottest contender" for somewhere to sit out the apocalypse; it's Tillingham, a vineyard with restaurant-and-rooms "down East Sussex country lanes" just outside Rye in Kent, from the ex-CEO of Gusbourne wine, Ben Walgate, with an ex-Moro / St John chef, Tom Ryalls. Even on a "midweek, rainy night", the "place is buzzing".
Dining in a "beamed, airy upper room with windows gazing down over the vines to the sea", she enjoyed the "set, four-course and changing-on-a-whim menu", a flight of Tillingham wines that were "funky, alive, enlivening", an overnight stay and breakfast the next morning; "every detail is thoughtful, uplifting, from the striking graphic designs of the wine labels to the Haeckels toiletries".
Ryalls' "cooking fits right into the place's general air of insouciance: nothing too try-hard, everything lovelier than you might expect, under rather than overpromising" (she repeatedly uses the word "unassuming").
"Everything about Tillingham has the air of a benign cult devoted to the earth and its fecundity, evangelical about natural farming and biodynamic viniculture"; she's signing up when they need new members.
*****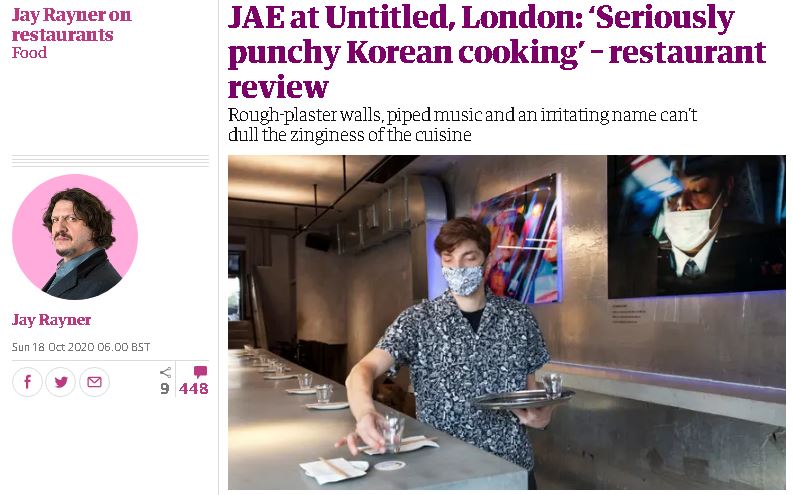 The Observer
Jay Rayner was slightly out of his comfort zone, at brutualist Dalston bar Untitled. There was food, in the form of Korean-inspired food under the moniker of JAE, from chef Jay Morjaria's "heavily plant-based, tightly written menu", which was "very good value" and delivered "seriously punchy and diverting cooking". As it's a bar, what's on offer is very much drinking snacks and dishes: 'anju' in Korean.
Among Jay's dishes (he managed most of the "succinct" menu) were a "killer chicken sandwich" that was "instantly gratifying" ("Crunchy things inside soft buns are always a winner. This is a very good version.") and pork belly ssam that was an "engrossing, jolly plateful".
*****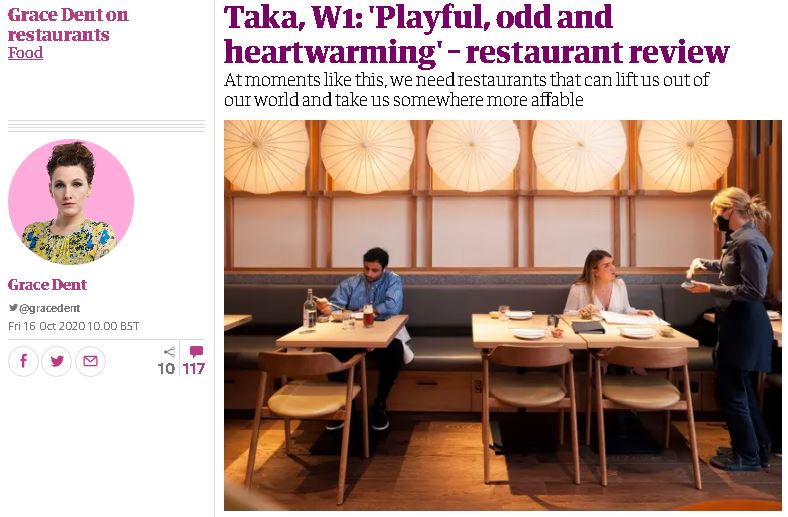 The Guardian
"This year, party season is cancelled and it is figuratively January 2021 already."
Grace Dent went to Taka Marylebone, a "quirky new Japanese tapas and sushi place", and was comforted after a lonely walk up a deserted Marylebone High Street, to find "glowing lights and human life bustling" there.
The Japanese small plates "side of the menu is possibly the more interesting"; "this is where Taka is playful, purposefully odd and ultimately heartwarming".
"The cocktail menu at Taka is wonderful; I drank the world's greatest, smokiest Old Fashioned, freshly made but delivered in an apothecary-style bottle filled with bonfire-scented smoke, like a walk home from Brownies in 1979."
"I love restaurants and I love restaurant people; and now winter is coming… I cannot guess what will be left of this landscape by spring."
*****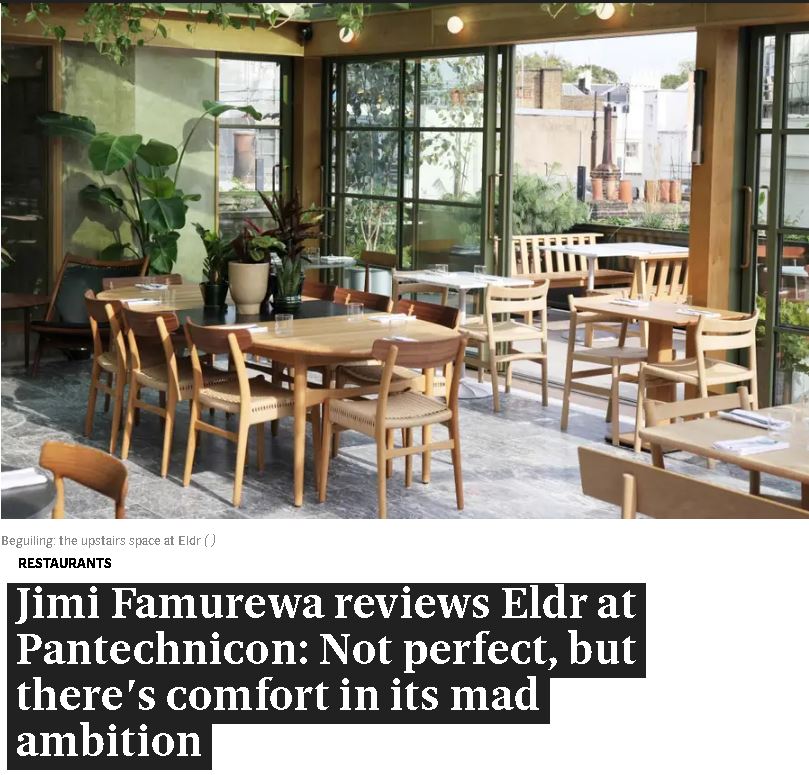 The Evening Standard
Jimi Famurewa is the first of the critics to review any of the eateries at Belgravia's newcomer, the Japanese-Nordic "food and retail emporium" Pantechnicon; he chose Eldr, the second-floor Nordic restaurant.
This "gastrodome cum design nirvana" was "so redolent of a specific kind of thrusting, pre-pandemic hospitality opening that I worried I'd already reviewed it". It's easy to see why – the "hybrid Nordic-Japanese theme, the slightly unwieldy name, the enormous, expensively rendered multi-purpose space" – everything smack of a "kind of insanely confident, boom-time dining experiment" not seen much in 2020.
The space is "utterly beguiling", and the "airy, wood-accented" restaurant "like the buzzing dining complex of a particularly cool art museum". Starters "impressed" but mains – all based on "an overly familiar formula (protein, root veg, tart berries)" – "felt less successful" and "not wholly worthy of a nearly 200 quid bill" for a family of four, but the puddings "pulled it back". Choose wisely and you'll leave happy.
"Eldr at Pantechnicon is not perfect. But amid a battered, fretful dining landscape there is comfort to be found in its hearty Viking flavours, fastidious elegance and mad, multi-storey ambition."
*****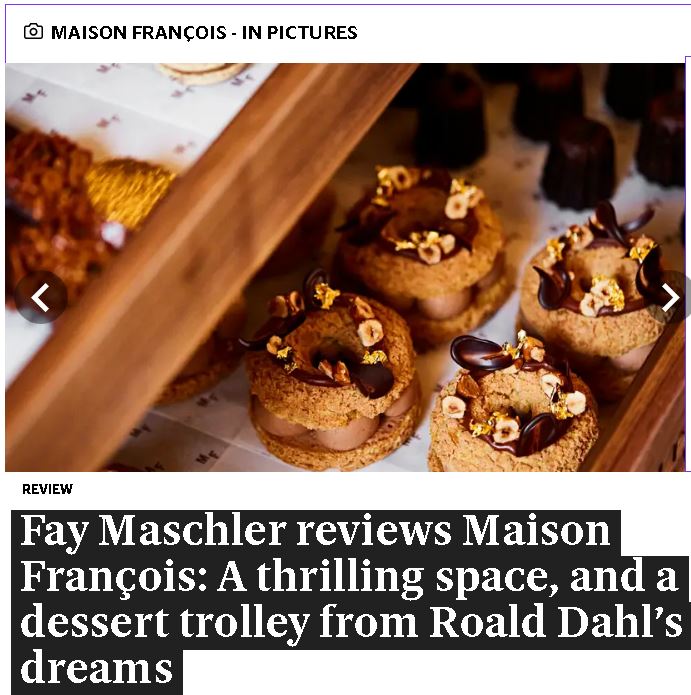 Also in the Standard, Fay Maschler reviewed Maison Francois, in the space that was formerly Green's that has been transformed into a "thrillingly tall and tactile space where austere (cement ceiling) and luxurious (cream leather banquettes) jostle for dominance".
Head chef (ex-Isabel) head chef Matthew Ryle – a MasterChef: The Professionals finalist – "aims to celebrate the grand brasseries of Paris, Lyon and Alsace" – with just a few modernisations and extra vegetarian options; it's open all day, as brasseries should be.
"The dessert trolley could come out of a Roald Dahl fantasy, a chest on wheels topped with tarts and gâteaux and drawers that reveal Paris-Brest, éclairs, Florentines, macarons, truffles and more."
*****
In Fay's regular week in food feature, she enjoyed potato salad with crisps at Taka Marylebone, dumplings at Dumplings Legend, roast chicken with morels and "a particularly fine riz au pilaf" at Noble Rot Soho and the smoked eel sandwich at Quo Vadis.
*****
The Evening Standard invited Jeremy King to write an on the latest curfew ("manifestly stupid") and restrictions; "under the guise of saving lives the Government is justifying these ill-conceived and badly thought out initiatives ultimately to save their own skin. That might be another serious miscalculation."
*****
The Mail on Sunday
Tom Parker Bowles (in his new column with wine expert Olly Smith) in The Mail's YOU magazine is the latest of the critics to venture to Noble Rot Soho, where "Hungarian flourishes pay homage" to the restaurant's "legendary predecessor"; "the spirit of The Gay Hussar very much lingers on".
Head chef Alex Jackson, "formerly of the late and much lamented Sardine", has "an admirable lightness of touch, an innate culinary intelligence that, when combined with glowingly warm service and the most civilised of rooms, makes the new Noble Rot both enticing and enchanting".
*****
The Scotsman
Gaby Soutar booked a collection from the new Matto Pizza, which has been doing a splendid PR job around the Edinburgh food bloggers; the "takeaway boxes in Snagglepuss pink" have been flooding Gaby's Insta feed.
"Their USP appears to be slightly bonkers toppings"; Gaby's was smothered in goat's cheese, speck and chutney amongst other ingredients, and her partner's had sugo, shredded lamb and haggis "all freshened up by a zig-zag of yogurt and mint sauce".
"Although the newest and most swankily rebranded joint in the capital isn't going to knock my ultimate favourites – East Pizzas, Razzo, Pizzeria 1926 and Civerinos Slice – off the winners podium, it can definitely hold its own."(71%)
*****
And also…
Nicholas Lander for The Financial Times visited Myrtle in Chelsea, where "two of the first courses were exceptional". Chef Anna "Haugh's friendly style of Irish cooking seems simple but involves a lot of preparation".
*****
In The Telegraph, Keith Miller paid a visit to the newly open Noble Rot Soho, while Kathryn Flett urged readers to "visit a restaurant you love while you can" – "with the capital now in tier two, let's hail the optimism of hospitality businesses around the country – and support them where we can".
*****
Recent News from Harden's