Here's our regular summary of what the national and local restaurant critics have been writing about in the week ending 17 July 2022.
*****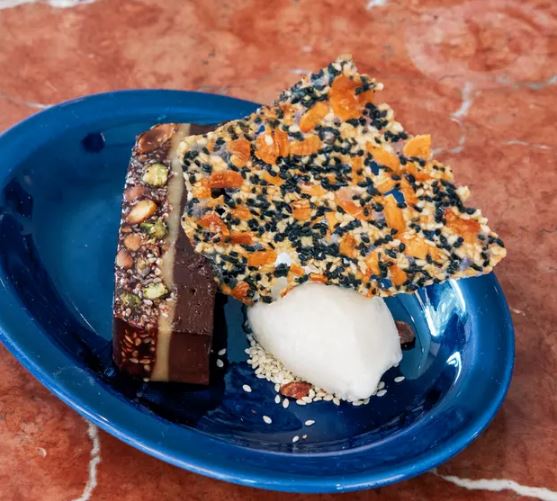 The Guardian
"You can't just "move" a restaurant. The magic is in a plethora of small things other than food: the acoustics, the convergence of tables, traffic noises, the location of the loos, too much or too little cooking odour, and on and on."
Grace Dent set off for her "first dinner at the all-new, somewhat fresher and prettier Honey & Co" with "trepidations".
Could the "unquantifiable orange-blossom-scented largesse in the ambience" at "Sarit Packer and Itamar Srulovich's small Middle Eastern restaurant" be moved across town in tact?
In a word, yes. It "is a little different now, perhaps more grownup and formal, but the old loveliness is there in spades. Service was warm and prompt," the "attention to detail" is still there, and "the summer 2022 menu is one of their best" yet.
And "Rejoice! The feta and honey cheesecake is still on offer." Although there's a new contender in the chocolate terrazzo cake (pictured), served "with a marzipan ice-cream" that they discussed "for several days afterwards".
*****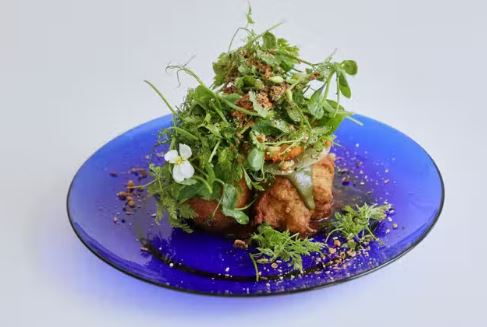 The Evening Standard
"The best sort of tucked-away, neighbourhood secret."
Jimi Famurewa has found one of his "favourite new spots in the capital"; Juliets Cafe & Bar started life in Tooting (as Juliets Quality Food, which he visited for a "pleasant brunch" just before lockdown and the review never got to print), and now there's a spin-off within Clapham gallery Studio Voltaire.
This Juliets is no casual brunch spot, however; instead it's a "fully fledged, wildly ambitious restaurant… an unusually harmonious match between food partner and venue" in a "beguiling premises".
Julian Porter and his partner Lauren Johns's first venture was Milk in Balham; their new place is a "showcase for years of skill; a joyful sanctuary that just wants to tempt you with cake, pour you something cold and facilitate a good time… animated by dishes with a blindsiding mastery".
*****
Also in The Standard, news that JKS Restaurants and Luke Farrell, the team behind "hit Thai restaurant Plaza Khao Gaeng will launch another venture inspired by the country this September". Speedboat Bar will open on Soho's Rupert Street.
Plus an interview with Ghanaian-British chef Akwasi Brenya-Mensa on his new restaurant Tatale ("I want it to reflect blackness") and why he won't be serving jollof rice.
*****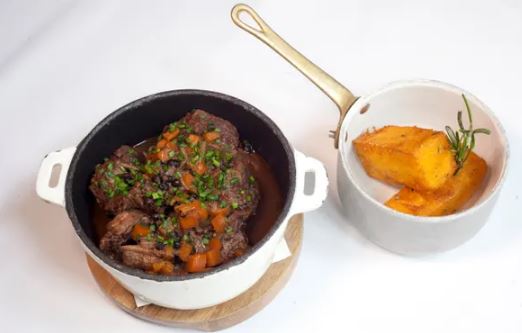 The Observer
"The music was very bad. The mean pasta was truly dismal."
Jay Rayner wasn't sure which was worse when he ate at Il Borro in Mayfair; in the end the "seafood pasta with just one langoustine, one shrimp, three clams and three mussels for £46" won.
The "cavernous two-floor marble and blonde-wood site" is a spin-off from "the high-end Italian Il Borro winery near Arezzo, owned by the luxury fashion brand Salvatore Ferragamo"; it's all clearly designed to "part bored rich people from their money".
The basic proposition of this "Tuscan bistro" is exactly the same as Russell Norman's Brutto, another London newcomer; "the pricing and approach, rather less so".
From the "thudding lump of draft excluder" (focaccia) to "limp" calamaretti to "hefty mouth-drying chunks" of meat in the Tuscan stew (pictured) and "uninspiring" desserts, there wasn't a single redeeming dish.  The chips were so bad, Jay invited the waiter to try them.
"The bill is an unsurprising £334. What's really depressing is the lack of ambition in a city full of great Italian restaurants. What's even more depressing is that it's doing a roaring trade."
*****
Jay also shared with readers his Top 10 favourite places to eat by the seaside, from "oysters in Essex, cheese toasties in Scotland, cod and chips in Cornwall" to meze in Kent.
Also in The Observer, an article on the chefs who are refusing to retire.
*****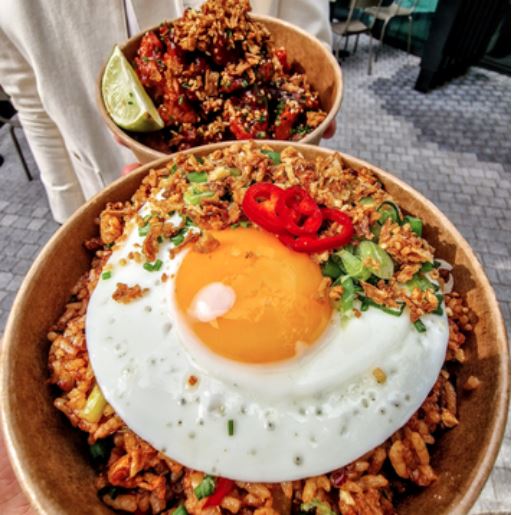 The Sunday Times
"Futuristic, grungy and fun."
Marina O'Loughlin was in Manchester to review Hello Oriental, just one of the countless new openings and developments in the city, which is "having not so much a boom as an explosion".
Hello Oriental is a "newly built, three-storey temple to Asian food that could be the perfect avatar for the city's current buoyant mood"; a "northern powerhouse" that "fringes Symphony Park" and former BBC buildings. Only one floor is above ground, creating a "moody and dramatic space, lined with undulating timber ribs and… loops of LED lighting… concrete, wire mesh, neon…" all catering to a certain demographic, as are the black sesame soft-serve ice creams, vegan pho, gluten-free options and "booze-laced bubble tea".
There's even a "nightclubby" supermarket ("more neon"), plus a Vietnamese restaurant Rice Paper Pho alongside Downtown Oriental, the main food hall whose "lengthy menu has a wild old stagger across Asia".
"Maybe when the place is heaving and food is flying out of the kitchen, it might be a little perkier. But ho fun noodles are perfectly decent, wok-breathed, soy-rich, fat and pleasingly greasy, generously flecked with strips of beef."
"I won't pretend this is the greatest Chinese food I've ever eaten… but it's pretty good and seriously affordable."
*****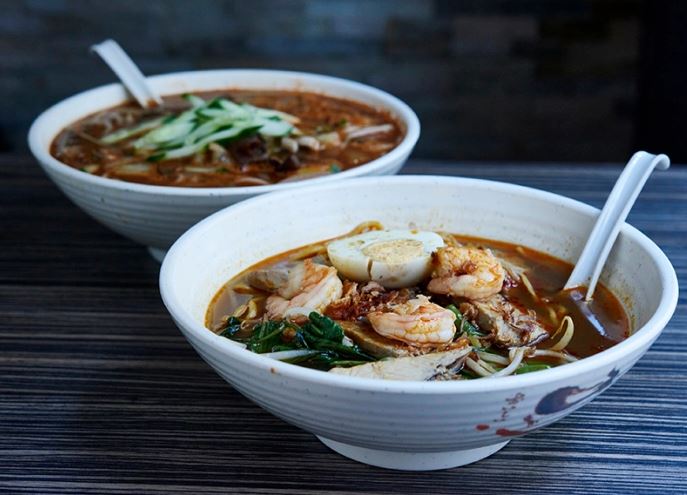 The Mail on Sunday
Tom Parker Bowles for YOU Magazine enjoyed a "riot of textures and flavours" at C&R Café, a Malaysian restaurant in London's Chinatown; the "classic hawker food" got a big thumbs-up from both Tom and his Malaysian dinner companion ("they get it just right").
There used to be a branch on Westbourne Grove, but the pandemic closed it down; Tom was a regular there and tried out several of his former favourite dishes on this visit, including roti canai ("gossamer-thin, gently blistered bread, dunked in fragrant curry sauce") which he claimed was "Roti King good".
*****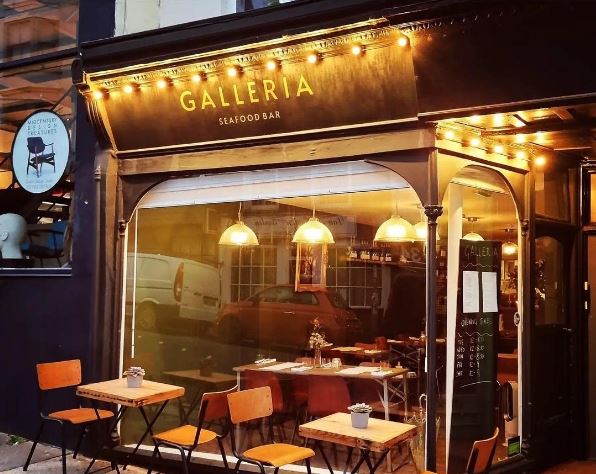 The Times
Giles Coren's previous review of Ynyshir "attracted some predictable but perfectly understandable criticism regarding the cost" (as they have been "every week before that, all the way back, for as long as I (or anyone else) have been reviewing restaurants)".
So this week he headed to Galleria, a seafood restaurant that opened in August 2020 in St Leonard's-on-Sea ("one of most deprived communities in the South East"), "a mere eight-hour cycle ride from Kentish Town".
"I probably shouldn't have been as surprised as I was by the low, low prices on the menu. Not so much the £24.50 for 12 Whitstable oysters, perhaps half what you'd pay in London, but the 2-course set lunch menu for £15." It's easy to see how it can be done, with "unfashionable fish – mussels, sea trout, plaice, mackerel – and plenty of pasta".
In order to "plough a significant amount of my hard-earned… into the depleted local economy" he ordered everything on the menu. (23/30)
*****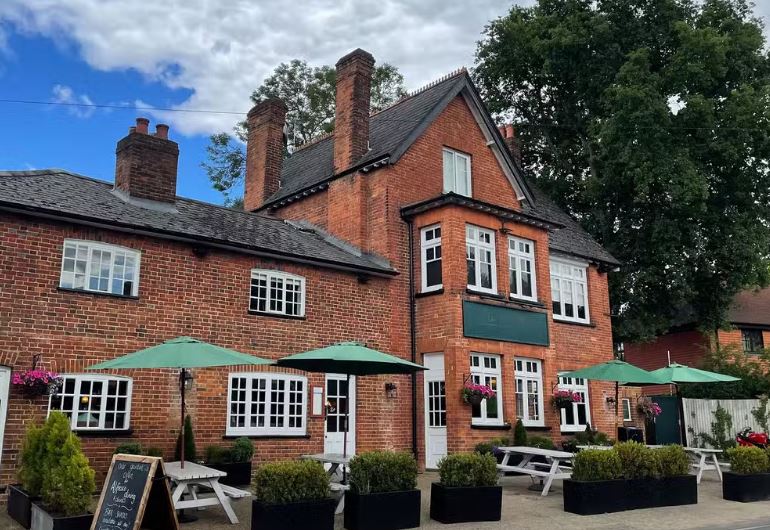 The Independent
A brace of reviews from Hannah Twiggs this week: first she was in Surrey, at The Victoria in Oxshott, where she had "a near perfect Sunday lunch in England's most expensive village", one that was "as much to do with the quaintness of Oxshott, the charming staff and serendipitous weather" as it was the food.
It's "definitely posh pub territory – all exposed brickwork, big fireplaces and wooden panelling – but in a homely, self-effacing way", and they "don't skimp on portion sizes". Sunday lunch was at two courses for £35, but there's "more Oxshott-appropriate prices midweek, with a whole plaice for £75 and a tomahawk for £215".
*****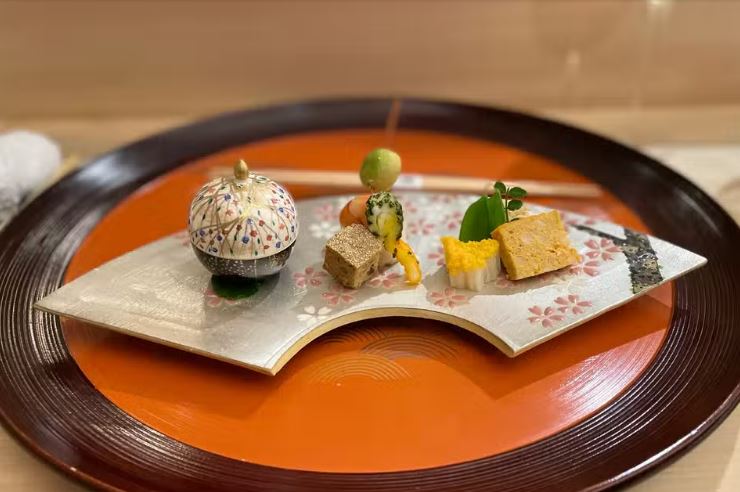 Keeping with the eye-wateringly expensive theme, Hannah also ventured to Roketsu in Marylebone, "London's first kaiseki restaurant" which is "probably as close as you can get to the real thing" ("without the air miles").
Chef Daisuke Hayashi is "at the forefront of the next generation of Japanese chefs applying a modern, progressive approach to the cuisine around the world"; his "simple, seasonal ingredients shine through complex techniques and intricate presentation".
"We're seated at a counter facing Hayashi and his chefs as they prepare our meal… servers glide around us in near silence… everything feels very formal, but not oppressive." As the first of the nine courses arrive, "much of it looks too precious to eat".
"The star of the show is undoubtedly the tuna, which I haven't stopped thinking about since."
*****
Also in The Independent, not altogether surprising news that "Salt Bae's Nusr-Et steakhouse in London has been ranked as one of the worst restaurants in the capital on TripAdvisor".
And also…
In The Scotsman, Rosalind Erskine tried out the Lochside BBQ currently on offer at Cromlix Hotel in Dunblane; "an ideal way to spend a relaxing afternoon with friends or family in the sunshine… and the quiet and peaceful location just adds to the tranquil, holiday-like feeling".
Also in The Scotsman, Gaby Soutar visited The Spence at Gleneagles Townhouse, the "much anticipated Edinburgh outpost of the 98-year-old five-star Auchterarder destination" housed in "the A-listed former Bank of Scotland building".
"Your eye is always drawn heavenwards, thanks to the natural light from the cupola" in the "all-day open-to-all ground floor restaurant" which has plush fixtures and offers a menu that's "casual, but with luxurious tweaks. Birthday food".
"This place is all I'd hoped."
*****
Bristol Live covered the opening of a London restaurant; the flagship Gregg's at 1 Leicester Square opened with a blue-carpet premiere event.
*****
In Manchester Evening News, news that the original Northern Quarter Almost Famous, "the hip burger joint which helped kickstart Manchester's 'dirty food' trend", has closed ahead of a move.
*****
Birmingham Mail showed readers inside the new Vinoteca, the wine bar's first out-of-London site. It's now "the largest wine venue in the city", overlooks the Chamberlain Memorial Fountain, and has several al fresco options.
*****