Our weekly summary of what the national and local restaurant critics were writing about in the week ending 16 October 2022.
*****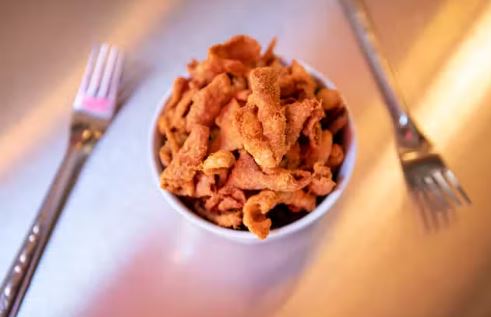 The Evening Standard
"Unquestionably, one of my openings of the year."
Jimi Famurewa visited Speedboat Bar, the "latest Southeast Asian-inspired collaboration between chef-grower Luke Farrell and hospitality juggernaut JKS".
"It is an adult playground of gaudy, aggressively-themed accents, lurid cocktails and roller-coaster Thai-Chinese fusion flavours" that "honours a specific food culture — Chinese through the prism of Thailand".
Having been to Plaza Khao Gaeng, Jimi was expecting more of the same, but "Speedboat is in fact the more fully-realised work". That being said, his memories of the meal "are less about individual dishes so much as a giddy, grunting blur of pleasurable sensations".
"Screaming exuberance incarnate." (****)
*****
Also in The Standard, David Ellis reported on the Who's Cooking Dinner? event at the Dorchester hotel at which "London's finest culinary talent cooked in aid of both Leukaemia UK and Hospitality Action", raising £263,000for the charities,
Ben McCormack reported on the one-night-only collaboration between "west London sushi superstar" Endo Kazutoshi and Tomos Parry, head chef and co-owner of Brat. Both chefs are "renowned for their sourcing of seafood — fish for sushi and sashimi in Kazutoshi's case, Parry for his signature whole turbot to share".
*****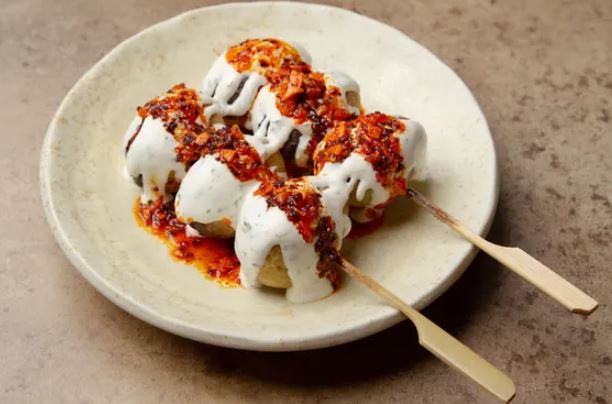 The Observer
Jay Rayner was in Nottingham this week, at Kushi Ya, a "blissfully good place celebrating the flavours and methods of Japan's izakayas".
It's tucked-away in the city centre, but by no means undiscovered, except by the national media (until now) despite being open since 2018, after starting life ("as so many great food ventures do these days") as a supper club.
"I ate my way from one totally banging, beautifully conceived, perfectly priced dish to another." The ubiquitous prawn toast is reinvented here as "a sweet inversion" that's "both delicious and funny".
"I muttered under my breath that Kushi-Ya was my restaurant of the year… maybe something will come along in the next couple of months to prove me wrong, but in terms of wit, skill, deliciousness, price and just all-round utter joy I can't imagine that happening."
*****
In another article, Jay commented on food safety, and whether it's his responsibility, "as a restaurant critic, to protect potential diners" from food poisoning (spoiler, it's not).
Also in The Observer, the winners of the Observer Food Monthly Awards 2022, which presented Delia Smith with the inaugural Icon award.
*****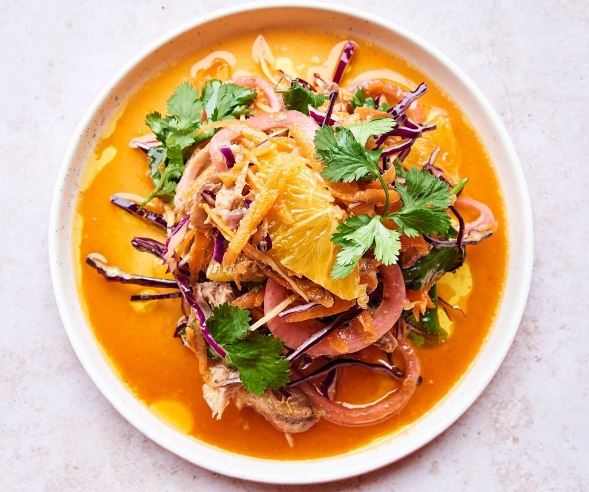 The Sunday Times
Marina O'Loughlin is seriously considering a move to Newcastle, specifically Jesmond, where she reviewed eatery Long Friday this week; it's "well worth travelling to from outside the neighbourhood".
It's "the second outing from Anna Hedworth, of Cook House in Ouseburn" and is "a bit like Cook House's good-times little sibling, fond of natural wines… quirky of haircut and entirely at home with intriguing ingredients".
The seasonally changing menu "offers happy-making, deceptively unfussy pleasures" – "it would be easy to be vegetarian" – and "desserts are so clever, so imaginative" (including "an unabashed plate-licker" featuring rosemary caramel)
"This is my kind of thing: great ingredients, good people, everything lovingly and unpretentiously done."
*****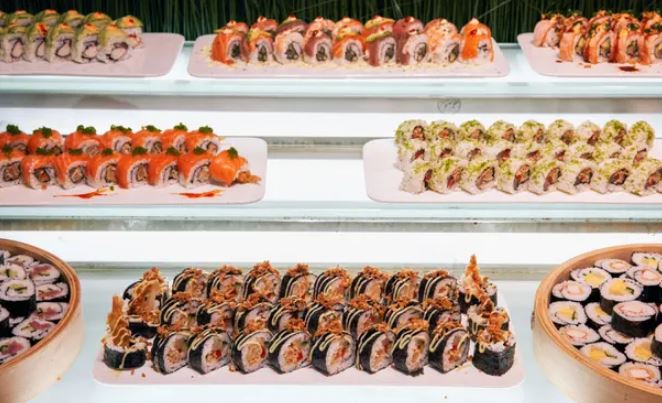 The Guardian
"Food trends come and go, but the all-you-can-eat buffet plods on through the decades."
Grace Dent visited Aroma Buffet, in a west London mall, where "the vast, lunchtime buffet of noodles, stir-fries and plentiful cakes, puddings and ice-cream is a pleasing £15" and the chefs are "unafraid of heat, spice and feisty flavours".
At lunch, there are "70 or so dishes on offer; the dinner menu is even more extensive". Originally just "Cantonese-style crowdpleasers", there are now "West Sumatran rendangs and Indonesian nasi goreng, and coconut-based Malaysian stew sits close to a Japanese teppanyaki grill selection" plus sushi and Thai rolled ice-cream for dessert.
The buffet's "timing in returning to modern life is impeccable, delivering joy through dark times and ransacked wallets". (Follow the link to read Grace's tips on how best to approach a buffet.)
*****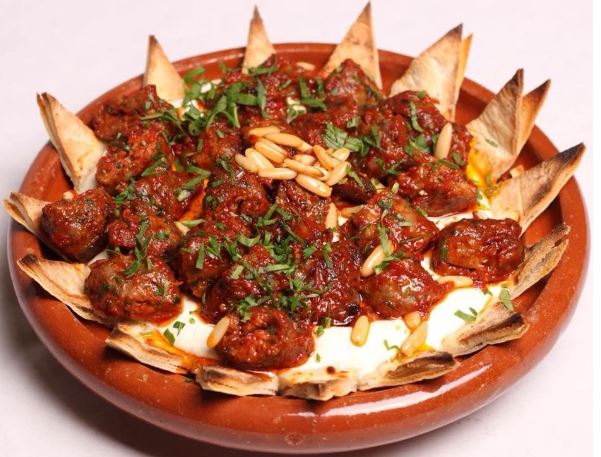 The Times
Giles Coren is still sticking to his £40-a-head budget, and this week recommended three different restaurant where that was entirely possible.
First, Miznon in Soho, "the first London outlet of a crazy Israeli pitta chain from a crazy Israeli chef" where "the rules are so lavishly and lovingly broken with every mouthful you take" (pitta stuffed with fish 'n' chips or spaghetti bolognaise, anyone?), there's "loud Hebrew pop" and "on balmy evenings they try for an indoor-outdoor, Tel-Avivy street vibe".
Next he went to Ayam Zaman on Uxbridge Road, ahead of a football match, for "quality Syrian food… with kind, tolerant service in a big vibey room" followed by Sunday lunch at Seven Tuns in Chedworth ("a gorgeous, newly refurbished pub in a beautiful, relatively untrammelled corner of rural Gloucestershire") which came to "only just over £20/head, yet again, for a lovely, cosy hour of face-filling"
*****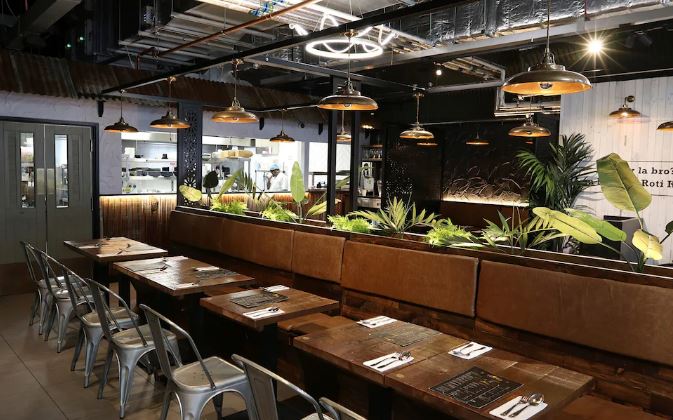 The Telegraph
Venturing into town from the wilds of Exmoor, William Sitwell tried out the new branch of Roti King near Battersea Power Station, which has "just reopened (a feat of extraordinary imagination, risk and lunacy) as a place of apartments, shopping, cinemas, food and other fun stuff".
A 50-minute wait for a bowl of dahl was not the best way to kick off the meal, but ("a but written in a font taller than the chimney stacks of Battersea Power Station") it was worth the wait for the "truly, deeply, richly delicious" starter.
"A great-value restaurant offering the genuine street-food flavours of Malaysia." (***)
*****
And also…
In The Scotsman Gaby Soutar visited The Lawn at the Marine Hotel in North Berwick, which "would be the ideal setting for a murder mystery", especially with its "very theatrical" refurbishment under new owners, who have also changed the menu to something more "conservative" than before.
"We were well fed and watered, but I sense they are struggling a bit. The service was very welcoming, but a bit disjointed." (14.5/20)
*****
In The FT, interviews with Clare Smyth on how she "pivoted operations to survive the Covid lockdowns" ("A crisis teaches you how adaptable you are") and Daniel Humm on his New York Eleven Madison restaurant becoming Michelin's first three-star vegan restaurant: the guide said it "hoped that the recognition would encourage chefs to emphasise sustainability".
*****
Bristol Live reported that the owners of Root are to take on another site, in Wells, near the cathedral (formerly Ensemble).
*****