Jay Rayner for The Observer starts his review by describing Tristan Welch's Parker's Tavern restaurant as "a dining room where the most fundamental of emotions are tended to". You can just tell he loved every inch of it.
The cooking was "a display of extremely assured, confident cooking designed purely to please rather than to dazzle", from the poutine starter to the DIY sundae. The decor was "a cross between a gentleman's club and a Parisian bistro" and the atmosphere so pleasant that "you will imagine coming here for a quick bite; you won't want to leave".
Jay admired the "nerdy attention to detail" – he dedicated almost an entire paragraph to the poutine's meat sauce, and another to the "lake of sauce" accompanying the fishcakes. "I'm suddenly overcome by the urge to pipe a roaring rendition of Jerusalem, so I can stand and salute it as an emblem of all that is good and true." (Just wait until the main course, which he felt like proposing to!)
His only niggle is the "uneven pricing", but "the overall bill, while sizable, doesn't feel unreasonable for what's going on here". He already knows exactly what he's ordering on his next visit…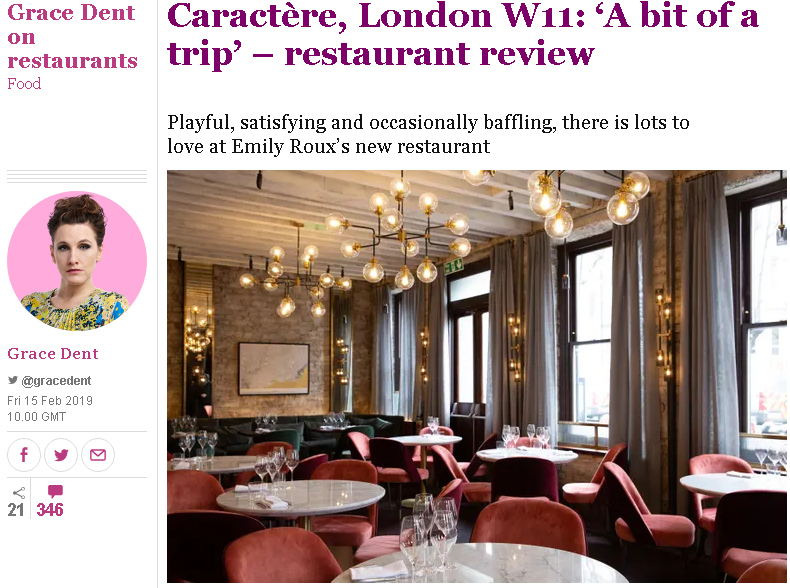 Grace Dent for The Guardian visits a Roux establishment that's a little different from the others; at Caractère there's none of the "French classics… and impeccable, forlock-tugging service" that's to be found, unfailingly, at Le Gavroche.
Emily (daughter of Michel for those who've been in hiding for a year or so) and partner Diego Ferrari opened this "Italian-French joint" in October; critics and punters alike remain confused about the 'concept' of naming sections of the menu with titles like "curious" and "subtle". "If you're paying 11 quid for a bowl of chocolate pudding, do you really want to be called "greedy"?"
'Concept' aside, Ferrari ("a man with a name like a heartbreaking polo player in a Jilly Cooper bonkbuster") "is some sort of zen master of flavour" – not only that, but he "has thrown off the fine-dining shackles" and has become positively "playful" (although not everyone's delighted by a mock Bourbon biscuit piped with sardine paste). Dishes ranged from "utterly delicious" to "breathtaking" (as do the wine prices). Sadly it was all let down by service that was "a car crash": "I was still begging for the bill as the kitchen staff donned anoraks and left via the front door". (18/30)
Marina O'Loughlin in The Sunday Times turned up at a Leeds restaurant in the snowy weather, only to find it closed (she kindly doesn't name the place). Searching around for a quick replacement, she found former MasterChef: The Professionals winner Matt Healey's residency at The Foundry, and followed it with dinner at Host in Ilkley. She obviously stayed up north for a while, as her Instagram feed shows several meals in the area, including Betty's.
Matt Healey's place delivered up some good dishes, some not-so-good, but "if local, I'd go back". Host turned out to be a winner, however – "a find: nice people making nice food for nice customers". It's at the "end of Ilkley's handsome shopping street" and "the menu reads like a psalm to soothe my panicked soul". The food was "mostly terrific", bar a few timing issues: she described a stewed confit duck leg as "the uber-duck, duck squared, duckiest essence of duck".
Vegetables are dealt with well: the "inevitable" roasted cauliflower came "tarted into pungent lusciousness with Kashmiri spiced butter", and the parking for pudding was "gooey, gingery, treacly… a Stonehenge of a thing".
"Host is not like a London sharing-plates restaurant where you find yourself eyeing kebab shops on the way home."
Giles Coren for Saturday's Times magazine follows a well-trodden path to review Imperial Treasure. Will he mention the cost of the duck?
He does mention the "thermonuclear disagreement" between critics about whether or not Imperial Treasure's arrival is A Good Thing. So he thought he'd adjudicate – and took Marina O'Loughlin along for the ride (and so he could be sniffy about her previous newspapers).
He seems to have wanted to be sniffy about Imperial Treasure too, but was won over by "unbe-freaking-lievable" crispy golden net prawn cheung fun ("six mouthfuls of genuine heaven"), and then again by "perfect" ibérico pork belly roll with taro; "dim sum out of the very top drawer".
The duck (well, he had to order it, just to see what all the fuss – or not – was about) arrived looking like a "newborn baby accidentally put through a fairground toffee apple machine" and was served with "really very wonderful pancakes". He must have liked it, as he stopped Marina eating it, just so he could fill a doggy bag.
The carcass and remaining flesh now come back as a third course (credit to Jay Rayner), cooked in black bean sauce: "a deliciously filthy climax to all that delicate foreplay… we picked it bone bare and sat back and sighed".
So the verdict? "Absolutely top-notch Chinese. Close to faultless." And as for value, that £100 duck could easily be a "three course meal of divine awesomeness for £25/head" for four people. (24/30)
Jimi Famurewa for The Evening Standard ventured north to Stoke Newington and the latest inhabitant of a site that's seen many restaurants come and go, despite having "high-footfall berth in a food-literate part of town".
He found that Moio, which opened in January, to be "a warmly run endeavour doing fascinating, freewheeling things with texture and temperature, sweetness and salt"; the "highly seasonal, very short sharing menu" takes (possibly unique) inspiration from the homelands of the owners, Sweden and Portugal.
Starters read like "puddingy collisions such as hake and vanilla purée" – which was "slightly El Bulli but also reminded me of that Friends episode with Rachel's beef-laced English trifle" – but tasted "wow".
"Jarring and "strange" meat courses were followed with "a knockout pudding" which left him "rooting for everyone at Moio" – a "dynamite, salty-sweet accord between Iberia and Scandinavia". (6/10)
Fay Maschler for The Evening Standard visited Madame Pigg in Haggerston twice, once on a quiet Tuesday and then on a "rocking" Friday. On both visits she found "familiar food ratcheted up by spices and influences from far-off lands executed with cheffy expertise and élan".
"Madame Pigg's roasts are famed far and wide", and their policy of feeding those who are "roaming the streets and hungry" makes them even more loveable. (***)
William Sitwell for The Telegraph visited Bristol and the Redcliffe sibling to Pasta Loco, which serves only stuffed pasta (it's the first ravioli restaurant in the country); the mezzaluna of black truffle brought him to "tears of joy".
Keith Miller for The Telegraph repeated a fellow Telegraph critic's visit to Lee Westcott's Netherwood Estate barn conversion on the pretext that he knew the ceramicist who'd been hired to make some bowls for the restaurant – he took her along too, which was nice.
He ate some "wonderful" lamb and declared that the puddings were "a revelation".
Gaby Soutar for The Scotsman visited prolific local chef Nico Simeone's latest opening, "more of a gastropub than a boozer", with decor that's " a slightly spartan version of Tom Kitchin's Scran & Scallie".
From the small plates selection (they are big on breakfast and Sunday lunches too), Gaby had Arbroath smokie croquettes that were "gorgeous", a "hearty" fish pie that was topped with mash "fluffier than one of Queen Anne's bunnies" and other comfort food stalwarts; she was less keen on the puddings.
Gaby also recently visited the Leith spin-off of Glasgow 'healthy eating' restaurant Kcal Kitchen, where every menu option has the protein, carbohydrate and fat content listed, and is also further categorised (with pictures!) as "vegan, vegetarian, high protein, gluten free, low carb, dairy free or contains nuts. Oh, and of course, there's the calorie content".
"Food suddenly becomes a little less attractive to me, when I see the numbers laid bare and nothing left to the imagination."
And also…
Back to his four star comfort zone, Tom Parker Bowles, writing in The Mail on Sunday, was in Wembley on the recommendation of friends, enjoying Sri Lankan dishes (and Southern Indian and Hakka (Indo-Chinese) too) at Palm Beach. Amazingly for such a well-travelled individual, he's never actually been to Sri Lanka, but his friends assured him of the authenticity of the "fish curries, idli, dosa and the rest".
He enjoyed "feasting food, a cacophonous delight, the flavours big and bold, the seasoning lustily applied" – dish after dish of "comfort food with balls and bite". "I adored every bite." On his next visit he's trying the "lamb intestine curries… venison fries, and devilled… well, devilled everything". (****)
The FT's Tim Hayward reviewed Berenjak: "This took me back to the first time I ate a meze — the childish joy of conveying thrilling new things to my mouth with fat fingers and hot bread… it invites you to get mucky."
Recent News from Harden's