Our weekly round-up of what the national and local restaurant critics were writing about in the week ending 15 August 2021.
*****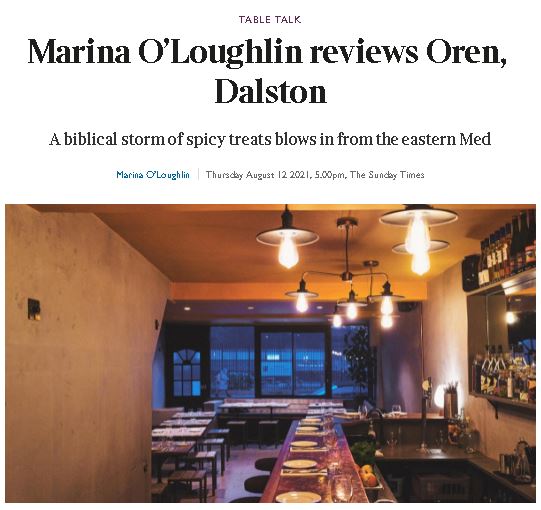 The Sunday Times
"There's something about this way of cooking that's hugely cheering, regularly delivering the sparkiest, most happy-making experiences."
Marina O'Loughlin reviewed Oren in Dalston, and had "a blast". (So did "everyone else".) It was as if the pandemic never happened – what she noticed was "not masks, not sanitisers, not the missing-teeth spaces between tables" but just people enjoying themselves.
Oren is "the creation of Israeli chef Oded Oren, his own place after the inevitable round of pop-ups and residencies" whose menu is a "siren song" to "Tel Aviv-ish cuisine, without being slavish". Of course, there's competition – "all the restaurants doing this kind of food are superb" from — Honey & Co to "the empire of godfather Yotam Ottolenghi" — but "this is no exception".
The "fierce intensity of the cooking methods, the immediacy of the presentation.. and the shimmering beauty of the ingredients" are "just exhilarating". "Middle Eastern breads deserve to have hymns and poems and odes written to them — paeans, litanies… Oren's are divine, all made on site."
It's not a place for the "punter who likes overstuffed upholstery and napkins folded into concertinas" — here, "colour and fireworks are the dishes' prerogative; otherwise, the restaurant couldn't be more frills-free", and "staff couldn't be lovelier".
"Oren is very much a neighbourhood restaurant and appears to have few ambitions beyond that of making its locals happy."
*****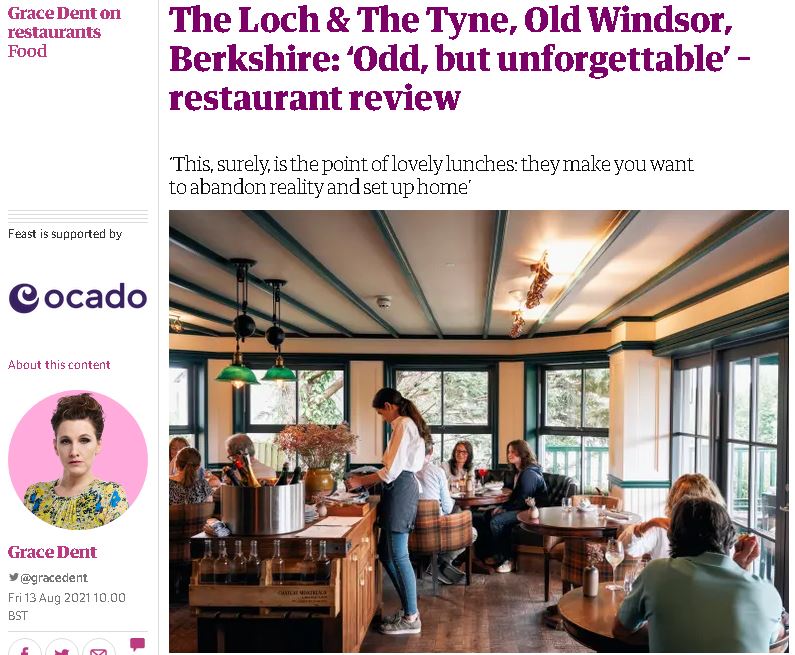 The Guardian
"Surely, is the point of lovely lunches: they make you want to abandon reality and set up home."
Grace Dent was in Old Windsor, sampling the The Loch & The Tyne, the "latest Adam Handling venture". It's a good sign when you start planning your return visit just 12 minutes after arriving.
"Handling's approach to food waste has always been delicious, luxurious and playful"; here, "we're a long way from worthy" despite the eco credentials. The Loch is a "secretly Scottish, discreetly eco-warrior, elegant but casual fine dining restaurant".
"It's a spacious, modern country pub with a large outdoor terrace, oversized parasols, tartan blankets and a beer garden with a fire pit. Indoors, it's all exposed brickwork, comfy leather chairs and mahogany tables. The whole effect is calm, elegant and slightly dreamy."
"I am more grateful than ever right now, when so much of hospitality is working poorly, when teams such as Handling's just quietly get things done."
*****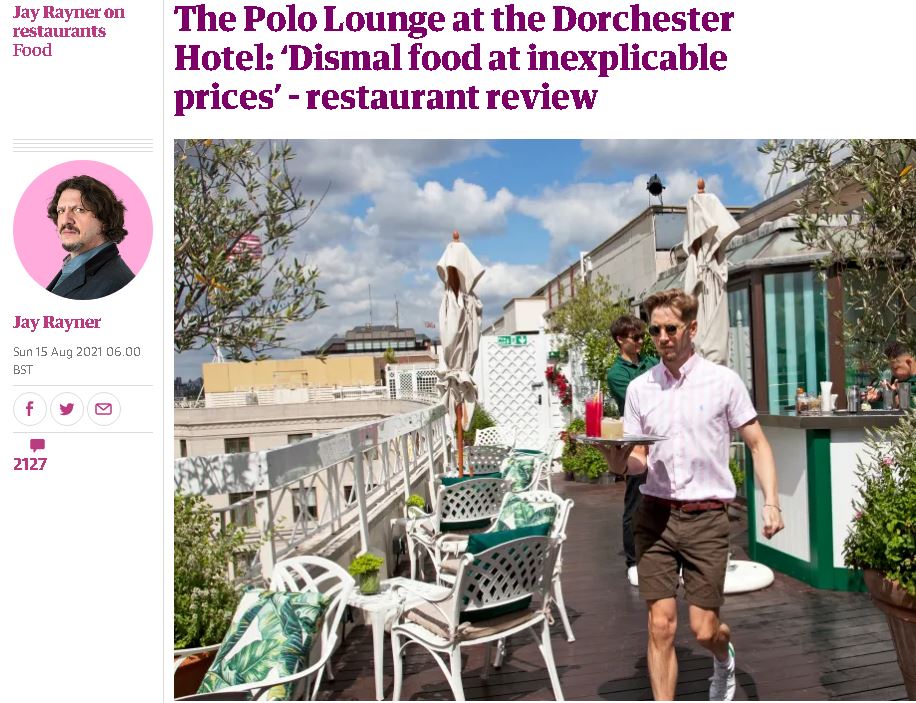 The Observer
"According to the menu these dishes are meant for sharing. I apologise to my companion for doing so."
Jay Rayner reviewed The Polo Lounge pop-up at The Dorchester Rooftop, an homage to the original Polo Lounge at LA's Beverly Hills Hotel (although the pink bougainvillaea there probably weren't plastic). The nicest thing he had to say about the place was that "on a hot London evening it's delightful to be outside, nine floors up with a view over Hyde Park". Oh, and the chilled strawberry soufflé was "a delight" and the "waiters… are all friendly, relaxed and completely on it".
To begin with, there's a minimum spend of £60 per person imposed, but that's not hard to hit when the bread basket costs £16 and the cheapest bottle of wine is £84 "for a bog-standard Bardolino rosé which generally retails for around £13.95".
Is "watching rich people pay ludicrous prices for cack-handed food that's a gross insult to good taste, manners and commercial decency" anyone's idea of a good time?
Apart from the soufflé, Jay had truly "dismal food at inexplicable prices"; "I have a bill for over £370 for a meal that included a dreadful salad, terrible crab cakes, mediocre pasta, and a grossly overpriced rosé."
"Being positive is all well and good, but that shouldn't mean absolute shockers get a free pass."
*****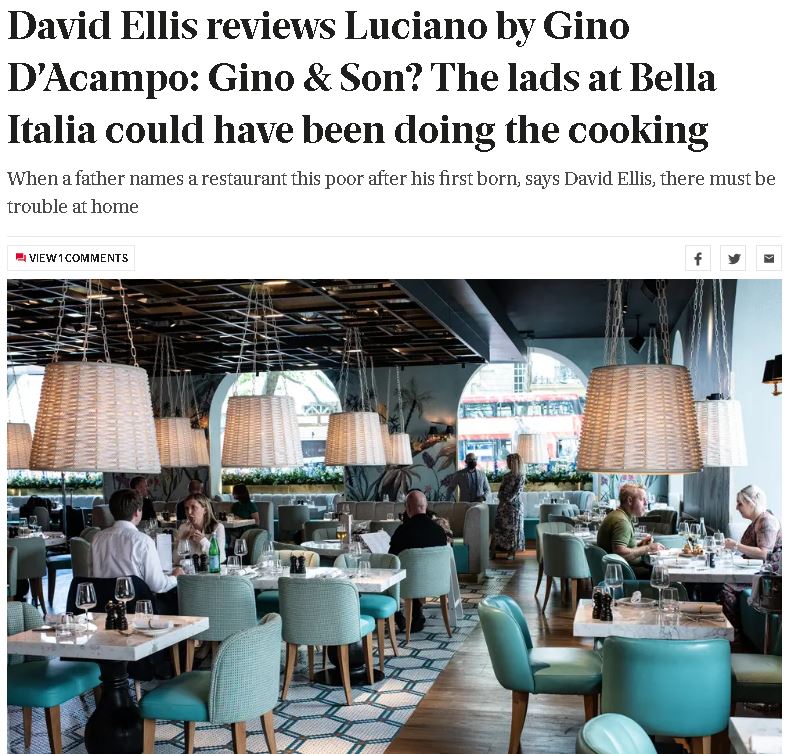 The Evening Standard
When a critic declares that the only good thing about a new restaurant is that it replaced a celebrity-backed clanger of a restaurant, you know the review is going to be a scorcher.
The restaurant in this case is Luciano, which replaced Zela (an "Ibizan outpost fusing Japanese and Mediterranean food to terrorising effect" backed by Cristiano Ronaldo, Enrique Iglesias, Rafael Nadal and co); the new spot in ME London on The Strand is also celebrity-backed, with Gino D'Acampo and son at the helm.
The critic is David Ellis in The Reveller, who postulates that there must be trouble in the family for a restaurant (named after Gino's son) to go this badly wrong: "things seem to have broken down around the point that someone insisted on a cocktail with actual chunks of pepperoni in it".
"At a time when so many restaurants struggle to open for more than a handful of days each week, D'Acampo's got this place firing up for lunch and supper Monday through Sunday, indicating either enormous public demand, tons of backing money, or both."
The menu offers an "enormous range of straightforward Italian fare. Honestly, it's endless", although "much of what we ate seemed to strangely taste exactly alike". ("If I'd been told the lads down the road in Bella Italia had cooked it, I wouldn't have raised an eyebrow.")
The final insult was the bill: the "damage was £200; just £28 was wine (not a bottle, mind, a 500ml carafe)".
*****
Also in The Standard, an article on the "grand re-opening" of Langan's Brasserie, planned for October, and the announcement of three new projects from MJMK restaurants, including another from Nuno Mendes.
*****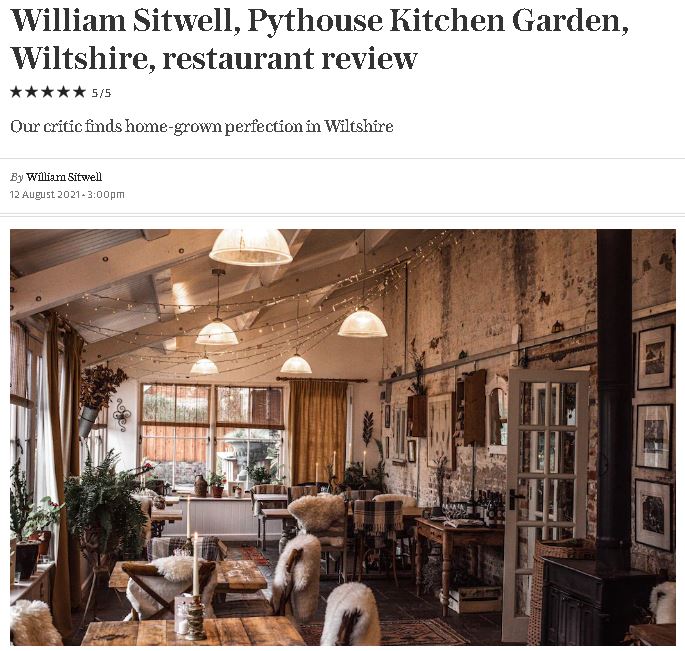 The Telegraph
William Sitwell delivered his second five-star score in a month to the "incredibly splendid" Pythouse Kitchen Garden, in deepest Wiltshire. (Keen ROTR readers will recall that Giles Coren also gave it full marks a month ago.)
"What was once a series of greenhouses, potting sheds and outhouses is now a restaurant, small shop, and cuttings, herb and vegetable garden."
Ingredients on the menu ("compulsory starters and veg; you just choose your dish 'from the fire' and a pud") are "all sublimely natural, skilfully cooked and presented with a deft artistic bent".
"Pythouse Kitchen Garden is a bucolic English paradise deserving of global fame." (*****)
*****
Also in The Telegraph, an article from Mark Hix, who claims that "staff shortages are a real problem – and I can't see things getting better when furlough ends". He's "hoping things will look up, but I'm not wholly convinced".
*****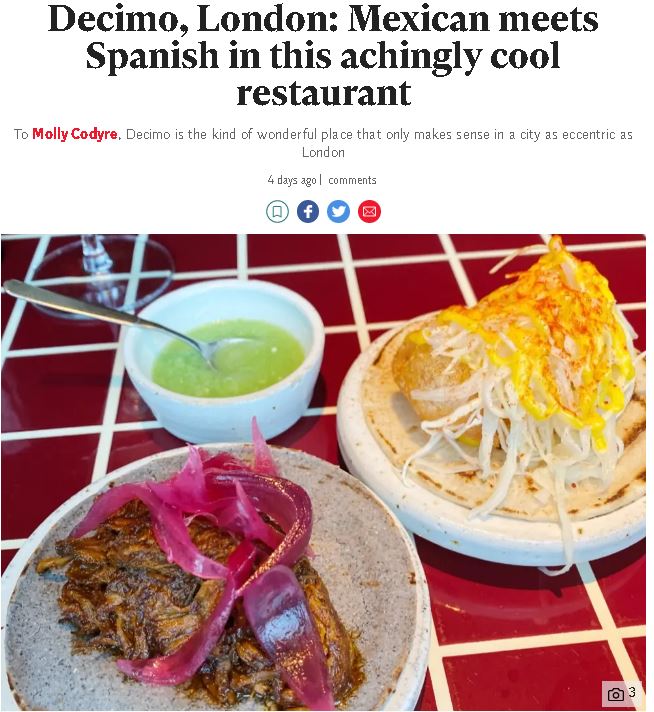 The Independent
"As someone fairly fresh in the business of critiquing restaurants, it feels audacious to tear a restaurant down."
Molly Codrye visited Decimo, which "possesses two things that always make me hesitant about a restaurant, the two h's: height and hotel". (We couldn't agree more that "restaurants more than two floors above ground level tend to sack off the food, instead choosing to capitalise off grand views".)
"Decimo, however, has forced me to eat my words, it is now likely to join the ranks of restaurants I offer glowing praise."
You arrive at Decimo "at speed" thanks to the "cherry-red, pill-shaped lift attached to the building's exterior"; the interiores are equally "otherworldly and achingly cool, elevated further by the almost impossibly lithe and good looking staff".
Yet, "despite being surrounded by beautiful people, in an impossibly beautiful space, Decimo fails to be pretentious or terribly exclusive. It was simply – whisper it – fun." With a live band on the day she visited, too.
The food on the "Mexican-meets-Spanish menu" is "actually good", and even though a "visit to Decimo will leave your wallet decidedly lighter", the "people watching provided enough entertainment to last hours".
*****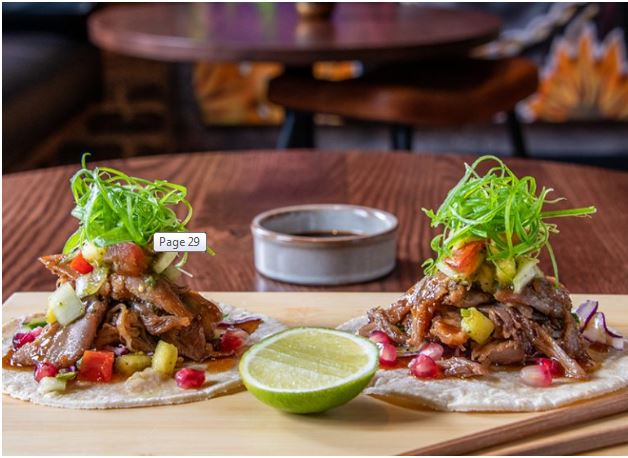 The Mail on Sunday
"Dear god, what fresh hell is this? As if we haven't all suffered enough."
In his regular column alongside Olly Smith on wine, Tom Parker Bowles reviewed Los Mochis, the new Mexican-Japanese fusion mashing "two of the world's most thrilling cuisines" into what he presumed would be "one half-witted, leaden-palated, presumably Instagram-able mess".
So off he trotted to Notting Hill, "pen sharpened, delicate culinary sensibilities primed to be oh-so offended", expecting to be served "birria ramen or natto-stuffed chillies", but after a "decent margarita" and enjoying the restaurant's "blissfully happy hubbub", things were not as he assumed.
"The food is far better than expected." After all, haven't Peruvian and Japanese food been beautifully melded together, as Nikkei cuisine, for decades?"
The menu is "firmly divided into sashimi, tacos, ceviches and maki rolls"; the "fish quality is excellent" and the "tortillas and salsas are made fresh, always the sign of a place that takes tacos seriously".
"If it's good tacos and sashimi, cracking cocktails and a merry night out, you're very much in luck. Los Mochis is a blast."
*****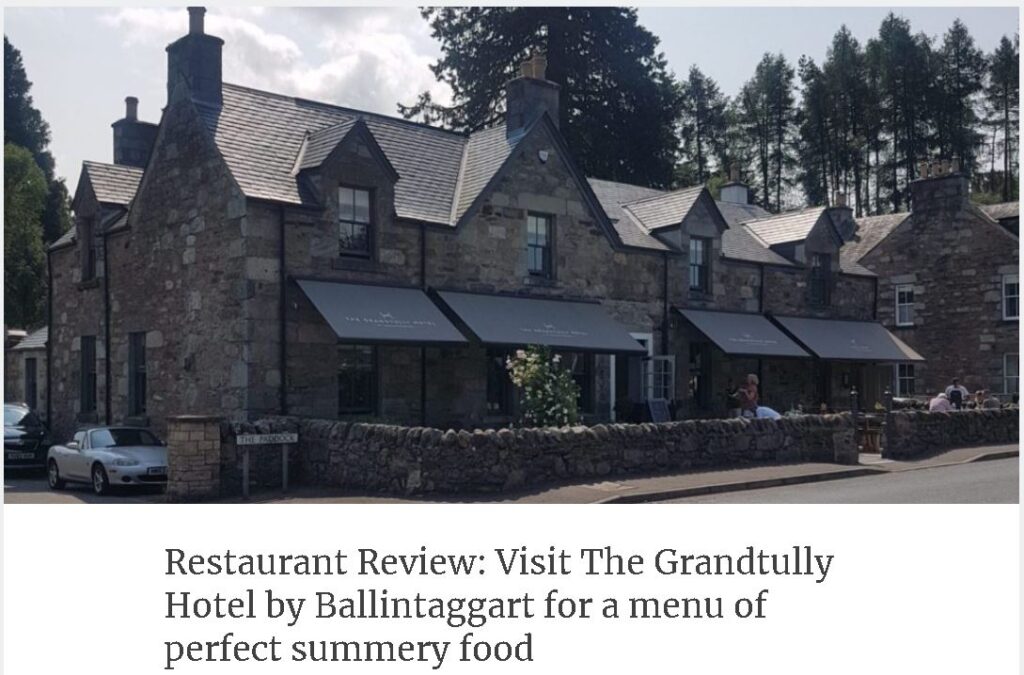 The Scotsman
Gaby Soutar reviewed The Grandtully Hotel by Ballintaggart, which opened at the end of 2018, a "second business for Chris and Rachel Rowley, who own another restaurant with rooms, five-year-old Ballintaggart Farm". It's "upmarket, but the vibe is informal" and cleverly attracts "an equal mix of tourists and locals".
"There's a good balance of dishes here", with "spectacular" starters; "simple ingredients" are "primped to glorious sunshiney perfection".
"I wished we were staying over, so we could be carried upstairs for a lie down." (18/20)
*****
Also in The Scotsman, Catriona Thomson visited Dolly's Tea Room in Roslin; it's named after the cloned sheep and serves up a simple menu of breakfasts, lunches, "creatively decorated" milkshakes and cakes; a "lovely local business" that "also supports the community employing local youngsters". (7/10)
And also…
In the Birmingham Mail, a review of Japanese newcomer Edo (Redditch's first Japanese restaurant), which serves up "dancing food": the "quality of food and expertise behind its preparation means it is serving up delicious, authentic dishes" (****).
*****
Recent News from Harden's