Here's our regular summary of what the national and local restaurant critics have been writing about in the week ending 15 May 2022.
*****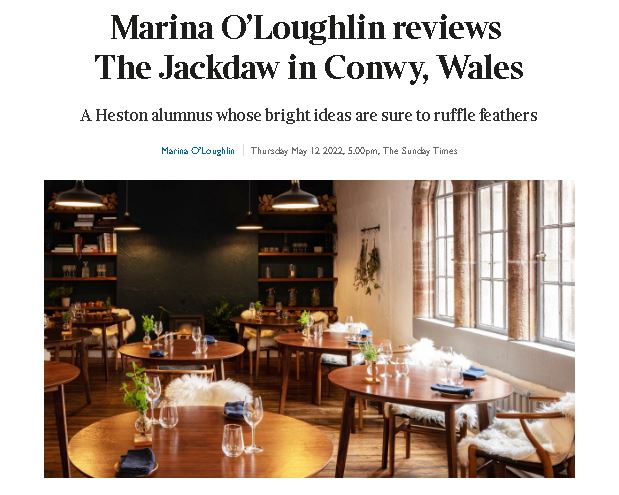 The Sunday Times
Marina O'Loughlin travelled miles for hours by overcrowded train to reach her review destination this week, and was racked with doubt the whole way. The restaurant's location (a "small room in a curiously gothic building that was formerly Conwy's cinema and bingo hall") and a few gripes online made her question her choice even further.
The Jackdaw's "chef-owner Nick Rudge spent seven years working in the Heston Blumenthal empire", which was her main reason for the schlep; when she arrived in the room itself, it was a "scene of buzz and busyness, full and welcoming" and the food "elicits a great sigh of relief".
Local ingredients make up dishes full of flourishes – not everything works, but she was "mollified by a riot of Welsh cheeses". "There's no doubt that Rudge can cook. If he concentrated more on showcasing the innate quality of the spectacular Welsh produce he's using and less on the likes of Great British Menu, he'd be unstoppable." Front of house Gareth is worth his weight in bara brith, for his knowledge of the foodie hits of Conwy.
"Was it worth the trip? Unequivocally yes."
*****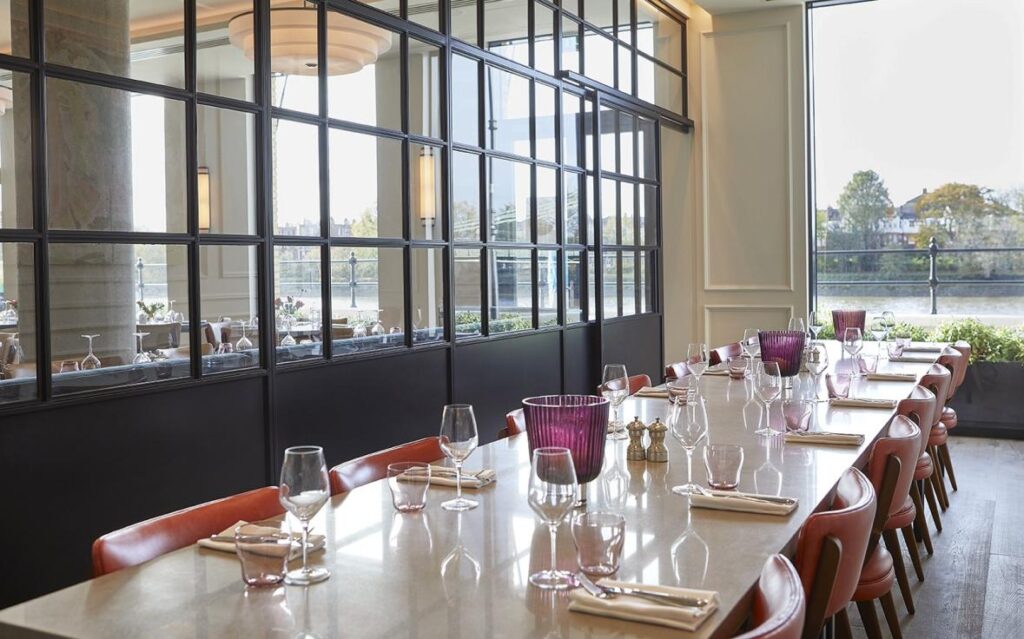 The Times
Giles Coren's first meal post-lockdown in 2021 was a blow-out summer extravaganza at The River Café; to celebrate a year on he and his friend tried out Sam's Riverside to get the same "river and sky and fresh fish and good wine" effect at a cheaper price. It "opened in late 2019, barely three streets from the RC, and then got interrupted by You Know What".
"It's a lovely big, open, modern space here, part of the Riverside Studios set-up"; from your table at Sam's, "you can actually see the river… which you can't at the other place, which I'm not knocking. And it is very life-affirming and wondrous to see."
Giles enjoyed the "light and air and Crittall windows and marble-topped tables, extensive cocktail list and boutique wine selection" as well as the fresh fish, seafood and especially the parmesan churros ("like fresh, hot, pencil-length Wotsits"), with a cocktail instead of pudding and a stop at a riverside pub on the way home. (24/30)
*****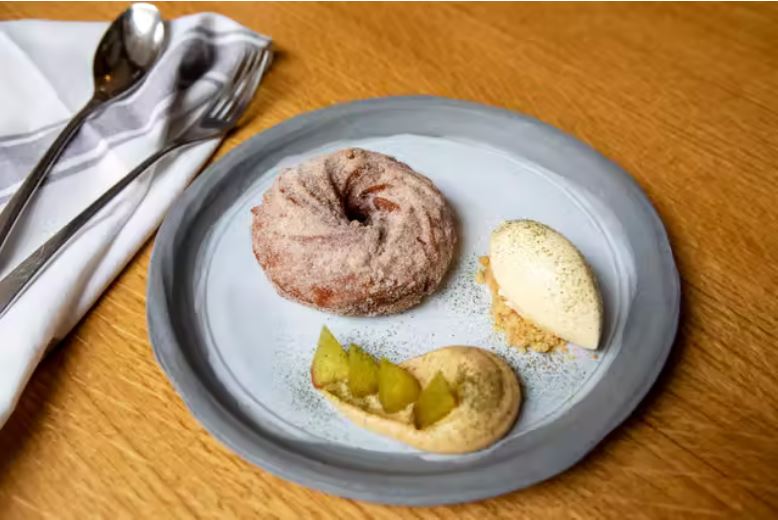 The Evening Standard
"A laudable endeavour run with thoughtful confidence and charm".
Jimi Famurewa tried out Apricity, the "new sustainability-focused spot in Mayfair from ex-Treadwells chef patron Chantelle Nicholson", which is "challenging all manner of outmoded industry norms" – for example, diners must leave by 11pm so that staff can "finish before midnight and can safely take public transport home".
Jimi and his cousin tried the five-course taster menu; many of the "heavily plant-based dishes conceived by Nicholson and head chef Eve Seemann are gorgeously rendered" but "can feel a little like being made to eat your vegetables" and "left me feeling measured admiration rather than unbridled joy" ( a common issue with restaurants with a near-evangelical focus on sustainability).
The "absolutely outrageous, showstopper desserts" – including the signature Chouxnut (pictured) – pulled the main to an impressive finish, "primarily because they feel unrestrained, distinctive and indulgent".
"In trying to do something trailblazing — in employing everything from a QR code menu to staff uniforms spun from recycled bottles — Apricity can occasionally feel like it loses sight of fun and basic diner enjoyment."
Also in the Standard, a round-up of London's best-value tasting menus; "the restaurants serving tiny plates with huge flavour (and that won't leave you feeling fleeced)".
There was also news of a central London sibling for Queen's Park's "Australian all-day dining and drinking spot" Milk Beach; it "will be the first restaurant to open inside W1's new Ilona Rose House building".
*****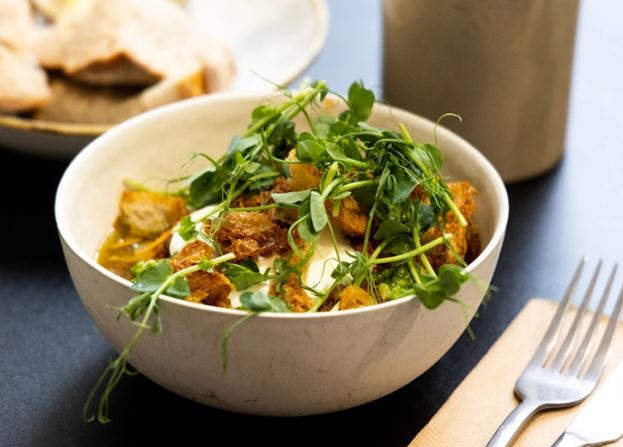 The Mail on Sunday
Tom Parker Bowles for YOU Magazine was in the Cairngorms, and stopped off at Tàrmachan Cafe, "a sleek, single-storey wooden building designed by architects who have the office next door".
Inside, the design is equally sleek, with "discreetly blonde wooden tables", a "gleaming concrete floor and pristine white walls".
You can take away the "excellent Williams & Johnson coffee… serious homemade cakes" and "small, handheld and heavenly" locally made pies, but Tom recommends that you sit in, for the "daily stew and soup, chalked up on the blackboard" or a sourdough toastie with "molten rivers of Connage Highland, which ooze from thin, crisp, burnished crusts".
"Food to match the glorious Highland setting. If only all cafes were this good."
*****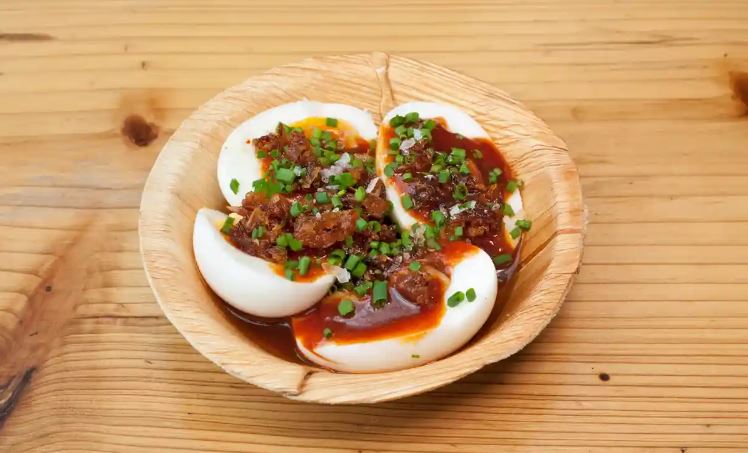 The Observer
Jay Rayner had a "really engaging dinner" at Acme Fire Cult ("take the bombast of the name… with a pinch of quality, artisanal sea salt"), where Andrew Clarke and Daniel Watkins are furthering an "interesting development in the live-fire cookery movement".
The only kitchen the wood-grill outside; it's "a collaboration with 40ft Brewery with whom they share a space", and next door to Dusty Knuckle Bakery, and there's lots of interplay between the three companies.
"Live fire cookery has associations with hunks of meat" but here at Acme, the menu is "thrillingly, impressively vegetable led, part of a self-declared determination to get away from the whole "dude food" culture around fire and smoke".
*****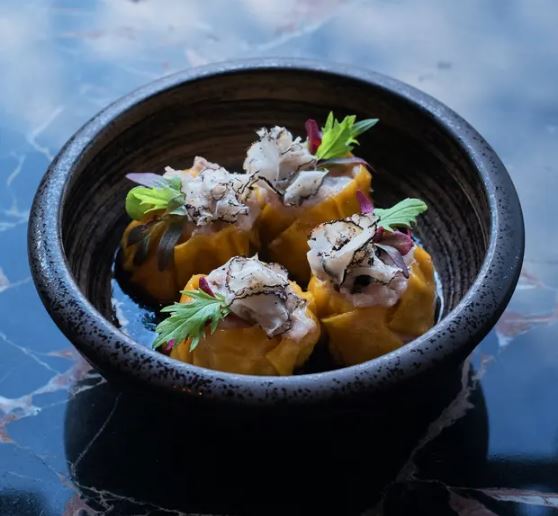 The Guardian
"A lavish, fake blossom-strewn, luxury amusement park ride imagining of…
a traditional Chinese courtyard house."
Grace Dent went to the latest branch of Tattu, in the "all-new, space-age Outernet building" by Tottenham Court Road.
"Tattu, much like Outernet itself, is big and bolshie in every sense. It is less of a restaurant and more of an Instagram content fulfilment hub with added £9 broccoli and £36.50 char siu monkfish."
If you're looking for good-value, tasty Chinese food, "there are a hundred small Chinese places less than a mile down the road in, ahem, Chinatown that serve far more delicious food for a fraction of the price".
Staff were unhelpful, the "cost is vastly offputting" and the food did not live up to its price tag.
"Tattu as a restaurant and a bill will live on in my mind for ever. The memory is indelible."
*****
The Scotsman
Rosalind Erskine was at The Drouthy Cobbler in Elgin, "a picturesque town less than an hour from Inverness". It closed in the first lockdown, and re-opened "with new owners, staff and a fresh new look" in May 2021.
"Located just off the high street, down a cobbled lane lit by festoon lights, the Drouthy has a welcoming feel even before you've stepped through the dark red doors."
Drouthy diners can expect a menu showcasing local produce, "a compact range of seasonal fayre" with daily specials and "a decent selection for veggies". Pre- and post-dinner cocktails were recommended too.
*****
And also…
"Oh so worth the kcals." In The FT Magazine, Tim Hayward revisited Theo Randall at the InterContinental: "It shouldn't be a shock that an important chef still loves to cook, but it's pretty humbling to see".
*****
Koffmann & Vines reviewed Le Colombier, "a little corner of France in London" for almost 25 years.
"France has changed. Le Colombier hasn't." It has been "absolutely consistent, with the kind of food, service and ambience that you used to be able to find in towns and cities across France and now must search out".
"Le Colombier is the place where we most often return. It's France on a plate."
*****
Reviewers at Manchester Evening News gamely ate at every food outlet in the newly refurbished terminal 2 at Manchester airport: "it's a mixed bag".
*****