Here's our regular summary of what the national and local restaurant critics have been writing about in the week ending 15 November 2021.
Now we are nearing the end of the year, who's going to be the first critic to publish their "best meals of 2021"?
*****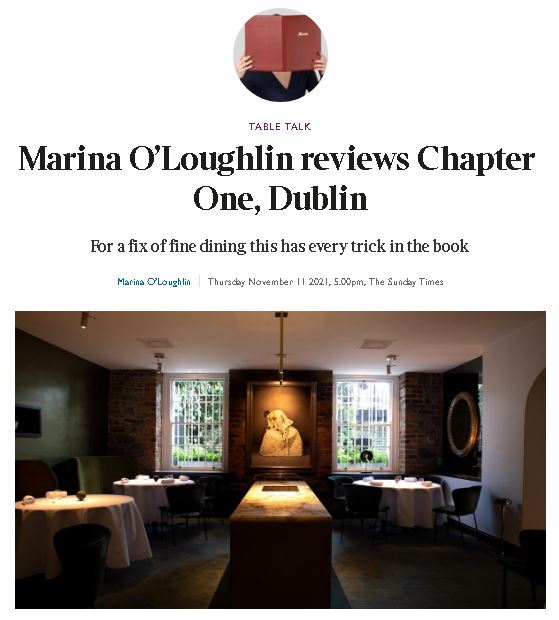 The Sunday Times
Is fine-dining dead? Marina O'Loughlin travelled to "longstanding Dublin swankpot" Chapter One in Dublin to debate. Ex-Greenhouse chef Mickael Viljanen has recently over taken there, and it seemed an ideal opportunity.
Every single course of the tasting menu was "dazzling" – "there's a scallop dish that, no hyperbole, leaves me breathless".
"Nordic cheffy obsessions" are teamed with "Irish generosity", an "almost retro adherence to classic technique and fondness for dairy" and served by unstuffy yet besuited staff. "The whole performance is carried out with that lightness of touch — the jolliest fine dining restaurant."
It's "decadent" and "blowout expensive" ("still a fraction of the price of that funny wee man and his silly, clickbaity, gold-plated steaks", though) but the "sheer life-affirming joy of the finest produce and a chef at the peak of his power" are worth it.
"Chapter One has reignited my love for the whole intricate, maddening haute cuisine shebang, for the bonkers creativity that exists only at these levels."
*****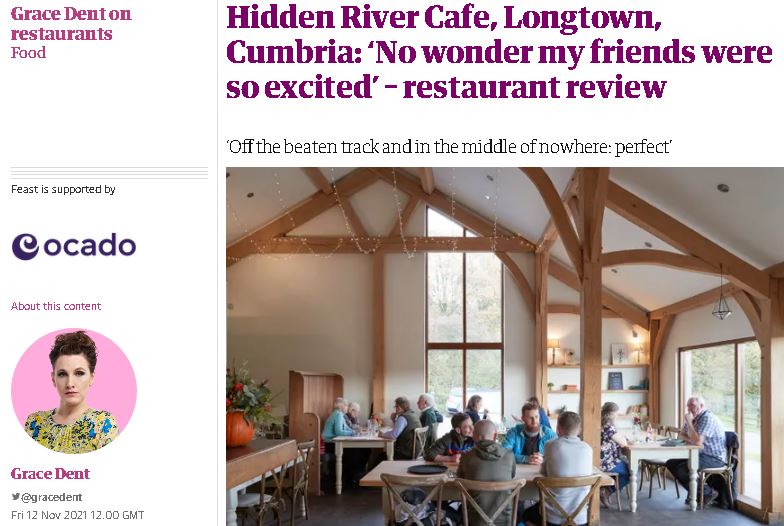 The Guardian
Grace Dent was in her family stamping ground in Cumbria, visiting a "pretty little cabin cafe" that's part of a holiday complex that's "the rather ingenious work of dairy farmer Rob Carr and his wife Rachel, alongside local chef Thomas Towle".
Hidden River Cafe (named after the River Lyne, which Grace had never heard of, despite growing up nearby) has an "ever-changing, hearty, imaginative and surprisingly global" menu, with breakfast and Sunday lunches.
After getting lost several times, she felt "sceptical that there really is Persian hummus with chimichurri sauce and tempura Tenderstem broccoli with a hoisin dip close by" but they found it and she was duly rewarded with "the joys of an enormous vegetarian fry-up" for her birthday breakfast.
*****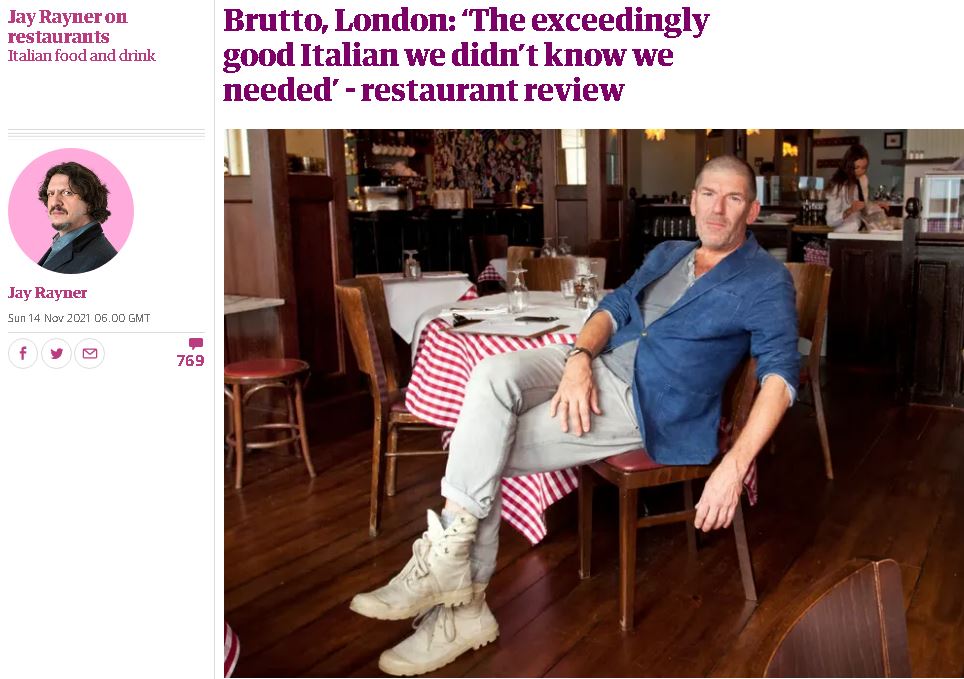 The Observer
Jay Rayner went to Brutto, Russell Norman's "new take on the Florentine trattoria", which – as with Norman's other projects – has been painstakingly researched to be as authentic as possible.
"London has an enormous store of exceedingly good Italian restaurants. Brutto is the new one we didn't quite know we needed."
Jay also took a trip to Joe Allen, "the Theatreland stalwart just off London's Strand which has finally reopened since it shut up shop with everything else in March 2020″, where new owners have " have made some changes", including turning the front into a bar that is Jay's "new favourite drinking den". A busy man these days, Russell Norman, who "started his restaurant career at the original Joe's around the corner in the 90s, is in charge of the offering".
*****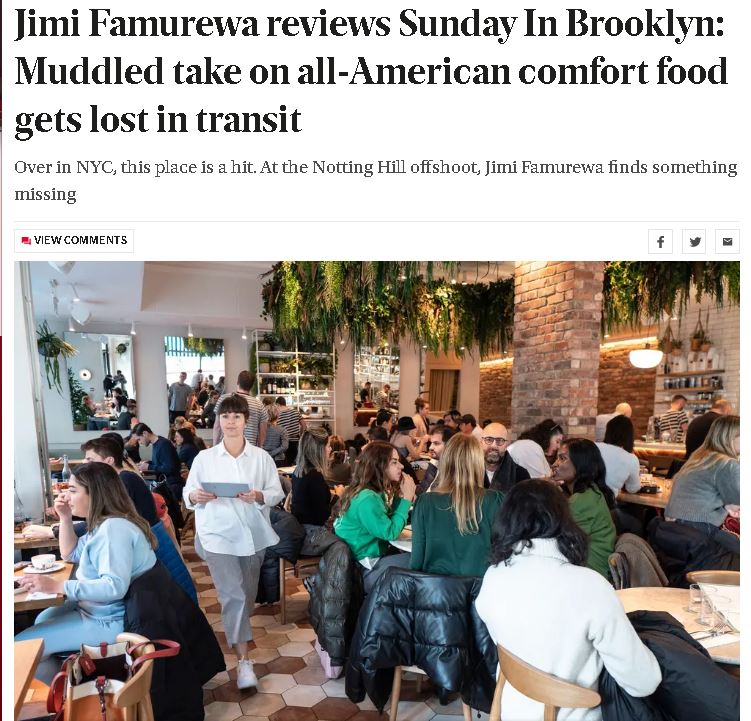 The Evening Standard
At Sunday in Brooklyn – "a newish Notting Hill offshoot of a hugely popular, Williamsburg-born brunch spot" Jimi Famurewa identified the "pivotal, heart-sinking point of no return" when he saw his dish of biscuits and gravy approaching from across the room; "a lumpen heap of Depression-era, grey slurry". They tasted as bad as they looked, just one of many "almost-there-but-not-quite results".
Despite the place being "practically full and vibing along to a sound system blasting golden age, late-Nineties R&B" on his visit, Jimi's overall "impression was of an underprepared, overstretched team trying to render a canon of all-American comfort food that they had no connection to or feel for".
Also in The Standard, David Ellis reviewed The Great Feast, a globally diverse extravaganza which has popped up at the Old Selfridges Hotel until the week before Christmas; organiser Ravinder Bhogal calls it "the United Nations of food".
Another article featured the new delivery-only chicken wing chain Another Wing launched "simultaneously across three continents" by DJ Khaled and Reef Technology which "operates over 5,000 spaces around Europe and the US".
*****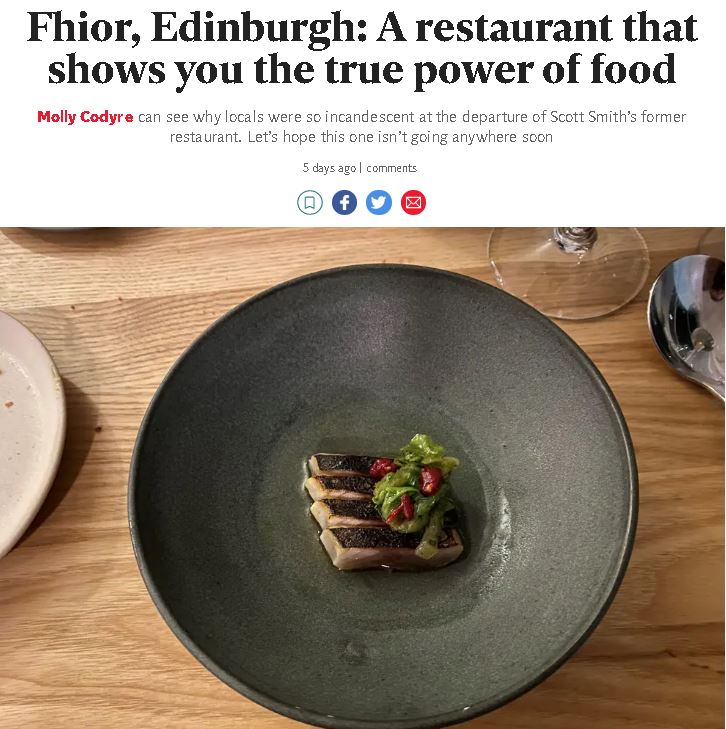 The Independent
"Every now and again you leave somewhere invigorated and incandescently joyous. Such is the power of food and a meal to dictate your mood."
In an "evening rife with compelling food", Molly Codyre reviewed Fhior in Edinburgh, the new place from Scott Smith and his wife – they used to run Norn together – and she believes it "might just be one of the country's best restaurants".
"Enthusiastic and wonderfully friendly wait staff" shared their knowledge on the tasting mensu and the "noteworthy" wine pairings, but "it is ultimately the food that will draw you in at Fhior".
"I can now see why locals were so incandescent at the departure of Smith's former restaurant. I only hope this one isn't going anywhere soon."
*****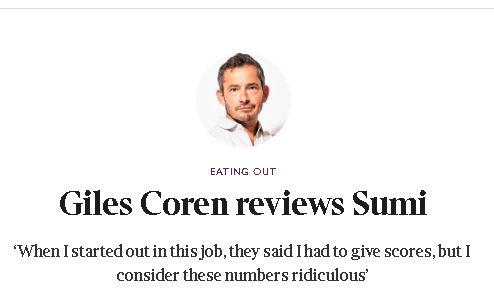 The Times
When Giles Coren went to Sumi, all he could remember was the "perfect", 10/10 meal he ate at Endo Kazutoshi's first London restaurant, Endo at The Rotunda.
Apparently it's hard to decide where to sit in a slightly cramped restaurant when you've eaten at a hand-planed slice of tree "from the cypress forests of Avalon".
He did concede that all the food was "very good", but was ultimately "disappointed" by small lapses in service and style. All rather unfair on Sumi, really; not everywhere can be the Rotunda.
*****
The Mail on Sunday
In YOU Magazine, Tom Parker Bowles reviewed Rostick in Eastbourne. It's a "small, family-owned place where nothing is too much trouble, and everything is done with a grin"; and also made Tom realise that "décor can be deceiving"; "Rostick is one of those rare places that manages to combine the old school with the resolutely regional".
"Glorious Italian-American excess" – with the advantage of a local, "spanking fresh turbot" that was cooked so well, Tom declared it was "up there with Scott's, Wiltons or Bentley's".
And also…
The Financial Times reviewed MiMi Mei Fair in Mayfair and declared it "all sizzle, no steak"; "it takes work to reduce top-level ingredients to the sort of canapé offered at an underfunded book launch".
*****
In The Scotsman, a visit to the relocated vegetarian institution Hendersons, now in Bruntsfield; "it seems to suit being a neighbourhood restaurant more than a city centre one. I'm glad they're back".
Also in The Scotsman, a review of Luckenbooths, new to Edinburgh's High Street.
*****
The Manchester Evening News reviewed the pink palace of Boujee, a "Barbie Dream House brought to life" which is "Marmite in restaurant form… even if this is your sort of thing, you deserve better".
*****
Recent News from Harden's