Here is our weekly round-up of what the national and local restaurant critics were writing about in the week ending 13 March 2022.
*****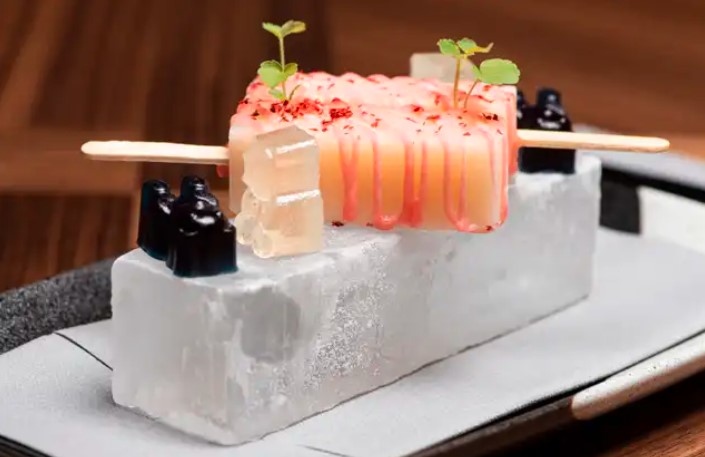 The Evening Standard
Jimi Famurewa didn't hold out much hope for his review of Boiler & Co, "a new all-day bar and kitchen from Anguilla-born chef Kerth Gumbs, set in the base of a Bankside office complex amid Prets, Leons and Itsus".
"I couldn't have been more wrong."
Boiler & Co "offers some of the most astonishingly clean, complex and enrapturing flavours I've experienced in a long time… Gumbs bends the tasting menu concept to his will, remoulding it as an informal, communal dinner party which celebrates and elevates lesser-known eastern Caribbean cuisine on its own terms"
"Dumbfoundingly good… everything had the sumptuousness and laser-honed precision of top end fine dining."
"The world's political weather is grimmer than ever. But, thanks to Kerth Gumbs, it is always sunny in Bankside."
*****
Also in The Standard, news that Honey & Co, which closed recently after their Warren Street premises were sold, is to re-open in Lamb's Conduit Street next to Noble Rot.
*****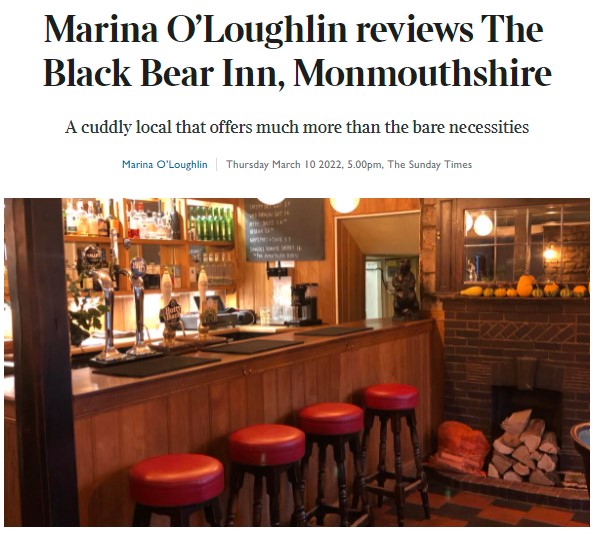 The Sunday Times
"I often look at lists of the world's best restaurants and think, nah —I won't pine if I never get there. But the recent Top 50 Gastropubs had me poring over train schedules in greedy anticipation."
Marina O'Loughlin was lured to the Black Bear Inn in Usk by the "promise of locally sourced produce, in-house butchery of rare breeds, homemade bread, artisan beers, open fires and the rest of the nouveau boozer checklist" – and also their recent removal of Sunday roasts from the menu. Instead, they just serve the same "well-cooked, well-presented, beautiful produce" that's on the menu all week.
It's "a brave move". Even city pubs "are clinging to the Sunday tradition for fear of outbreaks of reactionary grumpiness", but "in the sort of rural location where tradition is sacrosanct, it's positively Braveheartian". There's been some angry feedback online.
A snack menu offers "drinking food, but elevated" and there's a "sense of a kitchen where little is wasted".
"This Bear is a cuddly teddy, an unfussy pair of little rooms, a laid-back welcome, the sort of place where you can still have a pint and a Welsh rarebit but also a glass of Galician palomino-godello."
*****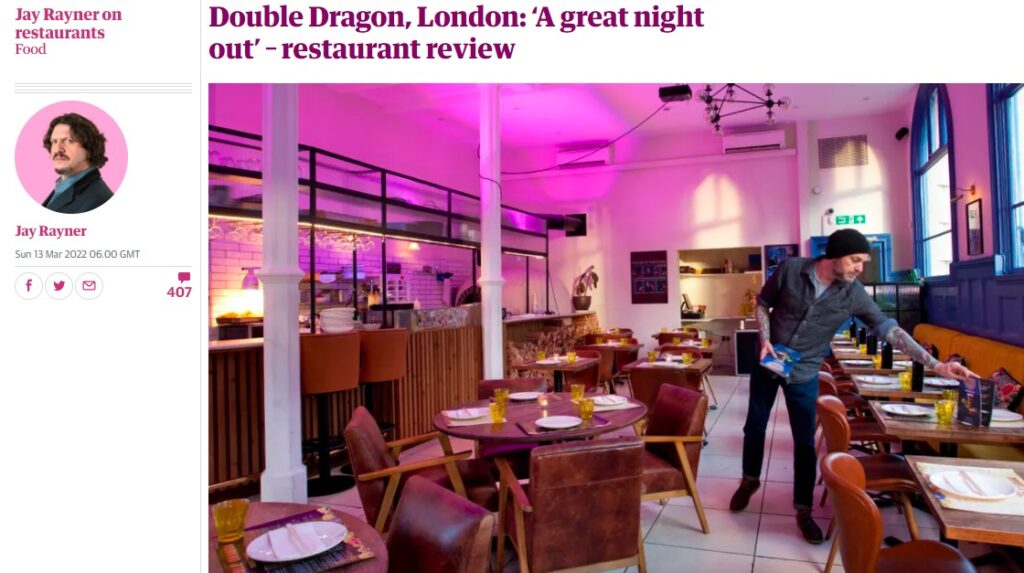 The Observer
"Not every restaurant has to be classy. Sometimes it can just be a great night out."
Jay Rayner reviewed Double Dragon in Clerkenwell, near the former Guardian offices, on a site that has seen "a series of pizzerias in recent years [most recently Firebrand] and before that was a Chez Gérard, which served me very serviceable steak frites".
"Long before that it was, like so many of London's great dining rooms, a bank; their underlying architecture suits the modern business of tables, chairs and food."
Double Dragon ("don't investigate the term on urbandictionary.com, unless you have a strong constitution") is an izakaya-style "extended pop-up that might well become permanent" from Australian and ex-Nobu head chef Scott Hallsworth. Whose most recent venture was the "raucous… Asian-inspired, miso-slicked, ponzu-dribbled crowd-pleasing… Kurobuta".
Jay found Kurobuta "expensive" but "this iteration is much better value" with "a pleasing restlessness to it" – there's also an "echo of his Nobu days, but at a fraction of the price". It's also "an awful lot of fun".
*****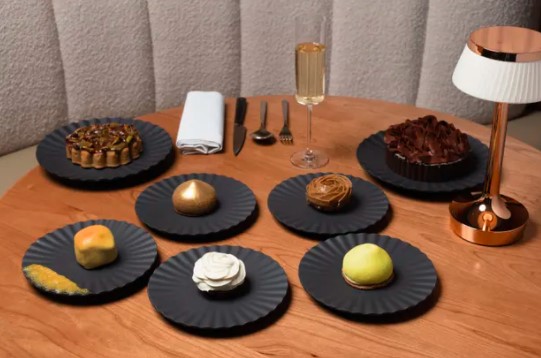 The Guardian
Grace Dent was at The Berkeley, reviewing the new "sort-of cafe, sort-of cake laboratory" from Cedric Grolet "one of the greatest patissiers currently walking the Earth", famous for his trompe-l'oeil artistry.
"It takes a considerable amount of French swagger to turn up in London and rebrand afternoon tea, but if anyone can do it," Grolet is a contender. His "gouter" bridges "the gap between a fine lunch and a proper dinner with a series of small, yet meaningful sweet tastes".
The experience left Grace so "giddy on praline and huile vanilla" that she was utterly convinced "that £90 is a perfectly reasonable price for five small tarts and a glass of Laurent-Perrier"
*****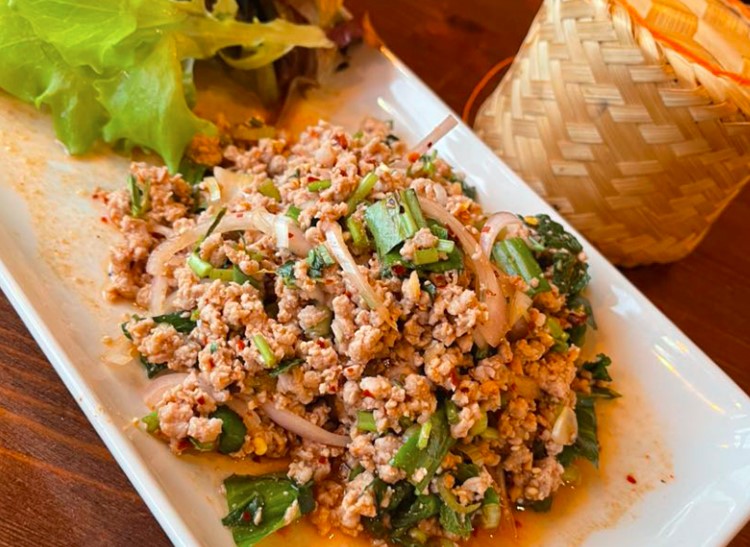 The Mail on Sunday
Tom Parker Bowles for YOU Magazine went to Khun Pakin Thai, "a small and unassuming Thai concession" at the purple-tiled Salutation pub in Hammersmith.
Khun Pakin "was recommended by the lovely people at Jin Da, just around the corner. Skip past the standard menu, they said, and get stuck into 'Esarn Thai Originals'. Wise advice, and there's so much more to try". Just don't ask for "Thai heat" – "within seconds, speaking becomes impossible, my tongue transformed into a useless lump of gristle. My vision blurs and head turns giddy, as lights become more vivid, sounds more acute. Even thinking hurts".
Despite the pain, his som tum was "sensationally good".
*****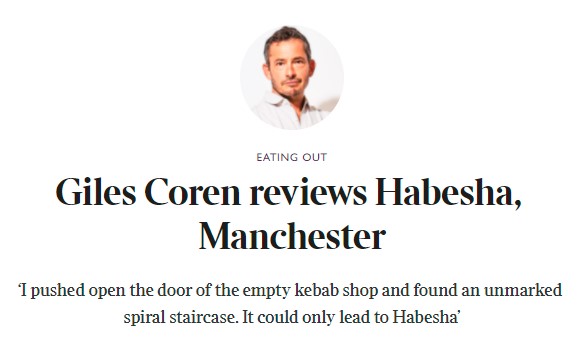 The Times
While Giles Coren was in Manchester, he paid a visit to Habesha, "Manchester's first and for a long time only Ethiopian restaurant". An Eritrean friend had recommended it for the injera, the "the flat, cold, sour bread" served with the cuisine's stews and stir-fries as a "massive wheaten plate".
It's a "large, bright L-shaped dining room" located "above a kebab shop on a long, narrow, cobbled road parallel to Canal Street", that wasn't busy; it sells 300 injera a day "to locals from all over east Africa".
Even better, you "can eat for a tenner with very little trouble". (23/30)
*****
And also…
In the Financial Times, a review of José Pizarro at the Royal Academy, where "suddenly nothing else matters". Is this the ultimate compliment?: "Pizarro's tapas are so good I'd eat them with relish after they'd been run over by a Routemaster".
*****
In The Scotsman, Gaby Soutar and her young nephew and niece visited Pho in Edinburgh's St James Quarter development; the family-"friendly chain restaurant" now has 34 branches throughout the UK. The namesake dish is "clearly the best thing" on the menu: the "coppery soup is fragrant, garlicky, and light", and the kids menu is "great", too.
*****
Koffman & Vines paid a visit to The Ninth, the from "accomplished chef" Jun Tanaka whose "food reflects the quality of his training" but here "you are buying into his years of experience without paying too high a price".
"It's a neighbourhood restaurant serving modern, Mediterranean dishes that are attractive and enjoyable without being fussy or depending on luxury ingredients."
*****
Birmingham Live reviewed the new cheese restaurant in Molesey, Melt, where they ate toasties and fondue and drank local beers.
*****
Bristol Live reviewed "brilliant" Box-E at Cargo, after it was awarded "the prize of 'best restaurant of the year outside London' in Food and Travel magazine's reader awards". It's "a modest little restaurant with a growing reputation for its food" that "shows big-hearted generosity in all its forms".
*****