Harden's weekly update of where the critics are eating, recommending and avoiding, for the week ending 12 January 2020.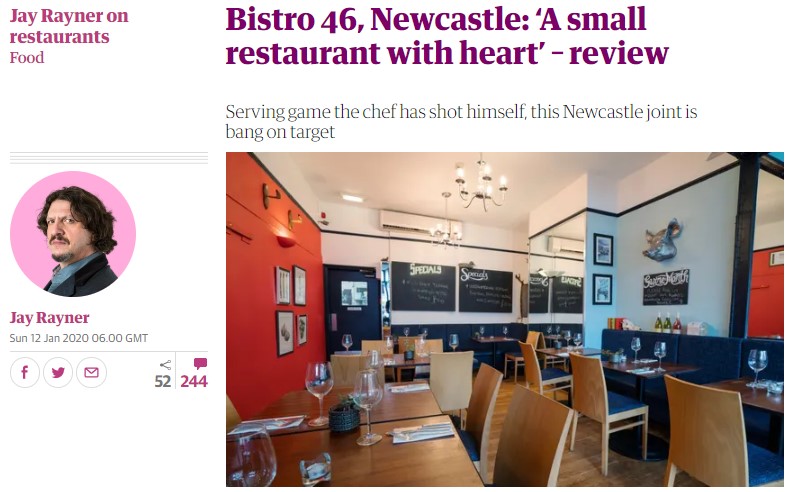 "It took me a while to get to Bistro 46, but I'm very pleased I made it."
The Observer's Jay Rayner was still in the North, and dropped into Newcastle to review a restaurant from chef Max Gott, who's been regularly emailing Jay about "his compact bistro on a suburban shopping parade" over the past few years.
Gott claims to be doing something a bit different, "serving game he'd shot himself on the hills of Northumberland without banging on about it on the menu, in case that made those people who don't like to be reminded that meat comes from living things, all frothy and uncomfortable". He also forages.
Jay confirmed that Gott's restaurant genuinely is that little bit different, for the UK anyway; "Italy, Spain and France are full of restaurants like this, cheerily throwing on to the table whatever used to wander about outside; the UK, not so much".
He ate pheasant bonbons ("spiced and seasoned balls of minced loveliness", deep fried), a pheasant Scotch egg (with the "yolk at that perfect place between set and running"), honey-glazed short-rib with artichoke, "deep, rosy slices" of venison with "impeccable mash" and partridge with chorizo. "Desserts are a friendly bayonet pointed at the chest, demanding cheery surrender. If you wanted something light and refreshing, you're in the wrong room."
"Gott has a way with pheasant. He manages to make it taste of something. Too many cooks don't."
"Nothing goes to waste." There's cider and apple crumble made from locally scrumped apples, and carving knives with antler handles from a shooting expedition.
"This is a small restaurant with heart. It's run by a group of enthusiasts who are determined to win over their customers by knocking out plate after plate of the things they love. It's both utterly mad and completely delightful."
---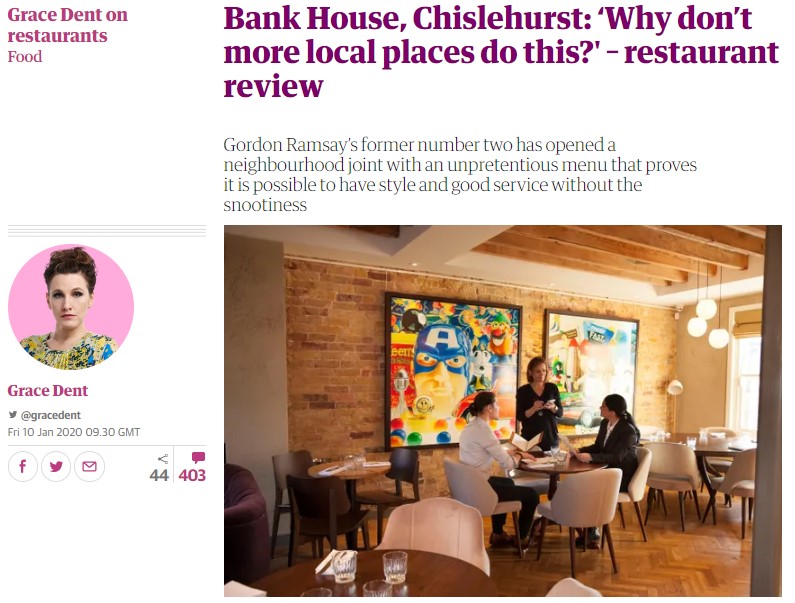 Grace Dent for The Guardian had a pun-tastic time at Bank House, once she'd discovered that the chef is called Bobby Brown. He was previously head chef at "well-liked Tunbridge Wells restaurant The Kentish Hare".
Bank House, located in a "handsome, repurposed Victorian" bank, in suburban Chislehurst, is the first solo project of Stuart Gillies, former CEO of Gordon Ramsay's company. He's created a "an incredibly decent neighbourhood wine bar and restaurant"; it's "unpretentious, welcoming and warm-spirited" with "an imaginative menu" and service that's "well-trained, unobtrusive and cheery". Not copying Lucky Cat, then.
"There is a middle ground between "house burger" and "excruciating tasting menu", and Bank House has nailed it." Grace and her companion liked the buttermilk chicken ("in crisp tempura batter… smothered in barbecue sauce… just the right amount of sweetness, sharpness, crunch and smoothness") so much they thought about ordering it again for dessert.
"Baked crab gratin with crostini sits on the brief yet meaningful menu beside pork belly sliders with a well-judged pickled slaw." Dishes like plaice with beetroot and Parmesan could have been "vile" in the wrong hands, "but by this point I trusted chef Bobby Brown implicitly".
To drink, Grace enjoyed a "fiendishly drinkable" house cocktail and noted the availability of "Royal Tokaji Late Harvest by the glass".
"Bank House is the sort of place Rodney would take Cassandra… for their 31st wedding anniversary. He'd whisk her eight miles down the A208 to somewhere a bit posh, but not too arsey." (24/30)
---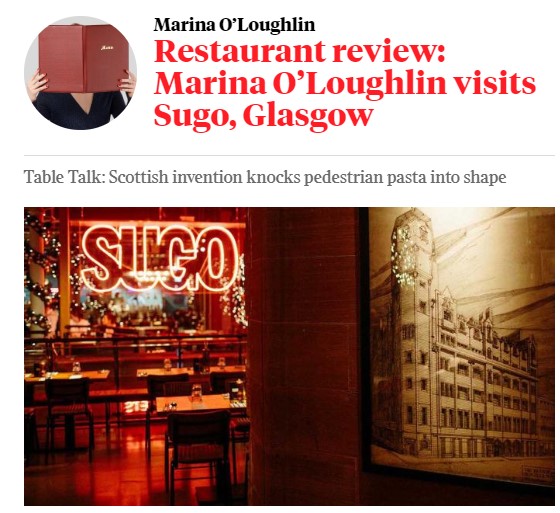 Marina O'Loughlin for The Sunday Times was back home in Glasgow, checking out the new, pasta-focused sibling to Paesano, the Neapolitan pizza joint that was "an instant, queued-out smash hit". Sugo looks to copy that success – Marina says it's already "Glasgow's most oversubscribed restaurant", and it only opened at the end of 2019, in the Rennie-Mackintosh-designed former Glasgow Herald Building.
"It shares a look with its pizza cousins — sprawling, attractively industrial, with notes of tiling and neon, the huge space cleverly divided so you don't feel as if you're eating in a spaghetti factory."
Regional pastas are carefully matched with their authentic sauces (and "are dressed, not drowned"); there are a couple of not-quite-right "disappointments" but "given the pleasure that the rest of our meal delivers — punchy wild boar salami in small, thick slices; good bread and fine oil; proper, crema-thick and nippy little espressos — it's easy to forgive."
"It's no secret in the trade that pizza and pasta are bankers: cheap to produce, reliably crowd-pleasing. But the tendency to dumb down here has been completely avoided: no corners are being cut. Sugo is roughly a gazillion times better than it needs to be." The "staff never falter in their friendliness" and the bill is "so gentle… it's little short of remarkable".
---
Giles Coren used his column in Saturday's Times magazine to announce that he's "stepping down from the Coren Family and working to become financially independent". Hopefully, he'll be back reviewing restaurants next week.
---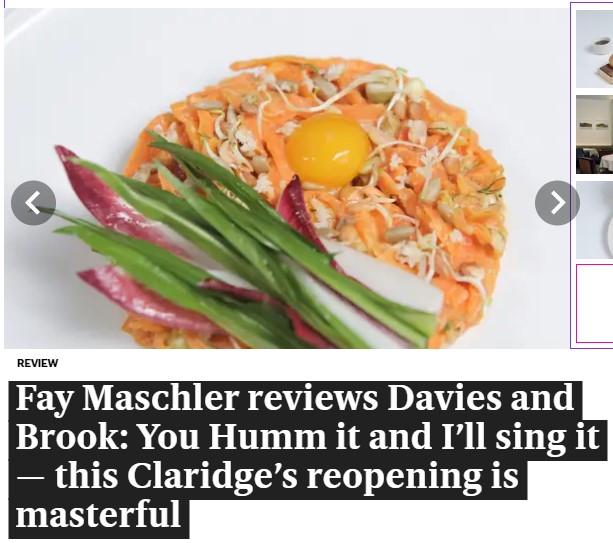 For her first review of the decade (in her fifth decade of restaurant reviewing) Fay Maschler for The Evening Standard started with a five-star rave for Daniel Humm's newcomer.
The room (formerly Fera at Claridge's) has been lavishly decorated with "pearly grey velvet banquettes" that "shimmer in chivalrous lighting that obliges food and customer alike", and a 40-part Roni Horn installation. Fay's companion described the efficient female waiting staff as "balletic luxe stormtroopers". Maître d' Billy Peelle and head chef Dmitri Magi have both "come from Eleven Madison Park to stay".
Fay and her companion plumped for the £98, four course dinner menu (boosted, of course, by "outstanding" extras, "erroneously considered freebies", served with "irresistible" croissant-like bread rolls).
When she returned for lunch, her companion observed that "his meal is like an intellectual exercise in restraint of which Coco Chanel would approve. She advised putting together an outfit, studying the effect, then removing one item."
"Against the accusation of inevitable high cost, I'd point you to the separate bar area with snacks like CFC (Claridge's Fried Chicken), and also the two-course lunch for £38."
"Welcome to London, Daniel Humm, with your snappy Cummings-like company slogan Make It Nice. Someone has to." (*****)
---
Also in The Evening Standard was a look forward at the emerging food trends for the year ahead. 'Conscious cooking' – incorporating veganism, zero-waste and all things Earth-friendly – is set to dominate further, although they do warn readers to "watch out for cynical cash grabs".
Geographically, the cuisines of Africa and regional cuisines of North America are becoming "increasingly visible", while the concept of 'wine bars with decent snacks' is set to boom, with Little Kudu, Oklava Bakery + Wine and Ampeli opening soon. Food halls and – at the other end of the scale – fine-dining, celebrity-chef hotel restaurants, both significant trends of the past few years, will no doubt also continue their growth.
---
Tom Parker Bowles for The Mail on Sunday was driving past Calcot Manor on New Year's Day with a hangover, and The Gumstool Inn was both "salve and salvation" for him.
The Gumstool is the second eatery at the "rather smart Tetbury hotel" (there's also The Conservatory); it's a "smart, modern pub with polished flagstone floors and winding bar" that has "an easy, uncomplicated charm", despite being purpose-built.
South-East Asian duck salad was "inspired, simple, yet knowingly put together", as was much of the other food, from the starters to the "technically perfect twice-baked cheese soufflé" and "damned fine" mains of Lackham Farm Chateaubriand and liver.
There was also a goat's cheese parcel but Tom couldn't personally share how good it was: "I despise the stuff. Like licking a farmyard floor… faced with the cheese of a goat, I tremble like a just-set blancmange".
Gumstool Inn is "a place with utter confidence in its cooking – good ingredients, treated with knowing respect." So, four stars, then… (****)
---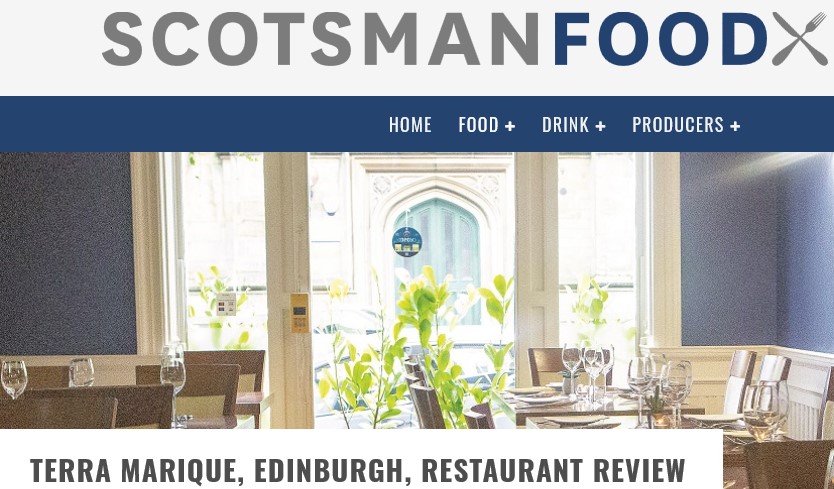 Gaby Soutar for The Scotsman reviewed two places this week. Firstly, an Italian in Edinburgh, in the shadow of the castle (the "former premises of longterm resident Il Castello").
The velouté at Terra Marique was "smooth, creamy and substantial" and a sharing dish of saffron-scented trofie was "a huge plateful". "Order the soup and this pasta dish, and you won't have to eat for the rest of the week, potentially a fortnight."
Some of the dishes didn't come with all the ingredients listed on the menu, but that didn't seem to matter. With the "rather nice" gelato for dessert, it's definitely not an option for anyone on a New Year diet. (80%)
Gaby's second review was at an artisan bakery in the Highlands. Aran is owned and run by local celebrity, "Great British Bake Off 2015 semi-finalist, 23-year-old Flora Shedden" (and her mum). Her recipe book, on show inside, is a well-thumbed "homage to the regulars in the two-year-old cafe, with profiles on their favourite people".
"Sadly, geography means we'll never be regulars and feature in the next book" – or enjoy the baking. Gaby and her friend seemed to be in some kind of "eating competition", ordering "thick and herbal" leek and potato soup, haggis sausage roll ("the size of a rolled up magazine"), sage fried egg (a simple brunchy dish of a frilly rimmed fried egg on toasted sourdough), sausage sandwich, "bready, pillowy and sugar dusted" gooseberry brioche, apple loaf and a brownie.
A "lovely place". (83%)
---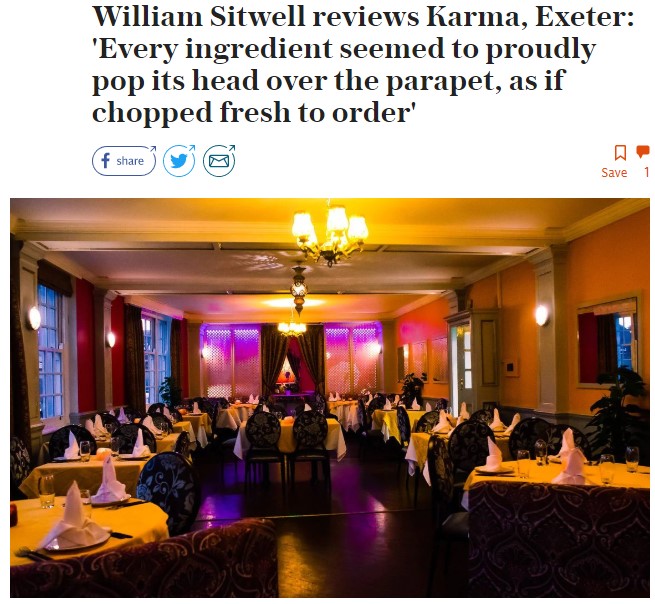 William Sitwell for The Telegraph was in Exeter, rather condescendingly reviewing Karma restaurant in the Great Western Hotel near the station. After drinks in the "rather cosy bar", he made his way to the restaurant "down a brightly lit flock-wall-papered passage, guided by a shabby printed paper sign stuck on the wall with Blue Tac".
"Karma prides itself on its ingredients" and also "unusually, serve a number of Manchurian dishes" – although William failed to taste the Chinese influence in his dish of "impeccably tart and juicy" Manchurian king prawns.
Other dishes had "originality and difference", unlike Indian meals he's had before, and witnessed being prepared in kitchens using "pre-cooked sauces".
"A smokey aubergine dish – baigan bhartha – was a heavenly sonnet to that purple vegetable, a chicken jalfrezi was the best I've eaten, and there was an epic daal that was soupy and brimming with soft garlic and ginger."
"Service was soothingly efficient in a jam-packed room." Despite the snark at the beginning, by the end of the review, William hoped that the "deeds of Exeter's Karma see some good reaping at the till". (****1/2)
---
And also…
In The Financial Times, Nicholas Lander also checked out Daniel Humm's Davies & Brook, to work out whether the Swiss chef has replicated the success of his New York hit Eleven Madison Street.
---
Keith Miller of The Telegraph reviewed the "perplexingly named" Juke and Loe in Sheffield: "I'd dare to dream that the "bacon dashi" might taste more strongly of bacon, or indeed dashi".
Recent News from Harden's