Harden's weekly update of where the critics are eating, recommending and avoiding, for the week ending 8 December 2019.
We are entering the time of Christmas articles and 'best of the year' round-ups; Grace Dent's article this week was about family Christmas meals, Tom Parker Bowles gave us the list of his favourite cookbooks of 2019.
---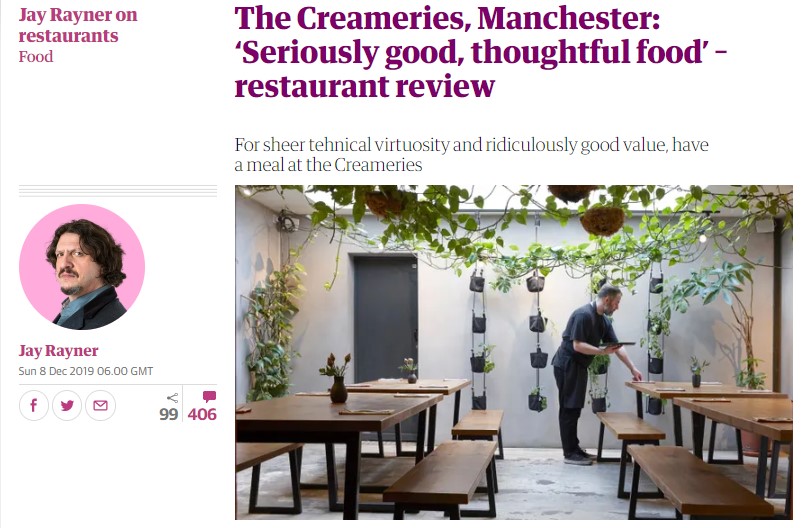 Starting at the end, Jay Rayner for The Observer dedicated an entire paragraph to describing the treacle tart he devoured at The Creameries; the case was "thin and crisp and dark", the filling "light and fluffy" with "crowd-pleasing" sides of lemon jelly and "a jug of warm, frothy cream, flavoured with Earl Grey tea".
It should be good – Mary-Ellen McTague has been making that tart for 15 years; she "made her name at the Aumbry in Prestwich" before opening here "on a shopping parade here in the Manchester suburb of Chorlton", originally as a bakery. She serves a "tight £18, three-course menu at lunchtime with a couple of choices at each stage" which expands to five courses and £35 at dinner.
It all "looks so damn casual", with "hard surfaces… softened by foliage", wooden table for sharing and blackboard menus – the reverse of a flash, modern outfit. "The Creameries will never bang on about taking you on a journey. McTague doesn't want to take you anywhere except to your happy place." Added to that, it's zero waste; what's not to like?
"Vast amounts of technique" are in evidence; Jay ate deep-fried split pea chips "stacked as if for a game of Jenga you'll never play", "powerfully salty" matchstick-thin crisps and "the best of sourdoughs" with his trip through the whole menu. There was "lightly smoked mackerel… crunchy black pebbles of fried rye bread for texture", a "thick cauliflower soup" with a cheese beignet ("cauliflower cheese in soup form"), and mains of a game pie and buttery, seared chunks of cabbice cabbage" ("meat makes only rare appearances").
The other pudding was a "fudgy, flourless chocolate cake"; there's "an intriguing list of wines" and good cheeses too.
"Two of us are presented with a ludicrous bill for a three-course lunch of just £46." This is "seriously good, thoughtful food from someone who knows exactly what they're doing".
---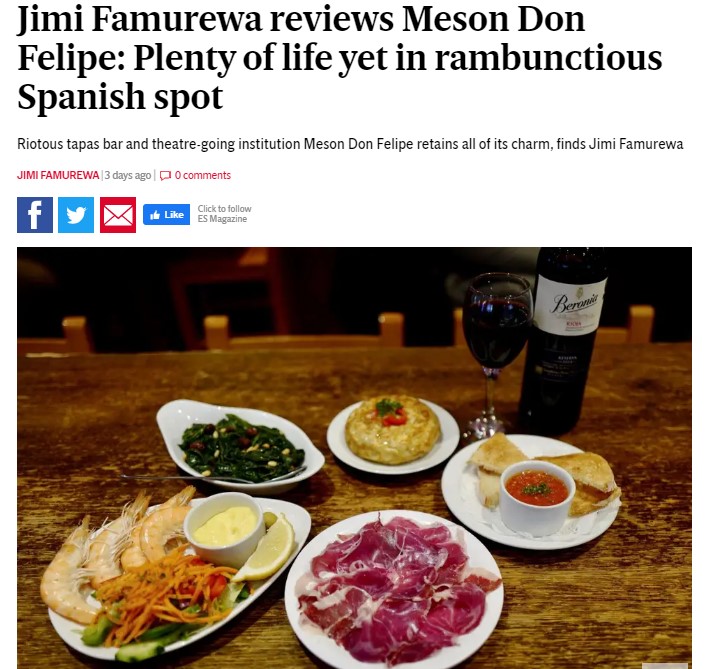 Jimi Famuwera for The Evening Standard revisited (for the first time in years) "the riotous Waterloo tapas bar that, by dint of its proximity" to various South Bank theatres "has long been as integral to the London theatre experience as tubs of interval ice cream and seats with insufficient legroom".
Open since 1987, "little about Meson Don Felipe makes any kind of logical sense on paper" – the "starkly lit space" the "wooden horseshoe bar" that forces you to "crab-walk around the ever-thrumming room", the tiny tables that "involve a Tetris-like plate arrangement" once dishes start to arrive, and "most famously — the in-house Spanish guitarist, teetering on a comically tiny elevated stage like a sort of Flamenco Elf on the Shelf". None of it should work, let alone for 32 years, but it "absolutely does".
Not much has changed – the "familiar wall of wine-loosened midweek noise" and the "scarlet-daubed walls" are the same. Only the old guitarist has been replaced with a "young, bearded dreamboat". The menu has the same tapas – tuna croquettes, patatas bravas and smoky chorizo – all well sourced and tasty. But there were also specials of "marmalade-blobbed fried… pork belly" and "a tremendously unattractive lentil stew" which were "such unusual, homespun triumphs that they caught us off guard" – so much better than Jimi or his companion remembered.
Maybe it was the "accumulative, intoxicating effect of alcohol, agile service, prime people-watching and fond nostalgia" but "rather than resembling a tired museum exhibit, Meson Don Felipe felt rambunctious, spry and utterly unique". (8/10)
---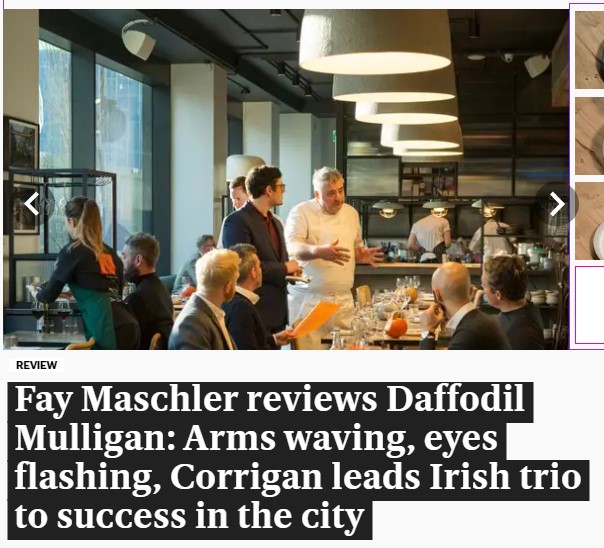 Chef Richard Corrigan was in "chef's whites, arms waving, eyes flashing, heels spinning, instructions pouring forth both times" Fay Maschler for The Evening Standard visited his new restaurant. He's a friend, of course, but ordinary folk visiting may well encounter "smiling head chef Simon Merrick, who has been with him for 11 years" and who will no doubt "continue immediate, responsive, creative ideas applied to pristine ingredients with results chalked more or less illegibly on a blackboard". (There's also a printed menu with small plates.)
Corrigan seems to be "enjoying a culinary freedom" from the confines of Bentley's – the red mullet arrives with a ("perhaps overbearing") coating of cumin and coriander seeds.
Fay recommended the steamed celeriac with Alpine Beaufort cheese and truffle; the whole chicken baked in a salt dough crust is also "not to be missed" ("exceptionally tender and juicy"). "Another palpable hit is spatchcocked partridge in potent Mangalitza pork gravy with caramelised apple. Also, mash with bone marrow crumb is pretty much an essential side." (****)
---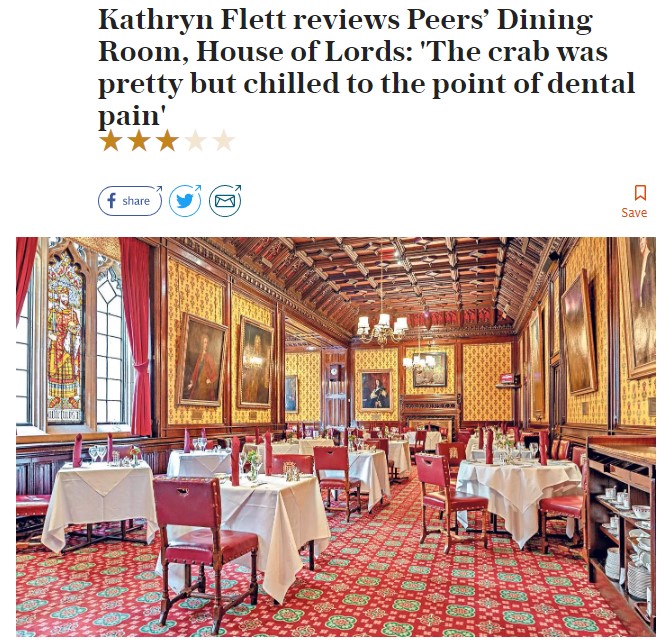 Kathryn Flett for The Telegraph ate in the "plushly carpeted vastness" of the Peers' Dining Room at the House of Parliament, which is open to the public for a few weeks each year.
Her first impression was of "fusty, woody, portrait-lined and generally in need of a whoop-de-do, full-colour, 21st-century makeover". There were mice in the bar, too. The atmosphere was "equidistant between a Pall Mall club and Julie Walters's "Two Soups" sketch".
The "Public Dining Experience" menu (three courses for £49.95) showcased British ingredients, and delivered "without ever exactly shining". Her South coast crab starter was "pretty but so chilled – to the point of dental pain – that it was impossible to discern individual flavours". Mains included confit duck leg ("overcooked") and venison ("delicious").
She found "the whole set-up almost comically, belief-beggaringly, unfit for purpose" – and not just the restaurant. But the people-watching, silver-service waiting staff ("combining complete disinterestedness with professional front-of-house sleight-of-hand") and fancy cutlery made up for it. (***)
---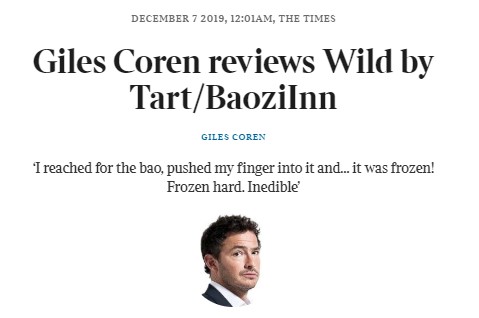 It was all about dumplings for Giles Coren in Saturday's Style magazine in The Times. He took his family to the original branch of Baozi Inn, in Soho's Newport Court, having read "rave reviews" of the six-strong chain's "good, authentic, not too stupidly expensive dumplings".
They ate popcorn chicken which was "overcooked, dark brown, chewy, gritty and mostly stodge", pork dumplings both fried ("delicate, warm, sweet and plump") and steamed ("clumsier, thick in the pasta and bland in the filling, undercooked") and finally "the multicoloured steamed buns that are presented as the signature dish and feature glowingly in the reviews". They arrived frozen in the middle – twice.
"The illusion of freshly made food, cooked by people who give a damn, steamed to order for customers they respect, was entirely shattered." (He did visit the London Bridge flagship to give them a second chance, but the "stodgy" dumplings and "grisly" salt and pepper squid were the nail in the coffin.) (0/30)
Undeterred, Giles also ordered dumplings when he visited Wild by Tart, a "massive, new, multifunctional, 9,000sq ft "restaurant, bar, deli, photography studio, retail and events space"… in London's Victoria", offering "seasonal ingredients and sustainably sourced produce from local farms" cooked by superposh caterers Tart. It's "all a bit mad" inside, with the "voluminous lateral space" covered in "indoor greenery".
These dumplings were filled with "Tamworth pork and prawns in a wonderfully thin, springy casing, in a rich broth with chilli oil" and were "absolutely ripping. They might be guilty of a little cultural appropriation, but at least they are cooking them fresh."
The rest of the menu features sharing dishes including trout crudo with green tiger's milk that was "was sharp and distinct and very well balanced" and a "beautifully done" turbot fillet; "most of the food is very good" although some dishes had "too much going on".
The "miso caramel cookie skillet" for dessert was the "knockout" end to "a very good lunch… served by smart, clued-up staff from a kitchen doing all the right things with seriously good, fresh, seasonal, local produce". (25/30)
---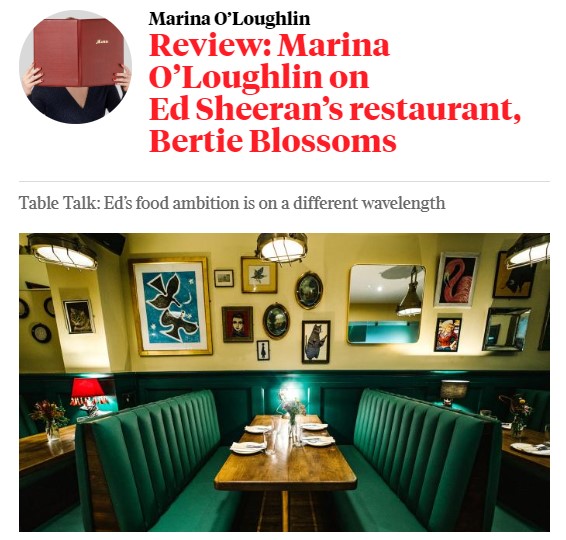 Marina O'Loughlin for The Sunday Times called Bertie Blossoms "without doubt the oddest restaurant I've been to in a long time… quietly curious, but… still a copper-bottomed weirdo".
"Owned by a world-famous pop star [Ed Sheeran], it looks more like what would happen if your gran decided to open a restaurant after falling down a wormhole of Instagram wellness influencers."
"Nothing seems to connect the dishes"; there's "no narrative or cohesion" to the sharing plates menu, which features Mediterranean plates and a range of flatbreads. "Even the wine list is bemusing: a selection of beautiful bottles, sought-after, hip and desirable."
Ordering lots of things she didn't fancy, Marina ate some dishes that were "quite nice", some that were "more or less edible" and others that "verge on the demented"; all resembled a "late-night Scoobie snack" or drunken fridge raid. Desserts were "inexplicable".
Marina and her companion left "bizarrely jolly despite the food".
---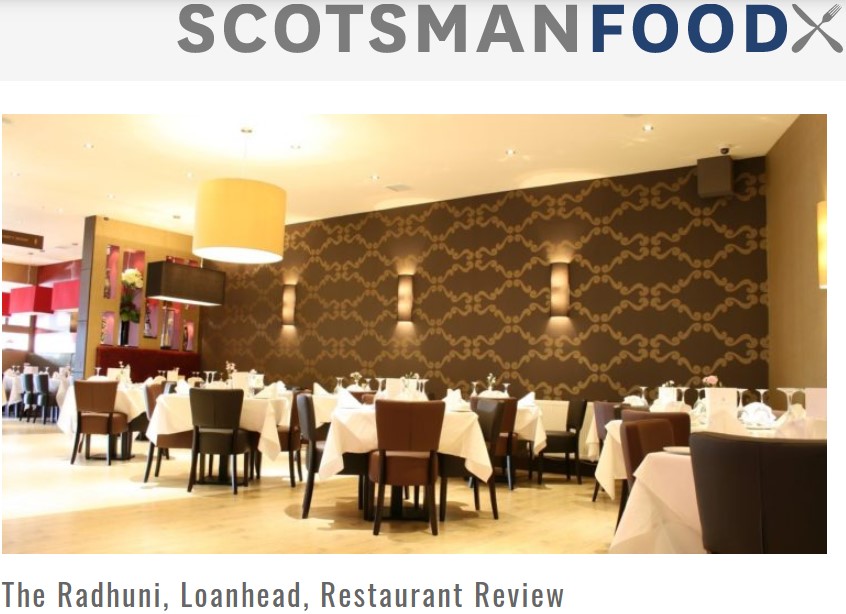 Catriona Thomson for The Scotsman visited Midlothian, to try to beat the winter blues with an award-winning curry. The Radhuni in Loanhead "has been voted Scotland's Best South Asian Restaurant, best curry restaurant in the Edinburgh area, while owner Habibur Khan, 23, has just become the youngest winner of the British Curry Award".
Minute from the outside, it's "Tardis-like inside" and "features a large group dining area and designated family zone".
Aloo chat to start was "not blow-your-head-off stuff, but fiery fun none the less"; main dishes including Catriona's sibzi Malayan (a "distinctive vegetarian pleaser") were accompanied by "snowshoe-sized" naan bread. She and her husband left with a happy "warm food glow". (70%)
And also…
The Financial Times reviewed The Bull & Bear in Manchester, Tom Kerridge's "latest venture" that "delivers extraordinarily good food in a glorious setting (barring the TVs)"; "it deserves to be a raging success"
Recent News from Harden's