Harden's weekly update of where the critics are eating, recommending and avoiding, for the week ending 6 October 2019.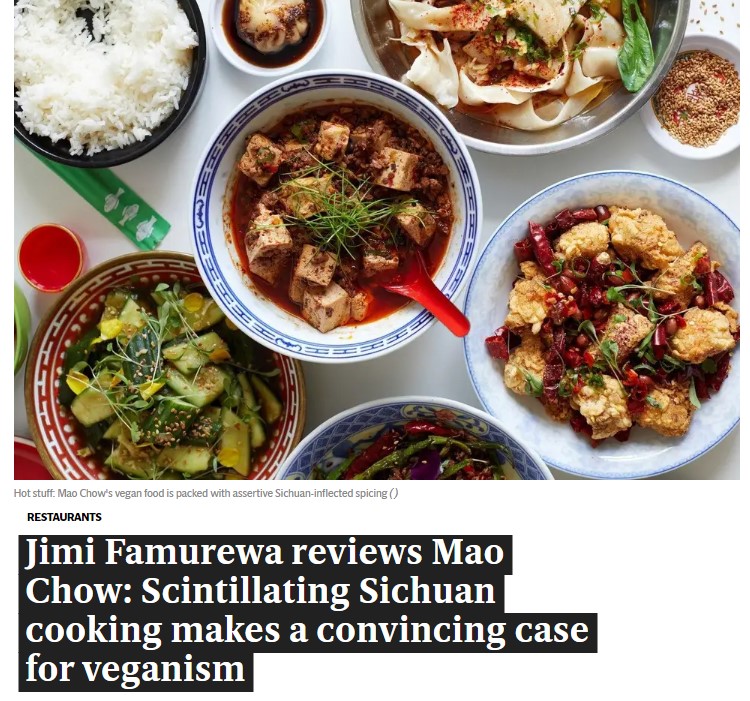 Jimi Famurewa from The Evening Standard sometimes feel like "a well-meaning wrecking ball" ("the walking scourge of overrun kitchens and treasured local secrets") when he reviews small restaurants. "Can that already-mobbed neighbourhood favourite handle a potential spike in customers? Do they, in all honesty, particularly want one?"
So, when he went to Mao Chow, "a tiny, vegan Chinese place on Mare Street in Hackney" he was excruciatingly aware that a rave review could totally overwhelm a place like this, a "truly miniscule… glorified lean-to" that's already as popular as it needs to be – "it routinely sells out of the fiery, oil-daubed dumplings by 9pm".
But, Mao Chow served him up "some of the most scintillating, inventive and intensely flavourful cooking I have experienced this year", so he felt duty bound to share the "noisy assault of chilli, crunch and pulse-pounding deliciousness" that was a "more convincing advert for veganism than any number of 'bleeding' burgers or breaded slabs of gluten".
It is an "acquired taste", though – Mao Chow feels like "a chaotic, semi-legal house party", there's only one drink available (unless you're keen on shots) and "there were just six things on the Sichuan-inflected menu". And don't even consider going if you're not keen on spicy food: heat "is a big part of the Mao Chow experience". One dish came "with so much numbing Sichuan pepper it could qualify as a type of dental anaesthesia" (but there's also "micro-engineered flavour-building").
"In a food landscape dominated by blockbusting slickness, Mao Chow's small-scale, ramshackle approach — and unexpected craft — feels like a gleeful, fizzing tonic. You have to go. But perhaps not all at once." (8/10)
---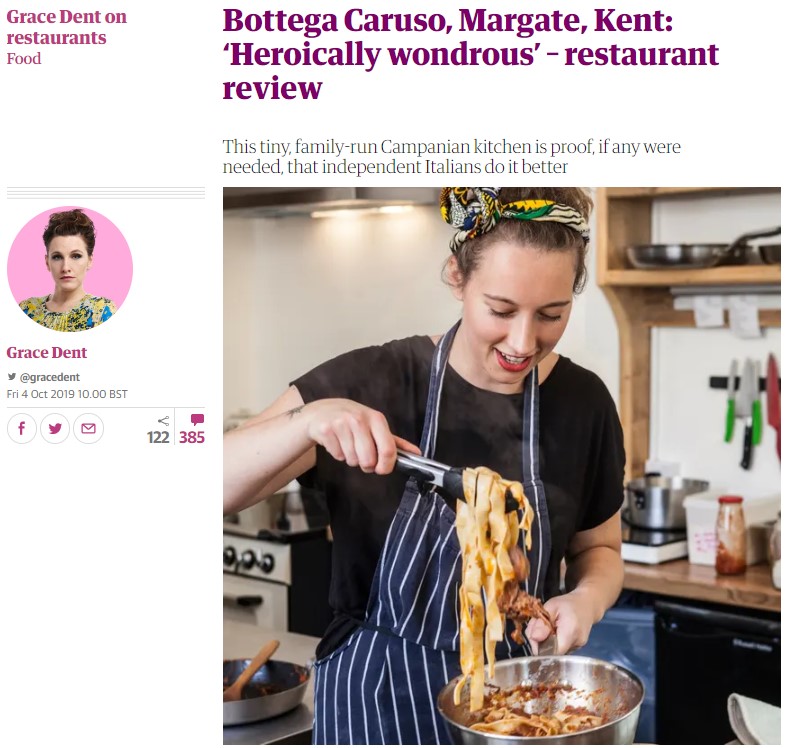 Grace Dent for The Guardian echoed Jimi Famurewa's "wrecking ball" sentiments when reviewing this Italian shop, kitchen and deli in a "pretty building, which was once a 19th-century pub called The Crown Margate's Old Town: "Bottega Caruso serves possibly some of the best Italian food in modern Britain, and I say that with some pain, because it has only around 18 seats and, for abhorrently selfish reasons, I don't want the place to expand".
"It's all so good and made with sincere affection and served with a warm heart, with the family milling about."
Pasta is made fresh every morning; if you're still thinking about it three weeks later like Grace was, there are cookery lessons you can attend. She ate verdura e fagioli, "just a bowl of earthy, stewed greens and pale beans, sort of sludge-coloured" but "at the same time a deeply flavoured, restorative bowl filled with… oregano-scented magic", and a "heroically wondrous" aubergine parmigiana. Their squid stew "with tentacles slow-braised" is "a soft, content-making mess" and she "can't quite forget… a plentiful bowl of fat gnocchi bullets… with fresh courgettes and a pungent, almond-and-cashew pesto".
"When experts wonder why large Italian chains on the high street have started to get into difficulty, I think it's because many customers have simply begun to see that they deserve better for their money… independent Italians do it better, especially when they're Simona, Harry and the gang." (27/30)
---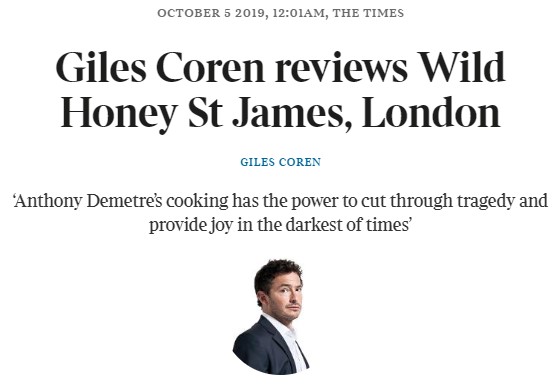 Giles Coren in The Times' Saturday magazine has a long history with "wonderful chef" Anthony Demetre's cooking, from even before his Arbutus days. "His cooking has the power to cut through tragedy and provide joy in the darkest of times" (proven when Giles's father was dying in 2006).
Here, in the posh-hotel reincarnation of Wild Honey, he had no need of comfort or solace, just good food. And that's what he and his friends got, once they'd changed from their allotted middle-of-the-room table to a "cosy corner table with the yummy banquette".
"Starters were beautifully presented and beautiful in the mouth." Crisp pig's head was an evolved version of an Arbutus plate from 2006, more evolved now, dark and rich and chocolaty ("truly dazzling") and hand-cut macaroni "cacio e pepe" with crisp boneless chicken wing gave him "a sweet memory" of a sot-l'y-laisse (chicken oysters) dish there.
"But then it all fell apart. Not because of the cooking but because of the service." The wrong main courses, no water or wine, "they were tortoise-slow to clear plates" and charged him for dishes that hadn't appeared. "Whenever we wanted anything, I had to get up and cross the room to ask for it."
"Sloppy. Sloppy. Sloppy. It's great that they were doing good business on a Monday night in early September, but a posh gaff like this has to hire enough staff to serve its guests." (19/30, including 2/10 for service, which was "friendly, warm and charming, but utterly useless").
---
Charlie's at Brown's Hotel has "only been open for a few weeks" but Tom Parker Bowles for The Mail on Sunday has managed two visits. On both, he found "an immaculate hotel dining room that will keep you coming back for more".
The room has seen a few changes over the years, as well as a total relaunch of the hotel by Rocco Forte; it was home to Mark Hix, then Heinz Beck (for just a year), and now Adam Byatt of "Clapham's eternally lovely Trinity" is in charge, which makes things "truly exciting". (Despite the "Peanuts-esque feel to the name", Charlie's at Brown's is named after Rocco Forte's father.)
It manages to combine "the handsomely traditional…with elegantly modern whimsy… The place oozes class… Service glides rather than stomps… There's nothing brash or noisy here". Silver trolleys are "wheeled around the room", filled with the daily changing special or smoked salmon "sliced to order", adding "to the sense of quiet theatre".
Tom ate gazpacho of "startling late summer sweetness with just the right acidic kick" and a chicken and ham "pie of gentle magnificence, the everyday made exceptional, comfort food clad in a full-length mink coat". "There's a sense of generosity here" too, with several little dishes arriving gratis, as well as fresh bread and Parmesan biscuits.
On his second visit he ate from the set menu, "two courses for £28; not cheap, but excellent value" – "soft braised squid with skinned tomatoes, then a fish soup that starts out refined before descending into wanton, rowdy lustiness".
"The restaurant has already found its stride. Confident, classic, seasonal cooking, with dishes to please every whim… Byatt is a byword for culinary quality." (****)
---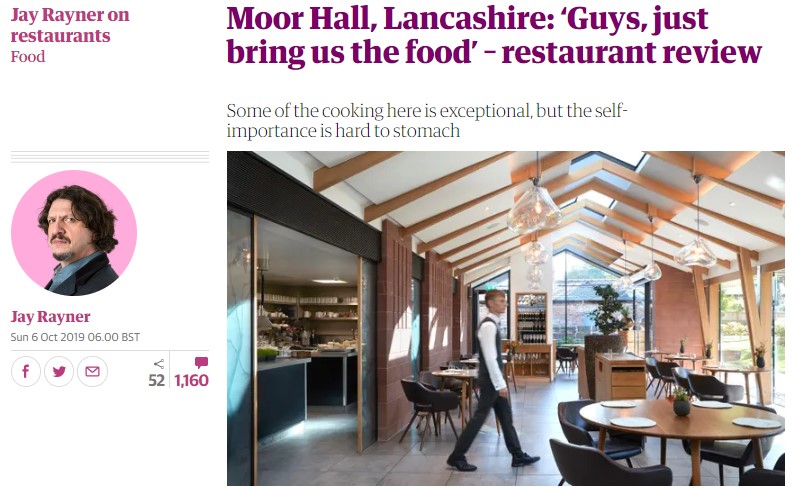 Jay Rayner for The Observer went on "a journey" at Moor Hall; not just travelling there, but also through the booking system, the terms and conditions (while they understand dietary requirements, they "cannot cater for dislikes") and the pre-dinner visits to the lounge, the kitchen garden and the kitchen itself, all narrated in "a bored monotone" – no wonder he was asked to "arrive 30 minutes before the booking time"…
Once seated, a "cook is dispatched tableside to prepare a dish complete with narration… Tweezers are involved. It's all robustly performative". But "the dish itself is just a little bland… You can throw in a floor show if you insist, but if the dish itself isn't up to scratch no volume of "Ta da!" will improve it."
The rest of the meal was "exceptional". At one point, Jay was brought the "flakiest of onion pastries", which dropped "golden crumbs everywhere. These must be chased around the bare wooden table with fat fingertips before the fiercely suited man with the table broom comes."
They watched plates "being paraded around the dining room for multiple, prim inspections. Guys, just bring us the food. Don't get me wrong. The cooking at Moor Hall deserves to be taken very seriously indeed. But it would be a much better restaurant if it stopped taking itself so damn seriously".
---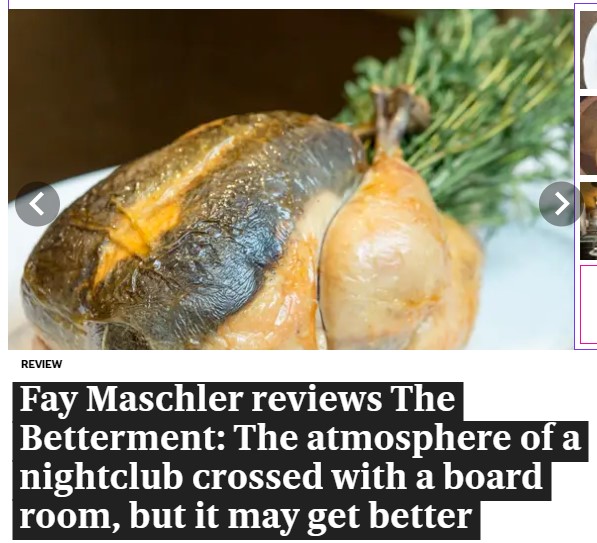 Fay Maschler for The Evening Standard was first to review Jason Atherton's latest opening The Betterment (which she calls "a butterfingered choice for a restaurant name") in a Grosvenor Square Hilton hotel; the dining room has had a "glitzy makeover… complete with plant walls" and the staff are "expensively suited and booted" ("some of the men with high-maintenance facial hair spookily resembling JA himself").
Fay makes a clumsy attempt at describing the 'betterment' of each dish she tried from the "relatively short" menu (from ex-City Social chef Paul Walsh). It features fish and meats 'roasted over embers', although "more or less equal airtime is given for vegetables and salads" too.
Over two meals, her favourite dishes were steak tartare with Parmesan-dusted croutons ("oddly presented in a cut-glass bowl") and "a side dish of onion flower with chive emulsion". Other dishes were slightly disappointing – even the tempting whole roast chicken with trompettes to share had "dense texture and a lack of innate flavour", saved only by a creamy Albufera sauce. (***)
---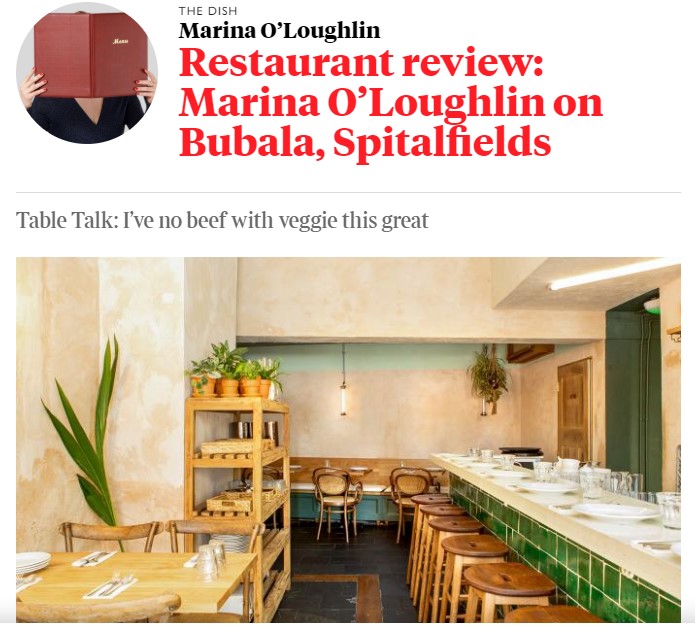 Marina O'Loughlin for The Sunday Times went meat-free for the day without realising – Bubala's "complete absence of fleshy pleasures hadn't registered until the pal emailed me about the menu, griping, 'Where's the meat?'"
"The menu reads like hip-restaurant bingo: eyes down for freekeh, za'atar, tahini and labneh"; co-owner Marc Summers is from Berber & Q, and the head chef, Helen Graham, "seems to have worked almost everywhere in London with an Israeli flavour". The décor "is what you'd expect from first-time restaurateurs in the rapacious capital: done on a shoestring, plus the odd plant. But the food is so technicolour that surroundings barely register."
Dishes were "on a continuum from mmm, nice… to bloody hell, that's eye-openingly gorgeous". "It's a long time since I've eaten something so apparently simple that's so much more than the sum of its parts. Truly electrifying."
Latkes (actually more like "versions of the capital's current favourite, confit layered potatoes, popularised by the Quality Chop House and replicated everywhere else: complex and fiendishly good") were "up there with the best — crisp, delicate, ungreasy… haute-trashy cooking done absolutely right".
Marina had a few niggles: "a heavy hand with the oil… some inconsistent pricing decisions…" and too few affordable wine choices, but overall "Bubala is absolutely brimming with that good stuff; it just happens to be vegetarian".
---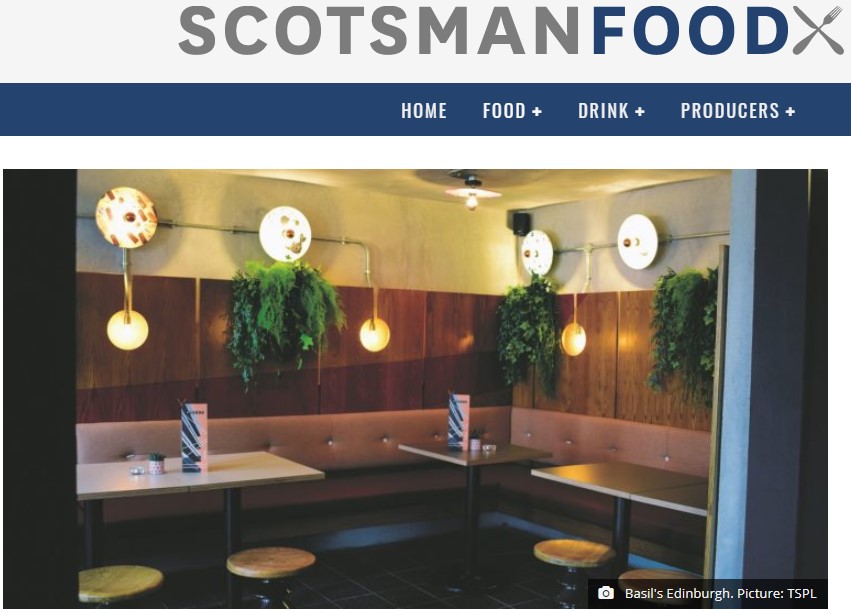 Named for mid-century Brutalist architect Sir Basil Spence (and not the owner of Fawlty Towers, even though "it's hard not to say its name in a Sybil fashion"), Basil's in Edinburgh ("formerly The Annfield pub and now owned by the team behind Glasgow restaurants Ardnamurchan and Cafe Antipasti") has "Sixties decor touches, like the test card mosaic that frames the kitchen pass, and a retro menu" that luckily "stops short of Spam".
Gaby Soutar for The Scotsman tried the coronation chicken salad, chicken cordon bleu, confit duck leg and rhubarb trifle. "It's been a while since I had vintage dishes like this in a restaurant. I'm not sure if there's demand."
There were also a couple of "duds" – the crab on toast was "pulpy" and the Brutalist burger ("a municipal car park of a course") was "rather overdone and spongily textured" with an odd, "sloppy" dirty sauce. Overall, Basil's was "a nice enough place, and a good addition to the neighbourhood, though not worth travelling across town for". (65%)
---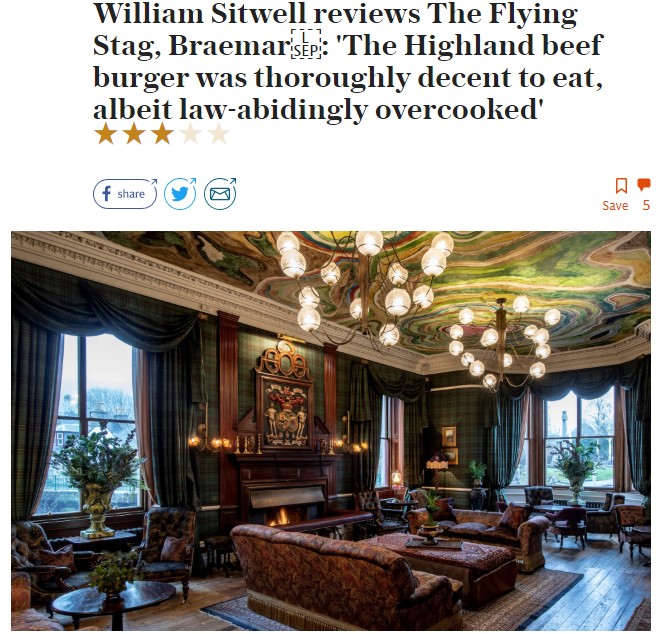 Several of our other critics have already visited The Fife Arms in Braemar, the rural Aberdeenshire hotel taken over by Ivan and Manuela Wirth ("titans of the art world") and turned into "a diatribe against minimalism", complete with a Picasso.
William Sitwell for The Telegraph opted for The Flying Stag when he visited (there's also the Clunie Dining Room). The décor is "rich and exquisite", with "cabinets filled with other stuffed animals" and "wallpaper was thick as an eiderdown and hung with sporrans".
The menu proudly claimed that everything is sourced locally – well, apart from the Umbrian lentils in the soup. Another sore point was that his Highland-beef and bone-marrow burger couldn't be served medium-rare, as it was made off-site. Despite that, "it was thoroughly decent to eat, albeit law-abidingly overcooked".
There were other niggles ("bought-in" chips, "greasy" fish 'n' chips and a "properly bad" brownie) but overall he loved the experience.
"Make no mistake, The Fife Arms is an astonishing achievement. But the food in the bar needs to cadge a little of the love and stardust that's been devoted to the interior design." (***)
And also…
Kathryn Flett for The Telegraph was in Suffolk, reviewing Bury St Edmunds veteran Pea Porridge, which made her think of nursery rhymes. It was "a likeable little local that has no need of its mildly gourmand-y pretensions".
---
Nicholas Lander for The Financial Times was "in a Swedish village", where he ate "a lavish set menu featuring 17 exceptional courses" at Daniel Berlin's eponymous restaurant, "an ambitious showcase for the chef's talent".
Recent News from Harden's