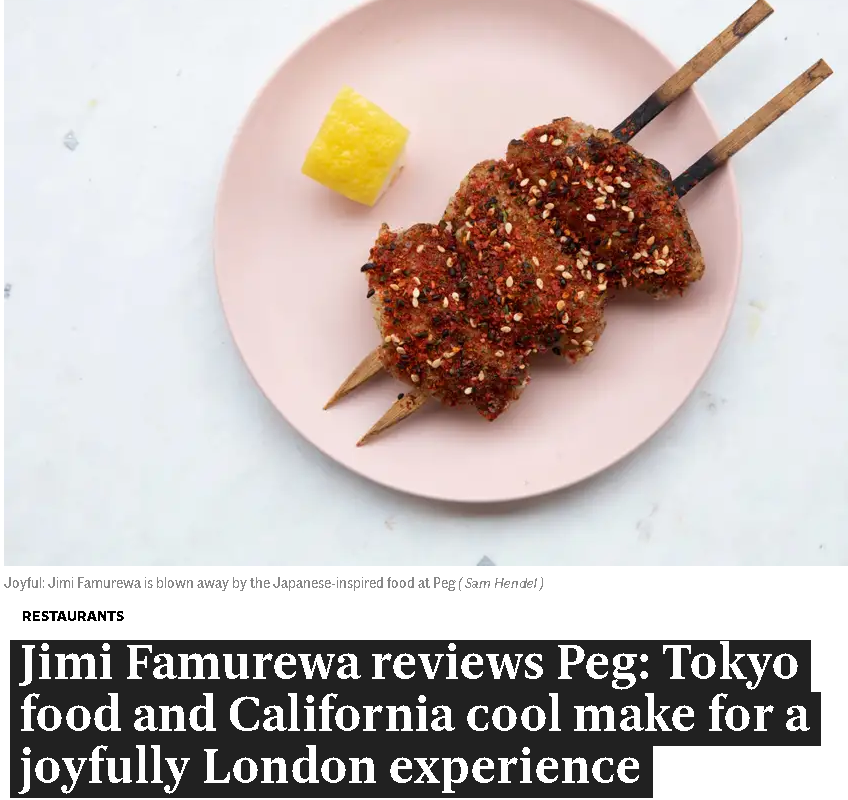 Jimi Famuwera from The Evening Standard is the latest critic to pay a visit to Peg; it reminded him of LA restaurants he'd visited (mostly because of the feeling of "smugness and nagging inadequacy" it engendered), but he soon admitted that his first impressions were quite wrong.
The "no-reservations arrowhead of a space" (like its stablemates, the "pace-setting east London hits P Franco and Bright"), has eco credentials (recycled counter-tops and natural wines) and super-hip vibes (a record player nook and a "deliberately small three-strong team"). Although "Peg's preciousness may be mildly triggering for people who want to just book a proper table and have dinner in a familiar way", Jimi's meal was "so very, very good that, ultimately, I couldn't help but be blown away".
The food ("all blackened char and stealthily complex face-slaps of umami") is "kushiyaki-based (i.e. grilled skewers)" is "Tokyo drinking food in a California-cool interior".
Peg is "a place that feels simultaneously relaxed and manically drilled; questioning in its approach but, crucially, joyful in its execution"; its "single-minded, minor-key brilliance, speaks gloriously and unmistakably of London right now". (8/10)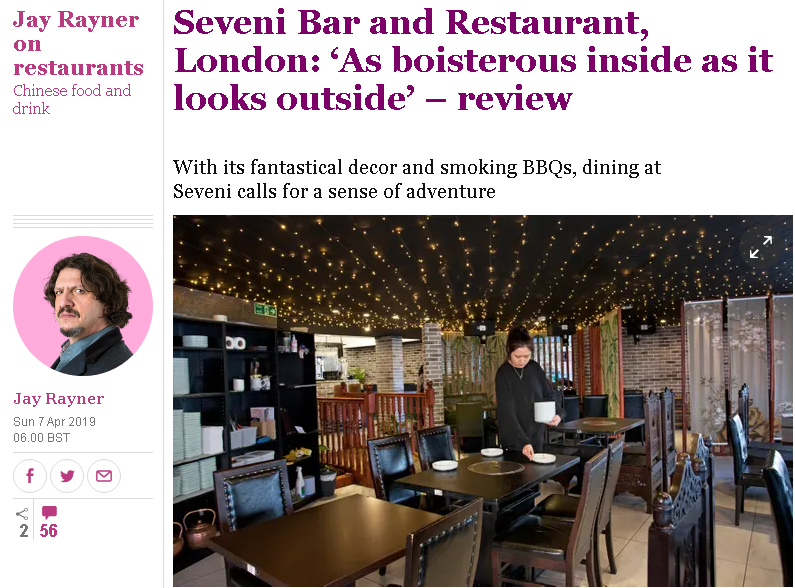 Jay Rayner for The Observer "came across Seveni, opposite the Imperial War Museum in south London" because he drove past it at night "and it looked bonkers"; a plate-glass "geological outcrop" from a tower block. And "it's all as larky and boisterous inside as it looks from the outside" – "noisy, elbows out fun".
The site has "been taken over by a Chinese restaurant with a four-pronged approach", mostly from the north eastern regions: "barbecue, things on skewers, Sichuan dishes and hotpot".
Go with "a sense of adventure": "you even get to cross a tiny wooden fairytale bridge as you enter the dining room" under a "ceiling of fairy lights". Also go "mob-handed… otherwise you'll struggle to order enough to make sense of the possibilities". And – especially with a group – "make sure to book one of the BBQ tables… powered by cauldrons of burning charcoal, delivered gingerly to the table".
"What defines the experience is a vibrant, rust-coloured spice mix of cumin, ground chilli, salt and sugar," a "glorious, uncompromising fairy dust" that's liberally sprinkled on several dishes.
He was particularly taken with the Sichuan deep-fried chicken and "a big, billowy plate piled with the most savoury of herb-flecked scrambled eggs"
(At the end of his review, Jay broke the exciting news that Gary Usher, "having just completed a £100,000 crowdfunder for Kala in Manchester… has launched an Instagram account for Wagon House Bistro, due to open in 2020″ in Leeds.)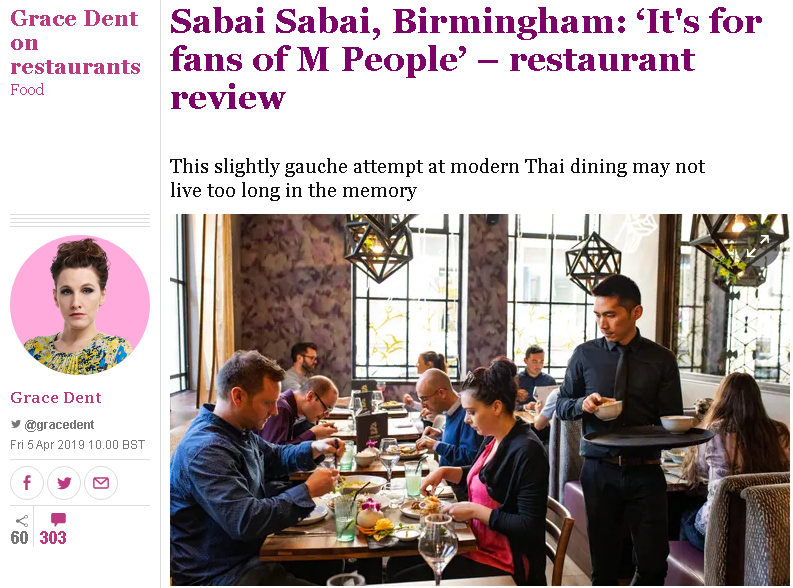 Grace Dent for The Guardian barely remembered her trip to the fourth, newest "and most ambitious" branch of Sabai Sabai "an apparently award-winning chain of Thai restaurants in the Birmingham environs". Her companion had the same trouble, recalling it only as "the noisy one inside an insurance building with the big cocktail bar".
Thai food "is currently in the midst of a grand reimagining" across the country ("Let's call it Hipster Thai 2.0: London Edition"); the food at Sabai Sabai was "mostly old-school… pitching for a bit of the new stuff and ending up more like a fancy chain bar". It didn't help that the staff seemed to disappear after the starters.
Was there anything good about the place? The "kao pode tord – long, lumpy sweetcorn fritters on skewers – were actually rather glorious" – so there's something to add to the company website alongside the "local media plaudits positioning it as breathtakingly glamorous, as well as apparently being an authentic taste of Thailand". (24/30)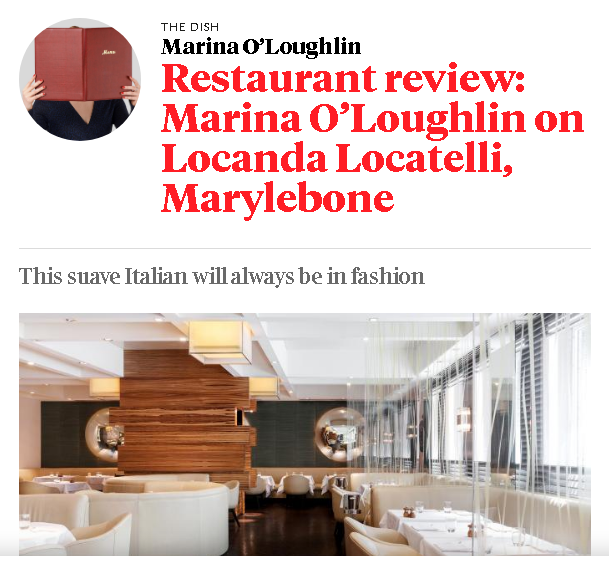 "Pasta, in case you hadn't noticed, is having a moment after languishing for a while in paleo purgatory."
So where did Marina O'Loughlin for The Sunday Times choose to celebrate this carb revival? Why, Locanda Locatelli of course. One of the few fine-dining Italians that bucks the trend of "overdoing the decor while charging lunatic amounts for food you'd easily find in non-posh ones".
Could it still "cut the mostarda" a "surprising" 17 years after first opening? Absolutely – "there's something here for every carbphile" in a meal of "straightforward, generous beauty". "My gnocchi are heaven… [they]creep up on you: almost chocolatey and sexily soporific. I want to lie on them and just sink in." The bread is "so good.. cornbread to tiny, pillowy pizzette… and willowy parmesan breadsticks".
"The place looks much as it ever did: buttery leather banquettes and convex mirrors reflecting the Missoni-clad super-rich", despite a reported £1million refit. Perhaps the hotel setting is a little constricting for such a "supremely talented chef", but it works for now.
The "excellence is in every detail". Even the wine list, with its "oligarch-friendly bottles" has more accessibly priced options. There are a few nods to the tyre men, which she thought unnecessary – who needs petit fours after "a house-made pistachio ice cream of almost hallucinogenic intensity"?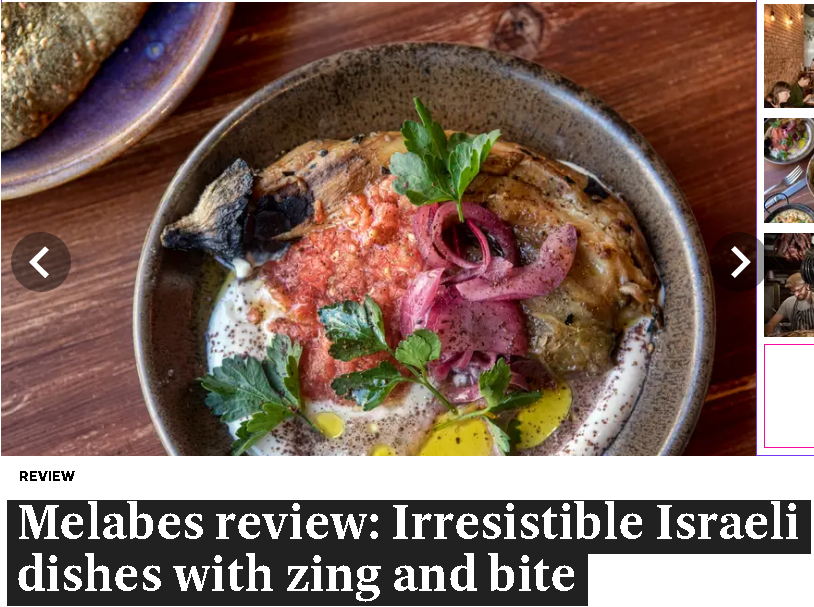 With a forgettable name (the Ottoman name for Petah Tikva, the Israeli city where the chef grew up), "straightforward" decor that's easy to pass by and a menu that ranges between "humdrum" and "cryptic" posted outside, it's no wonder that a year went by before David Sexton for The Evening Standard ventured into this small-looking restaurant on Kensington High Street.
Once inside he discovered a "spacious room upstairs" and, even better "exceptional food", resulting in him going back "for several visits". His Mediterranean chicken stuffed pitta bread ("served to be eaten in the hands") "was one of the best things I've eaten for weeks" with "zing in the right amounts". 'Velvet humus' was an "ultimate version", a real "knock-out, unfitting you for eating the mass-produced version ever again", while the 'baba ganush' was "almost absurdly pleasurable" and the kebabs "so full of flavour", served with "irrestistible" sauces.
This might not be "fine dining, to compete with the likes of Palomar or Coal Office" but it's "first-rate Tel Aviv-style street food". Chef Aviv Baum serves "well thought-out and meticulously well-executed versions of well-known Middle Eastern dishes at approachable prices".
Melabes has evidently "oddly undersold itself" but "it deserves to be packed". (****)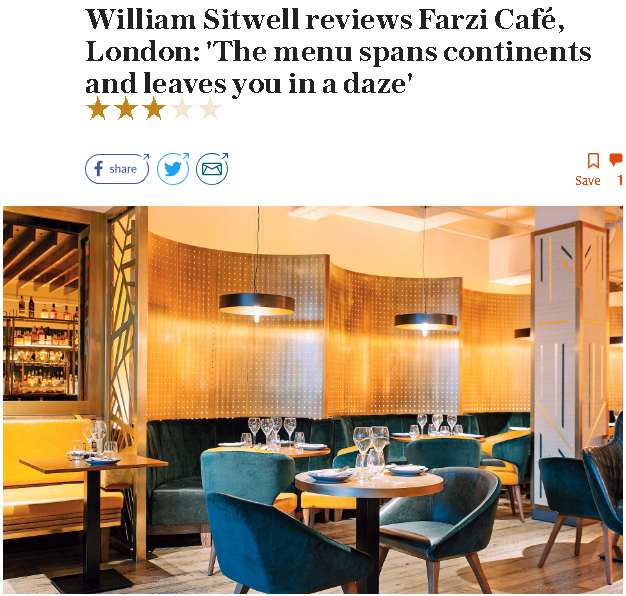 William Sitwell for The Telegraph was left "befuddled" at Farzi Cafe: he went expecting an Indian restaurant, but the "posh, all-you-can-eat buffet whose menu spans continents and time zones" was all too much for him.
One section of the menu contained "edamame beans, grilled asparagus, a burrata and kale salad, snails and beef marrow", while another, "terror-inducing" section, was called Farzified British Classics and listed dishes in inverted commas.
He tried sticking to the Indian dishes, but the owner "decided to amend my order, or rather screw it up", and he was served avocado, snails and a deconstructed "cottage pie" – "all very weird and tasty, but I didn't want it". Other dishes, however well cooked, were "more odd than good".
Faced with a dessert menu that claimed to "push the envelope of culinary techniques", he "bailed. And fled."(***)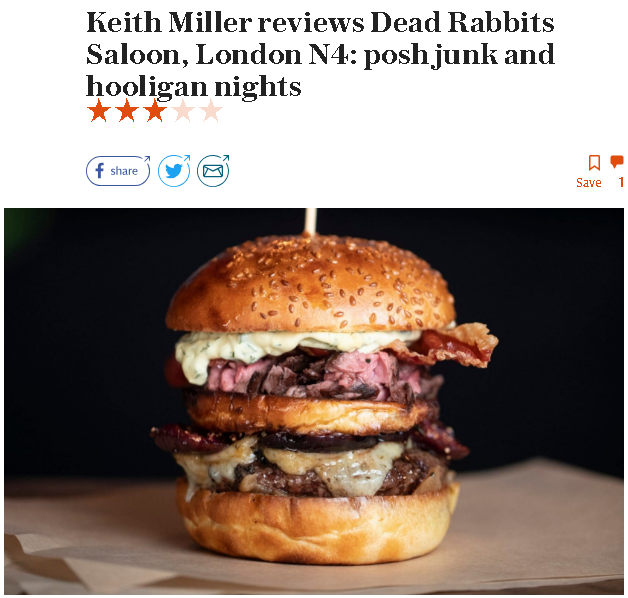 Keith Miller for The Telegraph described Dead Rabbits Saloon as "NVTAF or, more politely, Not Very Telegraph At All". Despite this, he continued with a restaurant review, to bring enlightenment and diversity to the Telegraph's readership. (Good work, Mr Miller.)
Actually," it's barely a restaurant at all… a small glass-fronted space, mostly occupied by the kitchen" with "perhaps 10 covers" and "loud swampy rock music" playing, but it has "an air of ambition about it".
Named (and themed) after the bar on Herbert Asbury's The Gangs of New York, DSR offers a "burger-led menu" with wings and "several variations on the theme of the chip": "fairly classic US-accented short-order stuff" but "using good ingredients and advanced barbecue techniques".
The "spirit is willing" and the food is "basically great", but "some of the ambition I'd sensed… was occluded by hapless execution". It's undoubtedly "one of Meatliquor's spiritual children", but not yet a "burgerlicious equivalent of Black Axe Mangal". (***)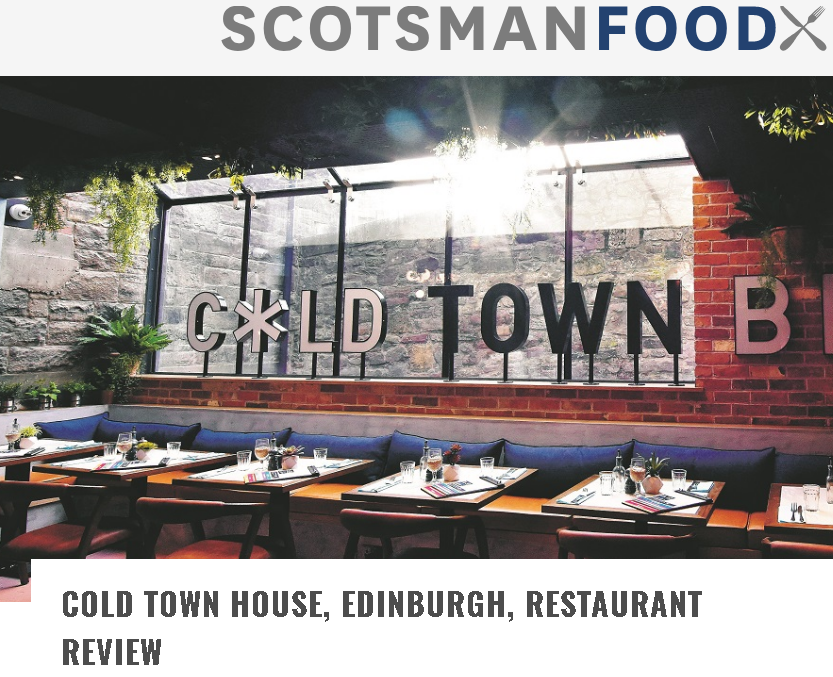 Gaby Soutar for The Scotsman visited the latest opening from Edinburgh-based beer makers Cold Town Brewery, who have several bars all over Scotland. They have taken over "the flower festooned Robertson Memorial Church in the Grassmarket", installed a pizza and prosecco bar on the first floor and an open air terrace on the top floor, with amazing views – Edinburgh Castle is "so close you could almost flick a peanut and hit it".

Gaby found it "clattery, chaotic, young and touristy", with "grumpy" service and a bewildering ordering system that involved "elbowing my way to the till".
The beer was "crisp and decent" but the food was less impressive, with complaints of undercooked pizza, "bland" haggis and "slimy textured" smoked potatoes; the nicest thing she said about the food was that one dish was "pleasantly stodgy".
" Skip the food and go to Cold Town House for the beer and views of Edinburgh Castle." (60%)
And also…
In The Financial Times, Nicholas Lander was in Brussels at Bon Bon, which he described as "a tour de force"; "while displaying sophisticated technique, the chef never conveyed the idea he took himself too seriously".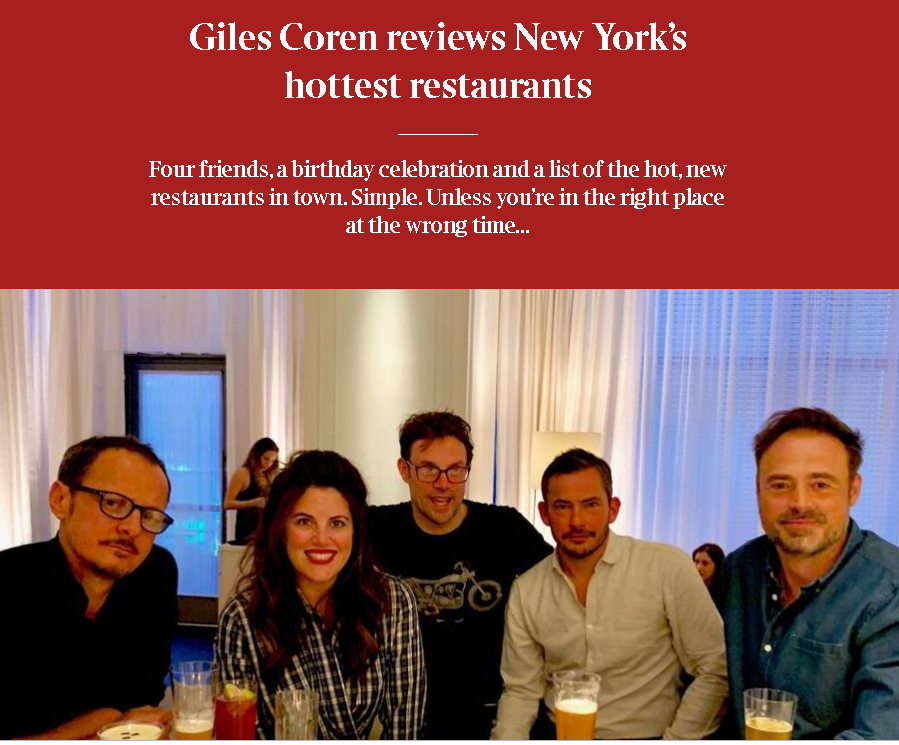 Giles Coren for The Times was in New York, investigating all the hottest new openings over a long weekend. He turned up at the wrong time, booked closed restaurants, took friends to a vegan restaurant (which they did not appreciate), got turned away 'because the chef wasn't ready for him' (who is?) and generally failed to eat anywhere he'd planned. Oh, and he had a drink with Monica Lewinsky (pictured). The only successful meal of the weekend was sorted out by his friend. Hopefully he'll be on better form next week.
Tom Parker Bowles for The Mail on Sunday was the first of the critics to review "raucously flamboyant Shoreditch trattoria" Gloria, from the Paris and Lille-based Big Mamma Group.
From the "lovely garrulous waiters clad in pink candy stripe jackets" to the throbbing house/disco/Eighties hair metal soundtrack" and the menu packed with " lusty innuendo", the place is like "a kitsch explosion in a Dolce & Gabbana factory".
And the food? It's "classic trattoria dishes" served up with "gleeful excess". So often this is a recipe for disaster – all style and no substance, but TPB was pleasantly surprised by the food. He oh-so-charmingly describes it like this: "from the very first bite… you know that Gloria has both fur coat and knickers". " Impeccably sourced" ingredients make up dishes such as Italian croquettas (a "joyous contrast of crisp crust and oozing… centre") and pizzas that put "most of those 'artisan' joints to shame" – all making up "an endless cavalcade of carb-soaked delight".
Wines are "well-chosen", "decently priced" and described on the list in a " gloriously camp" way.
"Gloria may be fabulous fun, but it's deadly serious about its food." (****)
Mark Taylor in The Bristol Post reported on new Bristol pizzeria Dough, (trailed last week), and found it disappointing. He was recommended 'the King' pizza (most expensive on the menu at £19.95), but "cheese, prawns and porcini was a flavour marriage… that might have seemed a good idea on paper but one that maybe should have stayed on the back of an envelope". His dessert of "Tiramisu alla Nutella might be better renamed as 'a classic ruined'".
"The open kitchen on the other side of the glass wall makes for a nice bit of theatre," but Dough is "trying desperately to reinvent the pizza wheel". (**)
Emily Heward of the Manchester Evening News visited El Gato Negro ("a reliably good bet for most occasions, and the place I send people to most often when they ask for a recommendation") for their new Sunday roast. Chicken and beef both retained "a subtly smoky flavour from the charcoal Josper grill", although "chicken rules the roost here, with a skin so crispy it's bordering on crackling".
But "oh, the trimmings. I could write a paean to the potatoes alone, roasted in a rich butter speckled with Serrano ham." Their "take on cauliflower cheese is quite something too… drizzled with molten Manchego", and "I've yet to pass up a plate of their mini doughnuts – little nuggets of churro dough, deep-fried and dusted with cinnamon sugar, ready to be dunked into a pot of hot chocolate sauce".
"Service is friendly and efficient", although some newer staff showed in their lack of training. El Gate Negro "rightfully keeps being crowned the best in Manchester,"; its new "roast is top tier".
Elle May Rice in The Liverpool Echo revealed that the owners of Maray are to open a third site in the city, with views over Albert Dock and the same "Middle Eastern-inspired menu".
Recent News from Harden's