Here's our regular summary of what the national and local restaurant critics have been writing about in the week ending 29 May 2022.
This is the 200th Review of the reviews in this format! We're always happy to take feedback on it – if there's anything you like or don't like, feel free to let us know.
*****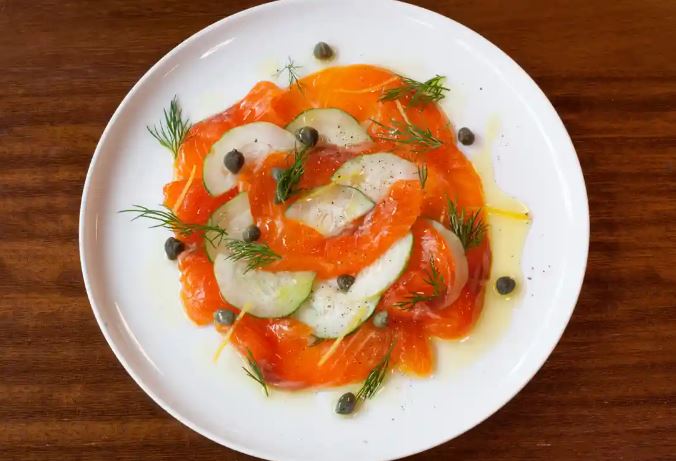 The Observer
Jay Rayner visited relative newcomer (and "achingly cool") Toklas, just off The Strand in Central London; it's named after the author of The Alice B Toklas Cook Book, although doesn't feature her famous recipe for hashish fudge on the menu.
They do serve chips, though; Jay ordered a second portion before he'd even finished the first – a sure-fire recommendation. They were "the Platonic ideal of the chip: golden, creviced, soft inside, but crunchy. Oh so crunchy". The rest of the menu is "a set of great ingredients, presented to the very best of their advantage" by new head chef (Jay visited on his very first day, but wouldn't have guessed it) Yohei Furuhashi, "who has time at the River Café and Petersham Nurseries on his CV".
Inside a Brutalist former car park, Toklas has "the air of a well-heeled modernist canteen" – a "broad utilitarian space of parquet flooring, with flourishes of modern art, alongside curving banquettes in shades of teal".
"It would be great if I could now say that eating here is cheap as chips… it's not extortionate and it is very good."
*****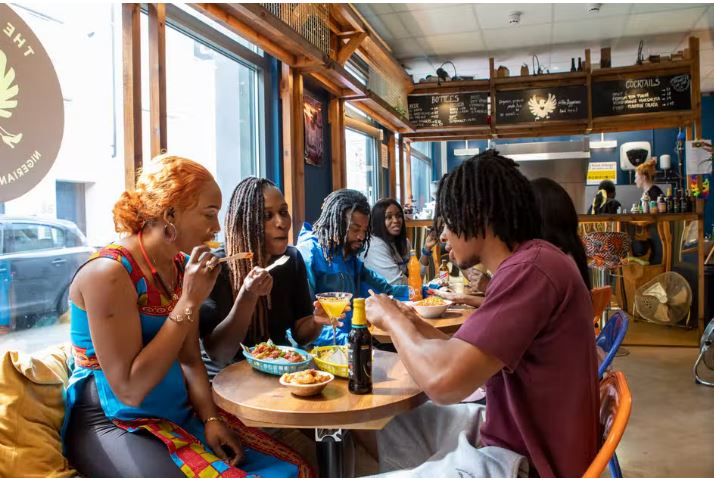 The Evening Standard
"Even allowing for these times of staffing crisis it seemed, in the nicest way possible, that there wasn't much fully-fledged restaurant here to actually dig into."
Arriving at The Flygerians in Peckham Palms ("the new incarnation of sibling British-Nigerian founders Jess and Jo Edun's roving Peckham restaurant"), Jimi Famurewa couldn't figure out whether this one as going to be a review to commit to print.
The "very short" menu, and the dishes "served in takeaway boxes" from a "tiny, basic kitchen" by a "lone female server/bartender/chef" made him apprehensive.
"More fool me. By the time the first dishes arrived… I was absolutely lovestruck and ready to fervently recommend it to every passing stranger on Rye Lane."
The food (which "feels rooted in comfort and nostalgia") is mostly prepped offsite, as it turns out – yes, it's not really "a traditionally formal dining establishment", but "what The Flygerians reminded me of, in a strange way, was an exceptional pub or traditional caff; a place where ubiquitous standards are executed on their own terms with the sort of atypical grace and magic that impresses devotees and newcomers alike".
"Nimble, generous and jubilant."
*****
Also in The Standard, a round-up of London's best Chinese restaurants, from "from Sichuan to Shaanxi, Hunan to Yunnan, Cantonese and everything in between".
There was also news of Le Cordon Bleu's first restaurant; Fleet Street's CORD was due to open in March 2020, but will open in June, with "a fine-dining restaurant, a cafe and a branch of its teaching operation".
*****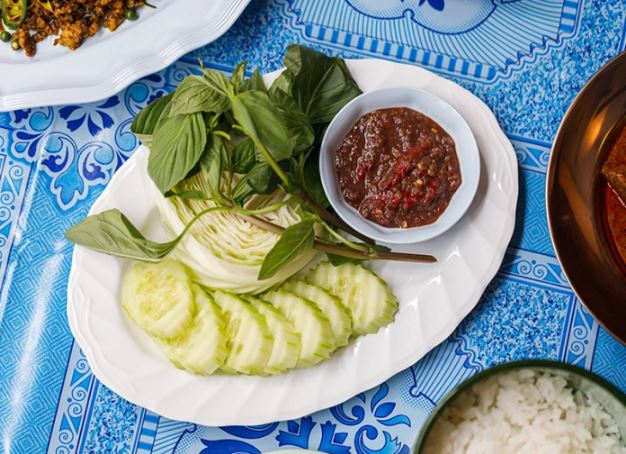 The Mail on Sunday
"From the very first bite – fresh tiger prawns with bitter sator beans – we realise there are no concessions here to timid Western palates."
Tom Parker Bowles for YOU Magazine reviewed Plaza Khao Gaeng, the new flagship JKS-backed restaurant at the relaunched Arcade Food Hall. (Regular Review of the reviews readers will recall that The Standard's Jimi Famurewa went earlier this month, and said much the same.)
British chef, Luke Farrell, "sure knows his stuff". "The rough, pungent edges are left very much intact… dishes are made with complex, fresh-pounded pastes of brow-beading intensity." Not everything is "about the heat", but forewarned is forearmed.
"With buckets of icy cold Singha beer, and the most gleefully heady of atmospheres, you could almost be back in Thailand."
*****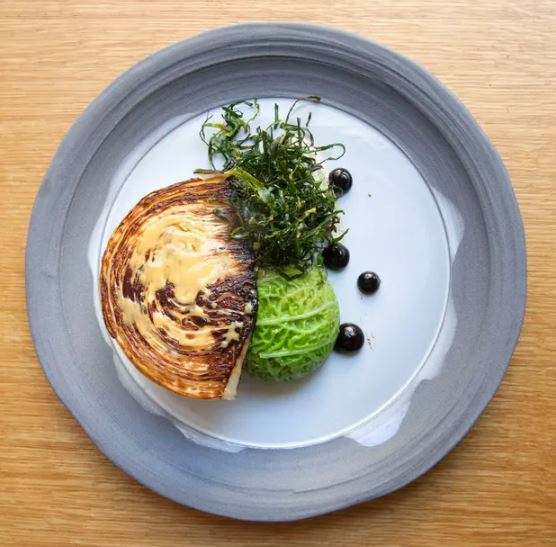 The Guardian
Grace Dent went to Apricity with a "sense of disquiet", not knowing whether the planet-friendly fare would delight her or just make her feel browbeaten and guilty. Luckily it was the former.
It's in an "airy, elegant, happy room in Mayfair" and has "a menu that will send vegetarians doolally with joy", all "delivered without sermon or soliloquy, because Apricity just kind of gets on with it".
"Staffed by mellow, thoughtful, industrious types who genuinely care about how the restaurant scene affects our planet", Chantelle Nicholson's "very fancy Mayfair restaurant" is "serving delicious things that make minimal impact on all our futures". Grace recommended the London red butterhead salad ("a fairytale arrangement of pond-green leaves…  all assembled into a flower") and the chouxnut dessert.
"Too good and truly delicious."
*****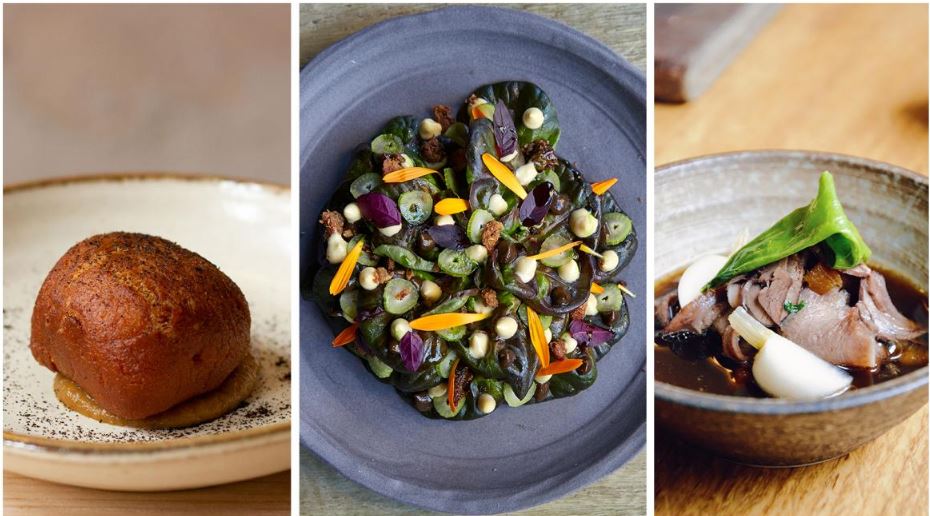 The Times
Giles Coren also ate at Apricity (he suggests not Googling it unless you have a need for fertility services), which he described as "one of those places that tries to do the right thing, all of the time".
He and his non-drinking friend plumped for the "full seven-course tasting menu" accompanied by "delicious, fruity Virgin Marys, made from yellow tomatoes".
Giles also boldly claimed to have somehow started the sustainable restaurant movement when he started scoring places for "sourcing of their meat and fish, their treatment of staff, the provision of tap water, community engagement, waste management", etc.
That aside, he agreed with Grace about the London red butterhead salad, pictured above centre ("the most beautiful salad I've ever seen. And absolutely delicious too") and the chouxnut ("a truly historic dessert"). (26/30)
*****
And also…
A shock to the British dining scene in Bristol's Post this week, when Casamia executive chef Zak Hitchman announced: "For reasons out of my hands Casamia will be closing permanently on August 20th". Owner Peter Sanchez-Iglesias told Big Hospitality that "rapidly increasing costs had made the business "financially unviable" and that "losing just a few covers per service is often the difference between making a profit and making a loss"".
*****
In The Scotsman, Gaby Soutar reviewed new Leith aperitivo bar, Bittersweet, the "latest project from mixologist Fabrizio Cioffi" who also manages an artisanal distillery. The "showcase of their creations" includes a list of "Wanderlust cocktails, which are designed as a post lockdown celebration of travel" and accompany a menu of "good booze food".
*****
In The Independent, a report on Hugh Osmond, chief executive of Pizza Express, who claims that "the price of dining out could soar in the coming months as the UK continues to face a cost of living crisis".
*****
Koffmann & Vines paid a visit to Galvin Bistrot & Bar next door Chris and Jeff Galvin's Spitalfields flagship Galvin La Chapelle. The brothers are "two of the nicest guys in the London restaurant business, and they have been quietly influential for years in popularizing French food, from bistrot classics to fine dining".
The menu is "fairly short and straightforward" and "encapsulates the Galvin brothers' commitment to seasonality and quality ingredients, with a certain reverence for tradition". Overall, it offers "decent cooking at affordable prices".
*****
Sussex World reported that Restaurant Tristan has been put up for sale, since being closed from March. Chef patron Tristan Mason said that "the crunch had come when personal problems coincided with staffing difficulties and rising fuel and food costs".
*****