Here's our regular summary of what the national and local restaurant critics have been writing about in the week ending 24 April 2022.
*****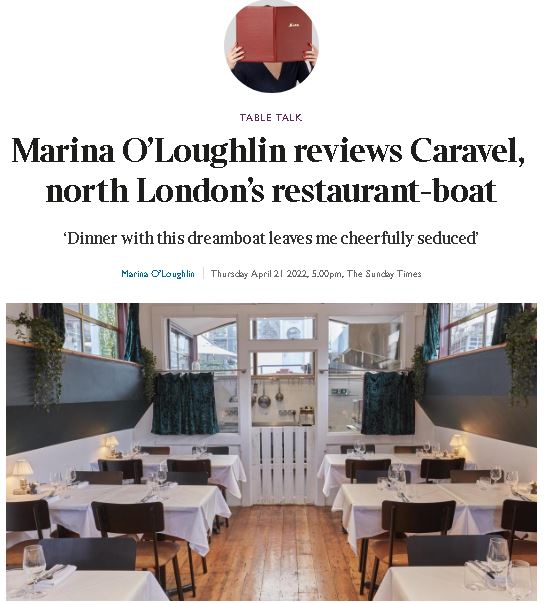 The Sunday Times
"Cynical harridan that I am, it has been a long, long time since I've considered a restaurant as an arena for romance. I'm afraid today's restaurant makes this unavoidable."
Marina O'Loughlin visited the converted canal barges that make up both Studio Kitchen and Caravel on Regent's Canal in Shoreditch, and was enchanted with the "whimsical charm" of "the trio of brightly coloured barges blessed with girls' names".
"Nor does the enchantment wear off when food starts arriving." The Spiteri brothers* provide cocktails and cooking that are "excellent" with a "surreal sense of humour". To start with, Marina felt "like they've taken children's favourite dishes and elevated them into something adults aren't ashamed to eat", then the mood "morphed" (with a boozy liver parfait) into a "laid-back dinner party hosted by someone who's studied under some of the greats". Then with pudding, "we're back to the kids' party".
* "We're talking serious restaurant-biz pedigree here: Dad is Jon Spiteri of everywhere from St John to Sessions Arts Club."
"This is not the most ambitious, innovative or disruptive cooking, nor does it intend to be. It's just, like its setting, designed to be lovely."
*****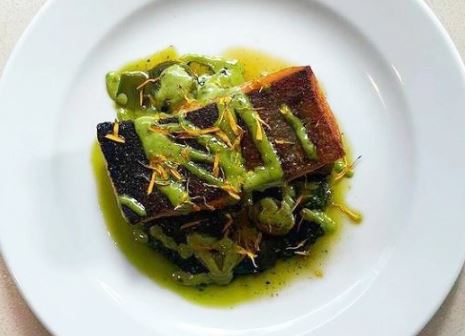 The Mail on Sunday
"This small Soho restaurant is like a jolt of pure joy, from the sunniest staff who radiate good cheer to a soothing soundtrack of old classics, and the ever-present rattle of ice on shaker."
Tom Parker Bowles for YOU Magazine was seeking somewhere fun after an hour with "Francis Bacon's brutal beauty" at The Royal Academy, and headed to Rita's in Soho.
The menu is "mainly American" (with "the occasional foray across the border into Mexico") and is "a clever, knowing mixture of high and low"; "they're big on provenance" too.
"Outside, the rain tips down. But in Rita's, it's all about warmth, restoration and a happy refuge from the deluge."
*****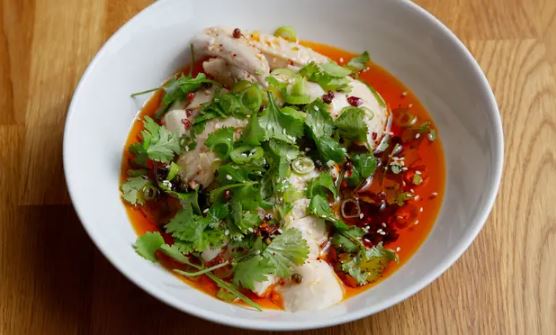 The Observer
"An utter joy."
Jay Rayner was in Birmingham at Yikouchi at Chancer's Cafe, which is "a sweet account of a young English couple's interesting journey through life so far, served up one clamorous dish at a time".
Chef James Kirk-Gould and his partner Cassie lived in Beijing for six years; after returning home James got a job at Duck & Waffle. They moved to Birmingham where Cassie set up "a fudge-making business" while James "took cheffing jobs, but also cooked his Chinese food at pop-ups".
They opened Chancer's Café where they serve a weekend brunch menu of " beignet and waffles, often with fudge sauce. An awful lot of fudge sauce"; then, from Wednesday to Friday lunchtimes and on Friday evenings it becomes Yikouchi, where "James knocks out thrilling dishes paying homage to their time together in China".
Dishes on the short menu at this "brilliant cut-gem of a place" rarely cost over £9. Regular readers won't be surprised that Jay "set about ordering everything on the menu and one thing that isn't on the menu".
The extra dish was the Friday night special: "an extraordinary bowl full of golden chunks of thigh in a crystalline batter that shatters beneath the teeth, splashed with more of the hefty, salty chilli oil".
Dessert is soft-serve ice cream – with fudge sauce, of course.
*****
Also in The Observer, an article from Ed Cumming on the new rules of post-pandemic restaurants – sage advice for both owners and customers – and another from Tony Naylor on the 30th anniversary of Nando's and Wagamama opening in the UK, and how "they've changed the restaurant industry and the way we eat out".
*****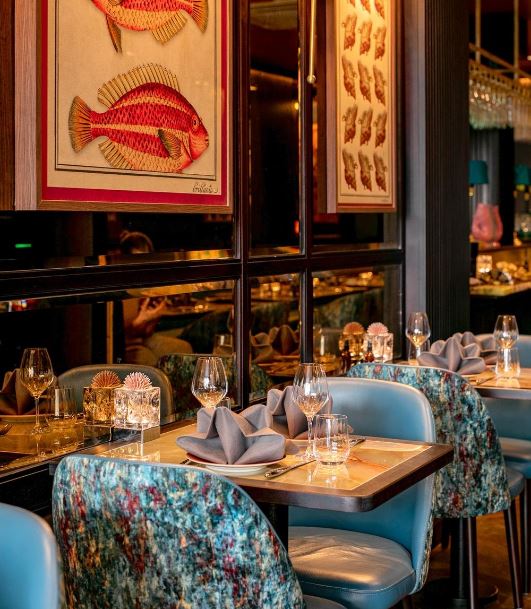 The Times
Giles Coren usually goes to Paradise in South Hampstead ("without question both the best curry house in the world and a perfectly ordinary curry house, as all curry houses should be") when his childhood friend comes home, but this time he mixed it up with a visit to Manthan in Mayfair.
"In no way at all is Manthan just another curry house, but it is definitely the best curry house in the world." It's the "latest manifestation of the genius of Rohit Ghai, the Punjabi chef initially behind Benares, Trishna, Gymkhana and Hoppers".
The "whole thing here – aside from top-class cooking – is intimacy and fun" and delivered "good times and great cooking" to Giles and his pals from the 1980s.
After the "conical papads on phantasmagorically shaped gold-coloured crockery" came a "dazzling procession of street-influenced starters" and mains that were "confidently, boldly spicy" and "delicious as all hell".
Only the 'garlic kheer' dessert divided opinion, which is "what happens with genuinely interesting cooking". (24/30 but that includes a 6/10 for the garlic pudding)
*****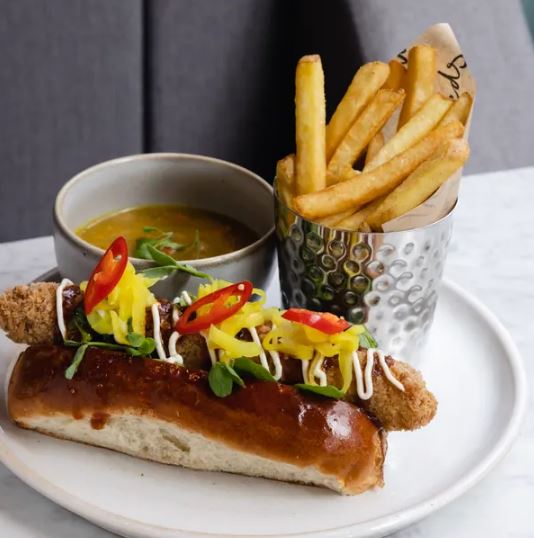 The Guardian
"This is the first meat-free establishment I've eaten in that didn't try to flog me a holistic birth doula service when I sat on the loo."
Grace Dent reviewed the "new and very busy" Covent Garden branch of Mildreds, which replaced an Angus Steakhouse. These days, Mildreds is "sleek and elegant"; this new branch "even has a 10-person private dining room called Jane's Place".
The menu is "delightfully bizarre" and "geographically incongruent"; it's also "almost unique in its utter lack of any mention of being vegan, vegetarian, anti-meat, pro-planet or whatever".
It's "unapologetic and utterly un-preachy… they've been doing what they do since 1988, and it has now become fashionable".
*****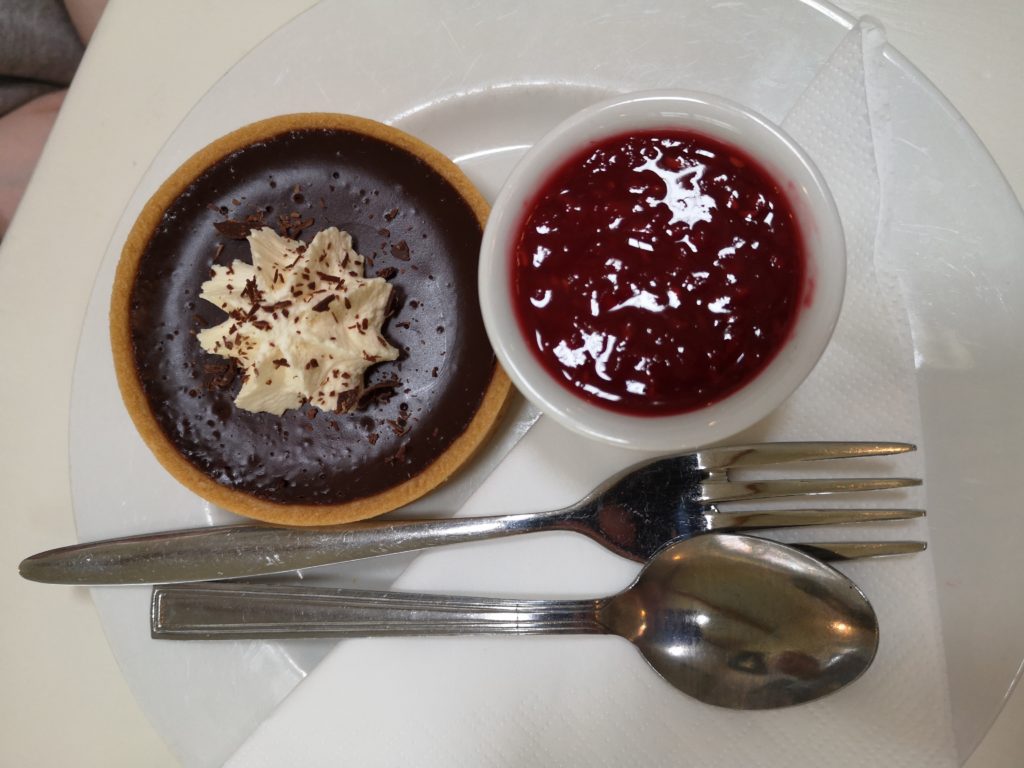 The Scotsman
Gaby Soutar reviewed Shinsen Sushi, "the capital's newest Japanese restaurant"; that's "opened a second branch to join their Broughton Street venue… on Edinburgh's most ramshackle thoroughfare" near the National Museum of Scotland.
The menu lists "Japanese soups, teriyaki and karaage, as well as sashimi and lots of sushi," which arrived in "almost snooker-ball dimensions". The katsu was also "very comforting".
Also in The Scotsman, Rosalind Erskine discovered The Courtyard Cafe at Knockraich Farm while on a drive in the country along Crow Road (the one from the Iain Banks novel); the "panoramic views were the icing on the cake of a smashing day out".
Katy Roger and her daughter Helena make dairy products at the farm, while her other daughter Catherine is in charge of the cafe; the "produce is beloved by chefs and it usually gets a name check on menus", and there's also accommodation and an interior shop.
Rosalind and her daughter used the expression "simply the best I have ever eaten" to describe both the tomato soup and the chocolate tartlet (pictured) they ordered for dessert.
"All that was left to do was to settle the bill and stock up on lots of Katy Roger's dairy delights to take home."
*****
And also…
Just a brace of round-ups in The Evening Standard this week: London's best pasta restaurants and where to find the best Indian restaurants in the city, from "Michelin-starred fine dining to long-loved family institutions".
*****
In The FT Magazine, a "first look into The Twenty Two" – "everyone's talking about Mayfair's newest hotel".
*****
Fay Maschler in Tatler reviewed The Great Shefford in the village of the same name; it's a "revitalised riverside pub near Newbury" that's "a rare jewel of a country pub". Head chef Sam Cary "has a CV on which The Hand & Flowers and Whatley Manor stand out" and the "sprawling space" provides a welcome that's "everything you want a welcome to be".
"I have no doubt that the area's racing fraternity will be running as fast as they can to this revitalised establishment."
*****
Koffmann & Vines reviewed Bocca di Lupo, which is the place they keep returning to. "This unassuming trattoria, which opened in 2008, feels as authentically Italian as any restaurant in London," despite the fact that it's "secretly British".
"Everyone these days talks about serving seasonal dishes, but Jacob [Kenedy] is uncompromising. If it's not in season, it's not served; and if the quality isn't right, it's not on the menu."
*****
Bristol Live reported on the changes afoot at the former Pony & Trap in Shepton Mallet which will re-open next month as The Pony Chew Valley, with "a cookery school, wedding venue and restaurant".
*****
Manchester Evening News reviewed Bistro Marc at Winter's, a new French spot in Stockport's historic Winter's building that's been under refurbishment for three years, and also reported on the early plans for a MNKY HSE branch in the city.
*****
In the Birmingham Mail, a sneak peek inside the newly opened Kibou Solihull, which is described by the owners as a "Japanese-inspired wonderland".
*****