Our weekly round-up of what the national and local restaurant critics are writing about, for the week ending 23 August 2020.
Restaurants, pubs, bars and cafes in England were permitted to re-open on Saturday 4 July after over 100 days of enforced closure; Scotland and Wales followed a few weeks later. Some establishments remain closed – the owner of the three Market Halls, for example, has decided to remain closed until social distancing has ended.
For the month of August, the government's 'Eat Out to Help Out' scheme, aimed at boosting the restaurant sector, is offering a 50 per cent discount, up to a maximum of £10 per person, on food and non-alcoholic drinks, any Monday to Wednesday. The first week was hailed as a success by the industry (see our article here) although the future is by no means secure, with insolvency a very real threat for many restaurants.
Check with your local and favourite restaurants before heading there; many are operating strict timings, reduced menus and booking systems, even if they didn't before; look at their social media pages for details (all available via hardens.com).
*****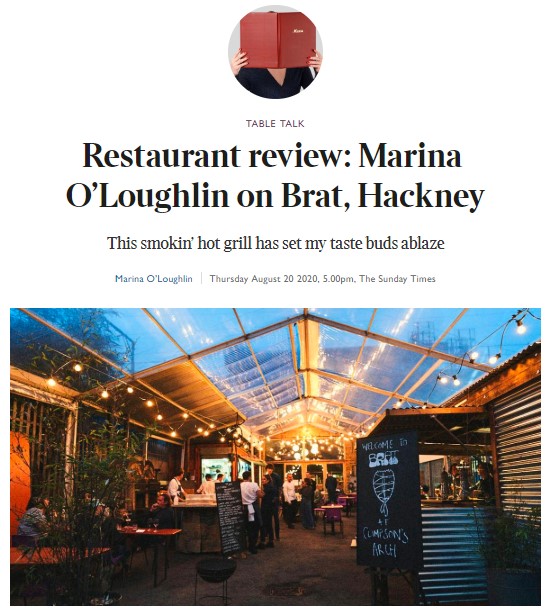 The Sunday Times
"There's something about honouring a reservation made weeks in advance only to eat at picnic tables in a tarp-covered yard that conspires to make us feel like we're all in this together."
Marina O'Loughlin was in Hackney, at Climpson's Arch and the new temporary home of Tomos Parry's Brat. There was no way he could have re-opened the usual premises (a "handsome, wood-panelled room in Shoreditch" and former strip club) with social distancing in place, so "as a response to The Current Situation, they've moved the whole shebang" here, to the "atmospheric Hackney backstreet [that] has acted as incubator for any number of intriguing proto-restaurants and residencies".
And "they've done it so seamlessly, we wonder if it were planned pre-Covid? No, according to our lovely waiter, they just got on with it".
"Even at the earliest doors on a weekday, this baby Brat has the air of a scene… The approach smells of smoke, of meat and fish browning over coals, so appetising it grabs you and draws you in like a cartoon cat."
The food is the same but "subtly different"; "there's the same concentration on fine British ingredients, the lack of interest in blobs and swirls and Instagrammability and pretension. As ever, there's nowhere for any of the ingredients to hide, so they just bellow joyfully."
Marina ate aubergine "blasted into an almost-fondant", "pneumatic" grilled flatbread, Dover sole – "a beautiful fish, firm, meaty, coming away from its bones in languid fillets, smoky from the grill and almost self-saucing", "celestial" potatoes and "a heavy skillet of roast chicken rice" ("the chicken-iest dish I've ever tasted"). "Even though simpler than the mothership, the food is as memorable."
As is the price – yes, they ate and drank a lot, but "only, um, £214 thanks to the government discount" is as unforgettable as the dinner. But "there's nobody eating here this evening for whom this will make a jot of difference, either to bank balance or motivation. This place is not for dilettantes teased out of fearful nests with a tenner of their own money, it's for disciples."
"Parry is manning his DIY pass, serious, intent, no grandstanding, no peacocking. It takes real skill to carve a restaurant out of a forecourt that makes you feel relaxed about dropping a ton a head for the privilege of eating in it."
*****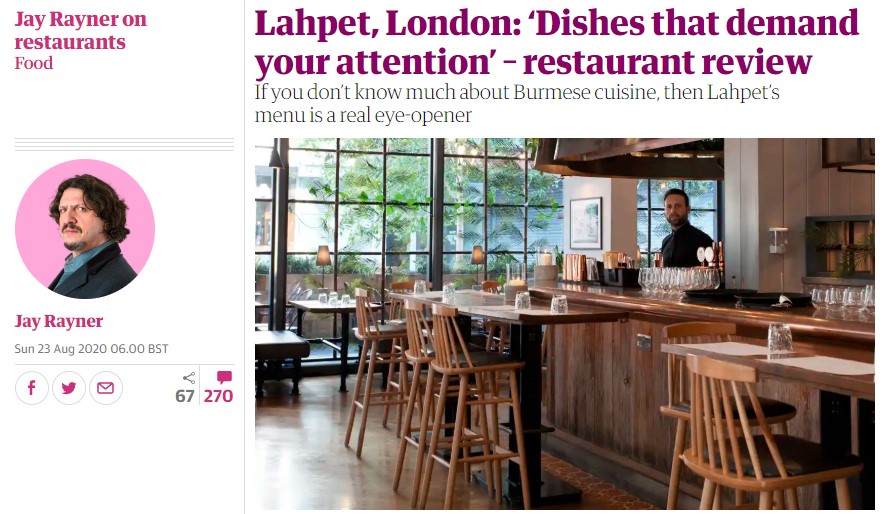 The Observer
"Apparently, the Burmese love deep-fried stuff. This is something we can all get behind."
Jay Rayner was in Shoreditch this week, educating himself about Burmese food at Lahpet, a food truck and pop-up-turned permanent from "Dan Anton, who has Burmese heritage, and head chef Zaw Mahesh, who was born in Burma".
It's ideally suited to social distancing, with a central bar and "sizeable terrace space", decorated in "a light and airy space clad in lots of blond wood to soften the Shoreditch concrete and steel".
To start his culinary adventure, Jay had three types of fritters ("Where have these been all my life?") delivered "in jolly paper cones" with "a bright, sour tamarind dipping sauce".
Within the menu, Jay discovered that "sweet and savoury are not competing ideas" in Burmese cuisine, and that "texture is key. Lahpet thoke is a traditional salad made with pickled tea leaves, but there is so very much more going on here than the humble word "salad" suggests. It's a salad with a lengthy CV and killer references… a heap of good things that needs to be excavated in search of ever deeper textural joy."
There was lots of contrast too – braised pork arrived in "a thick, almost black curry sauce full of caramel tones, mustard greens and brooding intent", while the classic mohinga – "catfish and lemongrass chowder" – was "almost light and carefree. But it's still a belter." The "most showy plate" was a bream, fillets removed and then deep-fried alongside the skeleton.
The bream was served with balachaung, a "toasty mix of caramelised dried shrimps, shrimp paste, crispy fried garlic and shallots, with a gentle hit from fragrant roasted chillies. It is slightly sticky and full of deep, dark notes. It's intensely savoury, but also sweet and rich". Jay loved it so much he bought two bags (available on the door) and ate it by the spoonful over the next week.
*****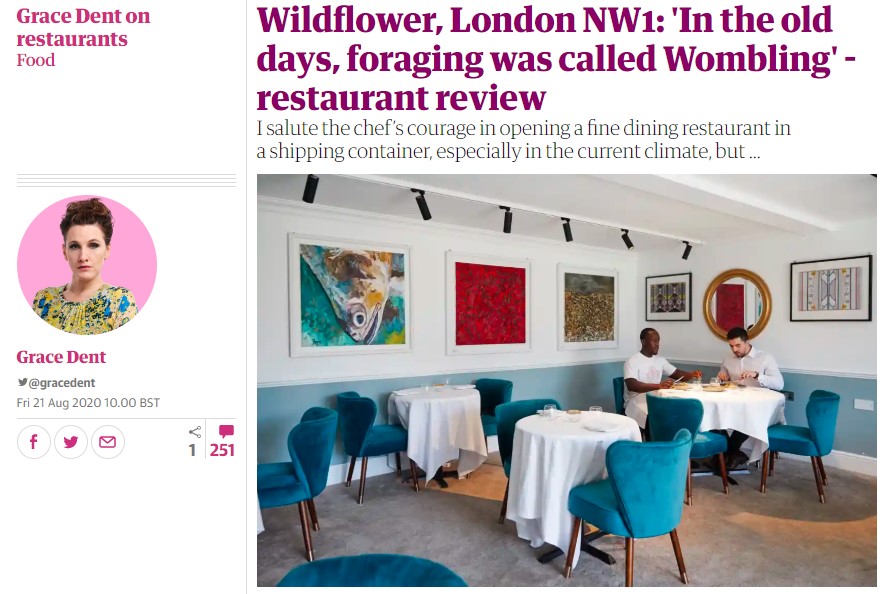 The Guardian
"So far, 2020 has offered me a rich glut of awry dining experiences, but Wildflower trumps them all with its attempt to meld Eleven Madison Park with a corner of Zeebrugge shipping port, let alone opening during a pandemic, meaning the staff are masked and footfall is obliterated."
Grace Dent was at Wildflower in Camden's new Buck Street Market, where Adrian Martin ("sir, I salute your courage, strength and indefatigability") has turned a shipping container "into a prim, slightly chintzy space with tablecloths, teal velour chairs and otter-grey shagpile that serves a tasting menu featuring scallops with miso, wild garlic and onion".
She ate the "seven-course evening tasting menu", which was peppered with inverted commas and 'playfully' presented by the waiting staff (""I'll leave you guessing what the secret ingredient is in the oyster," the server said, like an MR James character. He never did tell us.")
"Summer minestrone was my favourite course: a sharp, joyous, well-balanced bowl of fresh tomato, broad beans and peas with a dressing of yarrow." Apparently the "speedier lunch menu seems heartier, with slow-cooked pollock and raspberry soufflé on offer".
The main course was "a generous chunk of salt-aged lamb rump" which arrived "sitting on, we were told solemnly, "last year's plums"." ("After almost five months of not laughing much at all, I think the phrase "last year's plums" has finally given me back my sense of humour.")
"A pudding of caramel tart with dandelion root ice-cream was delicious – it was simply proper home cooking; a tiny pre-dessert of beetroot, white chocolate, yoghurt and pistachio was similarly delightful."
Toilets shared with the other food outlets and forgotten-about wine meant that Grace wasn't wholly enamoured with the evening; "Wildflower is peculiar, but it's a night I won't forget".
*****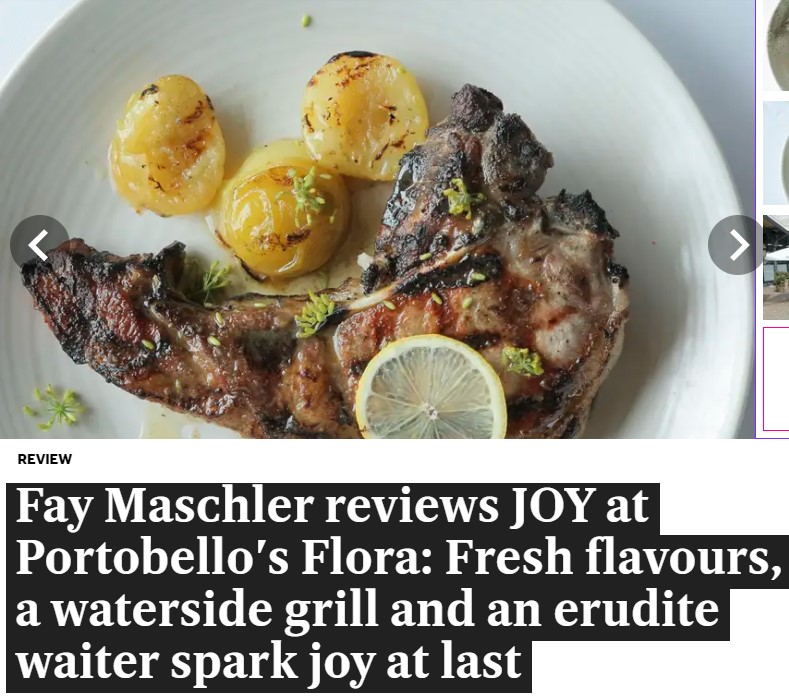 The Evening Standard
Fay Maschler visited Joy at Portobello, the former site of Portobello Dock, where chef Steve Parle has returned to open a restaurant called Flora, named for the dahlias rescued from the cancelled Hampton Court Flower Show that decorate the space. Joy at Portobello also boasts a series of shops, including a farm shop, honey stall and bottle store.
"The terrace overlooking the Grand Union Canal is now furnished with tables and white umbrellas with a blue trim sporting the Nyetimber logo… Entrance is via a long table spread with produce also available to buy" and "an open-air grill scents the air and shoulders much of the cooking".
Her starter of a "bowl of clams opened with guanciale and freshly podded peas" was "a fitting first course and a delight", but another of smoked cod's roe pâté was "tactlessly salty".
"Guildford House pork chop served with the cunning combo of greengages and anchovy possesses the perfect char and flavour that permeates beautifully the fat", although the ricotta-stuffed Loughton Farm chicken "spent too long over the fire".
"Pivoting in this pandemic has taken many forms. I hear rumours — and sense they are true — that this pivot may be for the long haul. I do hope so."
*****
Fay's regular week in food page saw her visit Al Hamra for "meticulous hors d'oeuvres" (and to support Beirut, apparently), enjoy a "sprightly meal" at Amaya and "Parmesan churros warm and light as a baby's breath" at Sam's Riverside.
Also in The Standard, a list of restaurants planning to continue with the Eat Out to Help Out discounts after the scheme ends on 31 August.
*****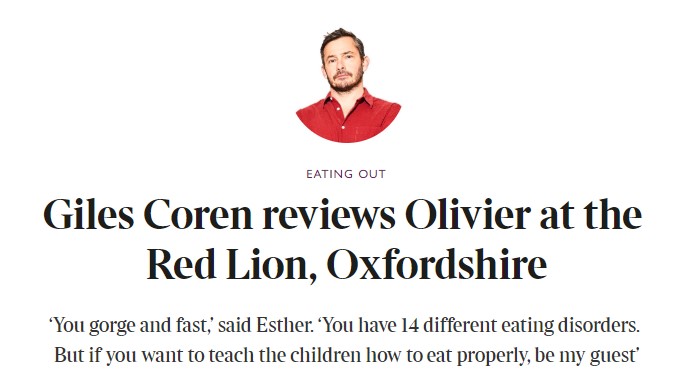 The Times
Giles Coren's review of lunch at Olivier at The Red Lion in Britwell Salome, was mostly a tirade about his children's table manners – although their reading matter at the table can't be faulted (Dog Man for Sam and Hunger Games for Kitty).
They were served by a "charming French fellow" at the "small, quiet, elegant little pub". They chose a selection of starters: sweetbreads and gazpacho were pronounced "lovely", and there was also tempura tiger prawns and razor clams, plus "less successful" crispy duck salad and deep-fried goat's cheese. The children had "something fried with chips", and pudding was profiteroles "which Kitty absolutely adored", although it seems like he wrote that before the main course had even arrived.
"All in all, this is very sound French bistro cooking with good ingredients and a focus on strong, uncomplicated flavours." (7/10)
*****
The Mail on Sunday
Tom Parker Bowles' reviews in Saturday's Daily Mail seem to have migrated to the Sunday You magazine, alongside an Olly Smith wine column. We missed last week's nostalgic review of Dishoom, ("a five-napkin feast") but this Sunday's review was a new discovery, Anissa's Thai Kitchen in Lymington, deep in the New Forest.
"This is no average pad Thai palace; rather, a joyous blast of true regional cooking, the country sibling to London's peerless 101 Thai Kitchen, and an entirely fortuitous find." Tom enjoyed Kua gling moo, made with minced pork, "dry fried and beautifully brutal", hot and sour prawn curry and "crunchy, pert and punchy" som tum salad, "rich with chewy dried shrimp".
"I could be back in one of those late night Bangkok Isaan bars, where beer is sold by the metre, and a continuous flow of snacks assaults the tongue with salty, spicy aplomb."
And also…
Kathryn Flett of The Telegraph visited Idle Rocks in St Mawes, Cornwall, having cleverly booked herself a holiday there back in February, before it became "the new Provence"; "it's not rock 'n' roll, but I still rather like it".
*****
No reviews in The Scotsman or The Financial Times this week.
*****