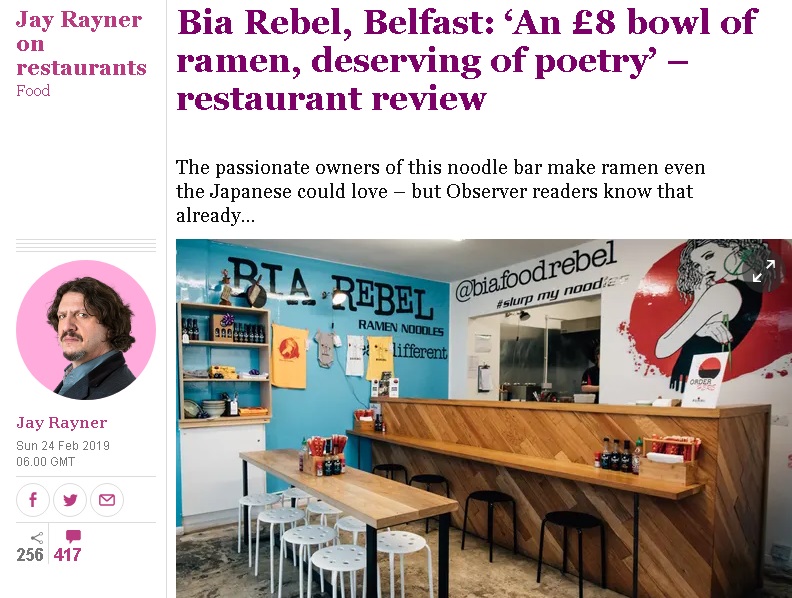 Jay Rayner for The Observer was in Belfast, and visited the winner of the Best Cheap Eats category of last year's Observer Food Monthly awards. "Happily, I can confirm our readers have impeccable taste."
Bia Rebel is run by chef Brian Donnelly (ex-Aubergine, Le Gavroche and Thornton's) and his business partner Jenny Holland. It's a different world from his previous premises, with "a few seats at a counter, a long communal table… and a vibrant mural on the wall demanding you #slurpmynoodles" – but "the culinary intensity is just the same".
There are "around 10 permutations" of the homemade-wheat-ramen-and-broth theme, using local ingredients and tweaked to the local palate. The broths are "swimming pool deep and savoury". A few starters ("silky-skinned gyoza") and salads complete the offering. Jay left with " a satisfyingly full belly".
"Nice people. Good food. Great price. Six words which tell you all you need to know. But then you'd have had nothing to read on a Sunday morning."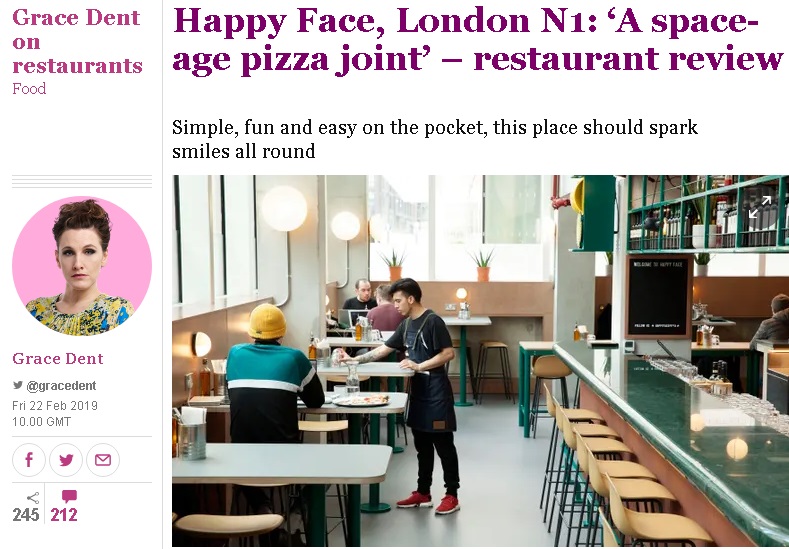 What's not to like about "a capacious, all-day, retro-feel, pocket-friendly joint with a small menu of Italian classics, cocktails and vermouths, and with a subterranean bar"? Grace Dent for The Guardian found nothing unlikeable about Happy Face, underneath the Everyman cinema in Coal Drops Yard.
It's "a place to take anyone – your friends, your gran and your difficult colleague Linda who likes only Pizza Express" – a "space-age slant on a classic Neapolitan pizza joint by way of Arnold's Drive-In from Happy Days".
"Food-wise, the key is simplicity" – good aperitivo, a handful of pizzas (no pineapple), cocktails ("My abiding memory… is the ice-cold sgroppino cocktail made with lemon sorbet and prosecco") and decadent Italian puddings.
And for much later, there's SuperMax downstairs ("a late-night bar with a custom-made disco ball centrepiece"). (25/30)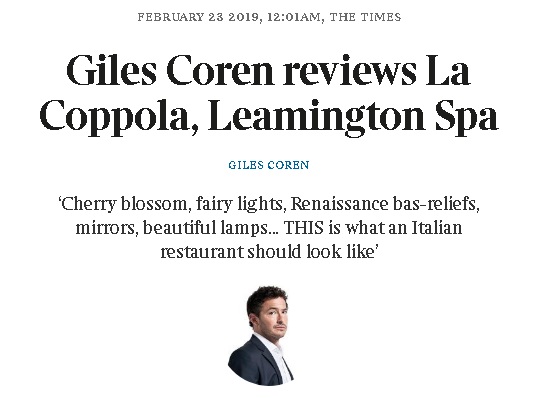 Giles Coren for Saturday's Times Magazine had been looking for an excuse to revisit Leamington Spa and La Coppola for a couple of years: it looked to be the perfect "bustling trattoria". Lunch with Sara Tor (of spoof Coren column Beyond Giley) was the perfect reason to visit.
He remembered it having a lavishly festooned exterior, and was disappointed to find it in a new location, un-festooned. Inside was a very different matter: every inch of the ceiling was covered with "branches of imitation cherry blossom. And also with fairy lights… like Santa's grotto in spring". Not to mention the "walls of carved alabaster… Renaissance bas-reliefs, mirrors, tiled floors of black and white, beautiful lamps … THIS is what an Italian restaurant should look like!"
Giles ordered a "perfectly delightful " melanzana parmigiana alongside a dish of prawns in Dolcelatte and coffee (yes, coffee) sauce, which turned out to be "delicious… the sauce was light but punchy", followed by "an ace panna cotta". "Excellent" coffee and charming service made it a lovely meal "in, ooh, 1954?" (21/30)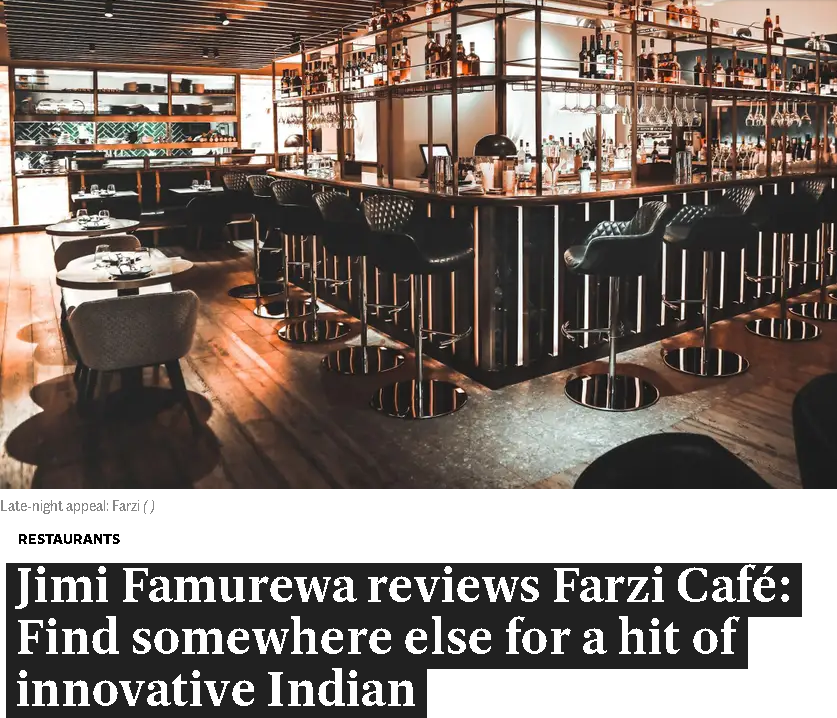 Jimi Fanuwera's review of Farzi Cafe for The Evening Standard can be summed up with the quote "Find somewhere else".
It's "the first UK outpost of an enormously successful upscale Indian chain famed for experimental, high-theatre spins on a broad range of South Asian classics". Does it work in the UK? Yes, there's the "enjoyably daft, cocktail-fuelled, late-night appeal". But the "culture-splicing — sorry, #Farzified" food ranged from "pretty good" potato and samphire bao to "almost impressively calamitous" deconstructed Wagyu cottage pie (complete with "unappetisingly mauve" mash).
Jimi's advice would be to head for one of the many, many other "innovative, modern Indian places" in the capital; restaurants that bring "a measured progressiveness to the traditions of subcontinental spicing and plating". (5/10)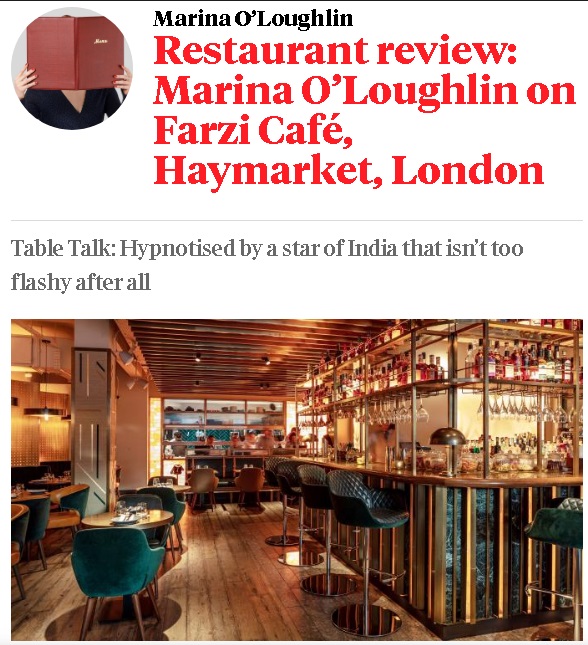 Marina O'Loughlin in The Sunday Times also reviewed Farzi Cafe, intrigued by the pre-publicity that "promises 'food theatre unlike any seen before'". Did she like it any better than Jimi Fanuwera?
Well, she was rightly unimpressed by the overdone, glitzy decor (along the theme of "home for the international minted"), and saddened that the dishes promised in the PR didn't materialise (literally – mention was made of floating amuse-bouches). So she was "devastated to report that every single thing we eat… is, well, delicious."
"Restrained this is most emphatically not. Imagine butter-roasting bone marrow? There's rich and then there's Farzi Café rich." An Indian-style Scotch egg was "wholly successful, its yolk oozing, its spiced mince pungent, its casing crisp", paratha bread was "buttery and flaky as a Parisian croissant" and chicken tikka masala was "genuinely poky with its quantities of fresh chilli".
It almost feels that Jimi and Marina visited different restaurants. She found Farzi Cafe to have "splendid, "evolved" Indian cooking and — for this neck of the woods, with this level of investment — surprisingly affordable too" and highly recommends a visit.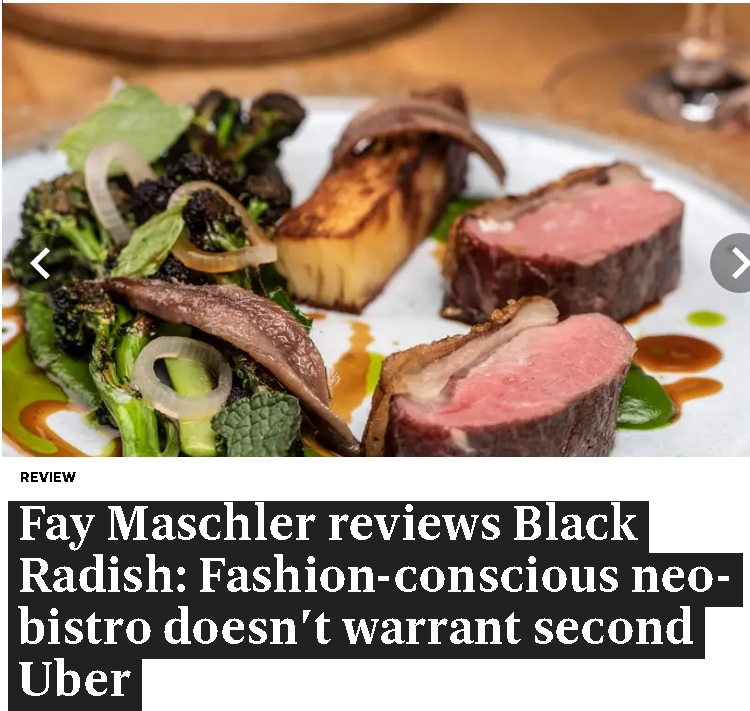 Fay Maschler for The Evening Standard uncharacteristically made only one visit to Wimbledon's Black Radish (not, as she hoped, a relative of the White Onion). She blamed the cost of Ubers, but was just not tempted back by the menu items she hadn't already tried.
Service was friendly and enthusiastic, possibly a bit over-keen, and the food presentation was overly fashion-conscious (especially for somewhere claiming to be inspired by the neo-bistro movement) – starters came "slumped to one side in a shallow ceramic bowl", and pot roast beetroot "comes hidden under two large leaves of radicchio". the whole experience, for Fay "militates against spontaneous enjoyment". (**)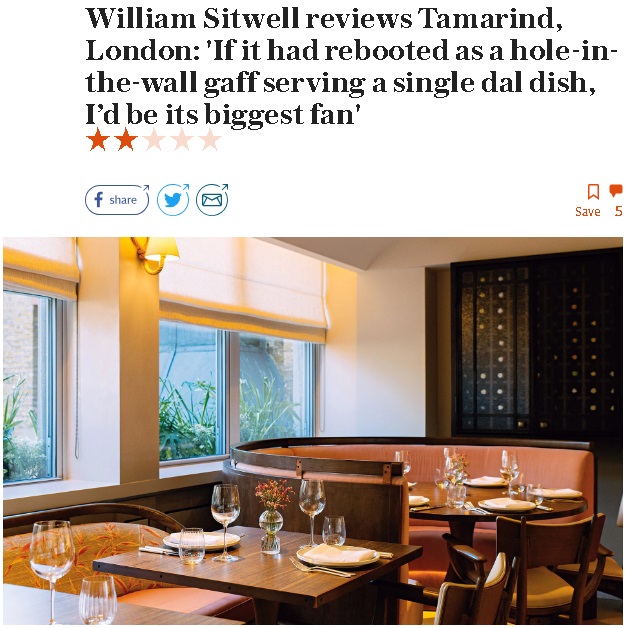 William Sitwell for The Telegraph returned to Tamarind, now open again after a major refit that took most of 2018.
On the plus side (let's start with the positives), there's "a substantial wine list; the décor is fresh, light and floral; the service very upscale… and they make extremely good dal".
Negatives, however, outweigh heavily: over-priced everything, dishes that "came in identical sauces of the lightly red, tin-of-Heinz variety, with a similarly sickly, sweetly sour taste", and puddings that were either flavourless or powerfully over-flavoured ("a hostile invasion of saffron").
If Tamarind "had rebooted as a hole-in-the-wall gaff serving a single dal dish, I'd be its biggest fan". (**)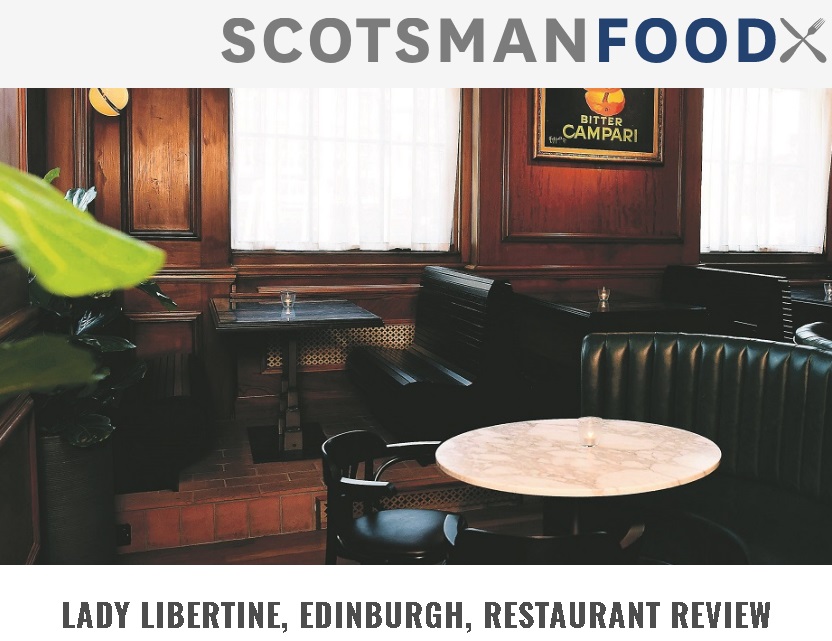 Gaby Soutar for The Scotsman was at the former Bank of Scotland HQ, where she's already visited The Register Bar and Hawksmoor, and was impressed to discover that they've found more space in which to open Lady Libertine, "a venue for party kids": "drinkie-poos are their forte".
There's two floors, both blasting out "Nineties hip-hop", serving cocktails and "casual food" – mezze upstairs, and "more substantial grub" in the "the old bank vault" in the basement; all the dishes Gaby tried were "big on flavour, though maybe lacking individual definition" – but that could just be the lighting levels…
And also…
Tom Parker Bowles, writing in The Mail on Sunday, did what he does best for this week's review; he visited an outstanding, rightly famous, restaurant (practically an institution) – and told us all just how good it was. And then, of course, awarded it four stars: groundbreaking stuff.
The Whitebrook lies in "some of the most stirring country on Earth, all 'steep woods and lofty cliffs'"; inside, it's a "low-ceilinged, comfortable room with an old-fashioned feel". The menu is "tasting only, yet somehow, we don't feel enslaved by its usual tyranny".
Chef patron Chris Harrod's "cooking is technically skilled but unshowy, his understanding of balance sublime"; much use is made of foraged ingredients, even in winter. It's not stuffy, though – there's 'on-trend' dishes like roasted cauliflower, turbot and hogget.
"Subtle, precise, intelligent cooking that gives one an absolute sense of place." (****)
The FT's Nicholas Lander was in Paris, enjoying Amarante's "cuisine and wine at its best"; "my late father, who told me never to trust a skinny chef, would have felt we were in expert hands".
More from Hardens