Harden's (slightly delayed) weekly update of where the critics are eating, recommending and avoiding, for the week ending 22 September 2019.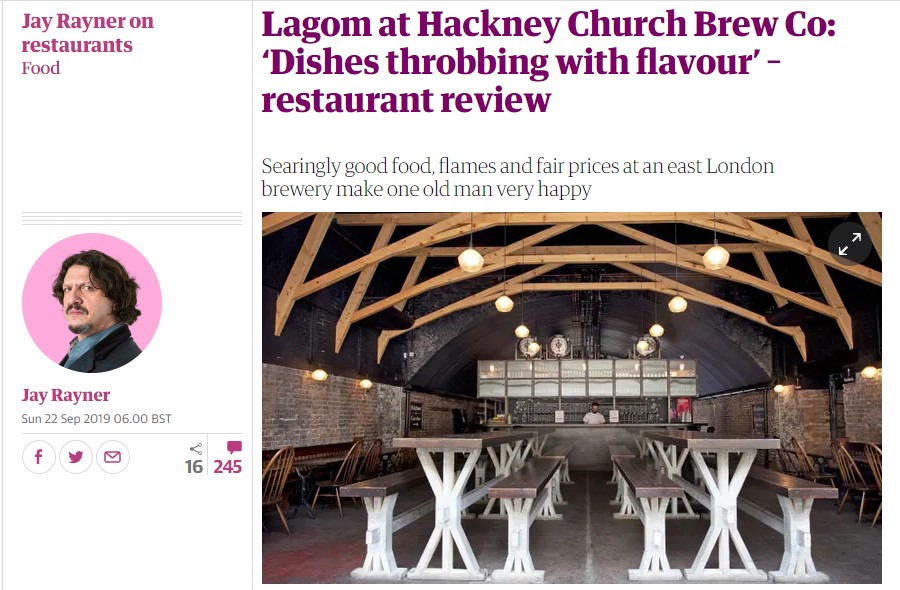 Searching for "good food, fairly priced" instead of the "false promise" of restaurants where the main courses start at £25, Jay Rayner for The Observer headed east, to "where the young people are" in the "reconditioned railway arches" of Hackney. "I feel like David Attenborough in the Galapagos, only with more trepidation and fewer cameras."
At Lagom, Elliot Cunningham's "semi-permanent pop-up" in the Hackney Church brewery, there's chunky picnic tables crowded with twentysomethings, a "small, smoky open kitchen" and a gravelly urban garden with "strings of glowing bulbs overhead".
This might well sound "uncomfortable and noisy and chaotic", as it clearly did to Jay – but the food made up for it. Avoid Lagom and risk "missing out on some bold live-fire cooking that throbs uncompromisingly with flavour" – the "exceptionally good" meat dishes included bone-in pork belly ("a plate of caramelisation and melting fat… an awful lot of top pig action for £10"), Sutton Hoo chicken and a smoked beef bun with fermented chilli.
Impressively, the "the non-meat dishes… are more striking"; thinly sliced golden roasted beetroot was "was the best plate of the stuff I have eaten in years" (and he's eaten a lot of beetroot), closed-cap mushrooms "smoked to an almost meaty intensity" and white coleslaw "full of crunch and salt and vinegar". Cherry pie for dessert is only available at weekends (unless you're Jay) but is "designed to serve two, even if one of them is me".
"Each plate is a simple idea, expressed vividly and with care so that the key ingredient gets to shout its name."
---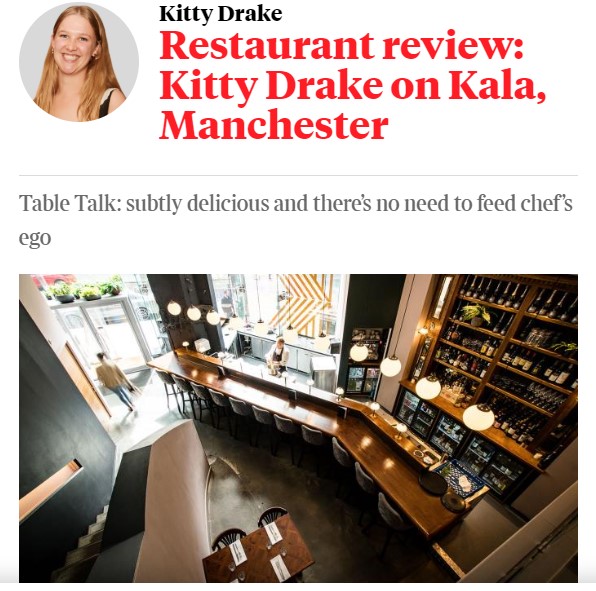 Kitty Drake was standing in for Marina O'Loughlin in The Sunday Times; she's the 2019 winner of the AA Gill Award for Emerging Food Critics, and got to visit Gary Usher's latest crowdfunded restaurant in Manchester. (Usher is not one to curry favour with critics – he disinvited The Observer's Jay Rayner to review even his first restaurant – but his "refusal to beg for our love only makes us love him more".)
Kala is in a "nondescript" glass building in the city centre; the restaurant is upstairs from the bar, giving it a "cosy bunk-bed aesthetic", with "little wooden tables and an eerily calm-looking open kitchen".
Main courses included a slightly "baffling" combination of haddock and chicken, and braised featherblade ("the beef so dark and tender that you can cut into it with the side of your fork", served with "frighteningly fat, indulgent truffled parmesan chips" and followed by a "perfect" custard tart.
Kitty and her friend had an "amazing time", admiring the fact that "food is served without fanfare" but "each dish is an event", with "multiple ingredients and… delicious, fiddly embellishments".
Kala is effectively owned "by the people who actually go for dinner there", which feels "like a much more democratic way to eat" – or "perhaps it's all part of Usher's long game to stop us behaving like jerks".
---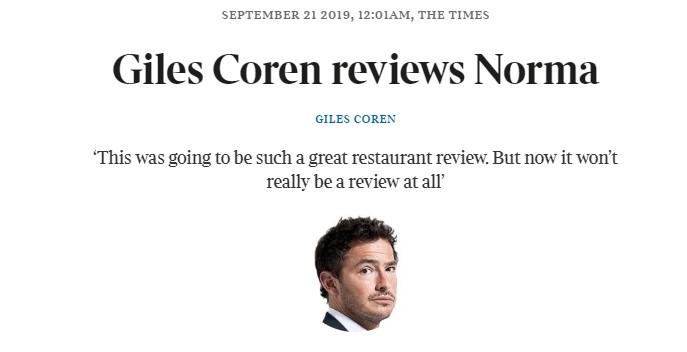 Giles Coren in The Times' Saturday magazine was at Norma, having been pipped to the post last week by his colleague and fellow critic Marina O'Loughlin with a review of The Clove Club. It's fine for new places – "I've… reviewed quite a few places after she's done them… and nobody's noticed. Literally nobody." (We did, Giles, but we were too polite to point it out.) – but "a reliable ten-year-old, suddenly exhumed by both of us in the same week… would look weird".
He loved The Clove Club, having never reviewed it before ("such precision, such imagination, such intensity of flavour") but couldn't publish his review (or boast at length about how he dined with Gary Lineker) – and now needed a replacement… "Luckily, just around the corner from my new office, there's Norma", from the team behind The Stafford hotel, including "the great Ben Tish" (and not apparently not "a misspelt homage to the famous "Nordic kitchen" gaff in Copenhagen").
This "little jewel of a restaurant" ("just so, so pretty" with "romantic nooks and supersweet service") is "on totally-coming-back-up-gastronomically Charlotte Street", wasn't technically open to the public when he visited, but he needed a review so pressed ahead anyway. And was glad that he did, for Norma served up a "incredibly thrilling and unfamiliar" menu of Sicilian-inspired dishes. He only visited at lunchtime so had small meal with no wine; we'll have to rely on the other critics to give us a full picture. Plus ça change… (24/30)
---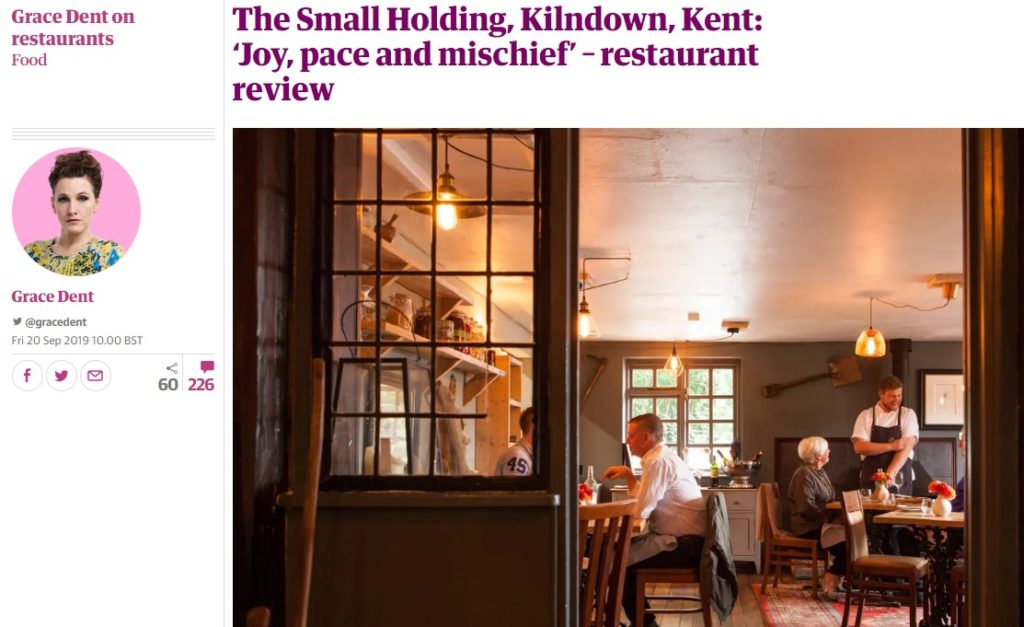 Grace Dent for The Guardian timed her visit to The Small Holding well – just days later, chef Will Devlin was awarded the 2020 "chef to watch" by The Waitrose Good Food Guide, a title that's "completely justified, even if it does sound like an ominous curse".
As the name suggests, The Small Holding "boasts the type of thriving, working kitchen garden with added pigs, geese and chickens for which addled city dwellers yearn" – this "former pub's single acre heaves with courgettes, kale, fennel, peas, beans and approximately 200 other varieties of veg, fruit and herbs". And from it they have created a "brilliant example of self-sustaining, fun fine-dining" – like Gareth Ward's Ynyshir in Wales – offering "skilful cooking that retains joy, pace and mischief throughout".
The 11-course menu (with brief descriptions like 'sweetcorn, egg, mushroom') provided more than one "magical mouthful" and was served by swift and "cheery service". It does what the "best sort of fine dining does: it shines light into corners of your brain that you've not used for decades. Flavours you thought were no longer possible".
"There's still a real sense of the thoroughly unpretentious, 90s-style country pub about The Small Holding… Please go…but preserve and conserve their normal-ness. They're just a group of folk growing amazing things… then cooking and serving them. It's perfectly imperfect, and I wouldn't change a thing." (27/10)
---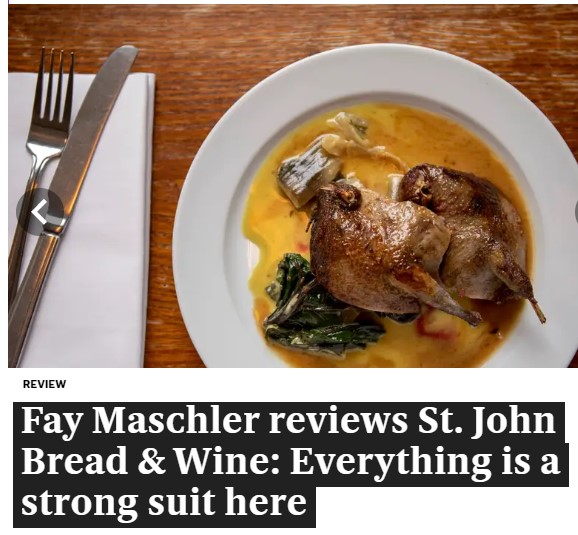 Fay Maschler for The Evening Standard was inspired to visit St John Bread & Wine after "constantly hearing contented murmurings" – and also after she wrote a lengthy quote for the dustjacket of the new St John Cookbook that wasn't used.
Her dining companion (a newcomer to St John's virtues) praised the "the let's-not-make-a-meal-of-things while-we-make-a-meal-of-things vibe".
Innes Log cheese melted over roasted tomatoes and cabbage was a "triumph" – "creaminess contrasting with knuckled-under acidity and eat-your-greens virtue", while Welsh rarebit was "as inviting to get into as a neatly, freshly-made bed on a chilly evening" and the "desserts are particularly, you might say surprisingly, alluring".
"Enjoyment here, helped along by gravely efficient staff, is boundless." (****)
---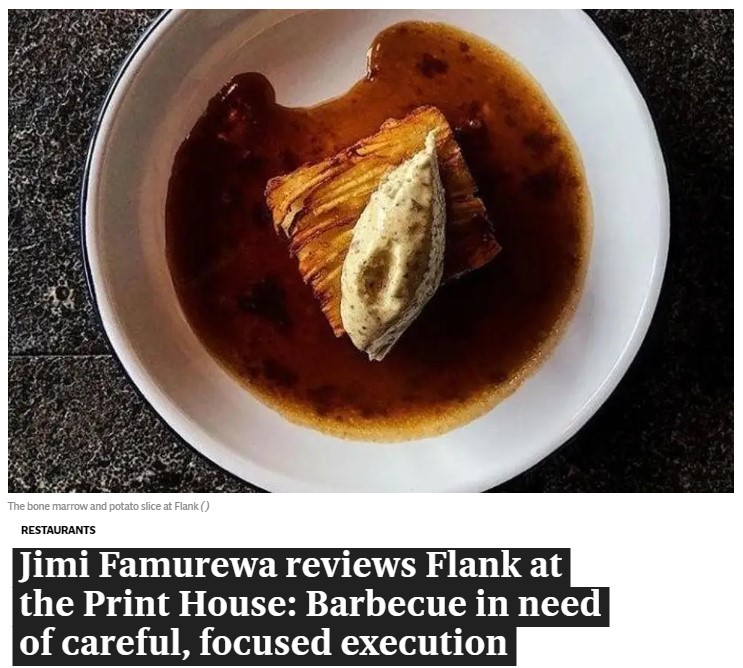 Flank OG, London E15
A review that starts "not everything I ate was irredeemably bad" doesn't bode well. When Jimi Famuwera from The Evening Standard visited Tom Griffiths' "long-term kitchen residency" at The Print House in Stratford (on a "windblown, oddly deserted stretch of E15"), he had a "pre-visit fondness for the food" (thanks to its high profile on Instagram), and now wishes he "hadn't let reality rupture the fantasy".
All the dishes he ordered arrived at once on a "comically large tray", meaning that "you are forced to decide which dish you are most happy to eat slightly cold". Those dishes included distinctly unsmokey smoked cheese croquettes with "eerily flavourless" dip, and over-smoked barbecued cabbage that was "overpowering to the point of inedibility: a forceful exhaust-belch that tasted synthetic". "Further waywardness" included "limp, timidly fired naan" and "cloying barbecue glazed pig head and trotter patties in stiff mini sub rolls".
And then "blessedly, some glimmers of hope" in the form of a mini double cheeseburger, a "fine-crisped potato gratin… drenched in a fragrant, gutsy pan stock" and a deep-fried apple slice ("a riff on the famed McDonald's mouth-stripper").
"I don't think Flank's popularity at its Market Hall Victoria and Spitalfields berths is a total mirage" but "enticing gastronomic trigger terms — 'beef fat' this and 'smoked' that — don't amount to much without careful, focused execution". (5/10)
---
Tom Parker Bowles for The Mail on Sunday is the latest in a long line of critics who've tried out Swiss restaurant Heritage on a hot summer's day ("it comes as no surprise that the place is totally empty").
The "staff are charmingly cheery" (or just "happy for something to do"?) but the room itself "is hardly cutting-edge, a hotch-potch of styles that would have seemed dated at the start of the millennium".
Despite a "rather overpriced and pretty mean bottle of Swiss white", Tom and his companion (who bought him in a charity auction) ate "immaculate rösti" and raclette "lovingly scraped on to a pile of boiled potatoes, pickles and good charcuterie" (although the portion was a bit small for him).
The cheese fondue arrived with bread and even more meat, although he wasn't impressed with the addition of Fourme d'Ambert (a French blue cheese). "There simply isn't a place for blue cheese in Swiss fondue." A "boozy chocolate fondue" for dessert came with brownies for dipping, making Tom feel like he needed "to lie down somewhere dark and cool for a few years… and moan gently".
"Heritage would be great on a chill winter's night. If you stick to the basics." (***)
---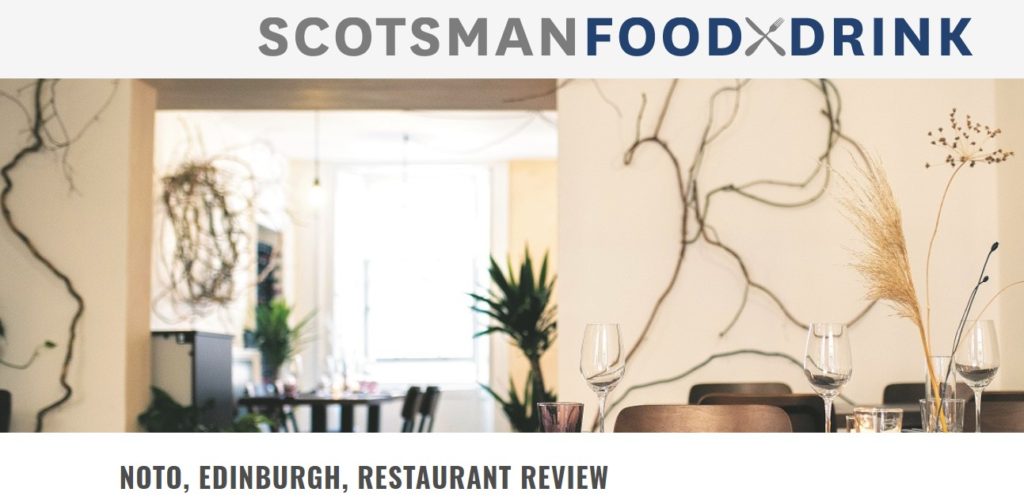 Gaby Soutar for The Scotsman declared that Noto, the second project from Aizle's Stuart Ralston, is "the capital's most exciting restaurant in a while".
It's "less conceptual" than Aizle, "with small and larger à la carte plates" from a menu that's "relatively short and easy to navigate".
Gaby and her companion had North Sea crab that was "perfect as a starter", a shell "full of a fragrant mixture of hot melted butter, soft white meat… chives and dill" with sourdough "to sweep up the liquid seaside sunshine" and Berkswell cheese croquettes (which "could be a new currency. I would be happy to be paid in them") alongside Jerusalem artichokes and a "headily strong negroni".
Bigger plates included a lobster dish that was "rather excitingly mad-cap, like a comforting Japanese take on the recent trend for lobster mac 'n' cheese" and fried buttermilk chicken ("thigh meat in a loose parka of batter") served in a golden bao with "mushroomy umami mayonnaise and a mildly spicy kimchi".
There were two pudding options: "go for… the lighter option if you're nearly stuffed to the rafters". (85%)
---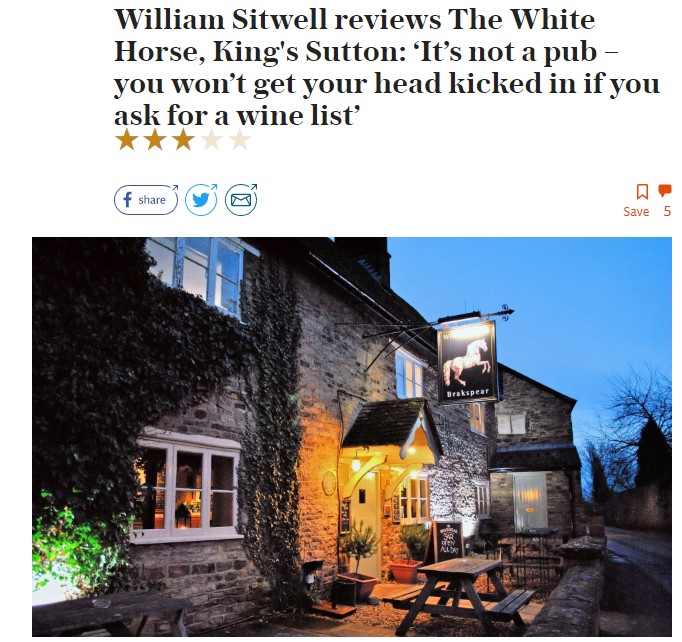 William Sitwell for The Telegraph was in King's Sutton near Banbury, which has two pubs – one proper boozer, and this one, which is "really a restaurant, rather than a pub", with "designer lighting, lots of waitresses buzzing about, everything spruced up and sand-blasted".
Pudding was his favourite dish – "a gently oozing chocolate fondant in… a pastry case made of chocolate". Before this, he'd eaten a "perfectly pink piece of fillet steak with crunchy, fat chips and a perfect example of how to cook savoy cabbage" and "a small free bowl of soup… made of cheddar and ale… as enchanting as it was unexpected".
There were some less impressive dishes, however – "crispy pig's head with black-pudding starter was too dry" for example. But they "left happy nevertheless". (***)
And also…
Kathryn Flett for The Telegraph reviewed the new Bermondsey pub, The Loyal Tavern, where the "cod and white bean stew was the kind of thing I want to eat daily".
The Financial Times carried a review of Bo Tree Kitchen in Belfast, where "an unusual collaboration has created a resoundingly successful Thai restaurant", run by "the most unlikely restaurateur I have ever met".
More from Hardens