Here is our weekly round-up of what the national and local restaurant critics are writing about, for the week ending 21 March 2021.
England remains in national lockdown, although with a 'roadmap' of dates with restaurants and pubs closed until 12 April at the earliest, and then only open to serve single households seated outdoors: https://www.gov.uk/government/publications/covid-19-response-spring-2021/covid-19-response-spring-2021-summary.
All of Wales is at alert level 4, but the stay-at-home restrictions have been lifted: https://gov.wales/alert-level-4
Mainland Scotland is also in a national lockdown with guidance to 'stay at home': https://www.gov.scot/publications/coronavirus-covid-19-protection-levels/
Northern Ireland is under strict restrictions until 1 April: https://www.nidirect.gov.uk/articles/coronavirus-covid-19-regulations-guidance-what-restrictions-mean-you
Please continue to order takeaways, cook-at-home kits, vouchers, merchandise and deliveries from your favourite restaurants if you can (we include links to those mentioned); the restaurant industry and everyone involved in it need our continued support.
*****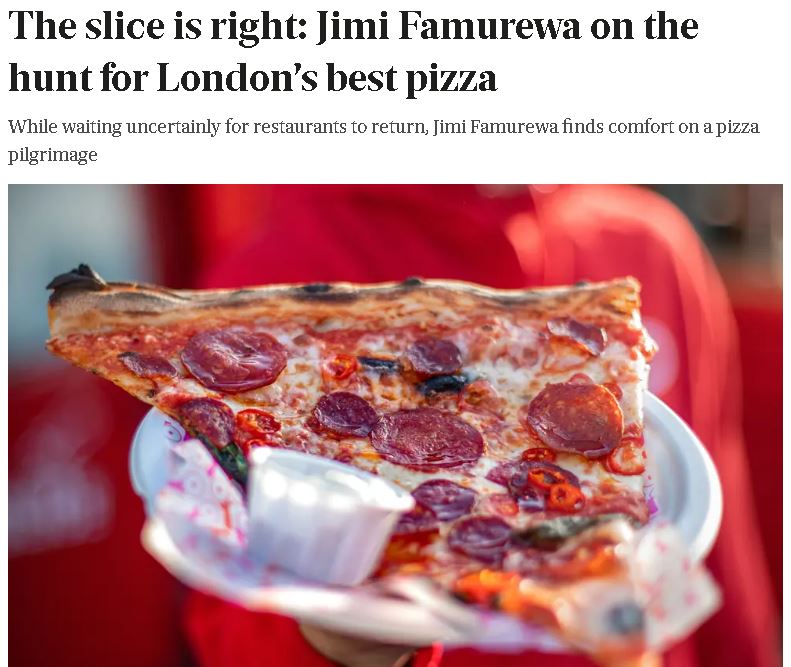 The Evening Standard
"There are far worse ways to occupy idle hands than with an improvised lunch table, a hot fold of bubbled cheese, and an enraptured moment on the pavement."
The Standard's chief restaurant critic Jimi Famurewa  was on the hunt for London's best pizza this week, to pass the time waiting for restaurants to re-open.
It's an "enigmatic, tricky-to-define times for London's long slumbering dining landscape" – there's lots of preparation for outdoor dining happening, and yet "new meal kit boxes are still somehow being announced". But what most defines the oddness for Jimi is "the continued mania for new pizza businesses – which feel like both the equivalent of a safe, culinary shrug and the hottest, coolest thing in town (especially when sold by the slice)".
Jimi's search took him to Slice, "a genre-mashing new Southbank spin off from Pizza Pilgrims" which cooks up metre-long pizzas and sells them in "gigantic 12in strips". It doesn't work well; the toppings were measly and the slice itself flopped over the plate "like a Dali clock".
The "takeaway slices" at Big Jo were "sophisticated brutes with bronzed, sturdy ancient grain crusts and fresh, seasonal toppings", and those from Voodoo Ray's got better reports for their "uncomplicated New York-style slice".
Best of all was "that rare Instagram ubiquity that's worth every ounce of hype", the "slow-fermented, deeply flavoursome and uncommonly sturdy quarter moons" from ASAP Pizza's "hatch at Borough Market" (they are currently running out of Flor, and co-owned by Flor's James Lowe). Jimi recommends them all, but of the lamb one he says, "half a dozen bites of active genius and comfortably one of the best pieces of pizza I've ever had".
*****
Also in The Standard, David Ellis speaks to London's restaurateurs a year on from lockdown; "since then, it's been a well documented roller coaster of openings, costly closures, a busy summer and a deserted winter".
*****
In another, more positive article, entire ES Features team collaborated on a list of outdoor spaces and terraces they "will be braving the weather for" from 12 April.
*****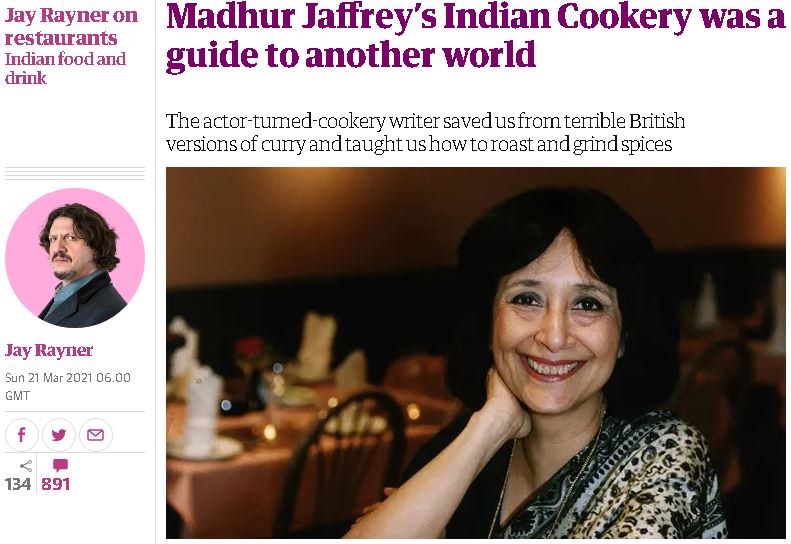 The Observer
"Indian Cooking by Madhur Jaffrey wasn't just a collection of lovely dishes; it was an introduction to gloriously wider horizons. It was 200 pages of a vivacious education."
This week, the cookbook that Jay Rayner reviewed wasn't one of his, but his wife's – he'd never actually cooked from it, but still recognises its importance.
Indian Cooking was by no means the first book on Indian cooking, but it "was different. It was a book about Indian food by an Indian person, and the first to reach a mass audience, selling hundreds of thousands of copies ".
"The story of the book Indian Cookery is also the story of the TV tie-in, now a cornerstone of British publishing." Only Delia Smith, in the same 7pm on BBC2 time slot had done a cookery show with accompanying book before.
Jay made the lamb biryani (called Lamb and Rice Casserole in the book, demonstrating how little we knew then), which was "a rewarding faff, the very definition of a lockdown cooking project", and the "vermicelli pudding, aromatic with cardamom" ("my family hates it"). "These recipes are marathons, interspersed with furious sprints. The voice is clear and direct. Jaffrey's is a hand on your shoulder."
*****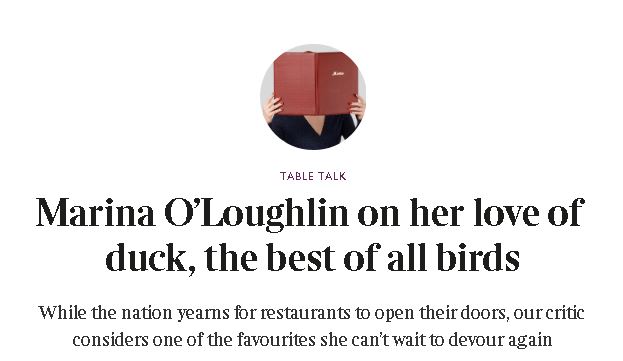 The Sunday Times
"Until, vaccinated and liberated, we're allowed back into [restaurants] again I'm going to treat us all to some vicarious deliciousness. Memories of dishes and ingredients that deliver nothing but joy."
Marina O'Loughlin shares her love for all things winged this week – mostly duck, although she loves game too. "As soon as game season hits you can find me at the Quality Chop House in Farringdon, central London, where chef Shaun Searley treats these rare beasts with all the care and ceremony they deserve."
"I spend a lot of time in an off-radar part of southwest France where the bird is basically a religion." And of course, "the Chinese are duck masters", even though the "absurdly addictive "aromatic crispy duck" is a bastardisation" and was "probably invented in the UK, the Chinese equivalent of chicken tikka masala". The "magnificent original, Peking or Beijing duck, is the food of emperors".
Despite these two countries jostling for her attantion, Marina's "most memorable duck dinner was in Seoul" where she shared "whole sulphur-fed ducks" with her table.
*****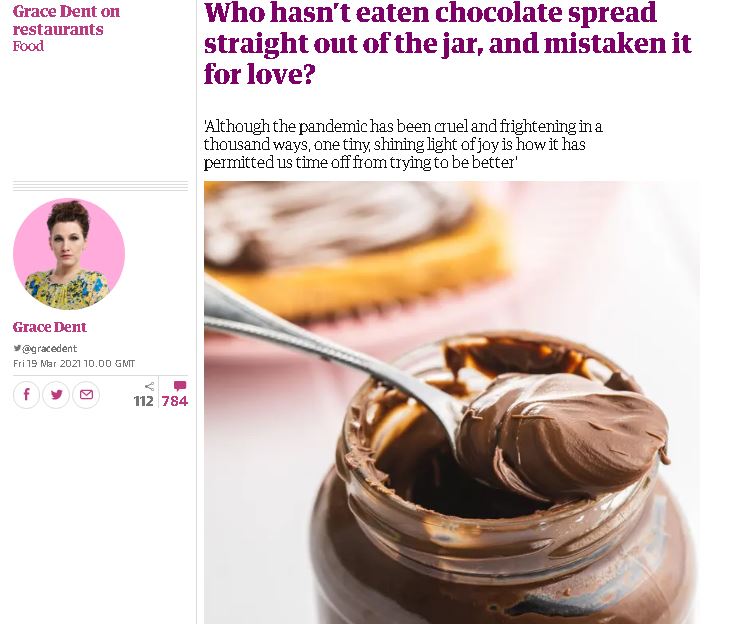 The Guardian
"Some of us are intensely relaxed about the extra Covid kilos; indeed, they've embraced their jiggle, wobble and wattle with aplomb. By God, I wish I were one of them."
Since the roadmap out of lockdown was announced, Grace Dent has been worrying about her "shoddy state", the results of bad food habits during lockdown. "One tiny, shining light of joy" about the pandemic "is how it has permitted us time off from trying to be better".
She has lots of plans for the future, as well as dropping those few extra pounds: "new world me will pre-plan all her time off for the coming year with rewarding staycations and catch-up dinners with friends on great tables in the loveliest restaurants… I miss nights in with pasta already."
*****
Also in The Guardian, an article about the myriad work-from-home meal businesses that have popped up during lockdown.
*****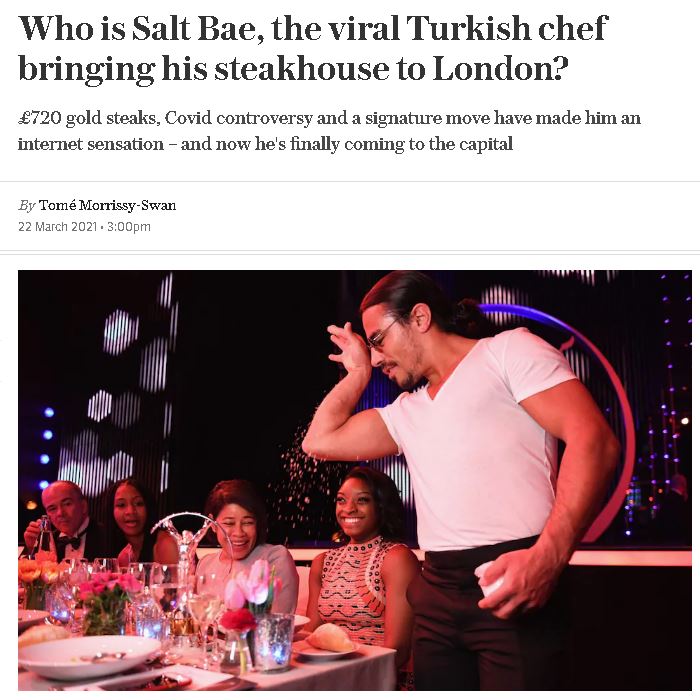 The Telegraph
Tomé Morrissy-Swan answers the all-important question, "Who is Salt Bae?", now that it appears the celebrity chef's long-awaited London steak restaurant will be opening on 17 May.
*****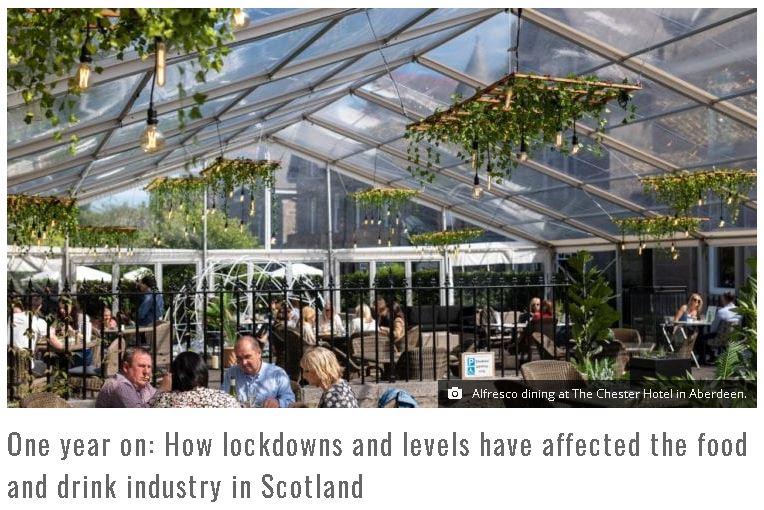 The Scotsman
"The industry has faced prolonged lockdowns, level systems and curfews."
Rosalind Erskine, host of Scran, The Scotsman's food and drink podcast, reported on the state of the Scottish hospitality industry, one year on from the first lockdown announcement, and "the impact, both good and bad, of Covid-19".
"The pandemic has been a blessing and a curse."
The rise of cook-at-home kits and meal deliveries have kept some restaurants going; what's interesting is that some plan to stop diversifying the moment lockdown is over, while for others it's a permanent new revenue stream.
*****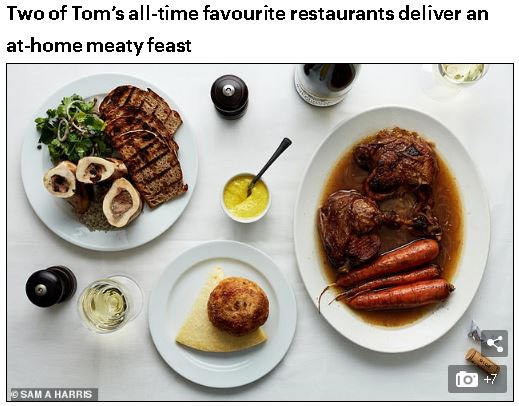 The Mail on Sunday
"News that St John is doing restaurant boxes (£75, plus £5.50 delivery, dishpatch.co.uk) immediately filled me with deliriously greedy glee."
Lucky Tom Parker Bowles for YOU Magazine received not only the cook-at-home box from St John ("At long last, bone marrow with parsley salad!"), but also one from Hawksmoor, which included two steaks and chips ("no mere oven chips, rather masterpieces of their form, great golden crisp hunks with the softest and most fluffy of centres") and was "not only… one of the finest restaurant kits in the country – but one of the easiest to cook, too".
Of both restaurants, he exclaimed, "when it comes to their 'at home' offering, you knew they'd never, ever let you down".
*****
And also…
Birmingham Live reported that some city restaurants and pubs are "booked up for months" from 12 April.
*****
Bristol Live reported restaurants taking bookings for re-opening on 12 April that "warn they are asking people to pay up-front so they don't lose out", covering the cost of potential no-shows that were a feature of re-opening in 2020.
*****
Recent News from Harden's