Here's our regular summary of what the national and local restaurant critics have been writing about in the week ending 12 December 2021.
*****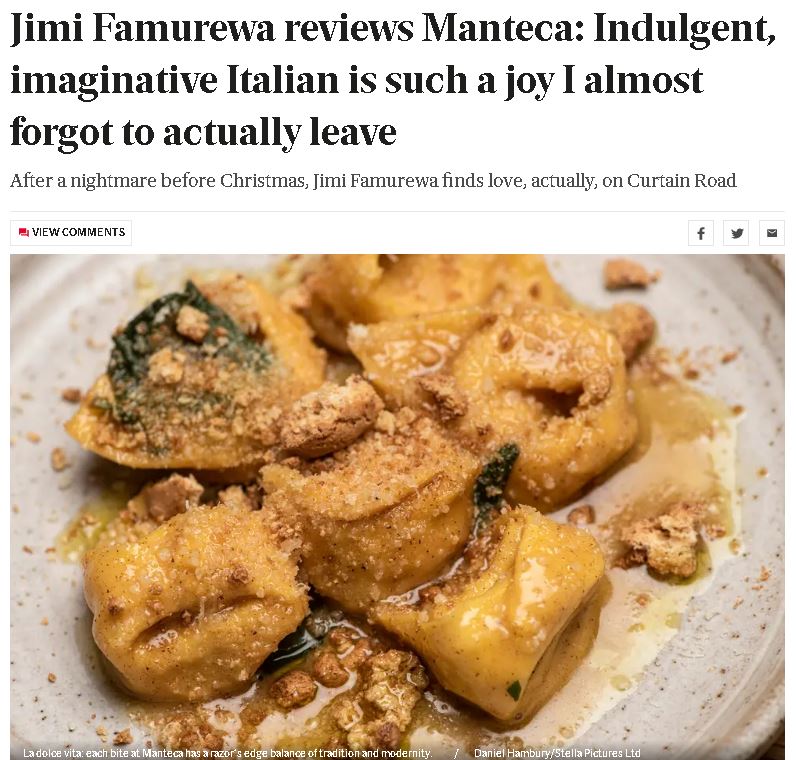 The Evening Standard
Jimi Famurewa made his "first, long-overdue trip to Rules in Covent Garden" to enjoy the "glittering, timewarp atmosphere that would serve as the perfect way to tie a big festive bow on the year".
Unfortunately, he found not just food that "was unmemorable and timidly seasoned" and a "robotic, tourist-trap briskness" to the service, but also an offensive donation box at the restaurant's entrance that depicted a "caricature of a black man". (Apparently, the management are "looking into changing it"…)
To console himself, he went to the third incarnation of Manteca, "chefs Chris Leach and David Carter's Shoreditch-based, Italian-accented nose-to-tail spot" where "the fresh pastas still stand out even in a city drowning in the stuff".
"The smaller, trickier-to-classify plates… really showcased the kitchen's enjoyably forceful approach to deliciousness."
"Lunch somehow drifted into its third hour and, though there wasn't a piece of tinsel in sight, I had that definably festive sense of unplanned revelry" – "Manteca 3.0 has a brilliance you can hang a bauble on".
Also in The Standard, news of a sprouts-only Christmas pop-up, and Itaku, a celebrity-backed new restaurant "which aims to fuse authentic Italian cuisine with traditional Japanese techniques" arriving in London next year.
*****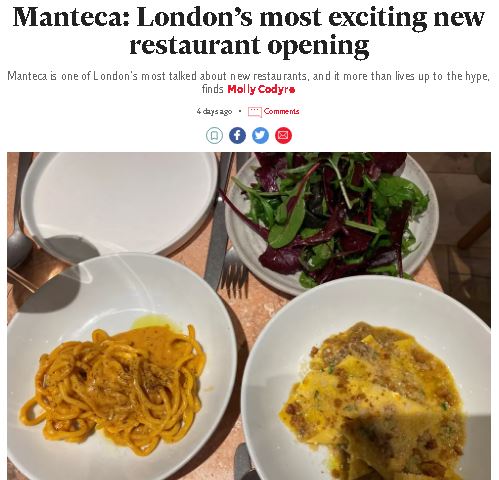 The Independent
Molly Codrye also reviewed Manteca, in which she spotted "influences from other London restaurants… but it feels largely individual and very much itself".
"They've done a wonderful job of the fit out" of the former PizzaExpress, and the "menu feels long yet short, meat-heavy yet vegetarian-friendly, playful but serious" – and with so many courses available, you "could come back and have an entirely different meal, but one that would feel no less wonderful".
"This is Italian food for people who like to complain that Italian food is boring."
"What struck me about Manteca is it felt like I was eating at a restaurant that I didn't even realise I was missing."
*****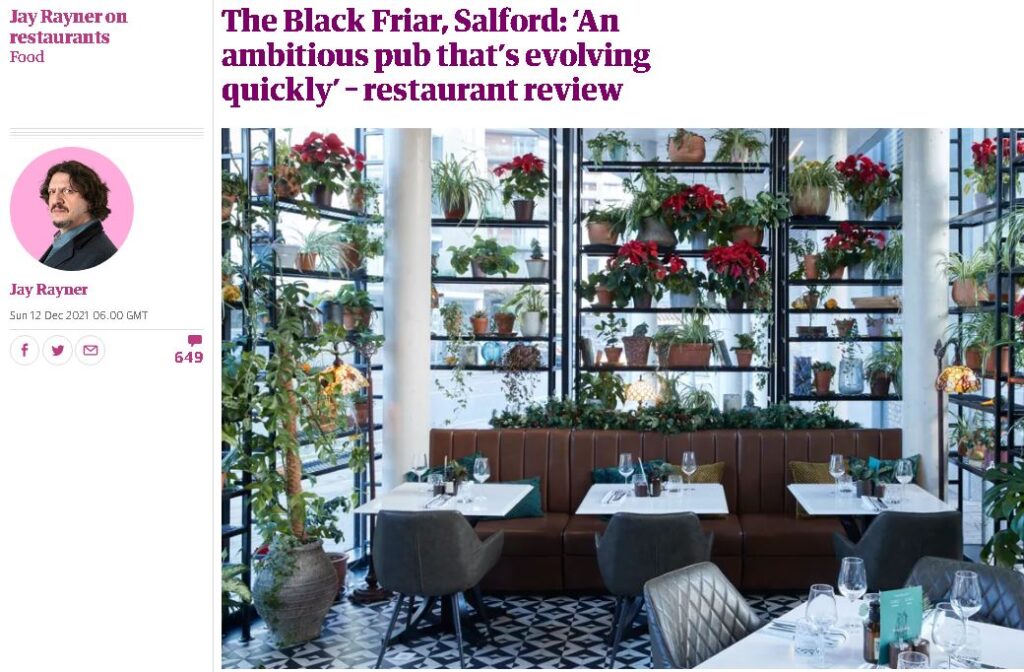 The Observer
Jay Rayner was in Salford this week, paying a visit to The Black Friar, "a humble old redbrick Victorian building of just two storeys hemmed in by towering grey stone and steel apartment blocks"; it stood "empty and derelict, staring blank-eyed out over the dual carriageway for 15 years".
Inside, the "original redbrick building has been subsumed" with "light and airy modern extensions in all directions"; "this is clearly now a local boozer with a particular locality in mind" – and a particular clientele too.
The fare isn't standard pub grub. "Chef, Ben Chaplin, comes from the glossy 20 Stories in Spinningfields" and has created a hybrid menu with "pies and terrines and fish and chips" on the "boozer side of the ledger" and "altogether grander things" on the "fat-walleted end". Service is " well drilled"
The "cooking is big and bullish and, for the most part, on point"; Jay called his scallop dish (from the spendy end of the menu) "serious cookery: both profoundly beautiful and profoundly eatable".
"Get it out of your system now. This is an ambitious pub in a Greater Manchester which is evolving quickly."
"I'd be rather chuffed if the Black Friar was my local."
*****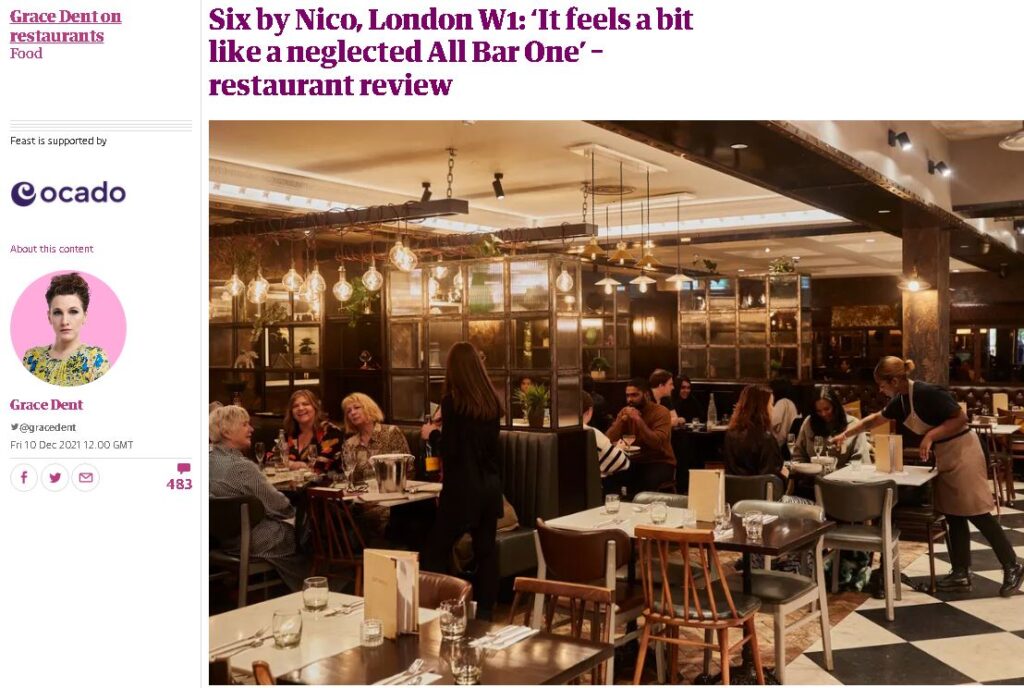 The Guardian
Grace Dent reviewed the Charlotte Street branch of Six by Nico (there's an even newer one in Canary Wharf); it was the busiest place on the "once-twinkly, charming thoroughfare" on a Saturday night.
"Chef Nico Simeone's "concept" – a themed set six-course 30-something-quid menu that changes every six weeks – has been a huge hit in several cities since it launched in Glasgow in 2017."
Grace found the whole experience to be "a hangar-sized, terrifically noisy bun fight in what feels a bit like a neglected All Bar One" – "fine dining at Pizza Express prices for a generation raised on nonstop MasterChef".
The six courses "ranged from quite decent to posh aeroplane food" but in very "small portions" (the first three courses "shoved together would not have covered a child's plate"). She left "mystified".
*****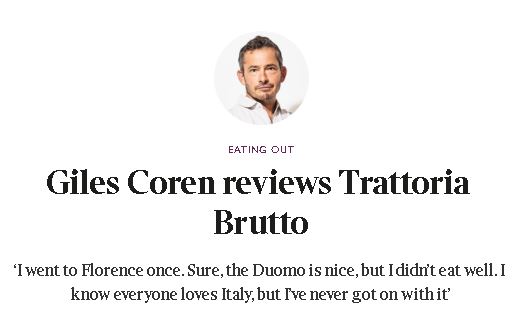 The Times
After the 'no-bookings' phase that London restaurants went through pre-pandemic, the blame for which he lays firmly at the door of Russell Norman's Polpo, Giles Coren was delighted to be able to book at Norman's Trattoria Brutto (so delighted that he ranted for half the article about it).
Brutto was all "dark wood and red-and-white-checked solidity", with a "warm hubbub and somewhat grown-up vibe", Florentine food and "chatty staff".
He must have enjoyed it as he booked again for this week. (27/30)
*****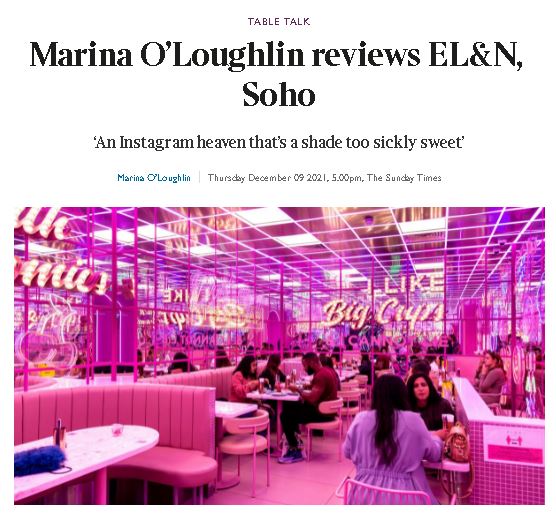 The Sunday Times
Marina O'Loughlin braved the "luridly pink" EL&N in Great Marlborough Street, having been "astonished by the number of people jostling to get in behind a roped enclosure".
Owner Alexandra Miller has "opened ten branches in parts of town where stealth supercars are the norm" without Marina (or us) even noticing – although she's "painfully aware I'm not its demographic".
"Dishes are art-directed for the camera, image more important than content, style literally over substance", and "everything apart from various brunchy dishes… is sugared up to the eyeballs". The cakes were "surprisingly good, deliberately indulgent and OTT" though.
"The EL&N aesthetic is too garish… I get the Instagrammability, but it makes you feel vaguely nauseous, like eating in a carnival fun house." But it's a trend that's happening across the UK and beyond – EL&N has just opened in Paris. "It may be a silly superficial place for silly superficial people, but it's winning."
*****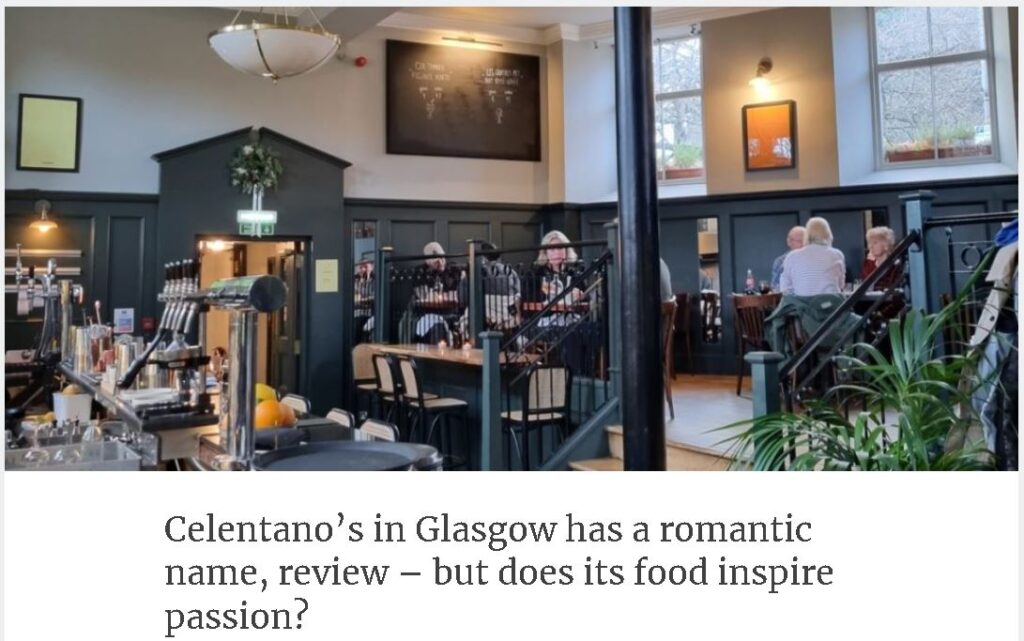 The Scotsman
Gaby Soutar followed in Grace Dent's footsteps from last week and visited Celentano's, next to Glasgow's Cathedral House , for "Italian-ish food" of expertly sourced ingredients "coaxed to savoury perfection", washed down with in-house distilled vermouth negronis.
The "squid, black chilli, kombu butter" linguine was her other half's "dish of the year".
*****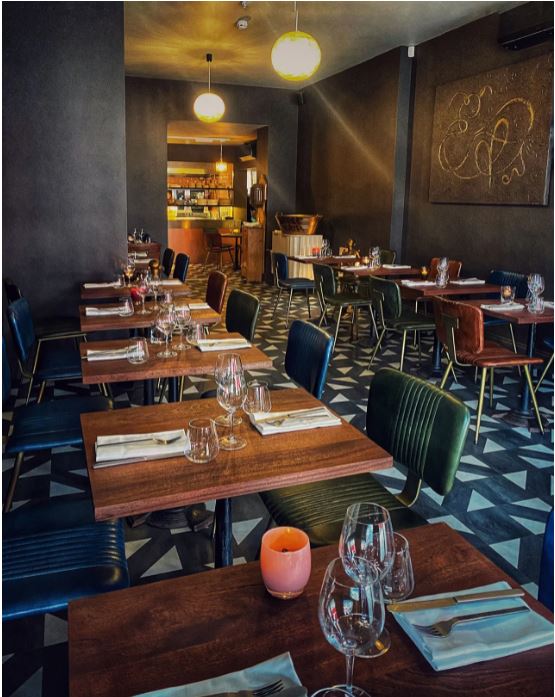 Tatler
Former Evening Standard critic Fay Maschler reviewed Fiend, the new Notting Hill site from ex-108 Garage supremo Chris Denney, who "is back with a different set-up, happily still in possession of the drive and talent that had all the restaurant critics (including me) chattering with glee four years ago".
"The influence of Nuno Mendes at Viajante… strikes me as the most significant and recognisable at Fiend", and a "deep bow to Japan is definitely present", too. Wines from a "taut, gripping list" pleased Fay, as did her companion's daiquiri.
And also…
William Sitwell in The Telegraph was left "as cold as his fish pie" by Langan's 2.0: "they need to get their s**t together".
*****
No review from Tom Parker Bowles this week, but YOU Magazine published a list of Google's top recipes of 2021; sourdough bread has slipped from being lockdown's No1 search to No7.
*****