Harden's (slightly delayed) weekly update of where the critics are eating, recommending and avoiding, for the week ending 10 November 2019.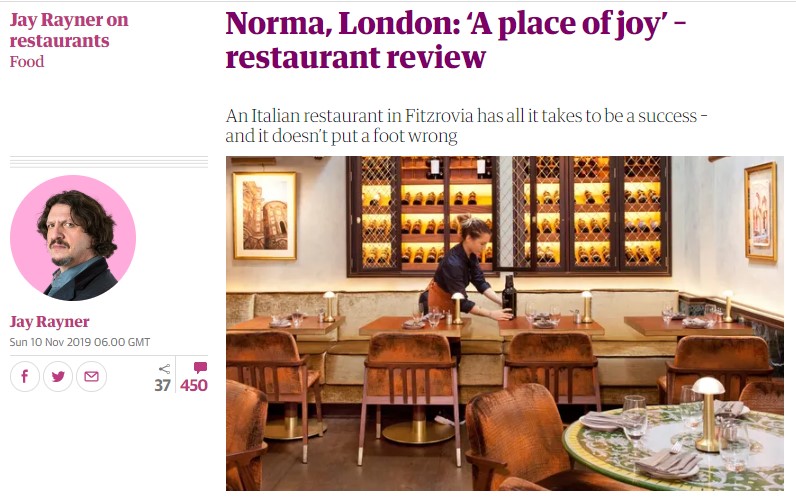 Jay Rayner for The Observer called Norma "a place of joy". Well, actually, he didn't, but thanks to some lazy sub-editing, that's what the headline says; Jay was actually referring to The Game Bird at The Stafford, the team from which (including Ben Tish) has opened Norma, which majors in the "food of Sicily and its Moorish influences".
Luckily, the food at Norma also lives up to the quote. Even with a team like this, things can go wrong, but Norma has turned out to be that "kind of effortless crowd-pleaser that takes serious work".
"This was the coming together of people who know exactly what they are doing. If any new restaurant deserved to be taken seriously in this world of gloom and threat, it was this one."
The venue is a "narrow townhouse on Charlotte Street" – "each floor's dining room has about it the classy glow of a vintage train's dining car" with a raw bar at the front, "booths upholstered in amber plush… deco-style glass panels… floor and walls tiled in a Moorish pattern of interlocking points".
"The menu is built around snacks and small plates, with a handful of pastas and chunkier mains." Some of the best dishes – arancini, spaghetti fritters – are essentially re-purposed leftovers; "the domestic, made glamorous" and very delicious. ("There is an essay to be written, a rather dull, earnest one, about the way classy metropolitan restaurants re-engineer the food of what might look like leftovers into desirable objects for urban taste-chasers.")
After a section of small plates, Jay tried one of the main dishes ("a chunky roasted chop of rose veal, with lemon, anchovy and black cabbage"), and the "star turn" of the desserts, "a sweet brioche bun, its crust glazed with crunchy caramel… sliced open and filled with salted caramel ice cream and chocolate sauce."
"Norma is no one's version of cheap. Nevertheless, it's a menu that allows you to get at the good stuff without selling your least favoured child to pay the bill." And it's also "that joyous thing: a new restaurant genuinely worth being excited about".
---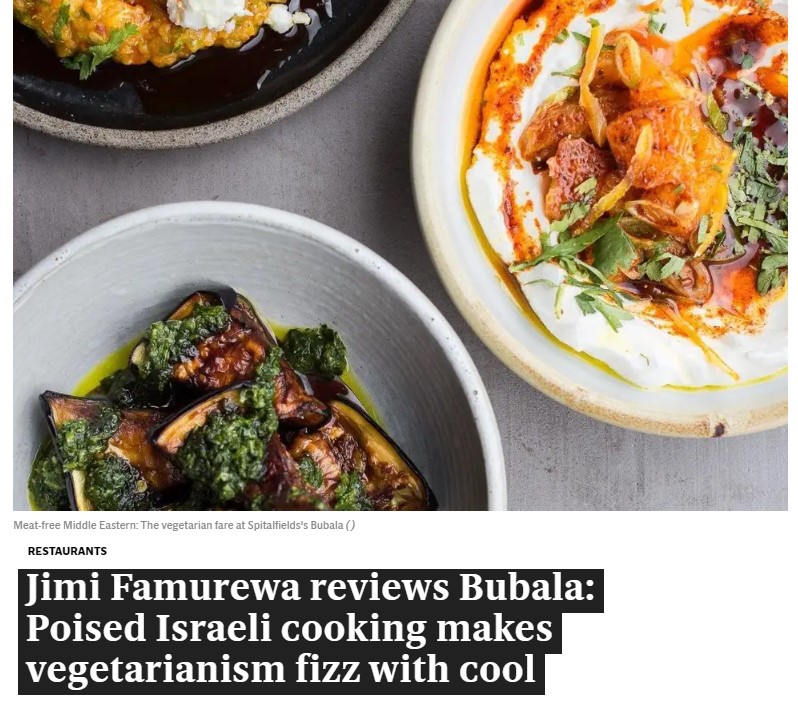 Jimi Famuwera from The Evening Standard is trying really hard to be vegetarian, and sometimes vegan. But it's hard – especially for him, "whose literal job it is to be omnivorous". This week, to keep himself and his ideals on track, he went to Bubala, the new Middle Eastern veggie ("and occasionally vegan") near Spitalfields.
"It's a place of such fizzing cool and poised Israeli cooking that you're too busy throwing back Fig Leaf Martinis and hauling flatbread through addictive dips to spend much time contemplating the fact that you've not had any meat."
He instantly liked the "low-lit, slender space"; a "burbling, busy room" with "raw-plaster pink" walls and "a pleasant waft of garlic". And fittingly for a place that "gets its name from a Yiddish term of endearment favoured by grandmothers", the sharing menu is "a long, enticing affair, geared towards the sort of resounding feed dished out by a matriarch".
Fresh-from-the-oven laffa bread was "perfect for greedy scoops of smooth, harissa-dribbled pumpkin tirshy"; soy-glazed mushroom skewers and fried aubergine "offered enthralling meatiness". The staff were "relaxed" and "likeable", and the cocktails had "both easy gulpability and a snap of distinctiveness".
There was even a cohort of suited City folk trying out vegetarianism, even if only for just one meal; "somewhere like Bubala makes it seem like the simplest, sanest thing in the world". (8/10)
---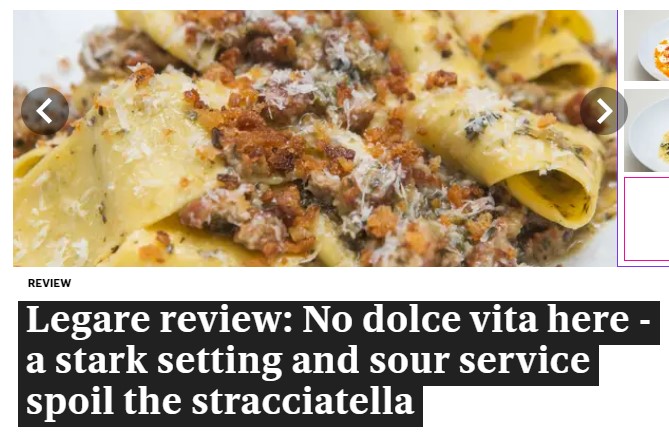 "All over London, there are good restaurants that wouldn't exist were it not for their example." David Sexton for The Evening Standard was referring to the legendary Rose Gray and Ruthie Rogers, who "chose never to open another branch, a restraint that looks ever more admirable as the years go by. The River Café is the precise opposite of a chain."
The link to this week's review was by way of Trullo, "created in 2010 by Jordan Frieda (who had been front of house at The River Cafe)"; Matt Beardmore, Trullo's former senior sous chef and Jay Patel, formerly general manager at Barrafina Adelaide St have moved on together to set up Legare in Brough Market.
It's "resolutely Italian" and also largely "unexplained" (David expected "stracciatella w/ sobrasada" would be an "eggy soup" but it turned out to be "a synonym for burrata… very liquid and delicious"). Other adjectives he used included "pleasant" (antipasti) and "satisfying" (pasta); although the sourdough was "excellent", nothing seemed to excite or delight. None of which was helped by service that was "intermittently absent" and "less than fond", and a "stark and tight-packed" room that failed to be welcoming.
"Man does not live by pasta alone, however fresh." (***)
---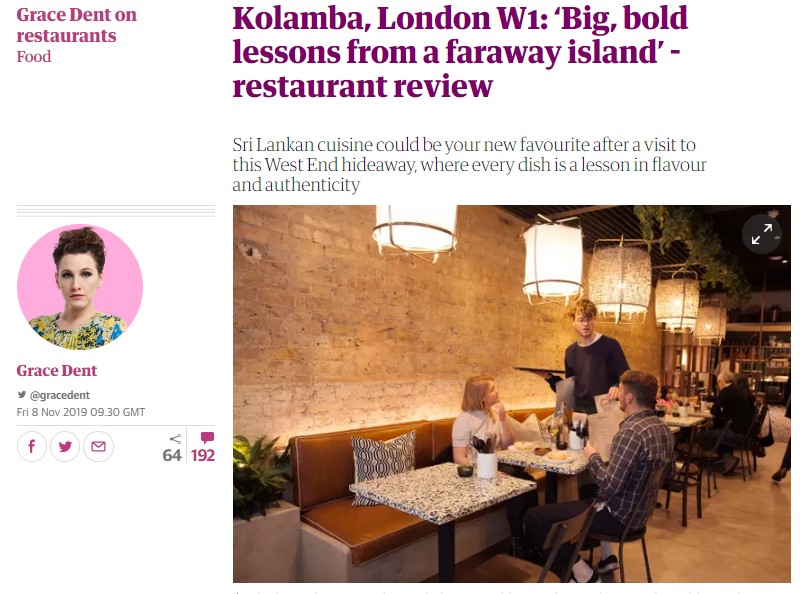 "From the moment you walk through the door at Kolamba, it all feels very personal, as if the owners' hearts are ablaze on their sleeves, eager to show the best of the street snacks, family dinners and teatime treats they remember from home. Each dish is a patchwork of people, places and things."
The Guardian's Grace Dent was at Kolamba, the capital's latest central Sri Lankan opening, a "small, independent, family-run" restaurant "within running and hiding distance of Oxford Street" where they "cook from scratch and want to teach you 100 new things about Sri Lanka".
From the Kolomba-colada cocktails to the hoppers (sweet and savoury, "delicate, spongy and yielding in all the correct places"), through "joyous" snacks, "rich and nuanced, yet soothing" parippu (think lentil dal, just as Grace is rethinking her recipe) and sambol that "would go with literally anything", it's a "lovely" spot.
Kolamba "are offering big, bold lessons from a small, faraway island. You'd be daft not to take them up on it". (23/30)
---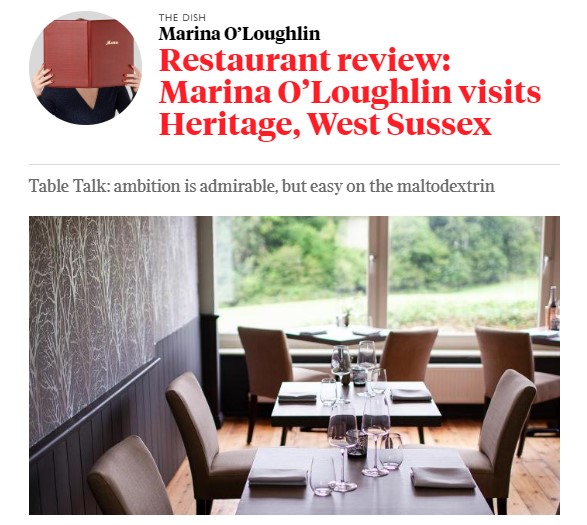 Marina O'Loughlin for The Sunday Times visited the "handsome old pub" formerly called Chequers, that has been bravely taken on by chef Matt Gillan (previously at The Pass) "following a successful crowdfunding drive". It's "a balls-of-steel move all round", given zero passing trade in the "sleepy hamlet" of Slaugham in West Sussex.
Initially she was worried that a bad word from her could destroy "a passion-driven indie", where "life and soul and savings have been sunk", relying on its success. But she needn't have fretted. "We're in safe hands. Actually, strike that, we're not: we're in inspired, creative and playful hands."
"Ambition seeps through every page of the menus." (There's "a whole page… dedicated to "the Herder", his winning goat's meat number" on Great British Menu.) And "the dishes deliver hit after hit. Even things I read as being potential misfires" (including coriander ice cream on marinated raw scallops) turn out to be "harmonious and perfectly judged". "Staff are uniformly lovely."
Some courses are "astonishing", others "deliciously head-scratching" and "ravishing". "Even the cheese course brings surprises, a slender, flaky apple turnover in among shards of homemade crackers."
While the cooking is "pretty much flawless in execution", the setting is "a little … antiseptic" and the style is "a teeny bit dated… a bit 2014". If he learns to relax, Gillan can make his place "absolutely, destination-worthy, without any doubt".
Marina also wrote a love letter to The Quality Chop House, part of the introduction she penned to the restaurant's new recipe book and in recognition of its 150th anniversary. "When I'm ancient, once the restaurant critic business has finally spat me out and I can simply choose to go wherever I want, I hope there's a table permanently reserved in the bar for me."
---
Tom Parker Bowles for The Mail on Sunday was back on four-star form, this time in a Malysian restaurant tucked away "in the strip-lit, labyrinthine bowels of Queensway Market".
He turned up at Normah's (not to be confused with newcomer Norma) at the same time as the health inspector (they passed), and when he eventually got into the "small and fairly spartan" room, he felt "a warmth that runs far deeper than mere decor". Not just from the food…
Norma, in the kitchen, served up laksa that was "soothing, filling, generous and knowingly spiced", made with "majestic" home-made paste. The roti canai were "wonderfully light and flaky", served with "a small bowl of beef rendang… flavours are subtle rather than strident".
"Good value, home-cooked Malaysian food, prepared by one of the nicest women you could imagine. And served up by her equally lovely nephew… I'll be back." (****)
---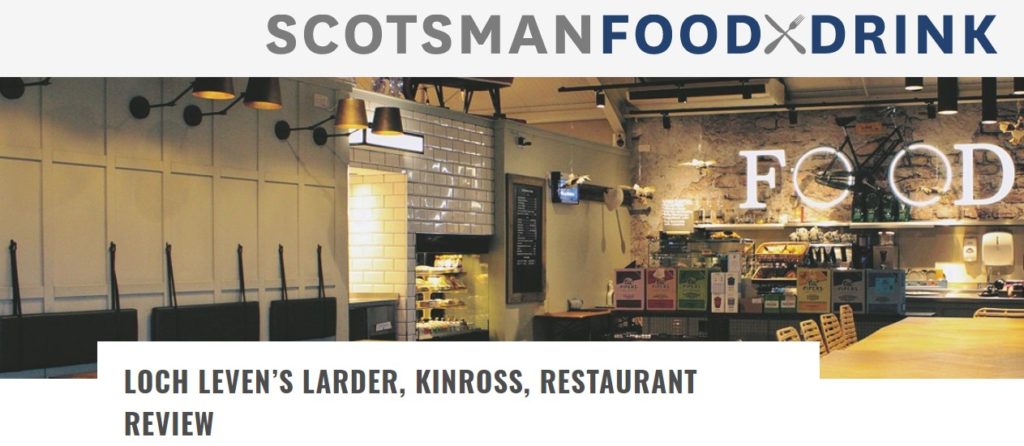 Gaby Soutar for The Scotsman tried to make a lunch entirely out of food samples at the "recently expanded food hall" of this "honeypot tourist" attraction, but ended up in the café anyway.
The Big Toasties were "door stoppers of sourdough" – she went for a Reuben. The veggie haggis quiche was "slightly less successful"; "best of the bunch" was a "venison and redcurrant burger… which came in a charcoal brioche bun" (although with "horrible" wedges "with a slippery wet moss texture").
Service could have been more effective ("nobody ever came to clear our dirty plates") and the table service ends before dessert, but it's a good option for families if you're in the area and like a free sample. (60%)
---
And also…
Tim Hayward for The Financial Times was at The Game Bird, and disagrees wholeheartedly with Jay Rayner (see above): "how did they stuff it up so badly?" "With its gorgeous setting and the kitchen's demonstrable talent, this place can clearly get better. Maybe they had a bad day."
---
William Sitwell for The Telegraph was at the Castle Bow in Taunton, a "lovely, cosy, friendly, good-value bolthole". (***)
---
 Keith Miller for The Telegraph discovered a new favourite in Naifs, a veggie and vegan bistro in Peckham. "I can absolutely imagine going there every few weeks if I lived nearby."
Recent News from Harden's